We all use texting services everyday, and regardless of whether it's just regular SMS, WhatsApp or iMessage, we use these services to stay in touch with our friends, family, colleagues and other relatives. Most of us have plenty of people to text with, and sometimes there are situations where we forget to send an important message to someone. Birthdays, anniversaries, reminders regarding important meetings and events are just some of them. Well, some of the messages that you forget to send might even end up affecting the relations that we've established. That's exactly where text scheduling comes into play. This is a feature that was unheard of in the last decade. However, with the introduction of smartphones in addition to smart apps, that has changed. If you're using an iPhone, you're in luck as we're going to help you get this feature to work. So, without further ado, let's take a look at  how to schedule text messages on iPhone:
Scheduling Text Messages Using Scheduled App
Note: Unlike Android, these apps don't automatically send the scheduled messages, due to iOS restrictions. All they currently do, is send you a push notification at that specific time you scheduled the message. I tried this feature out on my iPhone 7 Plus running iOS 11 beta 4. 
First of all, you need to download and install this free third-party app called Scheduled from the Apple App Store. Then, simply follow the steps below to schedule a text message within minutes:
Immediately after you open up the app for the first time, you'll be taken to the welcome screen where you'll be to "Create Message". In the next menu, you'll be able to select the receipent, enter the required message, scheduled date and an additional repeat interval option before you get to actually schedule the message. So, let's go through all of them. Now, tap on "Select Recipient".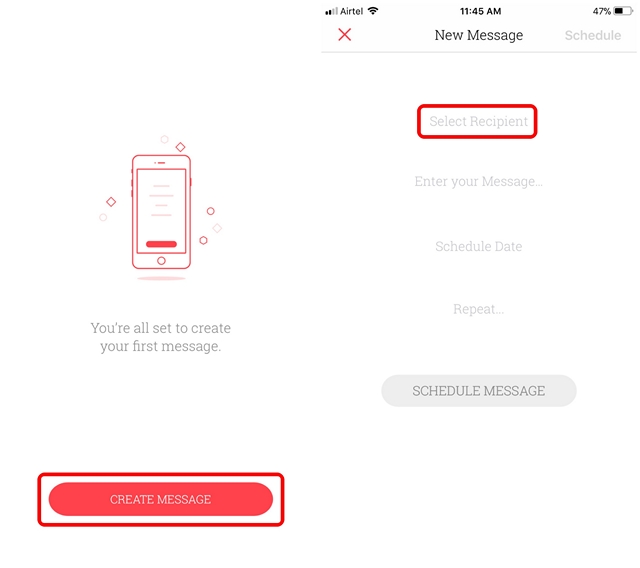 Now, you'll have to give permissions for the app in order to access your contacts. Once done, choose your preferred contact from the list and type in the desired message. After this, tap on "Schedule Date" and choose the date as per your preference.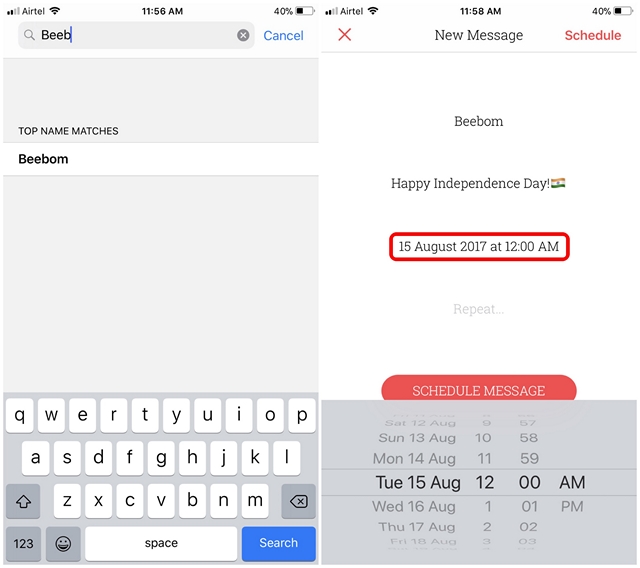 Now, tap on the "Repeat" option right below Schedule date. Here, you'll be able to repeat the scheduled message on a daily, weekly, monthly or yearly basis. If you're not interested in repeating the message, you can just tap on "Don't repeat". Once you're done, tap on "Schedule Message" to complete the whole process.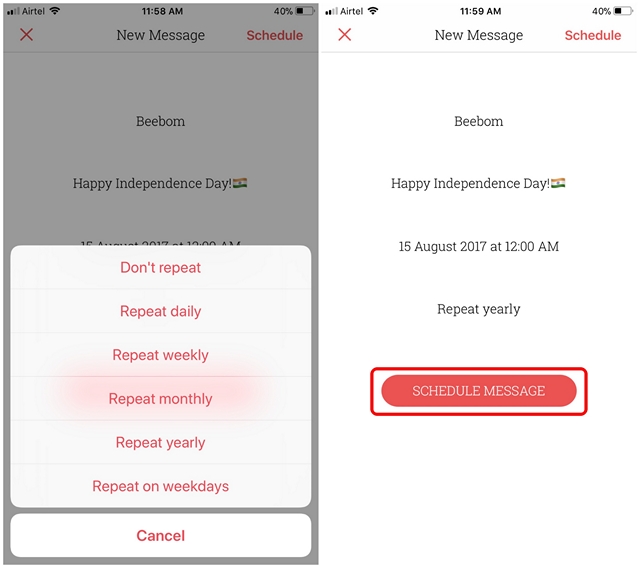 The scheduled message will show up on your screen like this. From now on, everytime when you open up the app, you'll be taken to this screen. Well, that's pretty much the whole process. Now, when the time comes, you'll receive a push notification in order to send you the scheduled message. Once you receive the notification, open up the app and tap on the scheduled message.
Once the menu pops up, tap on "Send Using". Now, you'll be given multiple options for sending the message. You can choose between iMessage, SMS and WhatsApp in order to send the scheduled message.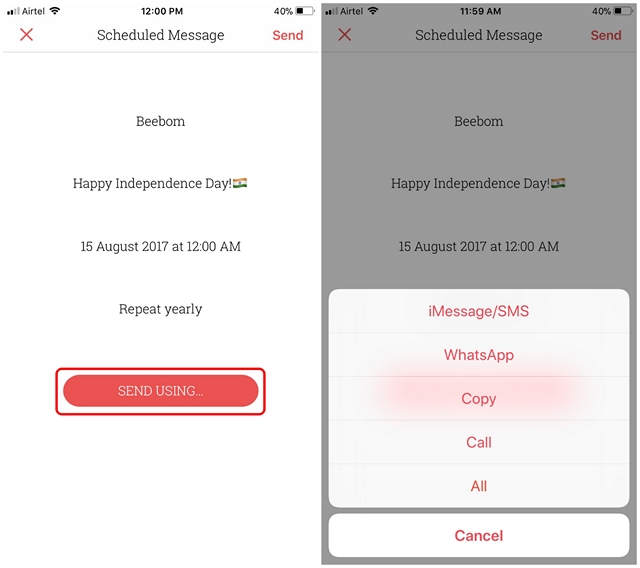 Other Third-Party Apps For Scheduling Messages
1. Later
Later is a scheduling app that can be downloaded for free on your iPhone. It works in a similar fashion to Scheduled that gives you a push notification depending on the time you've set for the scheduled message. However, this app lets you send you text messages only using SMS or iMessage. In addition to scheduling text messages, this app can also be used for scheduling tweets and e-mails. If you're willing to subscribe to Later Plus that costs $4.99/month, the app offers an auto-sending feature that lets you send the scheduled messages automatically from a different Later Plus member, rather than your actual number. Although it's not a true auto-sending feature, something's better than nothing after all.
Install: (Free, with $4.99 in-app purchase for Plus)
2. Text Timer
Similar to both the apps that we discussed above, Text Timer is yet another free text scheduling app that reminds you to send all the important scheduled messages via push notifications. You will be able to customize the date, time and recipient before you actually schedule the message, and even edit the scheduled message just like Scheduled and Later.
Install: (Free)
                SEE MORE: How to Schedule Text Messages on Android
Schedule Text Messages on iPhone With These Apps
From now on, you don't have to worry about forgetting to send important messages on time. With these third party apps, you can be assured that you'll always be notified on time, whenever you've to send a scheduled message, be it birthdays, anniversaries or meetings. That being said, we'd have loved an auto-sending feature for these scheduled messages, but Apple restricts the developers from doing that, as of now. However, we hope that changes soon. Well, what do you think about these scheduler apps for iPhones? Which among these three are you planning to use? Do let us know by dropping your valuable opinions in the comments section down below.