After teasing and testing out the feature with beta users for a couple of months, WhatsApp has now started rolling out the ability to react to messages in a conversation with an emoji. Yeah, you heard that right. Just like Instagram and Messenger, you can now choose to not type a reply, but instead, react to messages with an emoji to express how you feel about them. The emoji reactions feature is now reaching all iOS, Android, and desktop/ web users of WhatApp, so let's learn how to use this feature. Here's how you can react to a message with an emoji on WhatsApp.
Guide to WhatsApp Emoji Message Reactions (2022)
What are Emoji Message Reactions?
As the name suggests, the emoji reactions feature enables you to quickly react to specific messages with emojis and share your opinion without flooding the chat with new messages. That means you can simply use the face with tears of joy emoji to react to a funny message or a thumbs up to acknowledge a message sent in a group conversation.
This is a simple feature that has existed in apps like Instagram and Messenger for years. It has finally reached WhatsApp to bring parity among Meta (formerly Facebook) owned messaging apps. There is no steep learning curve to this feature, so let's learn how to use it.
Available Emoji Reactions & Meaning
WhatsApp currently offers six emojis that you can use to react to messages in a conversation, and they are:
Thumbs up (👍)
Heart (❤️)
Face with tears of joy (😂)
Face with mouth open (😮)
Crying face (😢)
Person with folded hands (🙏)
The messaging app aims to add support for all the emojis and skin tones, much like Instagram, mentions WhatsApp head Will Cathcart in an official tweet. If you wish to learn about more emojis and their meanings, head over to our linked guide. Moreover, you could also read about the meaning of different emojis on Snapchat right here.
How to React to WhatsApp Messages with Emoji (Android/ iOS)
With the basics out of the way, it's time for us to learn how to send emoji reactions in WhatsApp conversations. It works the same way on Android and iOS devices. Here's how to use the feature:
1. Open WhatsApp and head to a conversation. Here, long-press on the message you wish to react to, and you will see the emoji reactions bar pop up on your screen.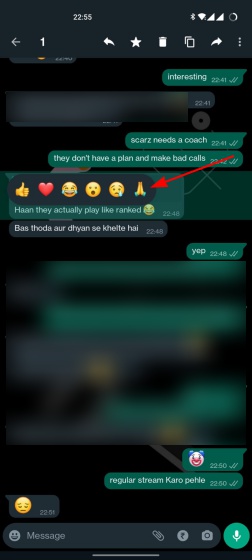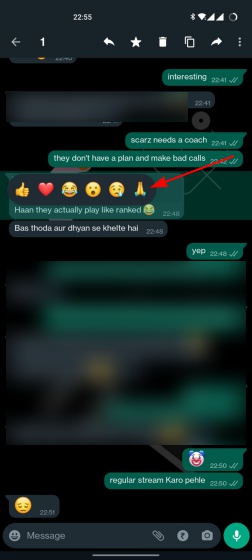 2. Select the emoji you wish to react with, and it will show up at the bottom edge of the message bubble. Here's what the message reaction feature looks like: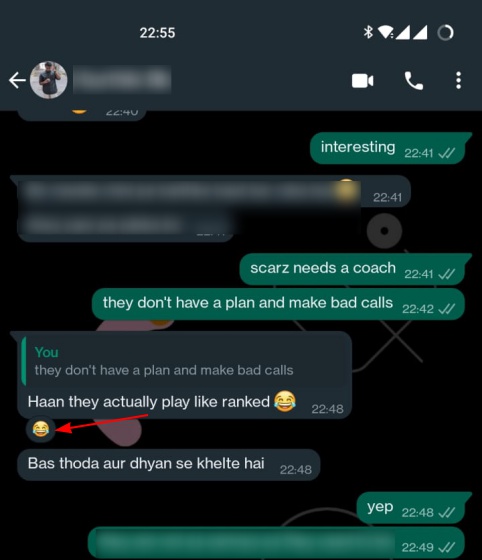 3. If you wish to see how many people have reacted to a WhatsApp message and what emoji they have used, tap on the emojis showing up on the message bubble.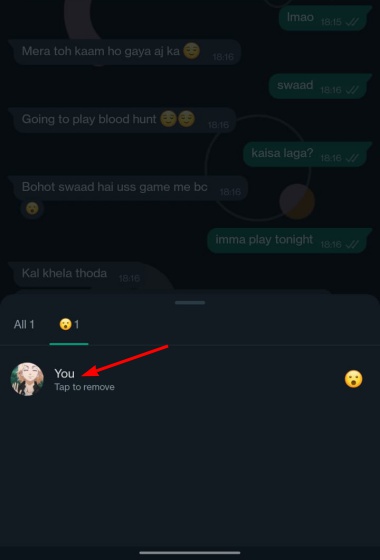 How to React to WhatsApp Messages with Emoji (Web/ Desktop)
The method of using emoji reactions on the web and desktop app for WhatsApp looks a bit different, so let's see how it works:
1. Open a conversation in WhatsApp on the web app. Then, hover over a message to see a new emoji icon appear next to it.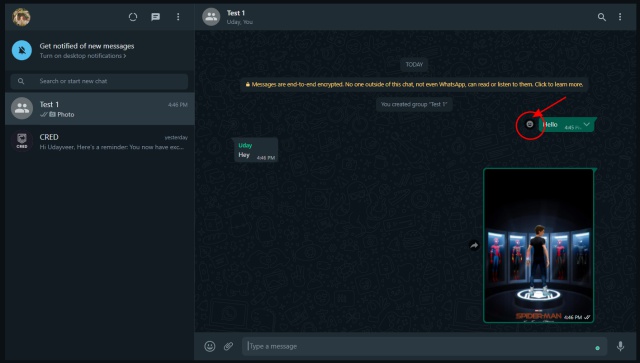 2. Tap on the emoji icon to react to a message with any of the six available options.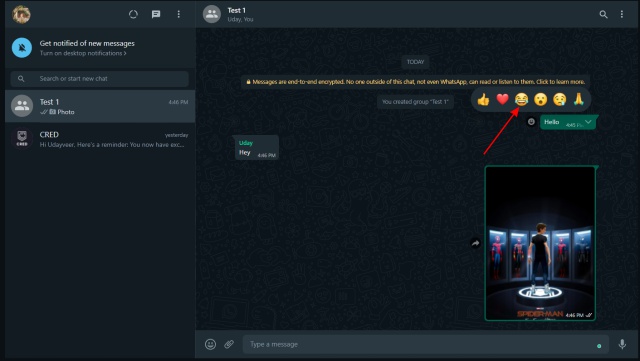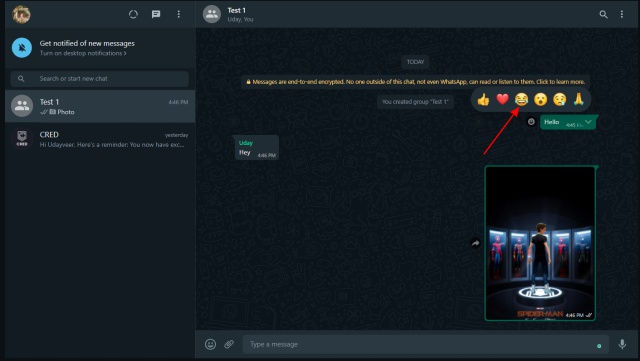 How to Change Your Emoji Reaction
WhatsApp also allows you to change your emoji reaction to a message with ease. We have described how you can change the emoji reaction using the mobile and web apps in this section.
1. On Android and iOS, you can long-press the same message again to see the emoji reaction bar. Your existing reaction will be highlighted in gray. Now, simply select another emoji to change your reaction, and you are done.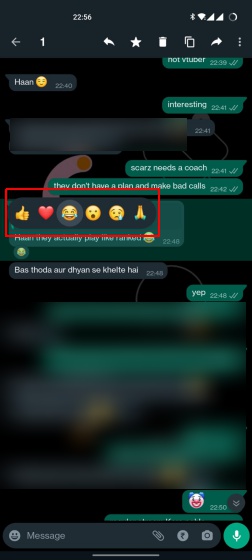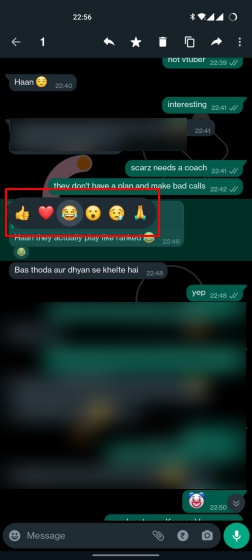 Note: When you change the emoji reaction and the recipient has not opened the notification yet, the change is reflected in the notification as well. h/t my colleague Uday for this insightful little info.
2. On the WhatsApp web and desktop apps, hover over the same message to see the emoji icon once again. Click the emoji and select your new reaction. Yeah, it's that easy.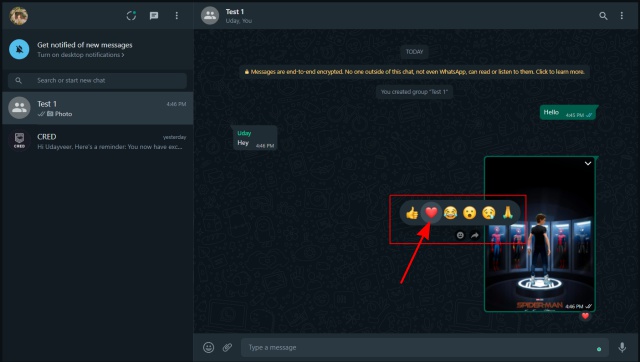 How to Remove WhatsApp Emoji Reaction
Finally, you also have the option to remove your emoji reaction from messages on WhatsApp. It works the same way across all platforms, be it Android, iOS, or the web app. Here's how to remove a reaction:
1. You can tap on your emoji reaction that shows at the bottom of the chat bubble. You will now see a pop-up with your reaction, and you can "Tap to remove" the same with ease. Your reaction to that message will disappear right away.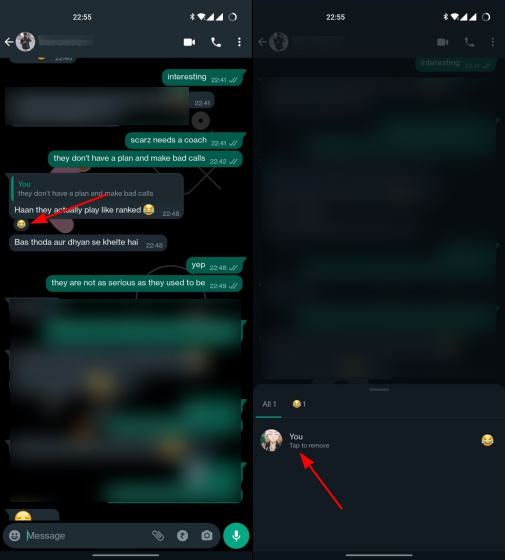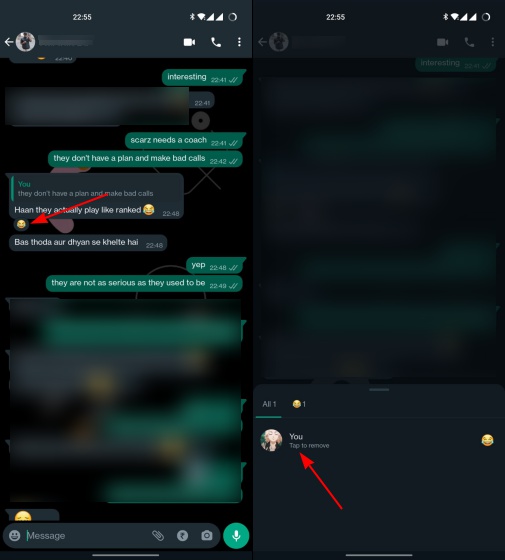 2. Here's what the option to remove a reaction in WhatsApp looks like on the web and Windows/ macOS desktop app. After clicking on the emoji reaction on the chat bubble, you need to select the "Click to remove" option to redact your reaction.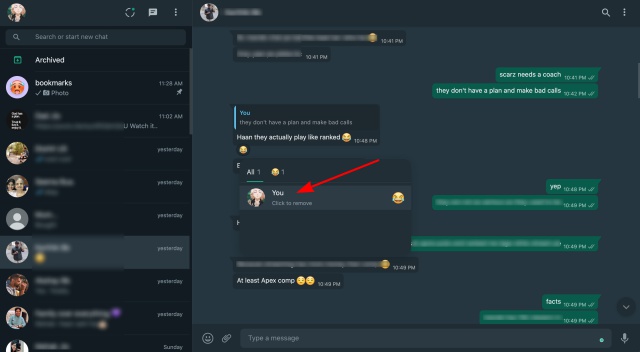 Note: The emoji reactions feature is not available in the WhatsApp UWP Beta app on Windows devices at the moment. It will likely be added in the coming days.
Try Out New WhatsApp Message Reactions Feature
So yeah, that's pretty much everything you need to know about using emoji reactions on WhatsApp. The emojis are currently restricted to the six default options, but it will be worth everyone's time when the messaging app adds support for all emojis. Moreover, WhatsApp has also announced to introduce Communities to make managing groups easier, support up to 32 users in group voice calls, and more. Also, it is now possible to use WhatsApp on multi-devices without having your phone connected to the Internet.