At the Google I/O developer conference last May, the search giant had announced its plans to update the Google Home with Bluetooth audio support, something that was strangely missing from the smart speaker at its launch last November. That promise was fulfilled last week, when the Mountain View, California-based tech giant started rolling out the update that now allows users to stream music, podcasts and other streaming services to their Google Home, irrespective of whether the service is supported by the device or not, via Bluetooth. So, if you are wondering how to play music on Google Home via Bluetooth, we are here to guide you through. Before we begin, you have to make sure to update your Google Home speaker to the latest software update.
Update Your Google Home Speaker
You'll need to update your Google Home to firmware version 93937 or higher for the Bluetooth functionality to work. As for the Google Home app, just download the latest version from the Play Store to make sure you don't run into any trouble. In  my case, my Google Home was on firmware version 1.26.93937 and the Google Home app on my phone was version 1.24.37.7.
So, now that we've got the technicalities out the way, here's how you can listen to your music on Google Home via Bluetooth:
Stream Music to Google Home over Bluetooth
First off, open the Google Home app on your phone and tap on the 'devices' icon on the top right corner of your screen. Once you've done that, tap on the menu button (three little dots) in the Google Home app and choose 'Settings'.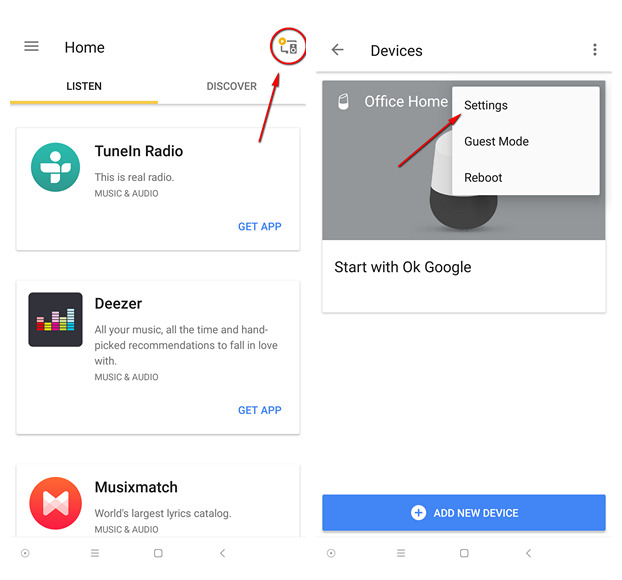 Now tap on 'Paired Bluetooth Devices' on the 'Device Settings' screen. Next, choose 'Enable Pairing mode', and you'll get a message saying 'Pairing Mode Active'.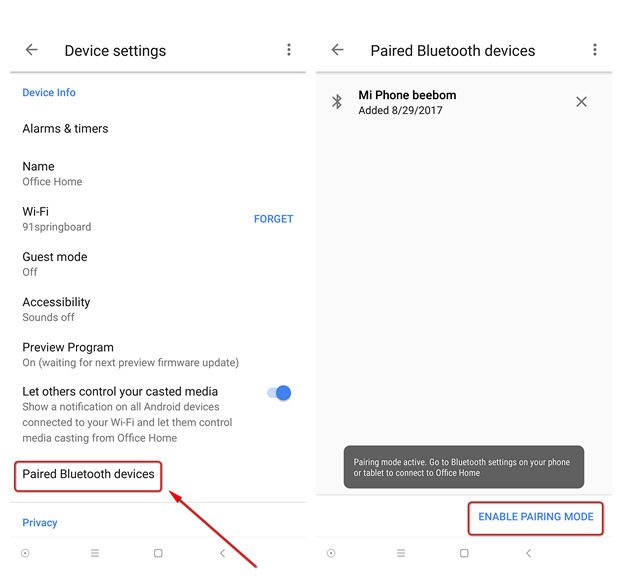 Once the Pairing Mode is enabled for your Google Home, just go into your phone's Bluetooth settings and tap on 'Google Home' from the list of available devices. That's it. Google Home is now paired with your phone. Remember, the "Use for Media Audio" toggle in Bluetooth->Google Home should be switched on by default. In case it isn't, just switch it on, and the next time you play a local music file, it will automatically be streamed to Google Home.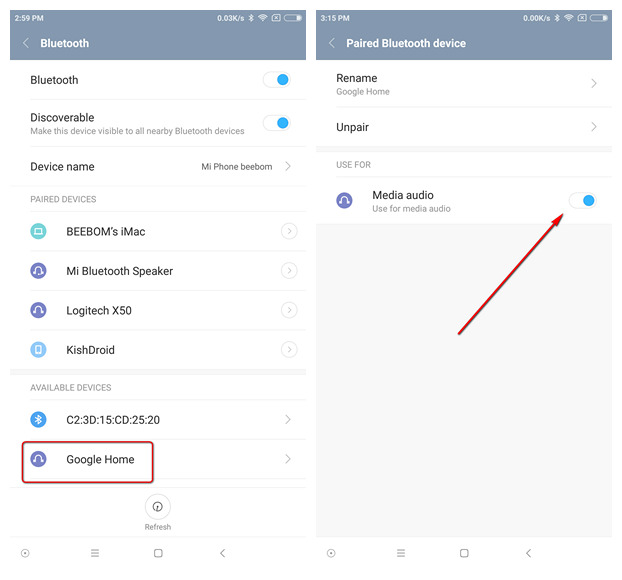 That is it. Now you can just play music, podcast or anything else on your phone and listen to it on the Google Home speaker.
SEE ALSO: How to Make Phone Calls with Google Home
Play Music on Google Home over Bluetooth
Bluetooth streaming is a feature that has been a part of Amazon Echo for long, but Google took its own sweet time to roll it out to its own smart speaker. However, now that it is finally available on Google Home, you can enable it to listen to all your music on it, not just the streaming services like Pandora and supported by the device. So have you already enabled Bluetooth streaming on your Google Home? Or are you planning to do it soon? Do feel free to leave your thoughts in the comments section below, as we love hearing from you.