Last month, Google announced its plans to let Pixel owners measure heart rate and respiratory rate using their smartphone's camera. The feature has now started rolling out to users globally. This capability is limited to Pixel phones for now, but Google plans to expand it to other Android devices in the future. So if you own a Pixel phone, here's how you can check your heart and respiratory rate without any additional equipment.
Measure Heart Rate and Respiratory Rate Using Your Pixel Phone
The ability to measure heart rate and respiratory rate arrives via a recent Google Fit app update. If you do not see the feature on your Pixel phone, make sure to update the Google Fit app to the latest version available on Google Play Store.
Measure Heart Rate Using Google Fit
1. Open Google Fit, scroll down until you see the 'Heart rate' section, and tap on the '+' button. Go through the instructions and press 'Start measurement' when you're ready.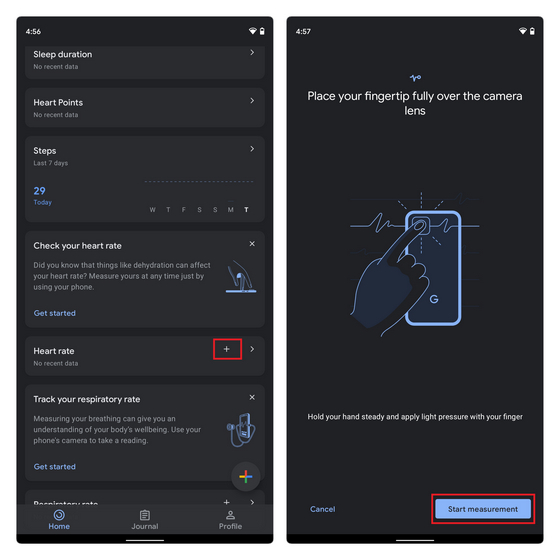 2. Place your fingertip on the phone's camera sensor and wait for a while to measure the heart rate. If you're not in a well-lit area, you can turn on the flashlight for better detection and accuracy. After a few seconds, you'll see the heart rate in beats per minute.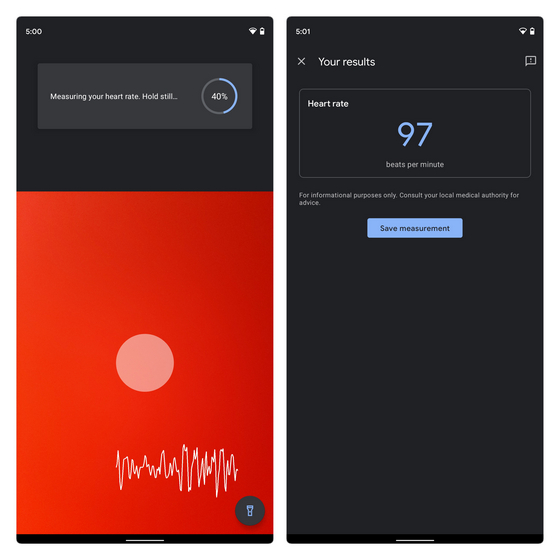 It is worth pointing out that you should not use this feature as an alternative to medical diagnosis. When I tested it out, the results were quite close to my Mi Band 5, which showed my heart rate was 95 beats per minute.
Measure Respiratory Rate Using Google Fit
Another wellness feature Google has added to the Fit app is the ability to measure respiratory rate. To measure your respiratory rate, place your Pixel phone on a stable surface facing you. Your head and upper torso should be in the view of your phone's front camera.
1. In the Google Fit app, head to the 'Respiratory rate' section, and tap on the '+' icon to start measuring your respiratory rate. Read the on-screen instructions and press 'Start measurement' to begin.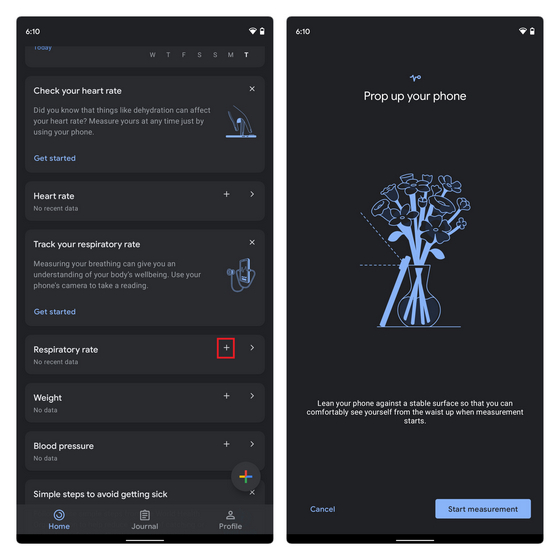 2. The respiratory rate monitoring process takes a little longer than the heart rate measurement. You will have to wait patiently while making sure you don't move during the process. Once complete, you can save the test results using the 'Save measurement' button when it shows up.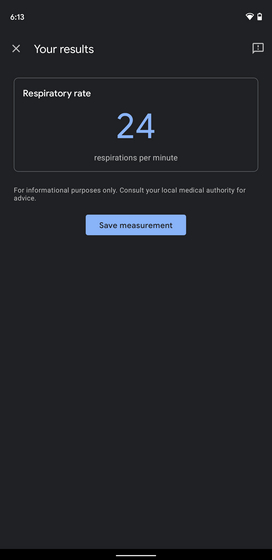 In my experience, the respiratory rate values were highly inconsistent. After multiple attempts, I found that the values kept fluctuating from 29 to 27, 25, 24, and 23. Now, a quick Google search reveals that the normal respiratory rate in adults is 12 to 16 breaths per minute. The company further points out that the values may fluctuate if the person is stressed or unwell. In a nutshell, I'm not entirely sure if I was stressed out or if the system is unreliable.
When Google first announced the feature, I was excited to visit a nearby hospital and compare the results with professional equipment. However, putting myself at the risk of coronavirus for testing the capability of a piece of software didn't seem like a good idea on second thought. But if you're a doctor or someone with a Pixel phone and an oximeter at hand, let us know your experience in the comments below.
Check Heart Rate and Respiratory Rate with Google Fit
So, that's how you can use your Pixel smartphone to measure heart rate and respiratory rate. It will be exciting to see when Google expands this nifty future to more Android phones. To remind you again, do keep in mind that these measurements may not be the most accurate and do not replace medical diagnosis at its current state. Nevertheless, it is good to get yourselves checked if you notice an unusual pattern across different tests. Check out our list of the best health and fitness apps if you're looking for other apps with similar features.