FaceTime and Safari are probably the two most improved apps in macOS 12 Monterey. With the redesigned UI, neat tab management, and super handy Quick Notes, Safari's latest set of features would tempt anyone to try the macOS Monterey beta. But what if you don't want to put your main computer at risk by installing the macOS beta and are instead looking for a safer way to get the new Safari browser on macOS Big Sur or older versions? As it turns out, there's a reliable way of using macOS Monterey's new Safari browser on older macOS computers. Let me show you how it works.
Install New Safari Browser on Older macOS Versions in 2021
Ever since Apple released the macOS Monterey developer beta, I have been testing out Apple's latest desktop OS. Besides the occasional freezing and lag, I haven't faced any major issues in macOS Monterey. Still, I wouldn't recommend you install the macOS 12 beta, considering the unexpected bugs that may dampen your excitement. Instead, testing the new redesigned Safari on older macOS versions is much safer. Besides, you also do not have to go through the tedious procedure of installing the macOS Monterey public beta. With that said, let's dive right in!
Install Safari 15 Beta on Your Mac Running macOS Big Sur or Catalina
With the aim of giving more Mac owners a sneak peek into what to expect from the all-new Safari browser, Apple has started inviting select macOS Big Sur and Catalina users to join the AppleSeed Program. If invited, you can install Safari 15 beta on your older macOS Big Sur or Catalina computer before the official rollout this fall.
Then, what's the catch? Sadly, there is no way to sign up for the AppleSeed program as it's invitation-only. The Cupertino giant randomly selects users and sends them an invitation through an email with a detailed guide on how to download Safari 15 beta. But bother not, as you are not out of luck at all, even if you couldn't be a part of the AppleSeed program.
If you are really interested in testing the new browser, we have explained the easiest method to get the new Safari browser experience on your Mac device.
Download Safari Technology Preview to Use New Safari Browser on macOS Big Sur
Safari Technology Preview has long been a secure way for Apple device users to test Safari features in the development stage. While Safari Technology Preview is designed primarily for developers, anyone can take advantage of it. And that's exactly what we are going to do.
Now, you may be wondering, can you use it alongside the official version of Safari on your Mac? Well, the answer is – yes. But remember that Safari Technology Preview comes with a boatload of all-new features that are still a work in progress. So Apple may take a while to introduce those features, provided everything falls in place.
Do note that the latest version of Safari Technology Preview requires macOS Big Sur to install. So, make sure your Mac is running the supported version of macOS.
1. To get going, head over to the Safari developer webpage. After that, scroll down to find the "Safari Technology Preview for macOS Big Sur" link and download it on your Mac.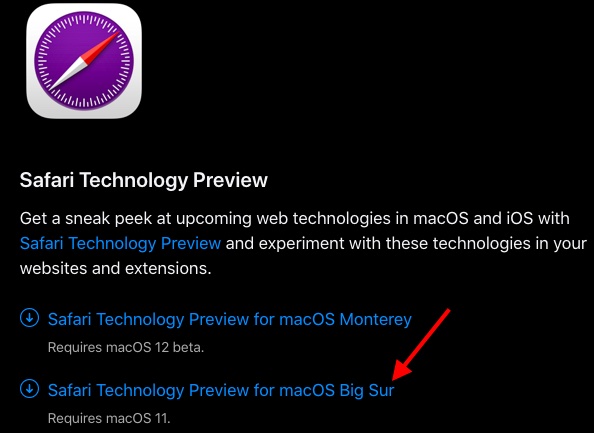 2. Now, double-click the Safari Technology Preview.dmg file.
3. Next, double-click on the Safari Technology Preview.pkg file.

4. On the installer window, click on Continue to start installing the Safari Technology Preview on your macOS Big Sur device.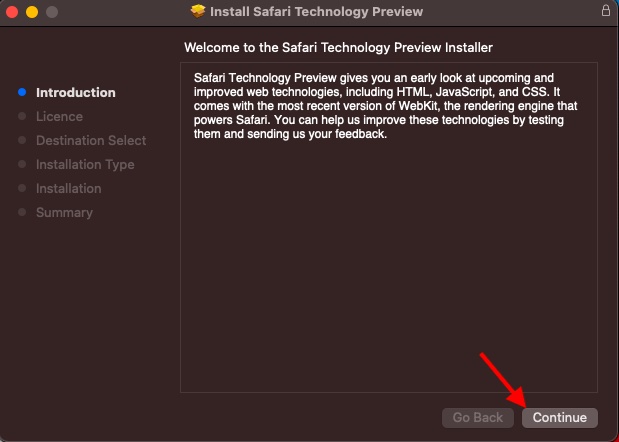 5. Up next, read the software licence agreement and hit Continue to proceed.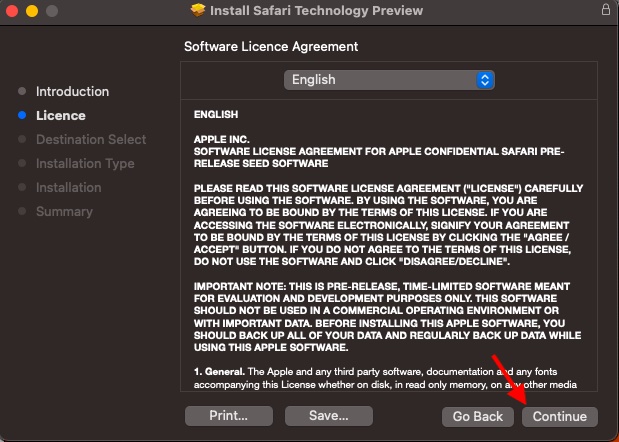 6. Now, a pop-up will appear asking you to agree to the terms of the software licence agreement. Click on Agree.
7. Next, click Install to perform a standard installation.
8. Next up, you will be asked to enter your password. Input your password and hit the "Install Software" button.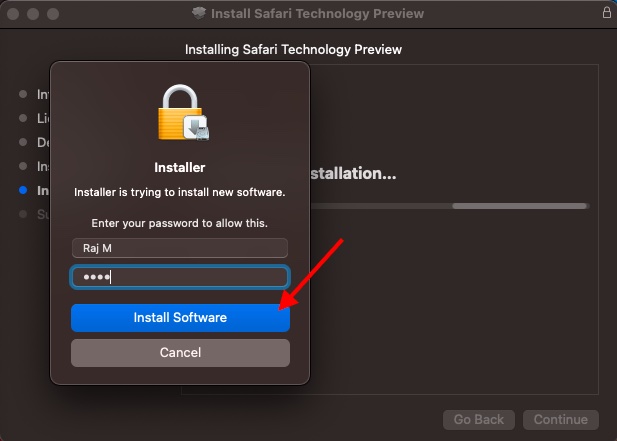 9. Once the Safari Technology Preview has been installed, you will get a confirmation. And that's it. You can now start using the redesigned Safari browser with tab groups, new More menu, and sharing features, among other features.
Use New Safari Browser on Older macOS Versions on Mac
Now that you have installed the new Safari browser on your Mac, you must be curious to know what all is new here. So, let me bring your attention to a couple of notable features.
Tab Groups
The highlight of the macOS Monterey Safari browser is the tab group feature. It lets you perfectly organize your tabs to avoid clutter when you have many tabs open at once. So depending on your preference, you can create different tab groups like entertainment, technology, shopping, and more to improve your browsing experience.
Since tab groups are also available in iOS 15, all of your tabs will sync across devices linked with the same iCloud account. Creating a tab group in Safari is easy. Follow the steps below:
1. To get started, open the Safari Technology Preview app. You can find it in the Applications folders. For quick access, drag the app from the Applications folder and drop it in the Dock.

2. Click on the tiny downward arrow next to the sidebar icon at the top left corner of the screen.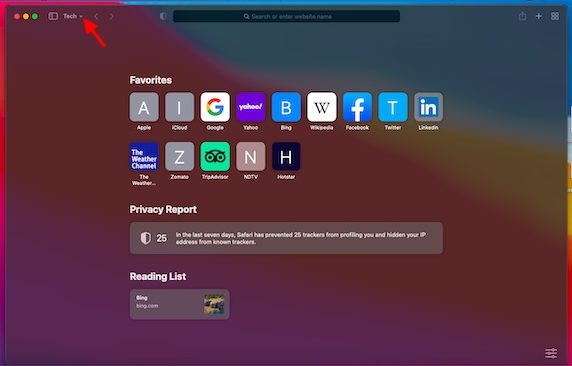 3. After that, click on New Empty Tab Group. Do note that you can also create a new tab group with existing tabs.
4. Up next, give a suitable name to the tab group, and you are done. If you wish to learn everything about tab groups, follow our detailed guide on how to use tab groups in Safari on macOS 12 Monterey.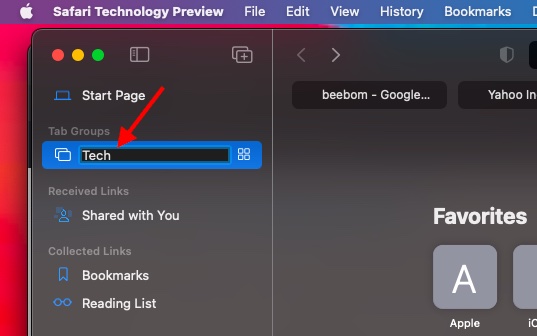 While many macOS users have praised the unification of the address bar with the tab bar, others disliked this change. The tech giant has hidden multiple buttons from the main UI for a more intuitive appearance. It has also revamped the tab management, which hasn't gone down well with a large section of users.
Due to the outpour of complaints, Apple recently made a few design changes to the tab bar and made the unified design optional. Thus, you can still use the stock web browser with the old address bar at the top, followed by the tap bar underneath it.
Shared with You
"Shared with You" automatically shows up all the links shared in the Apple Messages app. Additionally, it also stores the shared links that you pin. Hence, if you ever want to check the web links shared via the stock message app on Apple devices, you no longer have to dig into conversation threads.
To see these links, click on the Sidebar icon located at the top left corner of the screen. After that, click "Shared with you". On this screen, you should see all the shared links.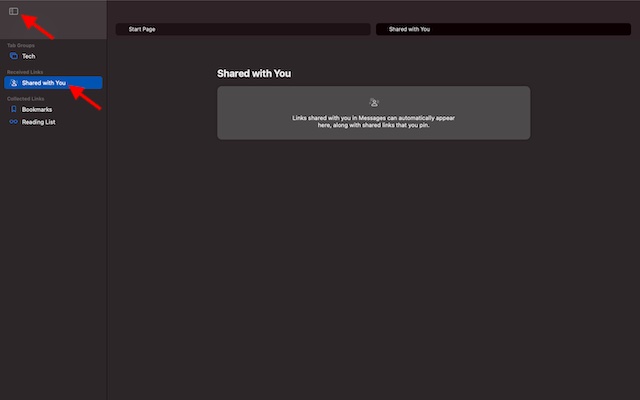 If you want to stop the web links shared via the Apple Messages app from showing up on the "Shared with You" screen, you can disable it. To get it done, click the menu button at the bottom right corner of the screen.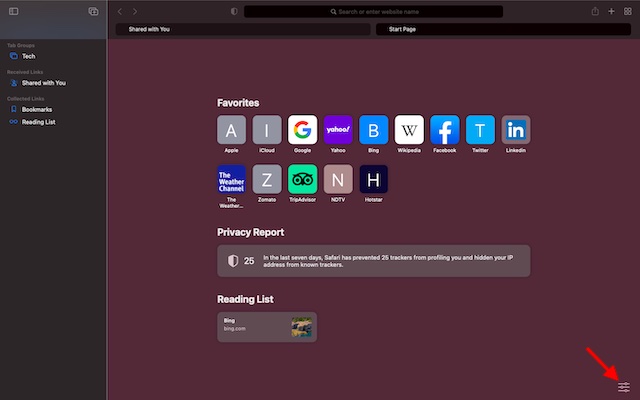 Now, uncheck the "Shared with You" option, and that's it.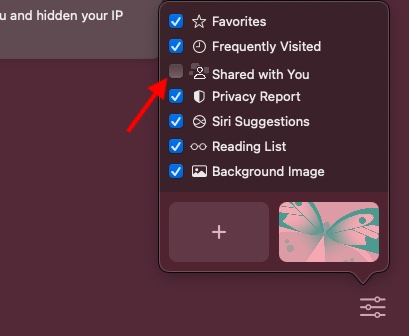 Use the Redesigned Safari Browser on Older macOS Versions
So there you go! So that's how you can try out the all-new Safari browser introduced with macOS Monterey on your Mac running on macOS Big Sur. For folks who don't want to install the macOS Monterey beta but still wish to try out the revamped Safari browser, this method is a much safer bet. By the way, what are your thoughts on the new Safari redesign and all the new features? Feel free to share your thoughts in the comments section below.
---
Load More