Slowly but steadily, the Mac App Store has compiled a solid collection of widgets. Aside from opening the gateway of customization, they are designed to change the way you interact with an app. For instance, if you often have to dig into a task manager to track your upcoming tasks, a neat task widget can make the process of tracking tasks more convenient and instantaneous for you. And if keeping an eye on the current weather matters to you, a weather widget will make your life on Mac more seamless. So, where should you start? Here is an exhaustive lineup of the best widgets for macOS 12 Monterey to cater to your varied taste.
Best macOS Monterey Widgets You Can Try (2022)
Most widget apps come with a variety of readymade widgets so that you always have plenty of options to choose from. However, if you wish to have more personalized macOS Monterey widgets to show specific information, there are some apps that allow you to create custom widgets using different backgrounds and fonts. To further enhance the personalization game, you can also create Mac widgets using your photos.
Apart from sharing the best macOS widgets, we will also tell you how you can add your widgets and how to view widgets in macOS 12. You can use the table of contents below to navigate to any relevant section quickly.
1. Color Widgets
If you are fond of customization, you shouldn't miss out on Color Widgets. What makes this widget app a better option is a huge collection of fully customizable widgets that you can use to personalize your Mac's Notification Center. Depending on your specific taste, you can fine-tune the color, font, and design of the Notification Center widgets. Moreover, Color Widgets features a solid roster of attractive backgrounds and allows you to use your photos for a more personalized experience. While this widget app is available for free, you will need to shell out $5 to unlock all the widgets.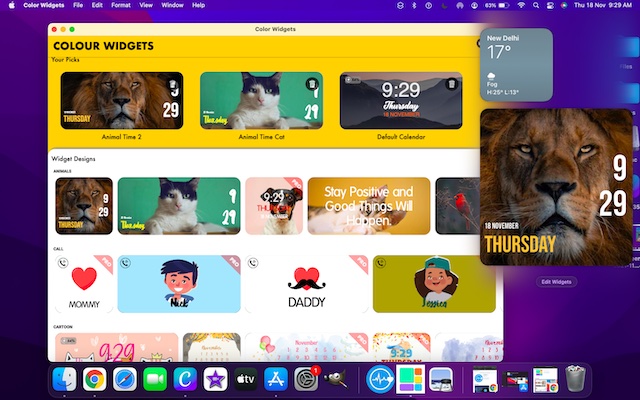 Install: Free ($4.99 for full version)
2. Widgy
Widgy is a feature-packed widget app for macOS Monterey, which lets you deck up the Notification Center to your heart's liking. While the widget app comes loaded with a wide range of readymade widgets, you also have the flexibility to design your widgets. Notably, the app features a handy editor that allows you to design widgets with utmost ease. So, even if you aren't great at crafting widgets, chances are you can make some cool Mac widgets without breaking any sweat.
Install: Free (in-app purchase starts $0.99 )
3. Dash Dot Dash
Dash Dot Dash is a pretty simple widget app that lets you create a variety of widgets for your Mac. To make your task straightforward, there is a neat widget editor that allows you to mix and match to make different widgets. For instance, you can insert an image on a widget, add your monthly calendar to your image or even create a yellow sticky note with a shopping list.
Install: Free (full version is available for $2.99 )
4. MindNode
Out-of-the-box ideas tend to strike your mind when you expect them the least. Hence, it's better to have a nifty tool that you can use to capture your thoughts in any form without any delay. And for this exact purpose, you should keep MindNode at your disposal. You can use this widget app to map your mind in various forms such as notes, images, tasks, and more. Using themes and stickers, you can personalize your thoughts to your liking. Moreover, it offers both compact and large widgets to let you pick the right one to keep a track of your ideas.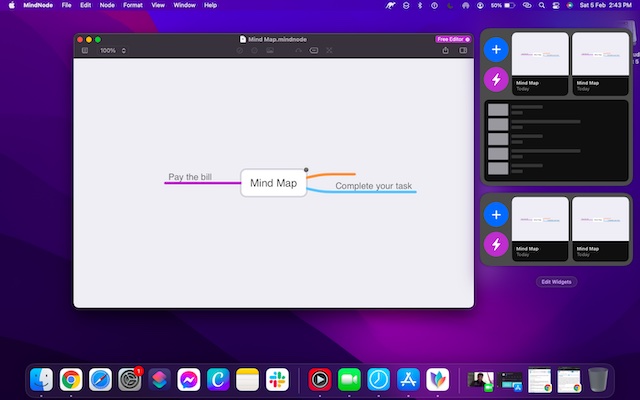 Install: Free (full version is available for $2.49/month )
5. Widgety
As someone who prefers to have a variety of tools to customize different widgets, I have found Widgety highly appreciable. Thanks to the integration with the Health and Activity app, you can show your total steps and activity goals on the widget. And with the smart weather widget, you can keep a track of the current weather and temperature with ease. On top of all, Widgety also lets you explore widgets created by others.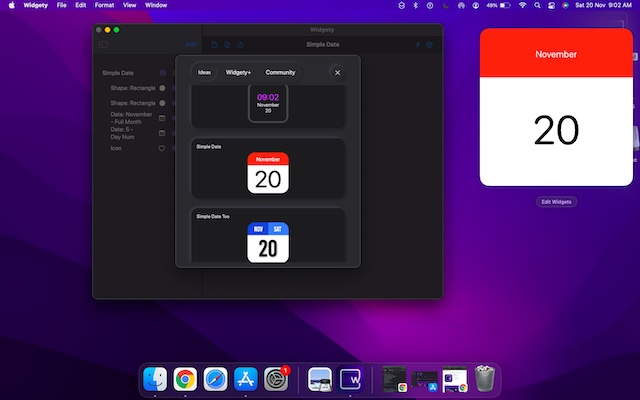 Install: Free (premium version is available for $1.99/month )
6. MD Clock
Do you have a liking for a digital clock? If yes, MD Clock is the one you should check out. The app features several professionally designed themes to let you choose the desired theme in keeping with your preference. Moreover, it also comes with plenty of sound effects to let you add some fun elements to your digital clocks.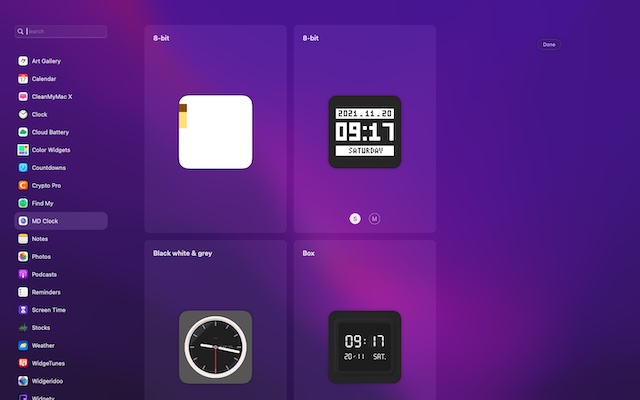 Install: Free (premium version is available for $0.99/month )
7. Apple Weather Widget
If you are on the lookout for a reliable weather widget that can show accurate weather conditions, you shouldn't overlook the Apple Weather widget. It's available in three different sizes such as small, medium, and large. If you want to keep a track of plenty of information including the current weather conditions and forecasts, go with the large one, However, if you prefer a compact design, the tiny widget size could be the way to go.
Install: Comes pre-installed
8. WaterMinder
WaterMinder widget could easily appeal to the folks who put more emphasis on improving health and fitness. With the help of this widget, you can keep a track of your water intake and get a timely reminder about drinking water based on your body weight or daily goals. Though it provides readymade cups for quick tracking, you can create custom cups for personalized tracking. The intuitive visual view combined with the detailed graph enables you to monitor your progress with more convenience.
Install: $2.99
9. CardPointers: Maximize Rewards
CardPointers is your proficient credit card manager. If you find it a bit tedious to manage your credit card or if you are looking for ways to save more money and also earn plenty of cashback, give it a chance. The app tracks recurring bank credit from more than 4000 credit cards. With timely reminders, it keeps you in the loop about major offers and cashes in on them at the right time. Moreover, it offers multiple types of widgets to let you choose a preferred one for monitoring your credit card info and maximizing the rewards. Overall, it deserves to be rated as one of the best widgets for macOS Monterey.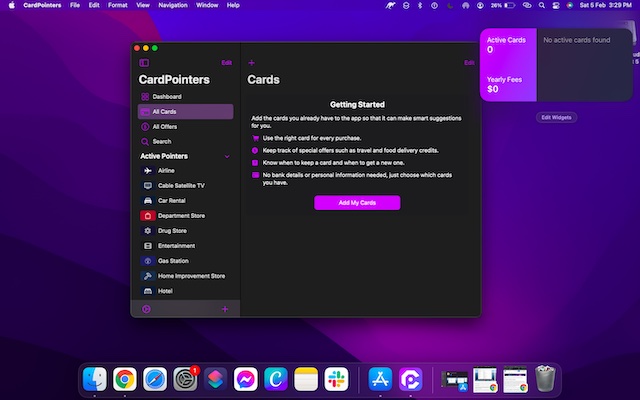 Install: Free (CardPointers Pro is available for $4.99/month)
10. Find My
Find My is one of the most useful widgets for macOS Monterey. You can use it to not just keep an eye on all of your tagged devices but also take a glance at the location of the people you care about the most.
Install: Comes pre-installed
11. Widget Art Gallery
Boasting over 10,000 beautiful works of art, Widget Art Gallery is what you should choose to give an artistic touch to your Notification Center. You can use this widget app to explore a ton of special works of art, create a list of all of your favorites, and choose to show specific ones in the Notification Center widget. Though Widget Art Gallery is available for free, you will need to spend $5 to unlock the unlimited number of widgets.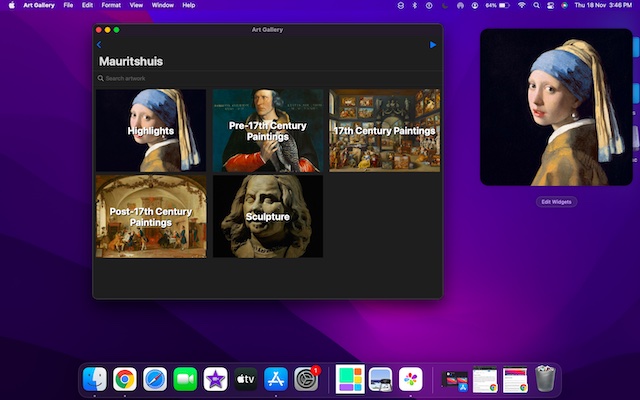 Install: Free (Art Gallery Premium is available for $4.99)
12. Apple Reminders
Why dive into the Reminders app time and time again, if you can track your reminders list right from the Notification Center of your Mac? If all you need is a simple reminders widget to get timely alerts about everything that matters, look no further Apple Reminders widget.
Install: Comes pre-installed
13. Widgeridoo
There are very few widget apps for Mac that are as versatile as Widgeridoo. In this widget app, you can combine different blocks to make widgets for your macOS device. Since it offers a wide variety of blocks such as birthdays, dates, countdowns, clocks, calendar events, and more, you have the flexibility to make any type of widgets based on your needs.
Install: Free (in-app purchase starts at $0.99)
14. Countdowns – Event Day Counter
Are you looking for a more straightforward way to count down to a special event? If the answer is yes, "Countdowns" might be your perfect widget. Featuring a number of timers and the support for multiple unit options like days, weeks, etc., it offers you the needed liberty to set any type of countdowns.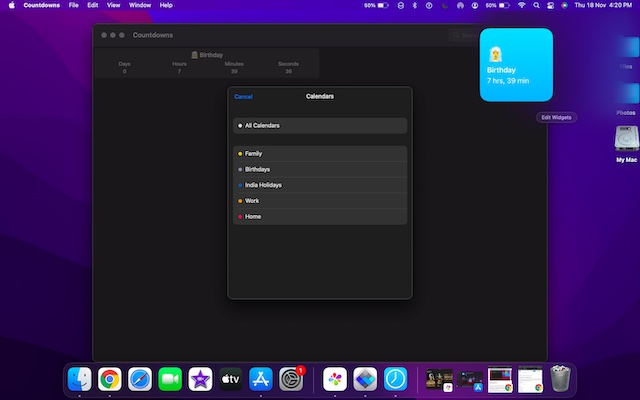 Install: Free (Lifetime unlock is available for $19.99)
15. Apple Notes
While the Mac app is flooded with a number of popular note-taking apps, the Apple Notes app remains my top pick for multiple reasons. For one, the app works seamlessly across iDevices and comes with a user-friendly widget that makes it easy to quickly access desired notes and folders. If you are like me, you would appreciate it as well.
Install: Comes pre-installed
16. Crypto Pro – Portfolio Tracker
If a smart portfolio tracker is on top of your mind, you should check out Crypto Pro. It's well-equipped to let you manage your portfolio. The powerful portfolio tracker supports all traded cryptocurrencies and tokens. And with a handy Notification Center widget, it also lets you keep a tab on the latest quotes so that you will never miss out on any opportunity.
Install: Limited free version (Full version is available for $47.99/year)
17. Screen Time
No third-party widget comes even close to beating Screen Time's ability to show detailed device usage. So, if tracking device usage is something that is on your radar, you should keep it in your collection as well. Just like other stock widgets, the Screen Time widget also comes in three sizes: small, medium, and large.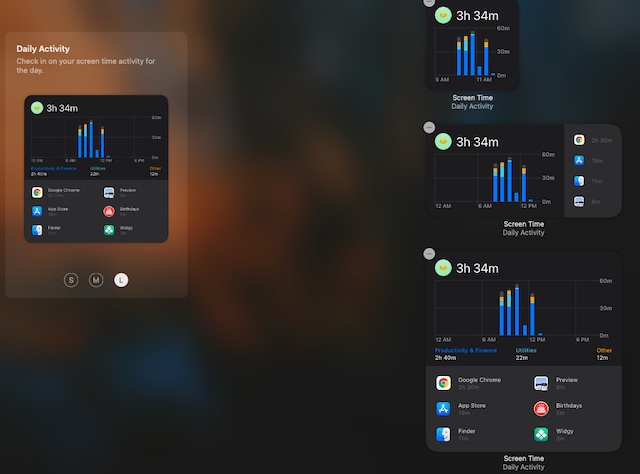 Install: Comes pre-installed
18. Apple Photos
Another stock macOS widget that deserves a mention in this roundup is Apple Photos. Just like its counterpart, the Photos widget automatically cycles through special memories and featured images. The only thing missing from its armory is the lack of granular control over the images that appear in the widget.
Install: Comes pre-installed
19. WidgeTunes – Music Widget
For music lovers who want to have quick access to albums and playlists, WidgeTunes is an ideal option. It lets you create multiple profiles so that you can add as many music widgets as you need. With the widget layout editor, you can also fine-tune your widget in line with your preference and show up to 16 albums and playlists.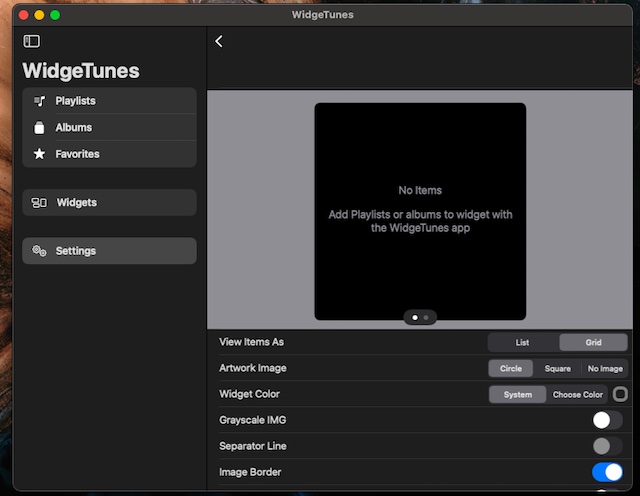 Install: Limited free version (Full version is available for $2.99)
20. TiMe
Efficient time management plays a vital role in boosting productivity. If you think that your time management is not up to the mark or want to track it in a better way, TiMe can come in super handy. By creating multiple time tracking widgets, you can monitor your time more conveniently. What's more, TiMe is also integrated with Siri and can let you sync your data across iDevices to ensure you remain in control everywhere.
Install: Limited free version (Full version is available for $0.49/monthly)
21. Smart Photo Widget
If you want a more functional photo widget for your Mac, make sure to try out this one. Unlike the stock photos widget, it offers you the needed control over which images should or shouldn't appear. You can create a special photo album with selected images and allow the widget to rotate the photos. Moreover, it also lets you skip certain images and apply cool effects/filters to make the images appear more attractive.
Install: Limited free version (Full version is available for $9.99)
22. Parcel – Delivery Tracking
How about having a widget that can let you track your widget with ease? Widely considered to be the best package tracking app for iOS and macOS, Parecel is designed to let you access the essential tracking information for 300 delivery services – from Amazon to DHL to China Post to Aramex. Notably, it features an automatic carrier recognition functionality to let you easily add new deliveries and monitor them with ease.
Install: Limited free version (Full version is available for $4.99)
How to View Widgets in macOS Monterey
Unfortunately, Apple still doesn't allow widgets to be placed on the desktop on the Mac. Though you can use iPad and iPhone widgets on the home screen, macOS doesn't yet have that capability. In order to view widgets in macOS 12, here is what you will have to do.
You can click on the date and time on the menu bar. This will open up the Notification Center, below which you will find all your added widgets.
On the other hand, you can use a two finger swipe inwards from the right edge of your trackpad to open the Notification Center and view your widgets in Mac.
How to Add Widgets in macOS 12 Monterey
Adding widgets to Notification Center is as straightforward as it can ever get.
Click on the date/time in the menu bar to open the Notification Center and widget screen.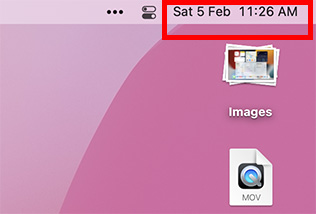 Scroll down and click on 'Edit Widgets'.
Select the app whose widget you want to add. Some apps offer widgets in multiple sizes (S, M, L). You can choose the desired size here.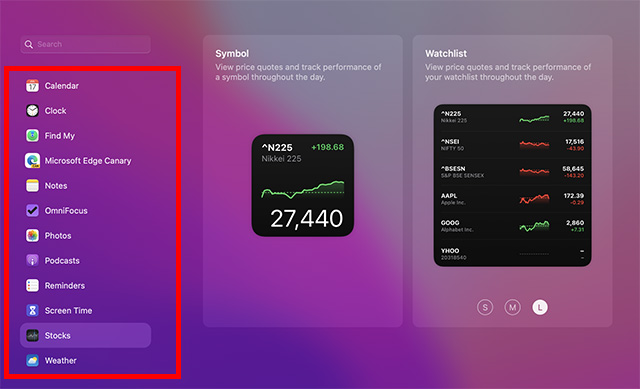 Hover above the widget, and you will see a 'plus' sign. Click on it to add the widget to your Notification Center.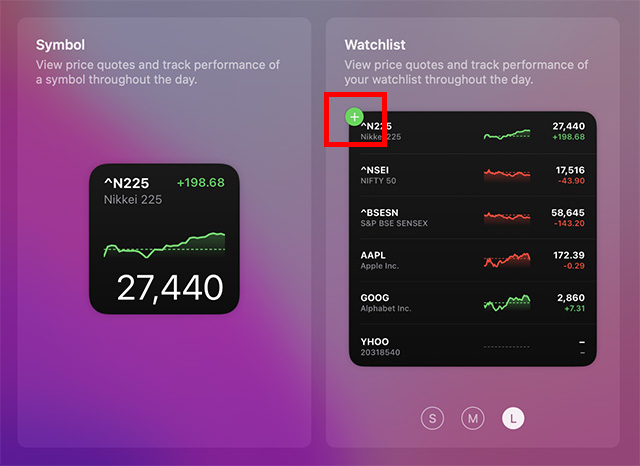 Top macOS Monterey Widgets You Should Try
There you have it! So, that wraps up our massive roundup of the best widgets for macOS Monterey. With a wide variety of widgets at the beck and call, there is a good chance that your collection has finally got enough handy widgets for both Notification Center and desktop. By the way, which one of these widgets has become lucky in terms of finding a safe spot in your lineup? Make sure to let us know your top Mac widgets. And if there are any widgets that are worthy enough to be mentioned in this post, tip us about 'em all as well.
---
Load More