Appearing offline in a multiplayer game can be handy, especially if you do not want your friends or your employers to know you are online. In every Riot game, including Valorant, you can see a status under your name in-game describing your current activity. However, Valorant does not give you the freedom to appear offline or change your in-game status. But, in this guide, we will share working methods to appear offline in Valorant, so you can play the game without others knowing.
Use Deceive to Appear Offline on Valorant
As there is no official way or method to remain offline while you play Valorant, proceed with caution. Riot claims this to be a safe method but given how randomly Vanguard works, it might end up not working in the future.
By using this method, you will be able to see all your friends, chat with them, or invite them yoo. However, since you will appear offline to them, they will not be able to do the same. As a result, they will not be able to locate you in their social section in-game.
So, follow the steps below to turn yourself invisible in Valorant using Deceive. Before you proceed, make sure your Riot Client is turned off before you start the Deceive app.
To start the process, you first need to download the Deceive app from GitHub.
Once you download the assets, find Deceive.exe and run it as administrator.
To do that, right-click on the .exe file and select the Run as Administrator option.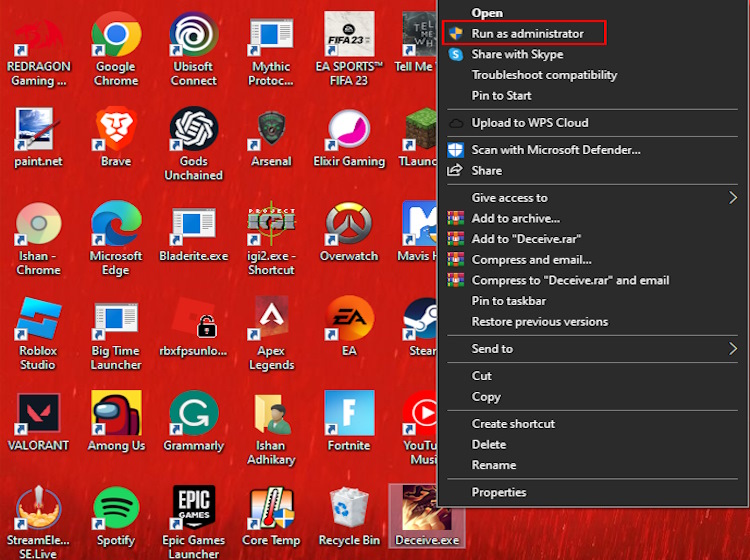 Once done, open the app to see a list of Riot Games. Select Valorant, and your game will run as Deceive runs in the background.
By default, you will appear as Offline in-game. In case you want to change the status, you can click on Deceive app on your system tray and select Status Type to change it.
When you are in-game, you will see a friend in your friend list named Deceive Active. This indicates the method worked. You can disable this by quitting the game and closing Deceive from the system tray.
Once you restart the game without Deceive, the game will restore your online appearance. However, keep in mind that the developer can make changes to Vanguard or their social appearance system to make this third-party application not work as intended.
How to Remove Players to Appear Offline
While the method above to appear offline on Valorant is unofficial, there is another way you can appear offline to select people without putting anything at risk. For this method, you need to completely remove a friend on Valorant, and here is how you can do that:
Run Valorant and look for the player you want to Remove on the Friends tab.
Now, right-click on their name and click on Remove Friend in the menu.
You will now appear offline in their Valorant Friends tab.
That is all you need to know about playing Valorant without remaining offline to others. As Riot Games does not offer status-changing options, the above-mentioned methods are your best way to appear offline in Valorant. While blocking players, make sure they haven't changed their name in Valorant.
---
Load More