I have a love and hate relationship with PDFs. On one hand PDFs provide an easy and secure way to share documents with others and on the other hand the PDF file format makes it really hard to manipulate the files. The problem is amplified by the fact that most of the free or cheap PDF editors that we find online don't work properly and the ones that actually do work cost a lot. That's why I was elated when I first discovered Hipdf. Not only the service lets you easily lets you edit, convert, merge, split, and password-protect your PDFs, it's also completely free of charge. The service even doesn't employ any ads which makes this a must-have tool for anyone who works with PDFs. In this article, I am going to take you through the service and show you if it's worth your time or not:
What is Hipdf?
As I mentioned in the introduction, Hipdf is an all-purpose tool which can be used to edit, convert, merge, split and password-protect your PDFs. The best part about using this service is that it's completely free to use and it's not even ad-supported. One of the things that I also love about this app is that it's a web app which means that not only it will work on all the desktop operating systems, it will also be available to you if you want to perform some quick PDF manipulations from your smartphone or tablet.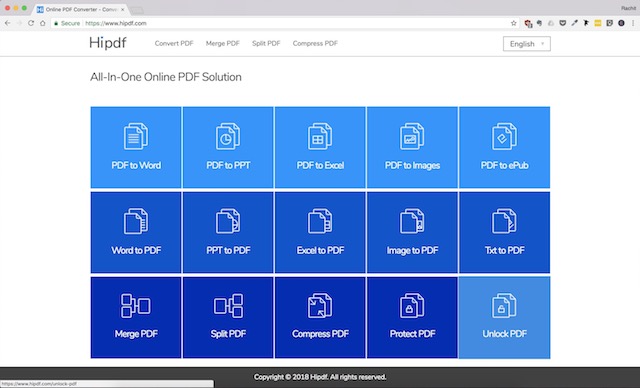 Hipdf: How Does It Work?
Hipdf allows you to upload your files on their website and then they apply your manipulations and let you download the edited file. One of the best things about using Hipdf over any other such service is the fact that all your uploaded files are deleted from the company's server within one hour of you uploading them. That means you don't have to worry about anyone stealing your data which is a major concern with other online services.
Hipdf: What Are The Tools That It Offers?
Hipdf comes with a plethora of tools using which you can perform all kind of manipulations on your PDF files. Here are most of the Hipdf's noteworthy tools:
Convert PDF
PDF to Word
PDF to PPT
PDF to Excel
PDF to Images (JPG, PNG, BMP, TIFF, and GIF)
PDF to ePub
Convert to PDF
Word to PDF
PPT to PDF
Excel to PDF
Txt to PDF
Images to PDF (JPG, PNG, BMP, TIFF, and GIF)
Other PDF Tools
Merge PDF
Split PDF
Compress PDF
Password protect PDF
Unlock PDF
How to Use Hipdf
As I mentioned above, Hipdf is an easy to use tool. All you need to do is upload your PDF files, perform your manipulations, and then download the edited files. In this section, I am going to show you how you can perform those actions:
Converting PDFs into Other File Formats
To convert PDFs into other file formats, just open the Hipdf website and click on the file format that you want to convert to. For the purpose of this tutorial let's convert our PDF file into a word document. To do that, click on the "PDF to Word" tile.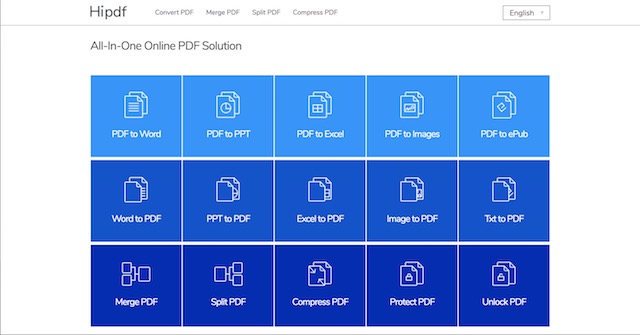 On the next page, you can either click on the Choose Files button to open a file navigator window or just drag and drop files like I did.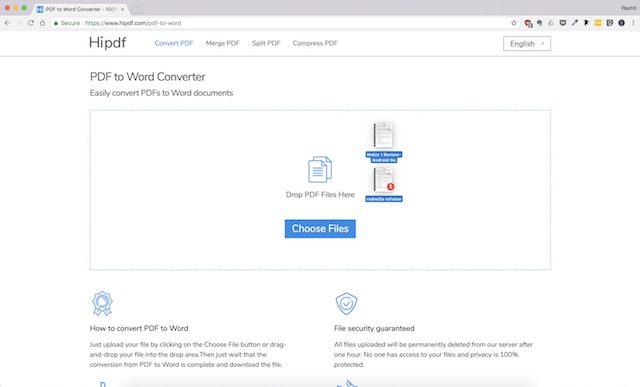 Hipdf will take a moment to upload and convert the files and give you an option to download them. Using the same method you can convert PDFs into any PPT, Excel, Images or vice versa.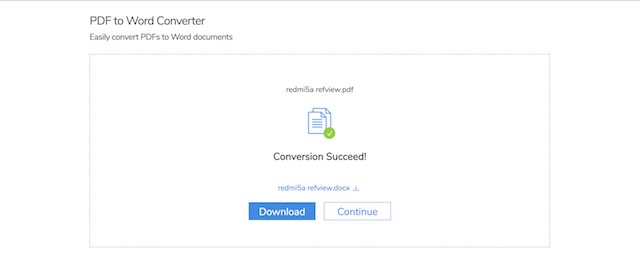 To merge multiple PDF files into one, first, click on the Merge PDF menu and then drag and drop the PDF files that you want to merge.

Once you drop your files and they finish uploading, you will see a Merge button no the website. Click on it to merge the files and then download the merged file by clicking on the download file button on the next page.

By now, you must have understood what you have to do. Click on the Split PDF menu and then drag and drop the file that you want to split. Then select how you want to split your PDF files and click on the Split button. It will just take a few seconds to perform the operation after which you can download the split files using the Download button.
To compress PDF files, first, click on the Compress PDF menu and then drag and drop the PDF files that you want to compress. Here, you will get three compression option to choose from. Choose the one which suits your needs and then click on the Compress button to compress the files.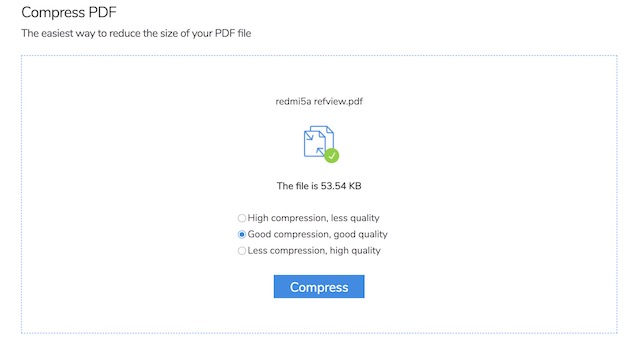 Price and Availability
Hipdf is a free online tool which can be accessed by visiting its website. All the operations that you perform are free of cost and there are no paywall restrictions in place. There are also no ads on the website.
Pros:
Fast and Easy to Use
A plethora of tools available
Free of cost and no ads
Works Everywhere
Cons:
mobile site works but not very responsive
Edit Your PDFs like A Pro with Hipdf
Hipdf is a great tool to easily edit and convert your PDF files. The service is free to use and doesn't store any of your data. It is one of the best PDF editing tools I have seen in a while and I highly recommend it.
---
Load More