Google showcased a bunch of new Google Maps features at the I/O event today, and pretty much all of them are aimed at making Maps become more personal, and more than just a navigation app.
However, the biggest addition to Google Maps has to be the "Augmented Reality" directions, which seek to make walking around using maps a whole lot more fun.
If you're trying to follow a set of directions, then you can simply hold your phone up, and Google Maps will match the view from your camera to the saved Street View imagery. It'll help you figure out which way you need to walk, and also help you discover places in your vicinity. Although the company didn't mention exactly when the feature would be available, it did hint that the app might have a virtual guide as well. Google Maps will also use the power of machine learning and data to automatically match you with new places and venues around town. According to Google, the matches will be based on factors including places you have visited before, your reviews, places you've liked, etc.
Google is also incorporating a new "Group Planning" feature which will let you create shareable short links making it easier to coordinate plans with friends. Once finalized, you'll be able to make reservations directly from the Google Maps app itself, or ask the Assistant to do it for you.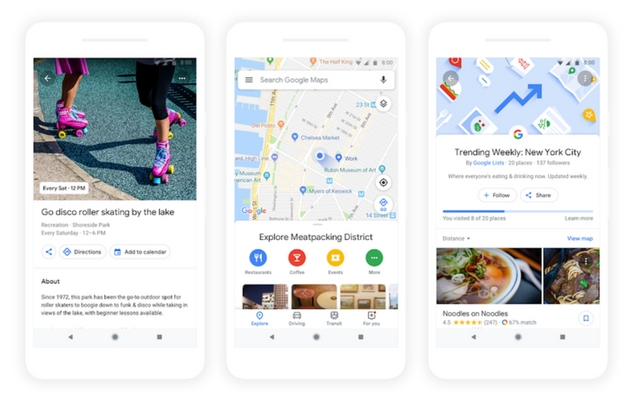 Lastly, there's a "For You" tab which will offer a customized view of trending places in areas near you or you chose to view. This particular tab will show you things like matching, trending, newly opened places, etc.
All the new features for Maps, except for augmented reality directions, are set to come to both Android and iOS later this summer. There's no timeline yet for AR directions on the app yet.
---