At the I/O 2018 conference, Google announced that the Google Assistant is all set to become more conversational, thanks to the addition of six new voices that sound more human than the default one, alongside features like custom routines and continued conversation among others. The new Google Assistant voices are now widely available and can be set as the default voice for the virtual assistant.
The six new natural-sounding Google Assistant voices have been developed by using WaveNet technology, an AI-based voice synthesizer created by Google's DeepMind subsidiary. WaveNet has fine-tuned elements such as pitch, pace, and pauses in the Google Assistant's voice to make it sound less robotic and more human.
A surprising addition to the new Google Assistant voice list is that of the award-winning musician John Legend, but that's only coming later this year. So, if changing the virtual assistant's voice is not on your agenda, perhaps hearing Legend answer your weather questions in his soulful voice could make it worth while.
If you want to try out the new Google Assistant voices, you can do so by following these steps:
Open the Google Assistant app
Tap on the three dot icon in the top right corner and select 'Settings' 
In the Settings menu, tap on 'Preferences'
Once you've opened the Preferences section, tap on the 'Assistant Voice' option

Try out the different Google Assistant voices and select the one you like the most as the default voice.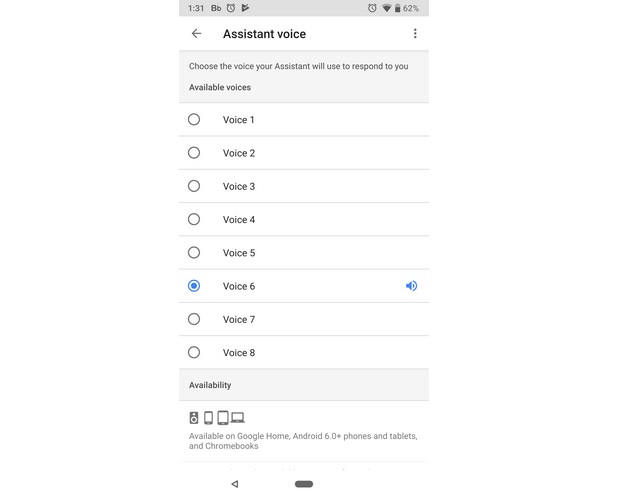 The new Google Assistant voices are now available on smartphones and tablets running Android 6.0 or a higher version, Google Home smart speakers and Chromebooks. However, it appears that the new voices are only available in English, so French and Spanish speakers will have to make do with 'Holly' – the current voice.