Google I/O 2018 is currently underway in Mountain View, California and the company has today announced that Google Assistant is going to be more conversational, sound more human with support for new voices, and teach your kids to be respectful. So, let's dive in and take a closer look at the new features:
Natural Voice
With voice now becoming the most important and convenient mode of action, Google has created six new voices for the Google Assistant that sound more human. The company has employed its WaveNet technology to bring the subtleties such as pitch, pace, and pauses in the Assistant voices, which it says do a better job of conveying emotion and meaning.
Users will soon get access to six natural-sounding voices for your Google Assistant with a surprise addition of music composer John Legend's voice coming later this year.
Continued Conversation
On stage, Google CEO Sundar Pichai said that users have been continually been asking to make it easier to converse with the Google Assistant. So, Continued Conversation is going to do just that and you'll no longer need to repeat the 'Hey Google' hotword at the start of each follow-up query.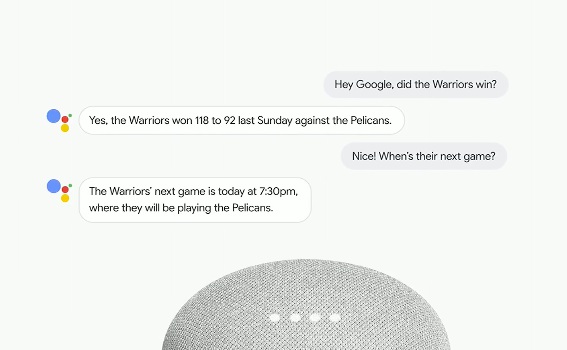 This feature will start rolling out in the next few weeks, enabling the Assistant to understand the distinction between when you're giving it a follow-up command or when you are talking to someone else. It has also gotten better at understanding more complex queries, so asking for the "best Thai restaurant open right now in Connaught Place in Delhi" shouldn't be a problem.
Multiple Actions
Google Assistant can also help you out like a real-world concierge when you ask it many things at once. "With Multiple Actions, which is already starting to roll out, the Google Assistant will be able to understand more complex queries like 'What's the weather like in New York and in Austin?'," says Google.
Pretty Please
With the growing number of smart speakers in our homes, this feature is designed to teach kids to be kind and respectful, which they don't necessarily have to do with smart speakers. It will encourage them to append 'please' and 'thank you' to the commands to Google Assistant, which will reply with something nice or commend them for being polite.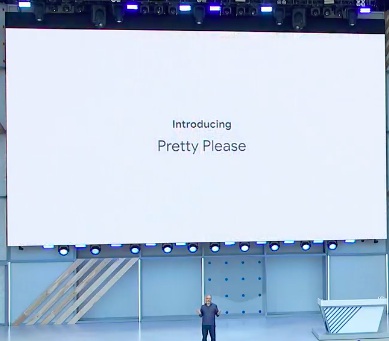 The 'Pretty Please' feature is for families, so it will be powered by Family Link and be made available later this year. Until then, you will have to school your children to be kind and polite towards the AI voice assistant yourself.
New Experiences for Phones
The Google Assistant, if you didn't know, has also spread to Smart Displays (which are coming in July later this year) and the need for more visual cues was much-needed. So, the Assistant is being updated to surface more visual cues along with an audio response.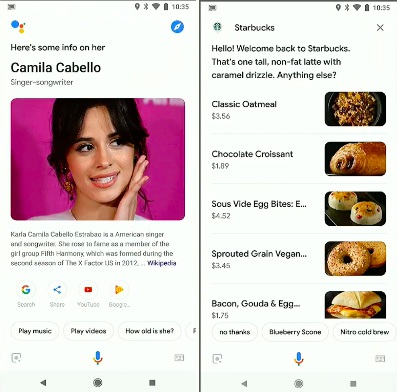 This is the reason you'll soon see a refreshed Google Assistant experience on phone. The response to your commands will be shown in full-screen pages to make them pop. You will be able to control your smart home appliances from within the Assistant window, along with asking the Assistant to order your favorite food from Starbucks, Doordash and Applebee's and other food partners.
As for Smart Displays, you'll soon be able to instruct the Assistant to show you cooking videos – with context cards and other programming from YouTube. The Assistant is also making its way to navigation in Maps, so that's kind-of awesome as well.
Custom Routines
Earlier in March, Google Assistant bagged the 'Routines' functionality that allows users to do multiple things with a single command. It, however, only provided you a six pre-made Routines and Custom Routines were rumored to be coming very soon. Well, they're here now and enable you to create your own Routines from scratch.
This means you can build Routines for morning, dinner time or for when you're ready for bedtime. As Google puts it in the blog post, "You can create a Custom Routine for family dinner, and kick it off by saying 'Hey Google, dinner's ready' and the Assistant can turn on your favorite music, turn off the TV, and broadcast 'dinner time!' to everyone in the house."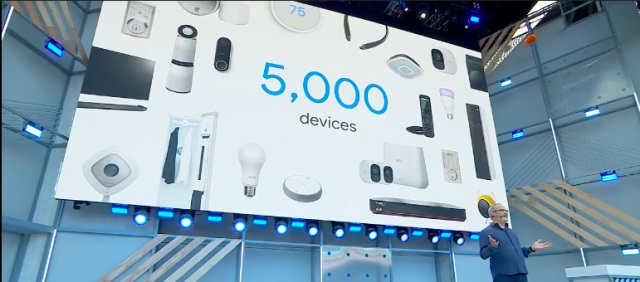 On stage, the company revealed that Google Assistant is currently accessible on close to 500 million devices and compatible with over 5,000 connected home devices from 40 odd brands. Google further also announced that Google Assistant will be available in 30 languages across 80 countries by the end of this year.
So, as you can clearly see, Google Assistant is shaping up to be a great rival to Amazon's Alexa. We'll now just have to see who is going to dominate the race for their place in our homes.