Genshin Impact 4.2 has finally been announced and it brings lots of new content like new character banners, a new world quest, an Archon quest, a new Fontaine region, and more importantly, four new events that should grant players lots of new Primogems to pull for their favorite and upcoming new characters. Like in each version, there's a flagship event in Genshin Impact 4.2 which will give away more rewards than the usual events. In this article, let's brief on all Genshin Impact 4.2 events, their rewards, and objectives.
Thelxie's Fantastic Adventures
Courtesy of the Fontaine Fishing Association, Thelxie's Fantastic Adventures is Genshin Impact 4.2's flagship event where players will have to investigate the rumors of water imps near Errinnyes Island.
The event will have three stages — Motherboard Troubleshooting where players will have to forge a path to connect circuits, Recprd of the Search for Glory where players will have to use Echoing Conches to search for items for Thelxie, and the last stage, Purgation Counterstrike will involve players fighting enemies with the help of Thelxie.
In total, players can obtain around 800 Primogems from the event and by completing the pre-requisite quests. Not to mention, since this is a flagship event, in the end, players can claim one free Freminet and a Crown of Insight.
Lil' Fungi's Fun-Tastic Fiesta
Previously known as Fabulous Fungus Frenzy which was held in Sumeru, Lil" Fungi's Fun-Tastic Fiesta will be held in Fontaine, and besides the name, a few changes have been made to the overall gameplay of the event. Players can challenge NPCs in a Fungi vs Monsters battle and play strategically with different Fungi combinations to win matches.
It was also noted that HoYoverse might change the game rules and mechanics in the future for this specific event to make it more engaging and fun. Hence, don't be surprised if you see lots of changes and optimizations if this event ever comes again in the future.
There will be a total of seven stages in this event and each stage gives 60 Primogems, which equals 420 Primogems in total.
Graph Adversarial Technology Experimental Log
For those who don't understand, Graph Adversarial technology is the study of photos and their characteristics. The commission for this event is posted by a Fontaine researcher Pauline obsessed with Graph Adversarial Technology and has made great contributions to the study of counter-criminal image recognition. Players will have to help her collect field samples as she's occupied with other scholarly stuff, and the reward for the same is a Zoom lens, like Charolette's passive.
As for the rules of the event, players will need to submit five photos of different sample types that match the characteristic that's given on each day. Players can also exchange samples with friends. For those who miss this chance of getting the zoom lens, they can later get it. As for the total Primogems this event will give away, it's 420 Primogems.
Misty Dungeon: Realm of Water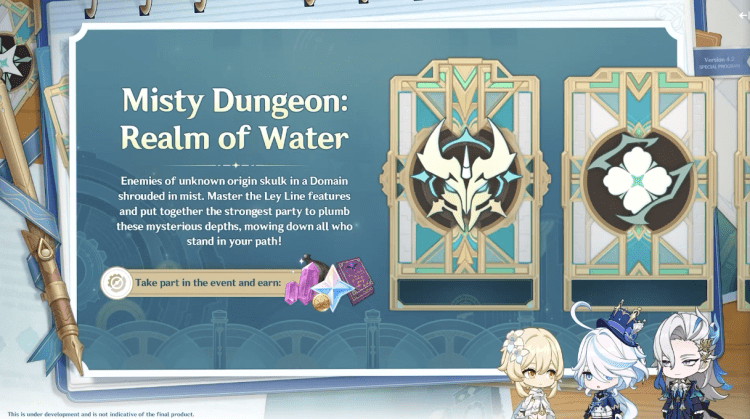 Misty Dungeon is a pretty straightforward event. You will be given Trail characters plus you can choose your characters to fight enemies in a Sensory Trial Ley Line Disorder. Each Trial has its own buffs, so players will have to choose characters accordingly. This event will also give a total of 420 Primogems.
Ley Line Overflow
The Ley Line Overflow event is where players can obtain double the rewards using resin by fighting enemies in Ley Line Deposit challenges. This is a great way to stack up Mora (Flower of Wealth) and Adventurer XP books (Flower of Revelation). This event will be appearing at the end of Genshin Impact 4.2
These are all the events in Genshin Impact 4.2. Have you decided on the character you will be pulling after obtaining over 2000 primogems from these events? Let us know in the comments section below. If you're interested in finding out how many Primogems you can obtain by the end of Genshin Impact 4.2, refer to our Genshin Impact 4.2 Primogems count article.
---
Load More