Fortnite often gives its players a chance to earn multiple free rewards through incentive programs. In 2023, Fortnite provides rewards to players who are returning to the game after a while or are new. Currently, you can get a bunch of free rewards in the game via the Refer a Friend 3.0 event. This means you can get a Redcap outfit and other free rewards to get new players to join the game. Learn all about the Fortnite Refer a Friend 3.0 event, rewards, and how to complete the tasks below.
How to Refer a Friend on Fortnite in 2023?
Before you get started with the process, make sure you know the eligibility for the event. The Refer a Friend 3.0 event is now live and ends on January 9, 2024, at 11:59 AM ET (8:59 AM PT). This means you will have to complete all the tasks and claim rewards before this time.
The players you invite will have to be either returning or new players to meet the eligibility criteria. You will also need to remember that a returning player is someone who has played less than two hours of "Battle Royale" or "Zero Build – Battle Royale" in the last 30 days. Now that you know about the eligibility and end date, let us jump into the process of how to refer a friend on Fortnite in 2023.
Go to the Refer a Friend website and click on LOG IN at the top right corner.
After you log in with your Epic account, you will be redirected to the next page. Select the ADD A FRIEND option.
Once you click the option, a new pop-up will appear with a list of friends who are eligible for the event.
Now, click on the name of any of your friends and click the ADD button.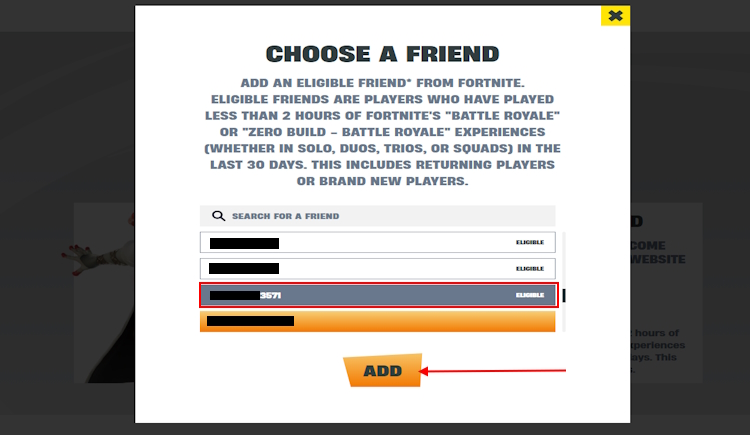 That's it. Now play with the friend you added and complete tasks to unlock new Fortnite Refer a Friend 3.0 rewards.
Note: Your invited friends don't need to log in to this website. You can also use the SHARE INVITE button to invite friends externally. We suggest the above-mentioned method so that you do not have issues in claiming your rewards later.
All Fortnite Refer a Friend 3.0 Rewards
Once you have invited friends you will need to know about the rewards and how to get them. Check the table below to learn about all the rewards and quests you will need to complete. Upon every quest completion, you will receive your reward. You can also do the same task with multiple friends but the reward will be credited once. An invitee can participate in a maximum of five referrals.
| Reward Name | Quest | Preview |
| --- | --- | --- |
| SPRAY | Invite one friend | |
| WRAP | Play one match with an invited friend | |
| BACK BLING | Place Top 10 in six matches with an invited friend | |
| PICKAXE | Eliminate 45 opponents with invited friend | |
| "REDCAP" OUTFIT | Obtain 45 cumulative account levels with an invited friend | |
Frequently Asked Questions
Do I need to sign up to earn the rewards?
If you are referring friends, you must sign up or log in. However, if you are invited by a friend, you will receive refer a friend 3.0 rewards just by playing with them.
---
Load More