2017 was the year that saw the resurgence of the battle royale genre such as PUBG and Fortnite, and the first few months of 2018 has given us no reason to believe that it will be any different this year.
Now that they are starting to launch on mobile, they are now proving to be just as popular as they are on consoles and PC. According to Apptopia, Fortnite had already became the second-highest grossing game on iOS behind perennial favorites, Candy Crush Saga. And to think it's not even got a global launch.
Now, app insight and analytics company, Sensor Tower, has just published a report that says the hyper-popular title from Epic Games has earned $1.5 million globally in just one week. More than $1 million of that, apparently, came within the first 3 days after the devs tuned on in-app purchases.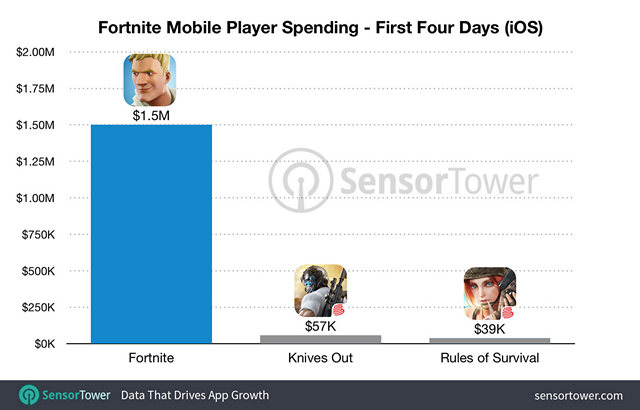 To put things in perspective, other battle royale games, such as 'Knives Out' and 'Rules of Survival', earned approximately $57,000 and $39,000, respectively, in their first four days of being listed on the App Store.
Alongside PUBG, Fortnite is one of the most popular games in the world right now thanks to its battle royale mode that's free-to-play. The game also recently got an endorsement of sorts from Hip Hop star Drake, which catapulted it's popularity even further.
The incredible success of these two games has even tempted the publishes of many other successful franchises to add battle royale modes to their titles, with recent reports suggesting that, even Red Dead Redemption 2 will apparently add a battle royale mode later this year.