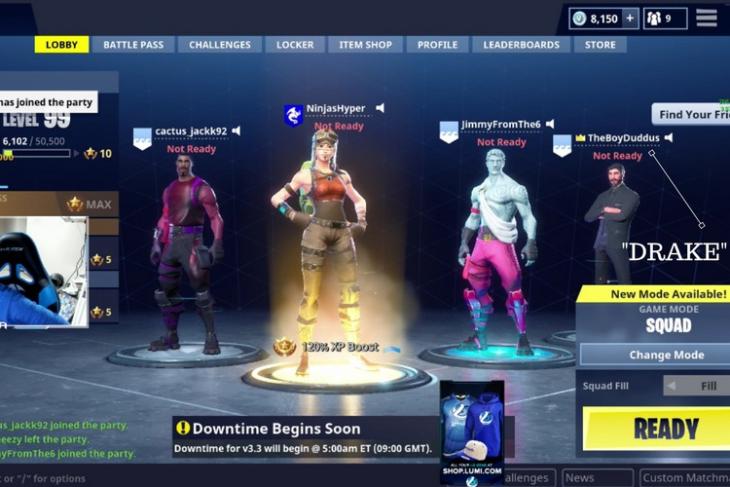 If you had previously never heard of Twitch, then today may be the day that changes, as more and more people hype up the platform. That's because Twitch's biggest streamer, Tyler 'Ninja' Blevins teamed up with popular hip-hop star Drake to stream trending Battle Royale game Fortnite, smashing an all-time record for most concurrent viewers on an individual's live stream.
Record-Breaking Stream
Hold your breath, you wouldn't believe this. More than 600,000 people were glued to their computer/ phone screen watching Ninja and Drake take down cartoonish enemies in Fortnite at 1:30 a.m PST. The stream managed to push out Dr. Disrespect's previous record of 388,000 concurrent viewers.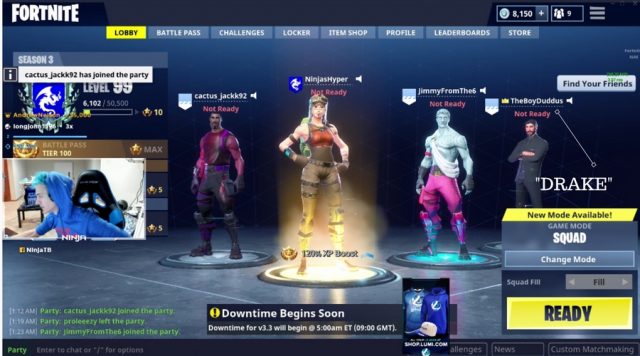 During the stream, Drake said that he had been playing Fortnite on his PS4 (while Ninja plays the game on PC) for a couple odd months. He asserted that his team took a small break to play Fortnite in between recording sessions and that he'd been watching Ninja's gameplay both on Instagram and YouTube for quite some time.
Rumors of Drake possibly streaming games with Ninja first surfaced when the hip-hop star followed the streamer on Instagram. And the viewers were greeted with a surprise today, such that a boatload flocked in to watch them.
The Twitch stream initiated with just 200,000 viewers for Ninja, which is not uncommon for him, but the numbers started to escalate and reached unexpected heights when Drake tweeted out a link to the stream to all of his 36+ million followers. This pushed the viewers to over 500,000 and there was no coming back:
playing fort nite with @ninja https://t.co/OSFbgcfzaZ

— Drizzy (@Drake) March 15, 2018
Those who were keeping track of the game saw Ninja and Drake score some victories, but the stream became a hit because of the non-stop fun and was further spiced up by the entry of more celebrities. Hip-hop star Travis Scott, American football star JuJu Smith-Schuster, and Megaupload founder Kim Dotcom also joined in on the fun.
It's lit!! pic.twitter.com/V5vjhLjykN

— JuJu Smith-Schuster (@TeamJuJu) March 15, 2018
Ninja currently boasts of having close to 3.4 million followers (not paid) and 176,000 paid subscribers, so you know he's earned hundred pf thousands of dollars from the Twitch streams, but this was fame at another level, going beyond the usual gamer audience.
So proud & happy of everyone supporting @ninja & the huge accomplishments achieved tonight. He has such a good heart & has helped put the spotlight on @Twitch even more.

The love for gaming is taking over 2018. 🙌🏻

— Anthony Kongphan (@AnthonyKongphan) March 15, 2018
The stream also shone more spotlight on Fortnite, which had recently overtaken PUBG as the most-streamed game, and Twitch as a whole. Fortnite garnered a ton of limelight in the process, showing that even Hollywood stars and singers enjoy this funky, yet intense, battle royale game.
One thing is clear: Ninja and Drake's antics and the 600K-plus viewers on the stream have created a watershed moment for Twitch, which is owned by Amazon. The company is making major inroads in its battle against YouTube and open live streaming to an audience who may not have known about it before. YouTube followed suit with YouTube Gaming but that could soon become irrelevant if Twitch continues this form.
this is history in the making, ladies and gentlemen

if twitch wasn't mainstream already, this is its big break

— Sam Sheffer (@samsheffer) March 15, 2018
Biggest stream ever on a solo creator's channel and maybe all of Twitch. The gamer/ streamer world normally doesn't get taken this seriously. It's insane exposure and credibility for gaming and streamers everywhere

— Jacksepticeye (@Jacksepticeye) March 15, 2018
This could be the moment Twitch goes beyond the niche community of gamers and becomes a mainstream success. And the platform has already prepared to hog the attention away from its arch-nemesis YouTube with the IRL section. It has even poached a ton of well-known YouTubers to give the real-life section a large push, making the platform more friendly for the general masses.
People who say esports doesn't have a future because they refuse to understand it have to be so confused right now. pic.twitter.com/NCQTk3pILo

— Darren Rovell (@darrenrovell) March 15, 2018
And as the online community has rightly pointed out this reaffirms the fact that esports are here to stay and game streaming could become mainstream and not so nice. Twitch is most likely to witness an uptick in user numbers, following this record-breaking stream and could give YouTube more to worry about. So, were you able to catch Drake playing Fortnite with Ninja? If not, check out a recap of the whole stream right here.