With the festive season of Christmas and New Year just around the corner, Flipkart is bringing back its Big Shopping Days sale. The sale will start on December 7 and will go on until December 9. There are a lot of offers on the plate which will have customers drooling over. While none of the offers are officially announced, the e-commerce giant is giving customers a sneak peek into all the offers that will be launching with the Big Shopping Days sale. For obvious reasons, I am especially excited about the deals Flipkart is offering on smartphones. If you too are looking for to upgrade to a new smartphone, here are some of the smartphone best deals that Flipkart has on offer:
The offer I am most excited about has to do with the new Google Pixel 2 and Pixel 2 XL as they are my favorite smartphones of 2017. The website shows that that the Pixel 2 and Pixel 2 XL will be available for unimaginable prices bringing the price down to compete with the OnePlus 5T. Well, Flipkart has revealed the deal and on December 7, you will be able to get the Pixel 2 for as low as Rs. 39,999. You can get all the details around the Pixel 2 deal in our detailed article.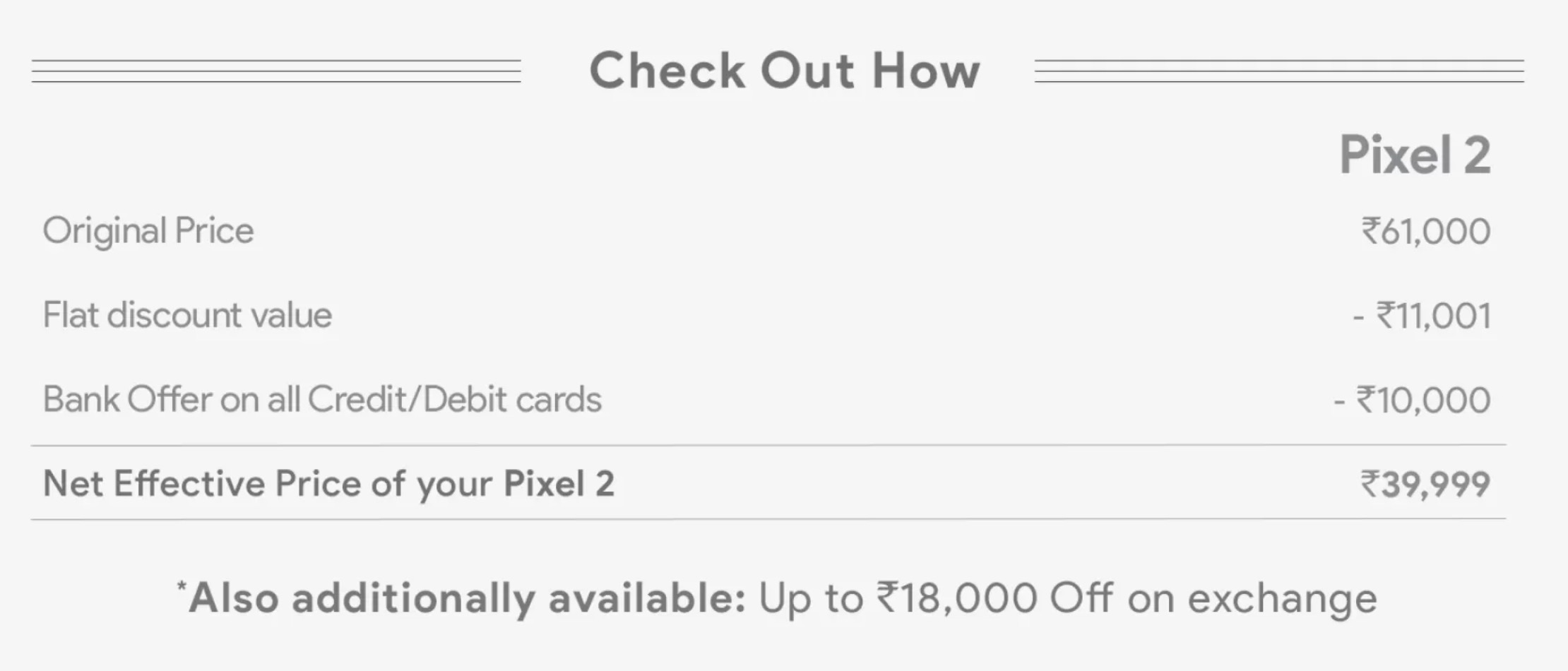 On the iOS side of the spectrum, Flipkart is touting the biggest iPhone X sale in India. The sale will start at 00:00 hours on 7 December, so keep your fingers ready as there's a limited a stock, which will run out pretty quickly.

If you are more interested in budget phones, Redmi 5A will be launching at a price of just Rs. 4,999 with a 3000 mAh battery and Snapdragon 425 processor. The sale will start at 12 PM on 7 December. Seeing how fast the stock runs out in Xiaomi's flash sales, you won't have much time to get this deal, so, keep your finger on the buy button.

Other offers include heavy discounts on Xiaomi Mi A1, Redmi Note 4, and iPhones. All the discounts will be revealed during the Big shopping Days sale. Needless to say, this will be the best time to buy a smartphone if you are seeking to upgrade from your older device. Apart from smartphones, Flipkart will also be offering heavy discounts (upwards of 50%) in various categories, including TVs and Appliances, Electronics and Accessories, Fashion, Books, and more.

To top it all off you are also getting offers such as buyback programs, no-cost EMI, exchange programs, and more. There is a lot to like here, especially if you are a prospective smartphone buyer.
The offers on Pixel 2, iPhone X and other budget smartphones are tempting to say the least, and you should mark your calendar lest you want to miss out on them. Also, we will keep updating this post as Flipkart reveals more.
---