We just published an article informing our readers about the Flipkart Big Shopping Days deals. If you have not read the article till now, basically, Flipkart is hosting a big sale from December 7 to December 9 and offering mega deals on smartphones and other products. Flipkart is also teasing customers by releasing the deals one-by-one and keeping them on their toes. For example, at the time of publishing the above-linked article, we only knew that Flipkart will offer deals on Pixel 2 smartphones which will make it a better buy than the OnePlus 5T.
However, we didn't know the exact details of the deals. That said, Flipkart has just revealed its deal on the Pixel 2s, and it is mouth-watering. Interested buyers can now get their hands on a brand new Google Pixel 2 for only Rs. 39,999. Yes, you read it right. You can get a whopping Rs. 21,001 discount on the Pixel 2 original's price of Rs. 61,000. If that doesn't get you excited, I don't know what will. I have said time and again that Pixel 2 is my favorite Android smartphone of this year, and this deal makes the phone irresistible.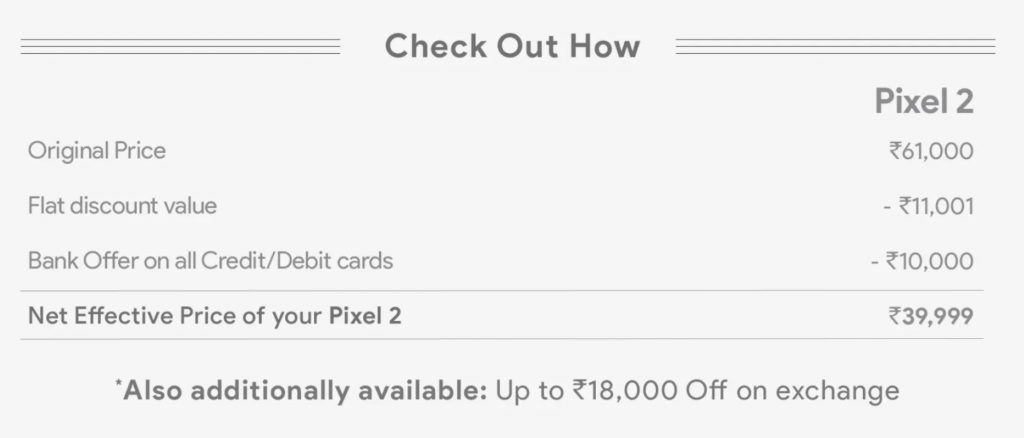 If you are interested, the details of the deals are as follows:
Flipkart will be offering a flat Rs. 11,001 discount on the Pixel 2
An additional Rs. 10,000 bank offers on all the credit/debit cards.
The e-commerce giant is also offering a buyback guarantee of up to Rs. 36,500, when you exchange your Pixel 2 later.
Flipkart is offering an additional discount of up to Rs. 18,000 if you trade in your older device.
I am happy that even debit card users can avail this benefit, as usually these offers are strictly limited to credit card users. Combine them both and you are getting a Pixel 2 for just Rs. 39,999.
So, let's summarize. You are getting a brand new Pixel 2 for INR 39,999. You can avail an additional discount of up to INR 18,000 if you trade in your older device and Flipkart is providing a buyback guaranty worth INR 36,500 for your Pixel 2, which basically makes the phone free if you return it after using it for a few months.
If Pixel 2 was on your watchlist, right now is the best time to buy it. Remember, the deal will go live on December 7, so keep your cards out and fingers ready.
---