Facebook Messenger is a widely used instant messenger and for good reason. The app packs in a variety of features to help you connect with friends and family, including a bunch of instant games that you can play with your friends right from within the app. Here we'll be taking a look at 20 of the best Facebook Messenger games out there, including some popular classics and a few new ones that you should definitely try.
20 Fun Facebook Messenger Games You Should Try
Note: There are no specific download links for these games. In order to access the games, you'll need to open up Facebook Messenger and search for the game you want to play.
1. Uno
The classic card game Uno, which has probably been the cause of many arguments between you and your siblings, is available as a Facebook Messenger game. For the unaware, Uno is a card game in which the main objective is to get rid of all the cards in your hand before your opponents are able to do so. The game makes use of a special deck of cards made specifically for the game and includes some unique cards like Skip, Reverse, Draw Two, Draw Four and Wild. With Uno on the Facebook Messenger you can relive your childhood memories and play with your old friends, even if they're miles away.
2. Words with Friends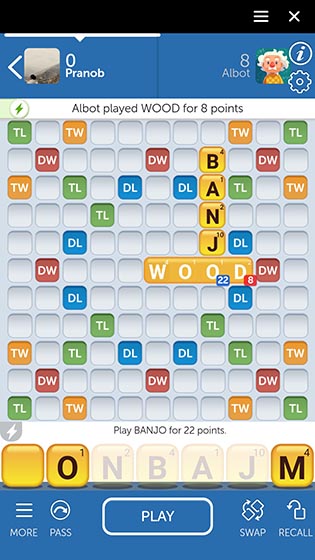 Words with Friends is another great game that I remember playing way back in college. The game is a take on the classic word game Scrabble, but instead of playing it on a board you get to play it virtually with your friends. In the game you need to fill up the board with words using letters in your tile bag and for each word you play you're rewarded some points, depending on the letters you use and the tiles on which you place them. The game is a great test of vocabulary and strategy at the same time, and it's a fun game to pick up whenever you have some free time.
3. Ludo King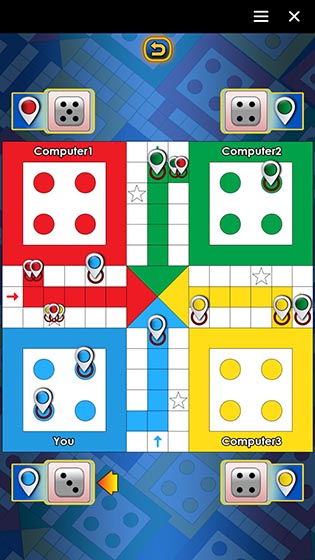 Ludo King is another great board game that you can play with your friends and family online. The game can be played by up to 4 people, where each player is assigned a color and four corresponding pieces. The objective of the game is to move all of your pieces once around the board and get to the tile in between. It may seem really simple, but it can get really frustrating because other players can send you back home if they land on the same tile as you. If you haven't played Ludo before, you should definitely try out Ludo King on Facebook Messenger for a start.
4. Basketball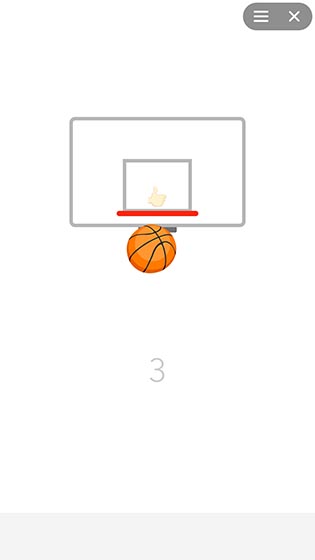 Next up is a really simple and straightforward game called Basketball, in which the main objective is to flick a basketball into a hoop repeatedly until you miss. The number of consecutive times that you're able to successfully score a shot becomes your score and your Facebook friends can try to beat that score on their end. The game seems fairly simple, but as the basket keeps changing positions you'll need to play at least a couple of games to get familiar with the touch controls. While this is available as a standalone game on Messenger, you can even activate it by sending someone a basketball emoji and tapping on it multiple times.
5. 8 Ball Pool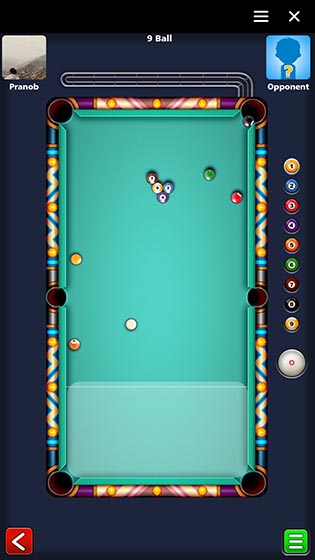 The popular virtual pool game – 8 Ball Pool- is also available within Facebook Messenger, allowing you to play a quick game of pool with your Facebook friends. You get to choose from three different game modes, including 8 Ball Pool, 9 Ball Pool, and a Quick Fire mode. While you can only play the 8 Ball Pool and 9 Ball Pool modes with a friend, you can play the Quick Fire mode all by yourself to brush up on your pool skills.
6. Draw Something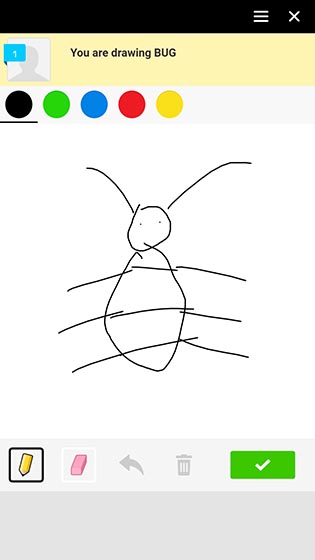 Draw Something is another great classic called Pictionary repackaged into a digital game for Facebook Messenger. The game tests your drawing skills by giving you a random word that you have to draw, the drawing is then sent over to whoever you're playing the game with and they have to guess what you've drawn correctly. Don't worry if you're not too confident about your drawing skills, because bad drawings can elicit some great reactions.
7. Quiz Planet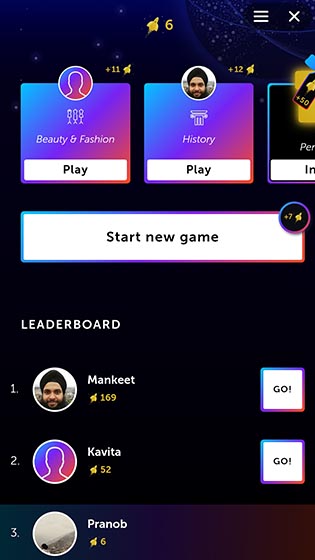 Are you a fan of trivia games? Then you should try out Quiz Planet – a fun trivia game that you can play with your friends. You can choose from a variety of topics and challenge your friends by answering questions based on the topics. Both you and your friends get the same questions and you have to answer these questions in a stipulated time limit. Once you're done with the quiz you can compare your scores and see who won. The game can even be played when none of your friends are online as the game records your responses and compares them with your friends' when they finally submit their answers.
8. EverWing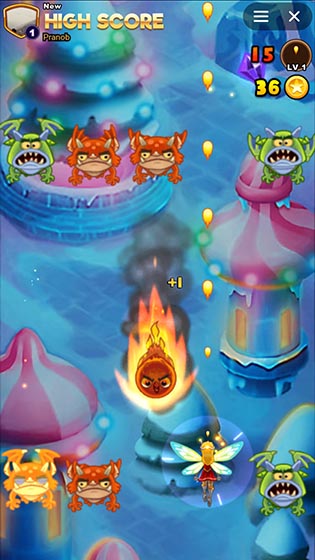 EverWing is an arcade style shooting game in which you control a fairy that shoots bullets at waves upon waves of monsters coming her way. The controls are pretty simple, with you just having to control the movement, but you need to have quick reactions or you risk crashing into one of the monsters. All the monsters that you successfully blow up drop coins and you have to collect these coins while also dodging oncoming projectiles. EverWing is a single player game but it does offer a leaderboard on which you can compare your high score with that of your friends.
9. Ninja Go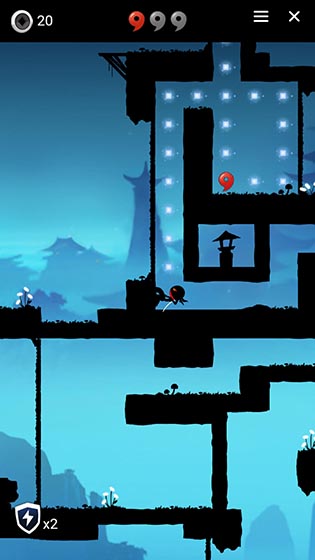 Ninja Go is a simple and fun puzzle game in which you play as a Ninja who has to collect dots spread across different levels. The controls are quite simple to pick up, requiring you to just swipe in the direction you wish to move, but the levels get progressively harder and include more obstacles so it does offer a significant challenge. To beat the game you need to have ninja like swiping skills or you might just die to the ever increasing number of obstacles.
10. Hanger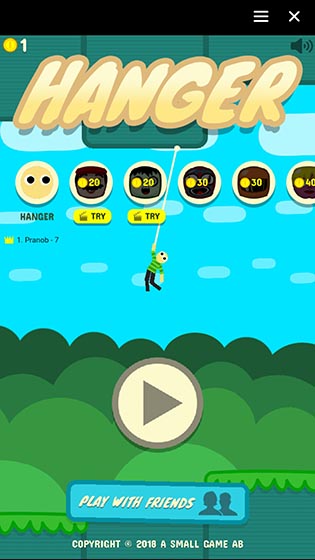 Hanger is a silly little game which is quite like Flappy Bird; no you don't control a flying bird, the game's just really frustrating. In the game you play as a guy who has to Spiderman his way through obstacles by hanging and swinging from the ceiling. Although it might seem simple, the game's incredibly difficult to master and it will have you pulling out your (or someone else's) hair in no time. Try out Hanger if you're looking for a mindless casual game to pass some time.
11. Connect the Dots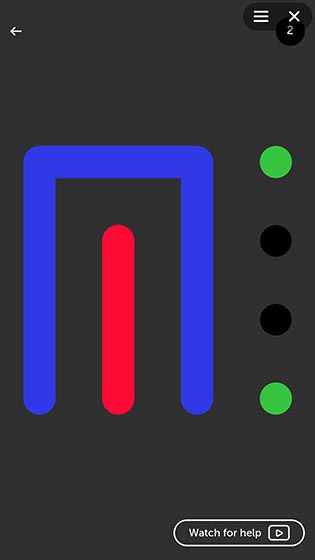 Have you played Flow on Android? Well, Connect the Dots is just that with a different name. The main objective of the game, as the name suggests, is to connect the same color dots on a checkered board. All you need to do to connect the dots is draw a line between the dots, however, be careful of the path you take or you might not be able to connect some dots on the board. While the early levels may seem really easy, later levels can definitely put up a challenge and you'll have to strategically plan out each level before drawing your first line.
12. Stone Dash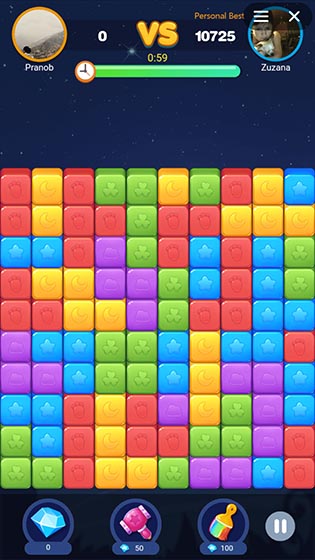 Stone Dash is a really simple to play arcade style game in which you have to blow up stones of the same color. The larger number of stones you blow up in one go, the more points you collect. Each level has a leaderboard and your objective is to collect as many points as you can to take the top spot. While you can randomly tap anywhere to break blocks and collect points, you'll need to strategically build up combos if you really want to land on the leaderboard.
13. Chess
You can even play a quick game of Chess on Messenger, a great adaptation of the popular game with a number of different game modes. The game offers simple daily puzzles in which a couple of chess pieces are arranged on a board and you have to win the game. There's the Blitz mode in which you get one minute per turn, a Time Attack mode in which you can play quick 5 minute games and the Classic mode in which the turn limit is set to 48 hours. If none of your friends are willing to play a game of chess with you, you can also play against random strangers online, which is a nice option.
14. Golden Boot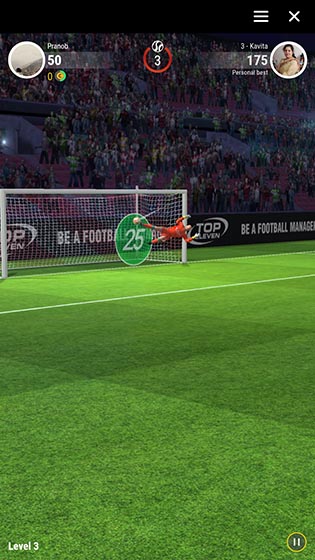 If you're a football fan then you should definitely try out Golden Boot, a simple football game on Facebook Messenger in which you have to take free kicks from a variety of different angles and score a goal to collect points. The goal post is divided into several different zones, each of which reward a different number of points if you manage to put the ball through the zone. While its easy to hit an empty goal at first, the game introduces defenders and a goalkeeper to make scoring goals even more challenging.
15. Last Knife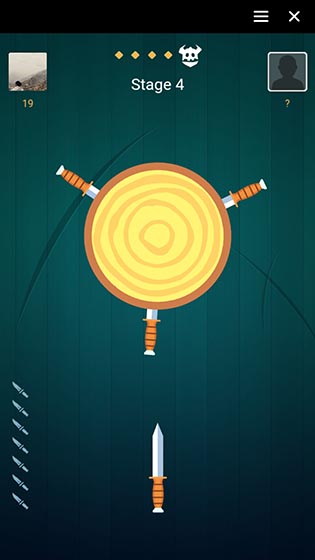 Last Knife is another fun game which puts your reaction skills to the test. In the game, you have to throw knives at a rotating board and try to break it. Each successive board can withstand an increasing number of knives, so as you progress you'll have to throw more knives at the board to break it. It's not as simple as it may seem, because every successive board features an increasing number of knives already stuck to the board that you have to avoid. If you hit a knife, the game ends and you have to start all the way from the beginning.
16. Space Invaders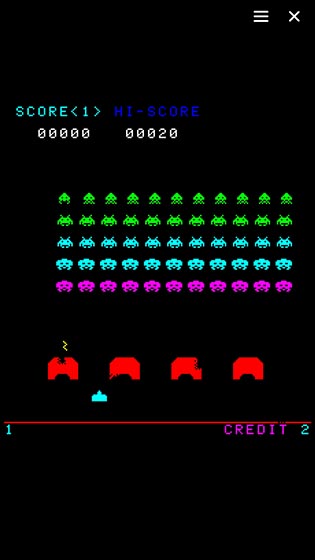 Retro game enthusiasts will definitely have heard of Space Invaders, a popular game from a bygone era that has made its way to the Facebook Messenger. Space Invaders on Messenger is exactly like the original game in which you control a spaceship which continuously shoots missiles at a grid of aliens. Your objective is quite simple, you have to take down all the aliens before they get you but once again, even though the controls are easy the game itself is quite difficult to master.
17. Angry Birds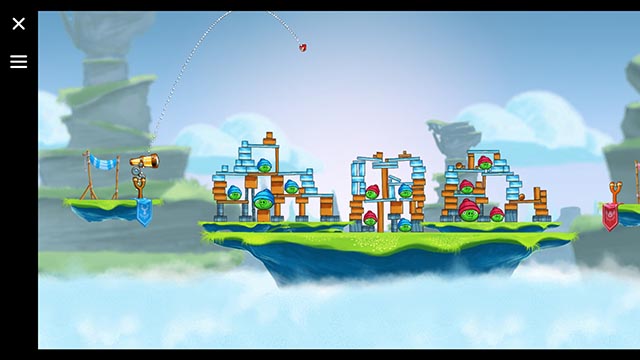 Most of you have already heard of Angry Birds and just in case you haven't, it's a simple game in which you have to catapult a variety of different angry birds at some greedy pigs and take them down. Each stage features two different type of pigs, one for you and one for your opponents, and you have to carefully pick which ones to kill or you might accidentally kill your own. The Facebook Messenger version of Angry Birds can be played against friends, making it a much more appealing option than the regular game.
18. 2048 Tetris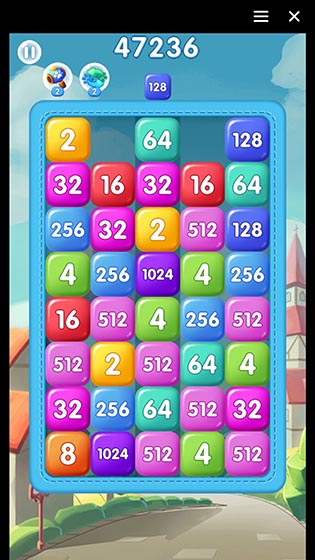 2048 and Tetris are definitely some of the best puzzle games out there, but 2048 Tetris is even better. The game combines aspects from both 2048 and Tetris into a mind-bending puzzle where you have to arrange the falling block according to their numbers while combining blocks with the same numbers to make a larger number. If you find 2048 and Tetris hard to beat, then prepare yourself for the ultimate test, because getting a decent score in 2048 Tetris isn't easy.
19. Sonic Jump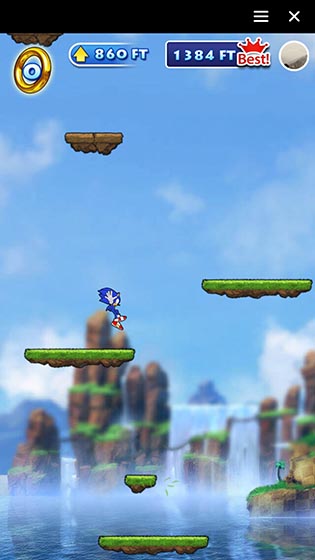 Sonic Jump is a simple arcade style game in which you play as Sonic the Hedgehog as he jumps up from one platform to another to get as high as possible, while avoiding pesky critters along the way. The game is really simple to pick up and makes use of your smartphone's accelerometer to move Sonic to the left and right. For platforms that are hard to reach, you can even double tap on the screen to make Sonic jump higher. Sonic Jump is a fun game to play to while away your free time.
20. Galaga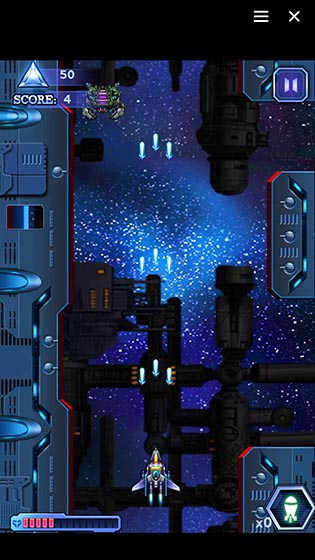 Rounding off the list is another classic called Galaga, in which you're in control of a spaceship as it flies through treacherous skies. The objective of the game is fairly straightforward, you have to navigate your way through oncoming enemy spaceships and projectiles, while shooting them down to receive powerups. Your spaceship has a specific amount of health so don't take too much damage or you'll have to go at it right from the beginning.
SEE ALSO: 12 Facebook Messenger Bots That You Should Subscribe To
Try Out These Facebook Messenger Games Right Away
Well, that rounds up our list of the best Facebook Messenger games you can play with your friends. As you can see, Messenger offers a wide variety of games from different genres that will appeal to almost all users. Everything from great puzzle games to arcade classics, Messenger has it all. So, what are you waiting for? Pull out your smartphone and let the games begin. In case you think we've missed out on one of your favorite Facebook Messenger games, let us know in the comments down below and we'll add it to the list.