There have been very few apps which has taken the world by storm in the recent years and HQ Trivia is one of them. The app which lets users play live trivia games for real money became so popular that it generated its clones everywhere. The popularity of HQ Trivia hit India too as we are seeing a ton of live trivia games being released in the country with every passing month. That said, not all of them are created equally, and if you really want to enjoy live trivia gaming experience and win money, here are the 8 best live trivia games that you should be playing:
Best Live Trivia/Quiz Apps and Games in India
1. Loco
Loco is probably the HQ Trivia of India as the game is really well made, offers big prize money, and is fun to play. I was hooked on Loco as soon as I started playing the game because of its above attributes. The show is generally hosted by Gaurav Kapur who is really funny and makes the game enjoyable. The daily game start at 1:30 PM and 10 PM sharp.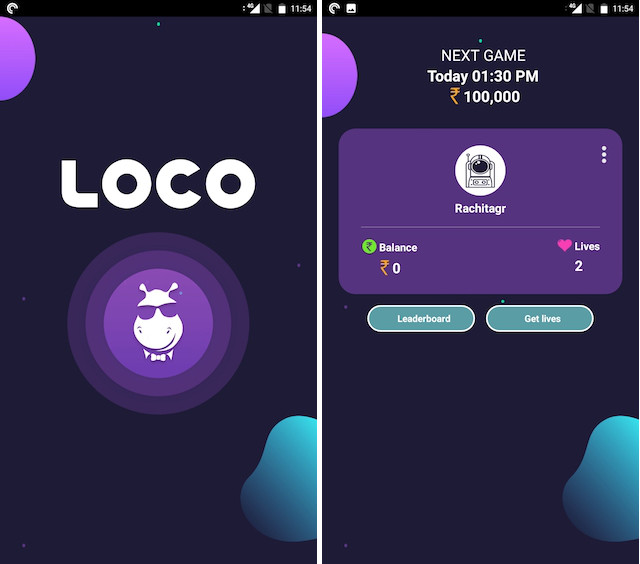 One of the best thing about Loco is that as it is adding more and more players, the game is also increasing the prize money which is great for players. All the money that you win is transferred on a weekly basis in your Paytm account. Loco is my favorite live trivia game of India, and you should definitely check it out. The only bad news is that the app is not available for iOS.
Install: Android (Free)
2. BrainBaazi
BrainBaazi is another popular live trivia game show in India. The premise of the game is exactly like HQ Trivia and Loco which means that there is a quiz master who is asking questions which are time-dependent. Answer all the questions correctly and you stand to win cash prizes. There are 11 questions in total and you will have 10 seconds to answer each question. If you do win money, you will have the option to get the money via either Paytm or Mobikwik wallet.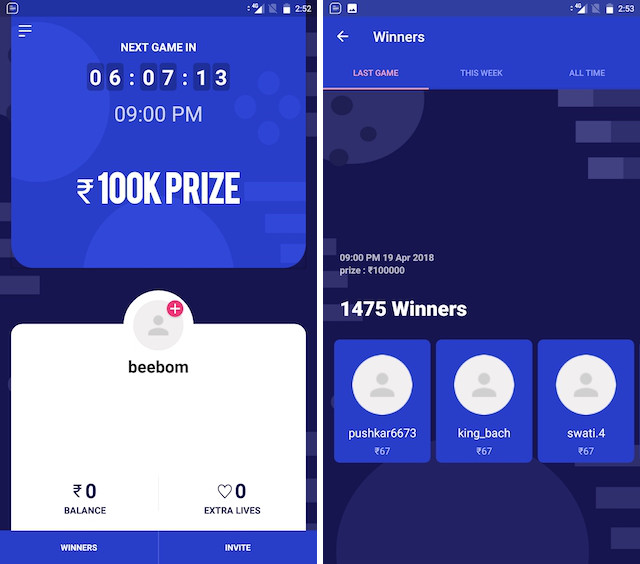 You can also refer the game to your friends and family to win extra life which can keep you in the game even if you provide the wrong answer to a question. The game goes live at 9 PM every day so it's not clashing with Loco and there is no one stopping you from playing both the games.
3. Qureka
Qureka is a new live trivia game for Indian users which is rising on the popularity charts. The game premise is exactly the same as Loco or BrainBaazi with the only difference being the fact that you have to answer 10 questions correctly instead of 11 to win the prize. The prize money of Qureka is a little less when compared to Loco with daily prize money restricted to ₹20,000. However, they do give out a mega prize of ₹100,000 every month.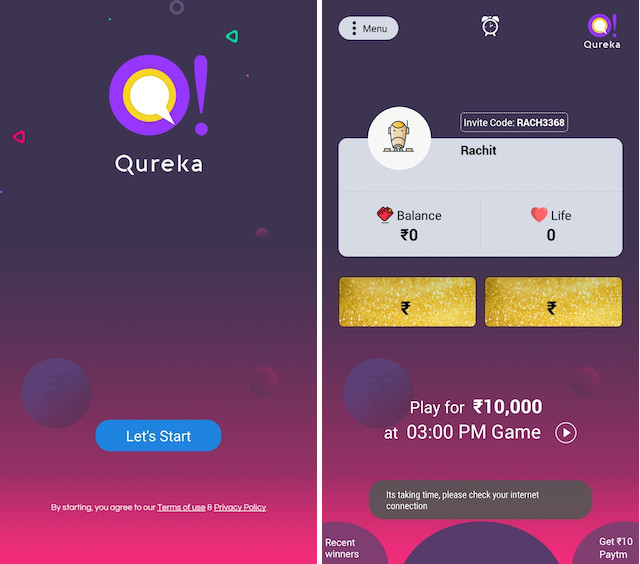 You can play the game twice in a day at 2:30 PM and 8:30 PM IST. Just like Loco and BrainBaazi, you can share the game to win lives. One unique thing about Qureka is that the game offers additional ₹1000 to three winners who are the fastest to answer all the questions. So, you stand to win a large sum of money here.
Install: Android (Free)
4. iQ Live
Although iQ Live is not as popular as the above three live trivia games but it is also one of the best live trivia games that you can play to win cash in India. The game is hosted by famous movie and TV personality Rohit Roy who asks players 12 general knowledge questions, which you need to answer correctly to win the cash prize. iQ Live carries out two games every day at 1:30 PM and 9:00 PM with prize money equivalent to what is offered on Loco. Since iQ Live also has an iOS app, all those iOS users who cannot play Loco has a chance to win money on iQ Live.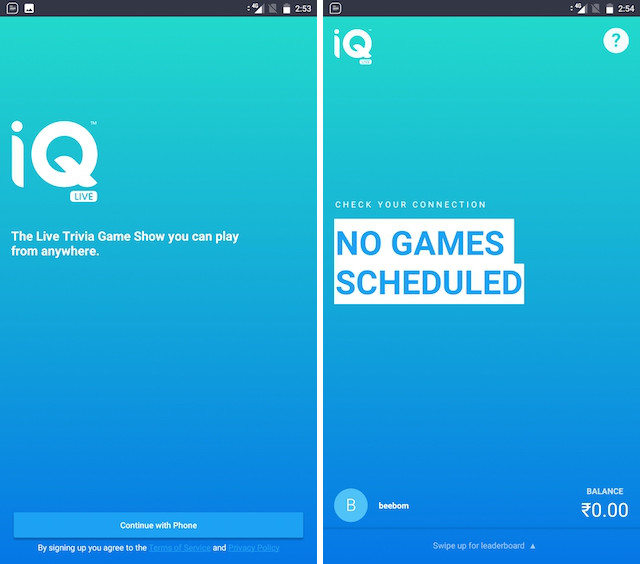 5. JusPlay
Another great live trivia game that you can play in India is Jusplay where the host will ask you 11 questions which you have to answer correctly to win cash. Just like most of the other services, the winnings will be transferred to your Paytm account on a weekly basis. The game is a little different from other games on the list as the questions here are a little bit tougher.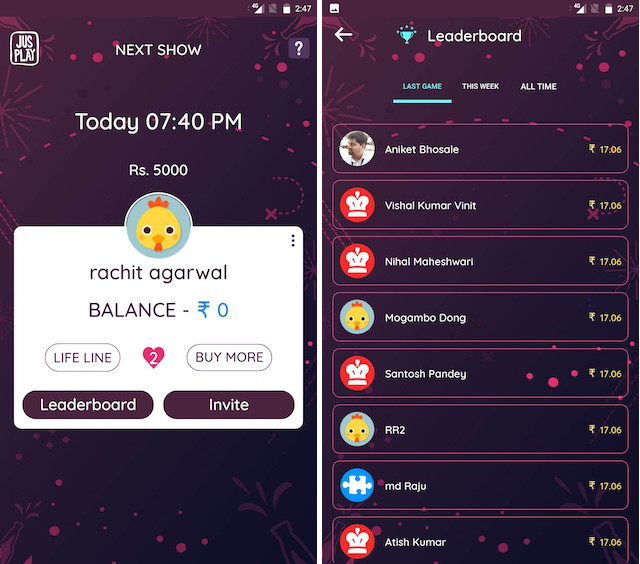 This means that fewer people win the prize money every day and if you do, you stand to win a bigger amount as you won't have to share it with a lot of winners. Of course, it's not everyday that you can big amounts, but chances of you winning it here is more than on a game show like Loco. If you think you can tackle tougher questions and win big, download and play Jusplay every night at 7:40 PM.
Install: Android (Free)
6. Zupee
Zupee is a live trivia game which wants to differentiate itself from all the other live trivia games by bringing quizzes back. You don't have to wait for a host to ask you questions as they will be delivered in simple text formats. What's more is that there is no pre-defined time for the quizzes. Just open the app to see if when a quiz is going live and register to play it.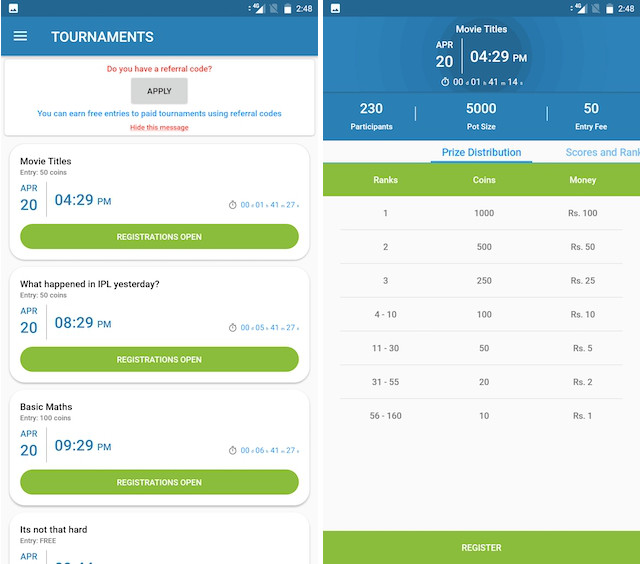 Even if you don't give the right answer, you are not eliminated and you can keep on playing the game. Also, the questions asked in Zupee are not just based on your general knowledge but also includes questions based on interesting facts about physics, chemistry, geography, and other subjects. So, if science is your strength, maybe you should be playing Zupee.
Install: Android (Free)
7. Bigshow TV
Bigshow TV is yet another live trivia game that you can play in India to win money. Just like Zupee, the show doesn't have any host but offers live text or picture based questions which you can answer to win cash. Apart from this, rest of the rules are similar to other live trivia games which means you get 10 questions with 10 seconds to answer each of them. Answer them all correctly to win the prize which will be transferred to your Paytm account on a weekly basis. The game goes live at 10:15 PM IST everyday.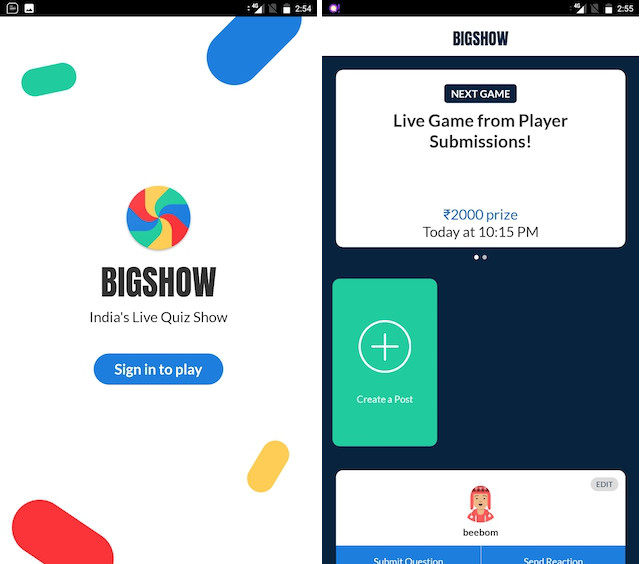 8. HQ Trivia
The last game on our list is the father of all the live trivia games in the world. HQ Trivia is the game which gave birth to the phenomena which we now call as live trivia games. Yes, you can play HQ Trivia in India and you don't have to do any hacks. Just install the app on your device and start playing. So, why it's the last app on the list you ask? Well, there are a couple of reasons for that.
Firstly, the questions asked in HQ Trivia are US-based so we have very small chance of winning the game. Secondly, the game goes live 1:30 AM IST which is not a time suited for Indian players. But, since you can play it and win big (the prize money is in dollars), and since it started the whole live trivia game show, it deserved to be on the list.
SEE ALSO: 8 Best Nokia 7 Plus Features and Tricks
Win Big with These Live Trivia Games in India
Now that you know the best live trivia games to play and earn cash prizes in India, tell us which game do you prefer to play? If you are already playing a great live trivia game which is not on the list, do drop its name down in the comments section below. Also, share with us your live trivia game stories.
---
Load More