If you have not created multiple backups of your files, chances are that sooner or later you are going to lose your data. Whether it's due to a hardware failure, accidental deletion, software corruption, or real-world catastrophe, everyone has to deal with data loss at least once in their life. Chances are that you have stumbled upon this article because you are already facing this problem and looking for a solution. Well, whatever the case may be, it's always good to have a handy data recovery tool in hands. In this article, I am going to talk about a data recovery software that I have been testing for a few days. It's called EaseUS Data Recovery Wizard and in this article, I am going to tell you all about it.
EaseUS Data Recovery Wizard: What It Brigs?
EaseUS Data Recovery Wizard is a good data recovery solution for your Windows PC and any Windows compatible devices. Whether you want to recover lost data from Windows desktop, laptop, or compatible devices such as SD card, external hard drive, partition, USB, and more, EaseUS Data Recovery Wizard can help you recover lost data. To understand what it brings to the table, let's take a quick look at all its key features.
Note: While I am talking about the Windows version of EaseUS Data Recovery Wizard in this article as that's the one I tested, the company also offers it for macOS operating systems. Both the apps are almost identical and there is feature-parity between the two. So, regardless of the operating system you are using, you can get this software to recover lost files.
Key Features
1. Multiple Sources of Data Loss Recovery
One of the best things about EaseUS Data Recovery Wizard is that it supports all kinds of lost data recovery. Whether you have lost data due to accidental deletion, lost partitions, corrupting external hard drive or other external storage devices, you can recover the data using this software with ease. It even recovers data that you have formatted or is lost due to disasters like file-infecting virus attacks, unexpected system crashes, and severe boot failures. So as long as your Windows machine and external compatible devices are working, EaseUS Data Recovery Wizard recovers lost data from it.
2. Supports More Than 1000 File Types
An area where most data recovery software face problem is when recovering different file types. While some are good are recovering photos others can handle only documents. Well, EaseUS Data Recovery Wizard can recover more than 1000 file types so no matter what kind of data you have lost, you can recover it. Here's a shortlist of supported file types:
Documents: DOC/DOCX, XLS/XLSX, PPT/PPTX, PDF, CWK, HTML/HTM, INDD, EPS, etc.
Graphics: JPG/JPEG, TIFF/TIF, PNG, BMP, GIF, PSD, CRW, CR2, NEF, ORF, SR2, MRW, DCR, WMF, RAW, SWF, SVG, RAF, DNG, etc.
Video: AVI, MOV, MP4, M4V, 3GP, 3G2, WMV, MKV, ASF, FLV, SWF, MPG, RM/RMVB, MPEG, etc.
Audio: AIF/AIFF, M4A, MP3, WAV, WMA, APE, MID/MIDI, RealAudio, VQF,FLV, MKV, MPG, M4V, RM/RMVB, OGG, AAC, WMV,APE, etc.
Email: PST, DBX, EMLX, etc.(from Outlook, Outlook Express, etc.
Other Files: Such as Archives(ZIP, RAR, SIT, ISO, etc.), exe, HTML, SITX, etc.
As you can see the software can recover almost any file type that you have. Whether it's a document, photo, video, audio, or any other file, you can recover it using EaseUS Data Recovery Wizard.
3. Enhanced Recovery of Photos and Videos
Sometimes the lost data is not only deleted but also corrupted. In such cases, most other data recovery software fail and only partially recover data. But that's not the case with EaseUS Data Recovery Wizard. It's a powerful recovery software that automatically detects the corrupted files and restores them to good conditions before recovering them. It can easily repair JPG/JPEG files and extract and repair thumbnails before extracting them. The repair thumbnail help you preview photos as shown below. It can also repair corrupt and damaged MP4 and MOV videos on the most widely used digital cameras like Canon, GoPro, and DJI cameras. This is a big deal for people like me who capture a ton of photos and videos and don't want to lose our memories.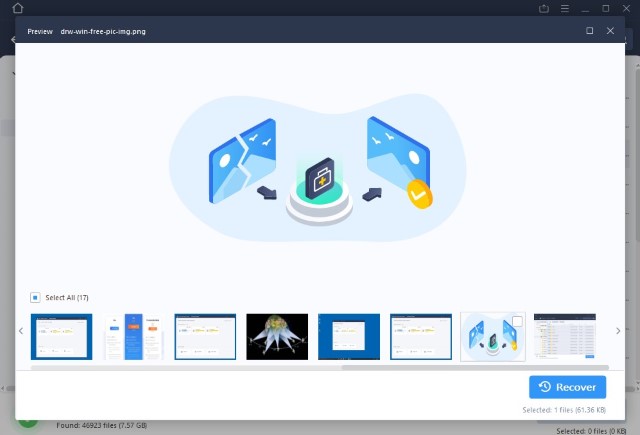 4. Supports Both Quick and Detailed Recovery
EaseUS comes with two scanning modes. There's the "Quick Scan" that takes a shorter time, while the "Deep Scan" takes more time and finds even deeply buried files. A quick scan is perfect for recovering data that you just accidentally deleted as it will save you time. And when the need arises, the deep scan is there to scour the drive inch by inch to get you your lost file. I also like that EaseUS allows me to recover any data that shows up in the result during scanning.

Thus I don't have to wait for the scan to be complete to recover a file. It saves a lot of time. Note that the software automatically performs both the scans. It starts with a quick scan and them moves onto deep scan. If you find the desirable file in the quick scan, you can recover it and stop the deep scan.
Well, these are the main features of EaseUS Data Recovery Wizard. As you can see, the software is really powerful and can meet even your most demanding data recovery needs. Now, let's discuss a little bit about its UI and how it feels when using this software.
User Interface and Ease of Use
One of my biggest complaints with utilities like data recovery software is that they are ugly and hard to use. Thankfully, EaseUS doesn't follow this pitfall. The app is beautiful and feels like a native app whether you are using it on Windows or Mac. Developers have taken time to make this app feel at home regardless of the operating system you are using. The Windows app looks like a clean and beautiful file explorer window that lists all your drives and connected devices. I love that you are not limited to scanning drives but can choose specific folders for a quick recovery.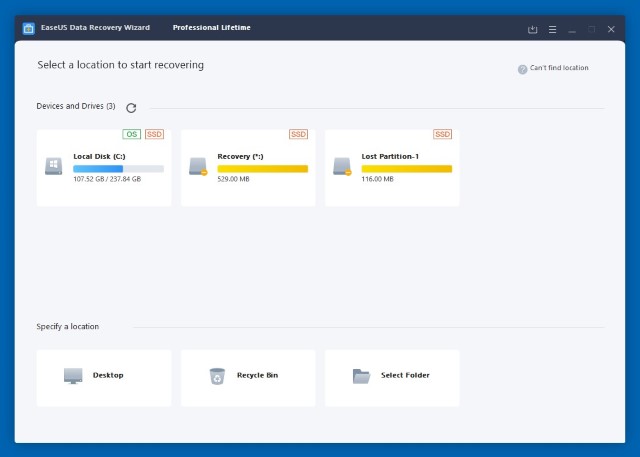 To start a scan, just hover over the drive (or device) and click on the "Scan" button. As soon as scanning starts, EaseUS starts finding deleted and lost files and starts listing them. You can click on a file or select multiple files and then use the "Recover" button to recover the files. If you remember the file name, you can use the search button at the top-right to quickly find it.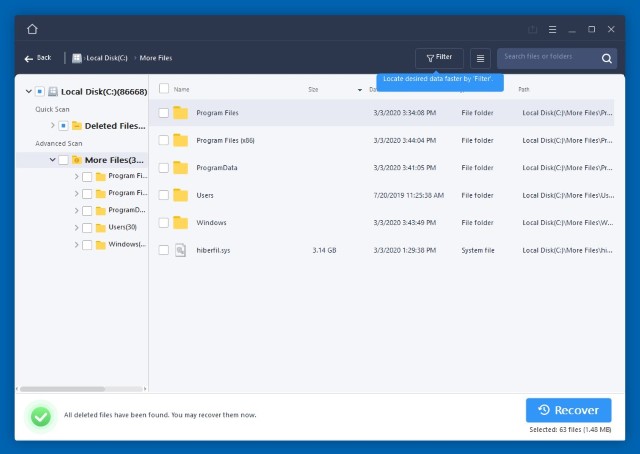 Finally, there's the filter button that allows you to quickly filter files by file types allowing you to recover say photos or music with one click. Overall, the software is as easy to use as it gets. Just select the scan location -> click on the scan button -> select the files you want to recover -> click on the recover button. I don't know about you but I like when software just works.
Pricing and Availability
You can't put a price on something that lets you recover invaluable data. But philosophy aside, I love that EaseUS Data Recovery Wizard comes with a free option that lets you recover 2GB of data for free. This is more than enough for casual users and good enough for anyone to try the software and see it working like a charm. Once you are confident in its ability, you can buy the pro version to unlock all its features. The Pro version starts at $69.95 and includes free-consultation for problematic cases. I believe everyone should at least check out the free version, so they can find out the software's capabilities for themselves.
Check out EaseUS Data Recovery Wizard
Recover Lost Data with EaseUS Data Recovery Wizard
That ends our article on EaseUS Data Recovery Wizard. I have vigorously tested this app for the past few days and it has worked every time. I am not saying EaseUS is flawless but it comes as close as it is possible. Whether you have lost your photos, videos, songs, or any other files, give EaseUS Data Recovery Wizard a chance to recover it for you.
---
Load More