Unless you're totally new to the keyboard scene in smartphones, you must be well aware of TouchPal. The keyboard app is undoubtedly one of the most famous and powerful keyboard apps out there. While there are plenty of options available on the market, the TouchPal keyboard, Cootek's flagship mobile app, was designed to empower everyone to freely express themselves and enjoy relevant content. Now, with the latest update, the TouchPal keyboard allows its users to create AR Emojis on their Android devices, as well as use the keyboard intuitively, thanks to the AI engine on board. But is the new TouchPal Keyboard worth all the hype that surrounds it? Let's find out, as we review the TouchPal Keyboard, Beebom style:
Key Features of the TouchPal Keyboard App
Easily the biggest highlight of this app, the TouchPal Keyboard comes with the ability to create your own AR Emoji. Ever since the launch of the iPhone X, I've always wanted the ability to create Animojis on my Android device. Thankfully, with the TouchPal Keyboard, this is finally a reality. The AR Emoji feature uses a phone's front camera and microphone to accurately capture changes in the users' facial expression and voice, and can then create videos up to 10 seconds.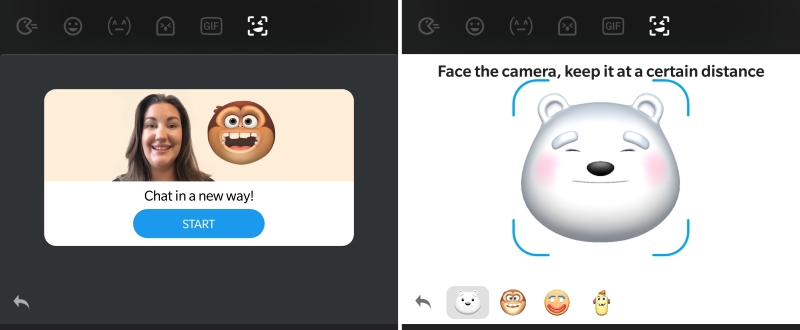 Also, unlike iOS's Animoji, these AR Emojis can be shared across any platform in the form of videos or GIFs, on apps such as WhatsApp, Facebook Messenger, LINE, Viber, WeChat, and more. The feature itself works great, and as of this writing, you get four amazing characters, namely, Bear, Gorilla, Gingerbread man and Capsule.
AI is the future, and the TouchPal keyboard brings the future near to us. The keyboard comes with one of the best AI engines that I've personally used, resulting in the accurate prediction, which is just great. All things considered, they help to enhance a user's typing speed. Here's an example:
But apart from the standard AI features, the TouchPal keyboard takes things forward by becoming the first keyboard to actually incorporate an AI Assistant into the keyboard. That's right, dubbed Talia, the AI Assistant comes as an integral part of the TouchPal keyboard, and helps with all your daily typing tasks. The assistant can provide you with smart replies, weather forecast, currency conversions, GIF and Emoji predictions, and even basic mathematical calculations.
Emojis and Stickers have quickly become an important part of texting these days since they allow you to express your emotions in a way that words can't describe. Thankfully, the TouchPal Keyboard comes preloaded with a plethora of emoji and stickers to easily express yourself.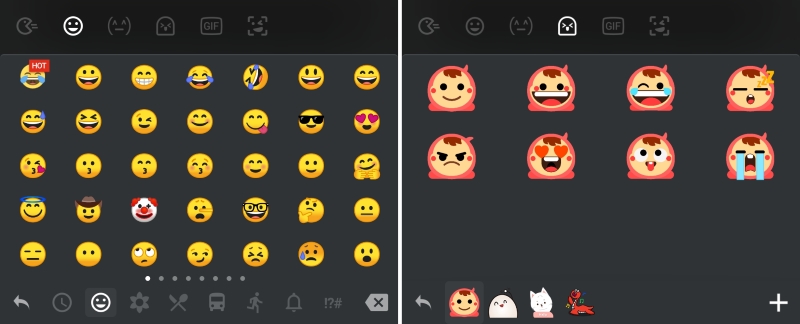 In fact, the keyboard comes with over 1000 emojis, and support for various emoji packs such as Stock, Android, iOS, EmojiOne, and more. What's more is that thanks to the aforementioned AI engine, TouchPal can also predict what emoji comes next.
Another interesting feature of the TouchPal keyboard is that it comes with the ability to create BoomText. BoomText is basically an innovative way to convert normal text into GIF animations, that makes it all the more visually appealing.
I've been using it a lot lately, and honestly, I find to be a clever touch that makes things quite fun.
Themes, Themes, and More Themes for the TouchPal App
Last but not the least, the TouchPal keyboard comes with the ability to apply themes. And boy, are they great. The app comes with its own Theme Store as well, and you get access to hundreds of themes to apply.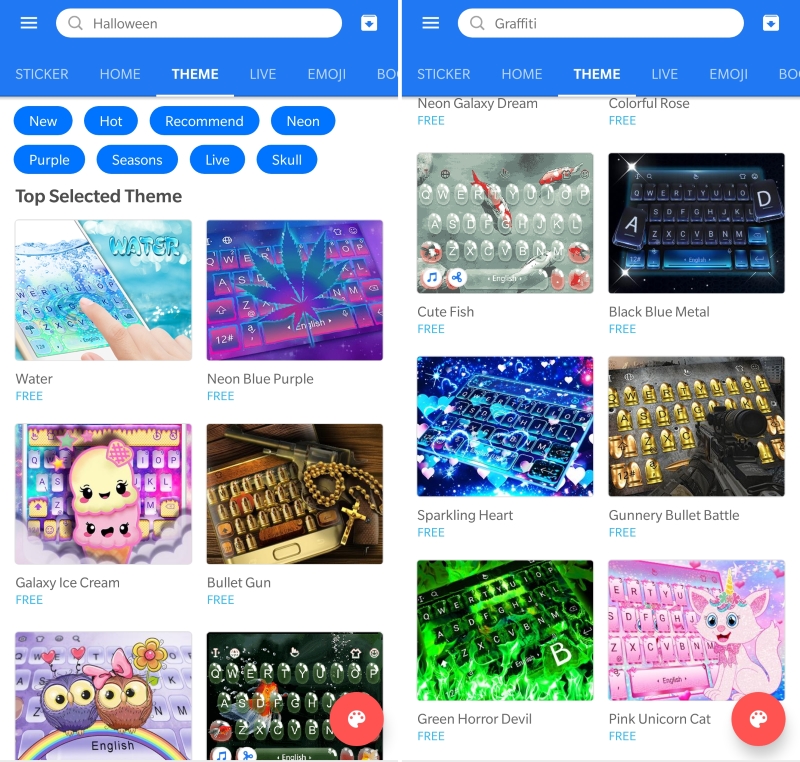 What's more is that there are live themes as well, that too for free. You can finally be unique by dressing up the keyboard with various themes.
TouchPal Keyboard User Experience
While the app certainly boasts of some pretty amazing features, I was tempted to see if things actually played out that well. And I can happily say that the TouchPal keyboard never failed to amaze me. From the get-go, the app has been swift and performs each of its described features perfectly. The user interface in itself is so simple that you just fall in love with it almost instantaneously.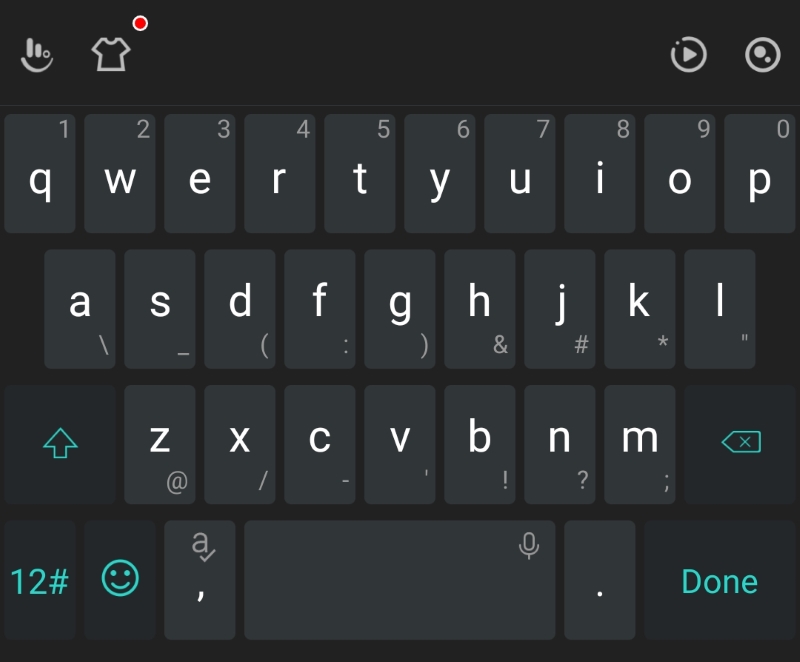 The AI features work really well, and the Talia assistant really helps in day to day tasks while texting. That being said, my favorite feature has got to be the AR Stickers. The feature works exceptionally well, considering that the team managed to emulate the same feature as Apple, with just the front-facing camera.
TouchPal App Pricing and Availability
At this point, you're probably wondering how much would such a bag of great features cost you, right? Well, whatever price you had in your mind, you can forget about it, since TouchPal Keyboard is available for free! Yes, that's right. You get all the themes, AI and AR feature, all for the low price of free.
TouchPal Keyboard: Worth it?
So, would I recommend TouchPal Keyboard to you? Absolutely! The app has a great user interface, works well, and comes with a ton of features. In my experience, the TouchPal Keyboard is the complete and best keyboard for one's Android device.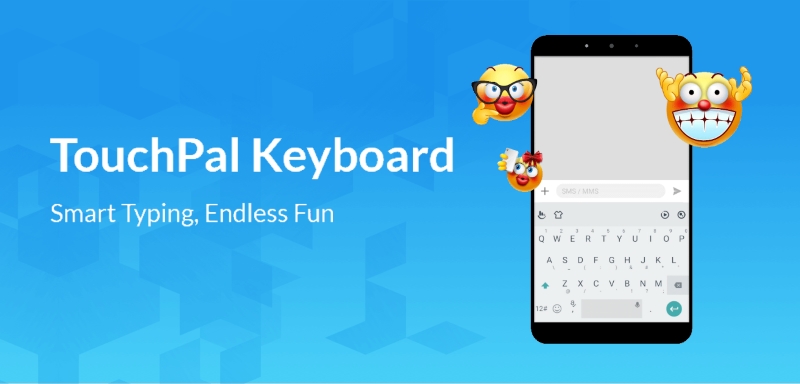 Pros:
Great User Interface
Fastest typing speed
Comes with AR Emoji
Features AI Assistant
Cons:
AR Emoji doesn't have tongue detection
Text correction is slightly aggressive
Enter the World of AR Emojis and AI with TouchPal Keyboard App
Thanks to the TouchPal keyboard, you get access to a plethora of advanced features such as AR Emoji and a super powerful AI Assistant Talia. The app works quite fluidly and being a GBoard user, I found it quite easy to actually make the switch to TouchPal, the keyboard is just that good. While all the other apps in the market are either paid or just good for a single task, TouchPal keyboard comes preloaded with plenty of features, proving itself to be the complete keyboard replacement for your device.
Check out TouchPal Keyboard Pro on Play Store