Chances are, you already have heard about the Prisma app or even used it, considering the waves it has been making on social media off late. However, if you have been living in a cave, Prisma is a photo editing app that transforms your everyday pictures into some really cool artwork inspired by artists like Picasso, Van Gogh, Levitan, along with designs from famous ornaments and patterns. Also, the results produced are amazing and it works swiftly, thanks to its great usage of AI and neural networks. Sadly, the app is only available for iOS devices, with developers promising the app to arrive on Android later this month. Well, if you just can't wait for Prisma to come on Android or if you just want more such apps for your iPhone or iPad, here are 4 Apps like Prisma you can try:
1. PicsArt
PicsArt is a full-fledged photo editing app but it brings a number of filters that should match the artistic abilities of Prisma. In the "Effects" section of the app, there's a category dubbed "Artistic" that brings a number of cool filters, similar to what Prisma offers like poster, motion, shear, pastel, comic, gouache and a lot more. It also include effects categories like pop art, paper, colors and more, so you have a lot of options to choose from. Sure, these filters are not as detailed as Prisma's offering but at least they work as fast or even faster than Prisma.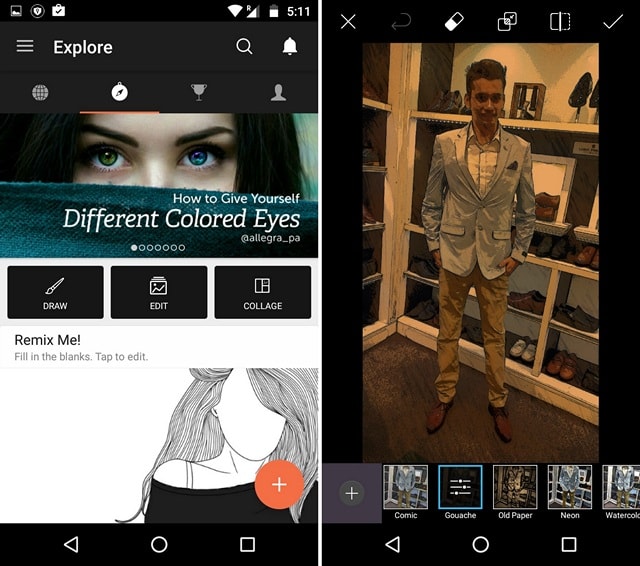 Moreover, the app offers a number of photo editing tools like advanced artistic brushes, overlays, collage maker, drawing & painting tools and more. PicsArt also gets brownie points for its ability to generate animated GIFs and videos, which is pretty cool. The app also brings its own social network with people sharing pictures edited with the app, so you also get to view a ton of cool images.
Install: Android, iOS (Free with in-app purchases)
2. Dreamscope
Dreamscope is an iOS-only app, which is very similar to Prisma, when it comes to the features. Like Prisma, it transforms your pictures into paintings created by the likes of Picasso or Van Gogh. It also include other effects like Deep Dream, watercolor, pencil sketch, oil paint, impasto, calculus, temperate, pastel and way more. While the results are as good as Prisma's, it lacks the speed at which Prisma applies these intricate effects on the pictures. After you have selected the picture you want to stylize, the app does the processing in the background and there's an option to get notified once it's done.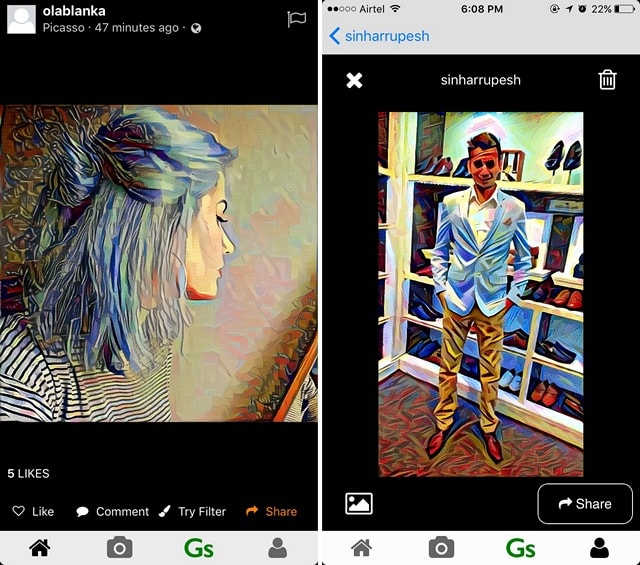 The app also include its own social network, where people post beautiful pictures using the plethora of effects. However, you can choose to share the pictures to other social networks with ease too. The good news is, if you don't have an iOS device, you can use the web client of Dreamscope.
Install: iOS (Free)
3. SuperPhoto
If you are looking for a Prisma like app because you want more artistic effects, you need to check out SuperPhoto. While Prisma offers a number of effects to keep you engrossed, SuperPhoto really trumps it with a ton of various cool effects. The free version of the app includes more than 200 effects and if you buy the full version, you will unlock more than 1500 effects, which should be enough, I guess. Like Prisma, SuperPhoto is also all about the effects but the app does include some great pictures from the community you can take a look at.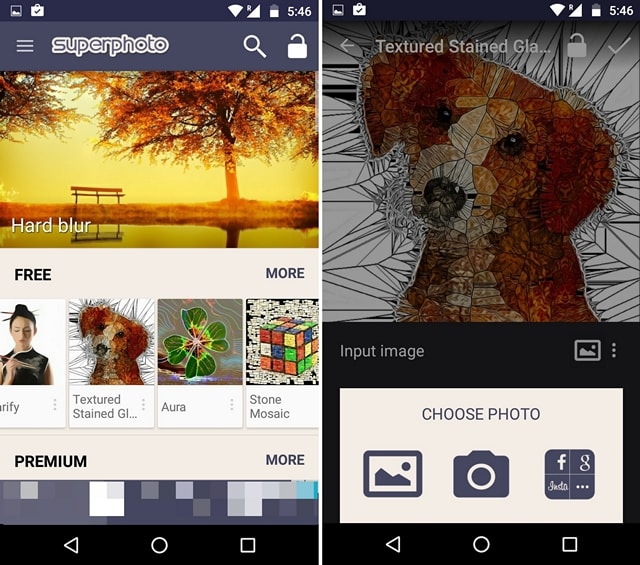 Moreover, you can also customize the output picture's size, smoothness, intensity of the effect and more. However, the app does take more time than Prisma to process an effect.
Install: Android, iOS (Free with $2.99 for Full version)
4. Photo Lab
Photo Lab is more about various cool montages and effects but it does bring various Prisma like effects in its "Artistic Effects" folder. It includes effects like pointillism drawing, antique oil painting, charcoal drawing, pen and ink, fusion painting, plumbago and more. You can get even more such effects with the Pro version of the app ($2.99).
While the number of effects is great, the results will depend a lot on the quality of your pictures. So, while the app cannot compete with Prisma when it comes to quality, you can give it a shot for its cool montages, collage maker and a plethora of other photo effects.
Install: Android, iOS (Free with $2.99 for Pro version)
Bonus:
Prisma will be soon offering a video feature in its app but if you already want to transform your videos to an artwork movie, you can use Deepart, which is a web tool that does exactly that. Like Prisma, it also lets you convert your images to an artwork through various effects. Moreover, it has an amazing community, which continuously uploads beautiful artsy pictures for your viewing pleasure.
SEE ALSO: 6 Face Swap Apps to Make Your Photos Hilarious
Turn your photos to artwork with these Prisma-like apps & tools
Prisma is a brilliant app, with some amazing effects, fast performance and a beautiful UI and its sudden rise to fame is well deserved, so if you are happy with the app, you can continue using it. However, if you want more such apps or if you are on Android and want to participate in the Prisma hype, you can use these apps and web tools. So, check them out and let us know your thoughts in the comments section below.
---
Load More