If you haven't been living under a rock the past few weeks, you must have heard of Prisma – the app that uses machine learning algorithms to apply cool looking filters to images. While Prisma only worked for photos, and a video app was said to be "in the works", another app has already beaten Prisma at its own game. The app, titled "Artisto", is a neat little app that allows users to apply artistic filters to videos.
Read on to learn more about how you can use Artisto to create artistic looking videos from your iPhone by harnessing the power of machine learning.
Setting Up Artisto on Your iOS and Android Device
Artisto doesn't really need any set up prior to use, except, obviously, allowing it to access the camera, photos and microphone on your device, in order to enable it to capture videos, and load existing videos from the gallery/camera roll.
Installing on Android and iOS is also very straightforward. All you have to do, is head over to the Play Store on Android, or the App Store on iOS, and search for "Artisto". The app is completely free, so you can just download it.
Using Artisto to Create Artistic Videos
Artisto is really straightforward when it comes to creating cool looking artistic videos. The app opens directly into the camera screen, allowing you to shoot a video to apply the filters on, or you can select an existing video and apply filters to it.
1. Shooting a New Video and Applying Filters:
Artisto allows users to shoot videos directly in the app, although the app has a maximum time limit of 10 seconds for shooting videos. This is probably done to ensure that the connection doesn't time out, trying to upload really large videos, and also to reduce potential overloading of the servers trying to apply filters to large video files. Obviously, you can shoot smaller videos, and apply the filters on them, but the cap on the maximum time duration for a video is 10 seconds.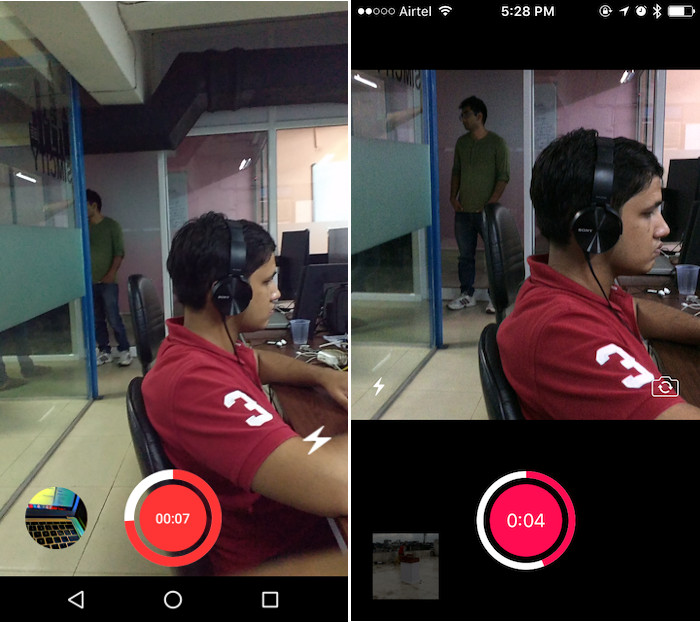 Once you are done shooting the video, the app automatically takes you to the next screen, with a carousel of filters that you can swipe through, and simply tap on the filter that you want to use on the video.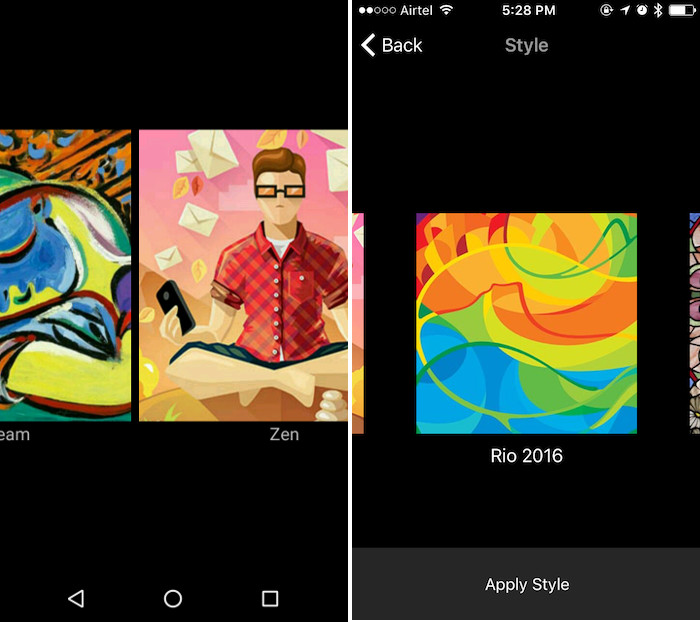 After you select a filter, the app takes some time to process the video, and then presents you with the edited video, playing back on a loop, with options to share the video on a variety of social media platforms.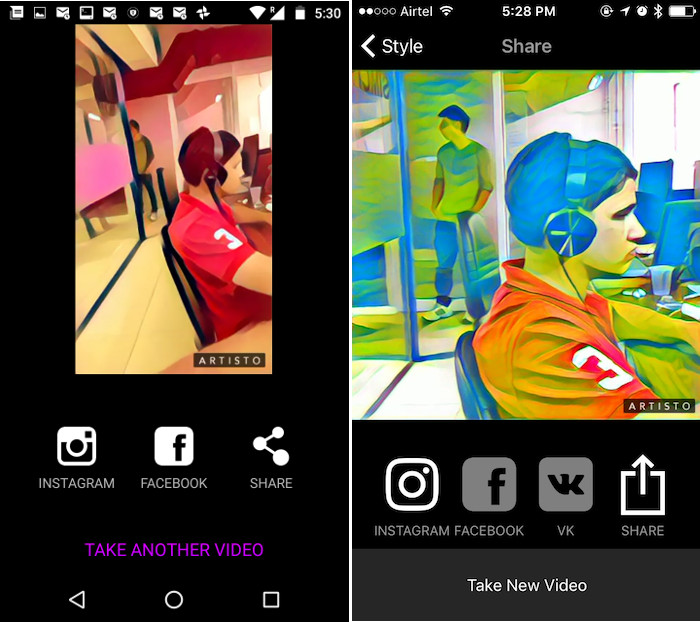 You can even go back, and choose another filter to apply on the video.
2. Applying a Filter on an Existing Video:
The app also allows users to use existing videos from their camera rolls, and apply the filters on them. If the videos are longer than 10 seconds, the app gives the users the option to cut the video such that it is not longer than 10 seconds. Once you have done that, you can choose any filter to apply on the video and after a few seconds of processing, the app will present the edited video, along with the option to share them across a number of social media platforms. The steps to apply filters on an existing video are:
Tap on the icon on the bottom left in the app's UI.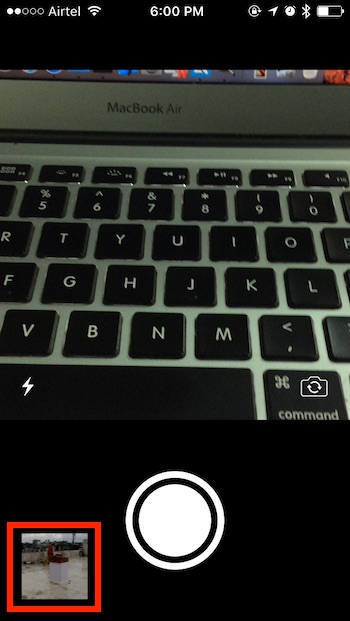 Select the video you want to edit. If the video is longer than 10 seconds, cut it to make it less than, or equal to, 10 seconds.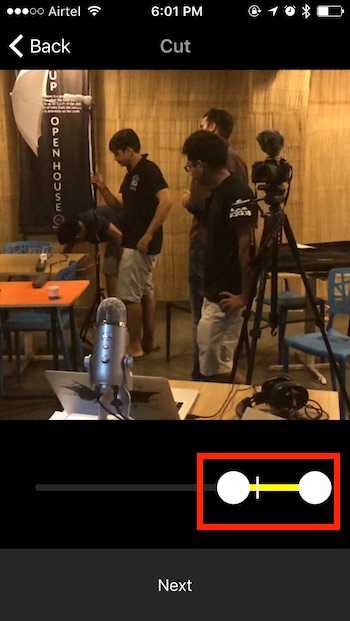 Select a filter from the options available.
Share the video to social media if you want to.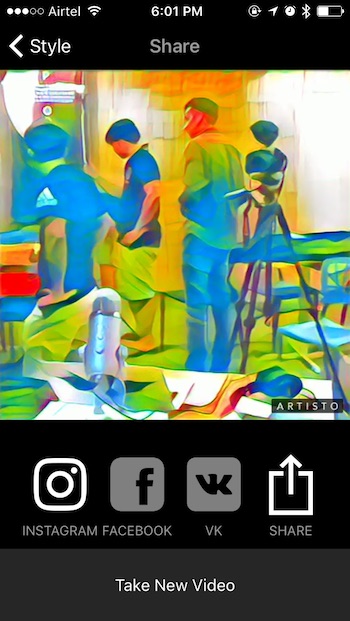 Bonus: Saving Videos
On Android, Artisto automatically saves all the videos that you make, so you never need to worry about having to save the videos; you can simply quit the app. However, on iPhone, the app does not save videos automatically to the Photo album. However, there is a way you can do this, and it's laughably easy.
Once you are done creating the perfect video with the filter of your choice, and you are taken to the sharing screen, simply tap on the share button. Here, you will see an option to save the video. Tap on this option, and the video will get saved to your Photo album.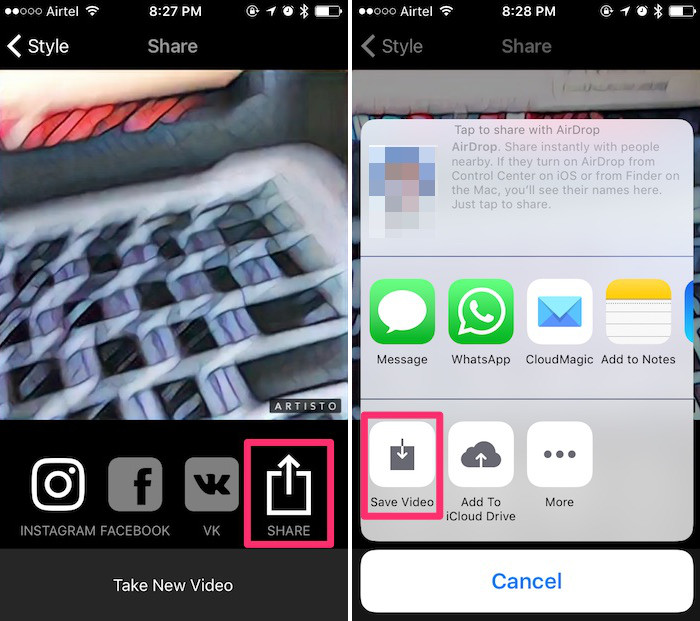 SEE ALSO: 4 Cool Apps Like Prisma For Android and iOS
Artisto: Beating Prisma at its Own Game
Now that you know about Artisto, and how to use it, go right ahead and create some cool looking artsy videos, and share them with your friends. In creating an app that does for videos, what Prisma did on Photos, Artisto has effectively beaten Prisma at its own game. Prisma had announced plans to support videos, but Artisto got there first. Not only that, Artisto has a lot of unique filters, and is noticeably faster than Prisma, even when one of them operates on photos, and the other on videos.
As always we would like to hear about your experience with Artisto, and if you think we missed something out, feel free to remind us in the comments section below.