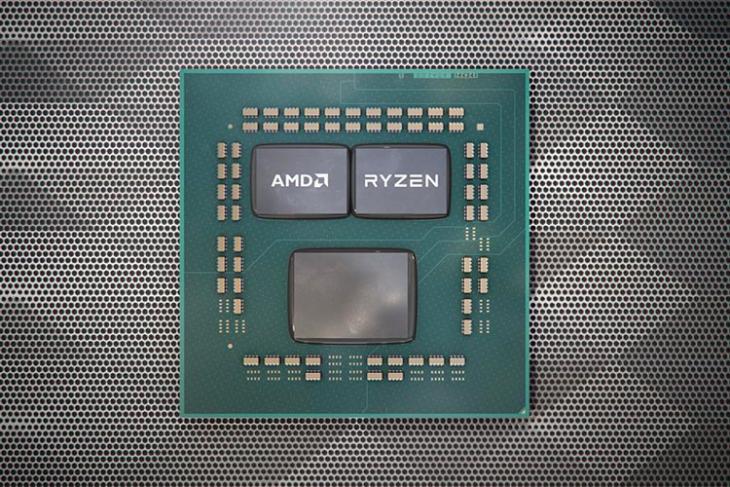 Computex 2019 is underway in Taiwan, and among the many companies showcasing their products and launching new ones, AMD took to the stage to announce a bunch of stuff at its Computex keynote. There were new processors, chipsets, and more. In case you missed out on AMD's keynote, here's everything the company announced:
1. 3rd Gen Ryzen Desktop Processors
AMD announced a slew of new desktop processors, the 3rd generation of the company's Ryzen series of processors including a 12 core beast in the form of the Ryzen 9. The new processors are based on AMD's new Zen 2 core architecture, and follow the company's 'chiplet' design approach.
The new processors are expected to offer better on-die cache than before which should come in handy for gaming. Moreover, the entire line-up of 3rd-gen Ryzen processors announced by AMD support PCIe 4.0 for the most advanced motherboards, graphics,and storage technologies available in the market.
At the keynote, AMD President and CEO Dr. Lisa Su also showed off some tests on the latest processors against competing processors from Intel. According to AMD's tests, when the Ryzen 7 3700X is compared to the Intel Core i7 9700K in real-time rendering tests, the Ryzen 7 3700X has 1% better single-threaded performance, and 30% better multi-threaded performance. Similarly, comparing the Ryzen 9 3900X with the Intel Core i9 9920X in Blender Render, the Ryzen 9 beat the Core i9 by more than 16%.
Here's the full line up of Ryzen processors announced by AMD at Computex 2019: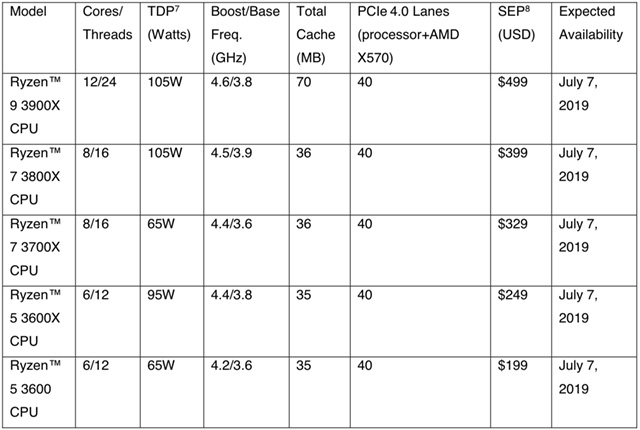 2. New X570 Chipset for AM4 Socket
The company also announced the new X570 chipset for AM4 socket. The X570 chipset supports PCIe 4.0 which has 42% better performance than PCIe 3.0. AMD said that support for PCIe 4.0 will enable support for high-performance graphics card, networking devices, NVMe drives, and more.
Over 50 new motherboards are expected with the latest X570 chipset from major motherboard manufacturers including ASRock, Gigabyte, MSI, Asus. Moreover, PCIe 4.0 based storage solutions are expected from AMD's partners.
3. New Gaming Architecture — RDNA and Radeon RX 5700 GPU
AMD also unveiled RDNA — a new gaming architecture that's designed to drive the future of PC gaming, consoles, and cloud gaming. According to AMD, the new compute unit design will result in incredible power, performance, and efficiency in a much smaller package as compared to AMD's previous-generation GCN architecture.
AMD claims that RDNA will offer 1.25X higher performance per-clock, and up to 1.5X higher performance-per-watt when compared with GCN.
The company's upcoming Radeon RX 5700 GPUs will be powered by RDNA, featuring GDDR6 memory, and support for PCIe 4.0. The company also compared the RX 5700 with the RTX 2070 by running a Strange Brigade gameplay demo on both the cards, and thee Radeon GPU seemed to perform better than the RTX 2070.
The new Radeon RX5700 GPU is expected to be available in July 2019, and we should get more details at AMD's E3 keynote in June.
4. 2nd Gen AMD EPYC Processors
While AMD is apparently still not ready to unveil the 2nd gen EPYC processors, the company did show off a test of a pre-production unit of the processor and compared it with an Intel Xeon processor in an NAMD benchmark test. In AMD's test, the pre-production 2nd-generation EPYC processor beat the Intel Xeon by more than 2x in the benchmark.
Microsoft Azure also announced that it achieved previously unobtainable levels of performance in computational fluid dynamics using a 1st gen AMD EPYC processor-based system. Navneet Joneja, head of product for Azure Virtual Machines, said "HB-series VMs on Azure are a game changer for HPC in the cloud. For the first time, HPC customers can scale their MPI workloads to tens of thousands of cores with the agility of thecloud and performance and economics that rival on-premise cluster."
AMD's 2nd-gen EPYC processors are expected to be available in Q3 2019, and are projected to deliver 2x the performance per socket, and up to 4x the floating performance per socket when compared to the previous generation.