A picture may be worth a thousand words, but you know what's worth more? A collage! Although it has a long history, it gained popularity as an expressive art method in the 20th century by artists such as Braque and Picasso. The rest, they say, is history.
Today collage apps for Android allow you to cut, tear, move, glue and compose different colors and objects. With a decent app, you can show the fun you had on a graduation party or the night of craziness out with friends. Capturing a series of moments in a collage picture not only saves you time but tells the whole story effectively. It's easy to express all in a single image.
With the following 10 collage making apps for Android, you just select images from your gallery and let the magic happen on your tablet or smartphone. Excited?
Let's jump in on what they have to offer.
1. Moldiv
This app adopts a simplistic but modern approach to collage making. It helps you create an eye-catching collage that is suitable to use in any kind of media as it can be converted to the highest resolution supported by your phone or tablet. You get all the rich features, including the option to choose from 50 photo effects, 80 basic frames and 100 premium frames, 200+ stamps and speech bubbles, and 40 color picker and 80 patterns for the frame background. Moldiv users can collage their photos like a poster, a themed album, or a magazine.
Developer: JellyBus Inc.
Availability: Free on Google Play
2. KD Collage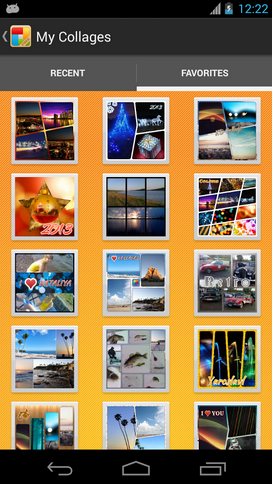 The app places grid options center and front, and gives its users the option to include up to four photos for small collages and up to nine for larger alternatives. It also provides larger frames to support a greater number of images as well as frames for a single image. The app includes over 120 background options and 100 collage templates. Collages can be save to SD for further editing.
Developer: KDN Soft
Availability: Free and Paid on Google Play
3. Instaframe
This photo collage app is based on speed and simplicity. The user needs to select one of the 90 templates, choose the images for the collage and then share the collage on social media. The app provides 12 magical effects to apply to individual images, 54 border effects, 20+ creative fonts, and hundreds of custom stickers and emojis. All features are quick and seamless, and the app provides HD results for all elements.
Developer: Imagination Unlimited
Availability: Free on Google Play
4. Pixlr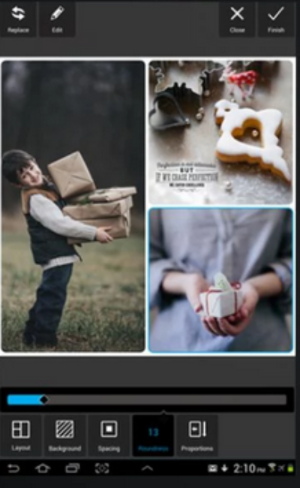 This app will provide you ultimate control over every aspect of your collages. It gives you advanced options like resizing and rotating, as well as the ability to pick from four predefined dimensions. Flexible image resizing is provided post editing which is great for uploading images in different sizes. The groovy borders and the lightning effects further enhance the app's appeal. A notable feature is the Auto fix, which just requires a tap of a button to make the app adjust brightness, contrast and saturation.
Developer: Autodesk Inc.
Availability: Free on Google Play
5. PicGrid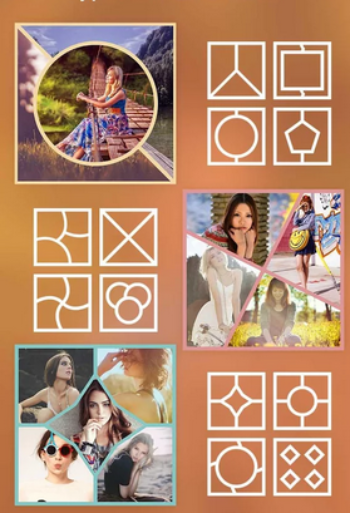 This app includes great looking frames and enables its users to create a great looking collage in a few simple steps. There are over 100 frames to choose from and 14 filters. Users can change the border color of any frame according to the mood of the collages. The highlight of this app is that it goes well with selfies as the filters are stylish. Further, you can rotate, pan and zoom to get the perfect result. Lastly, you can apply 2 filters to different sections of a single photo.
Developer: RC PLATORM
Availability: Free on Google Play
6. Photo Collage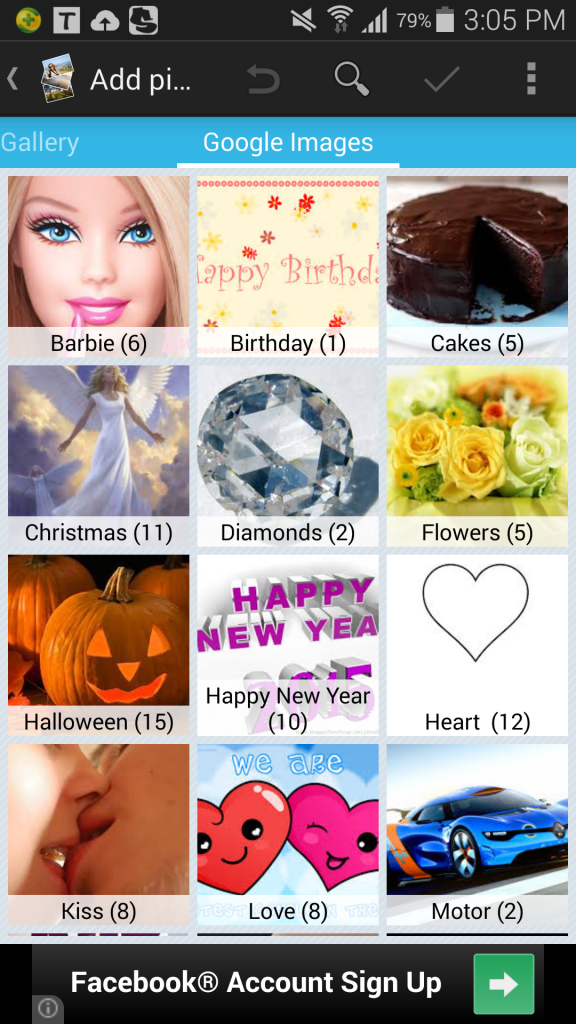 Combine photos the way you desire with photo collage. The app offers different modes to select and express your creations. You can even go manual and paste images in a big background image. Photo Collage is one of the few collage making apps that lets you add photos directly from the web (creating a collage full of gags was never so easy). Collages can be shared to Twitter, Facebook and Instagram.
Developer: NordicSoft AS
Availability: Free on Google Play
7. piZap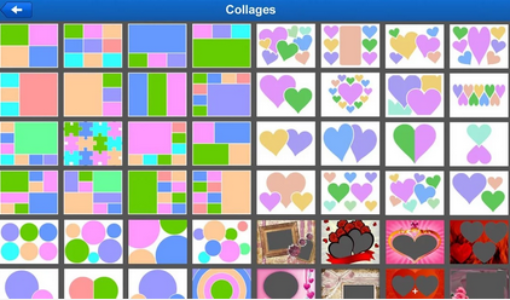 Fast and easy to learn, this app features various customization options. It has 1250 collage layouts, 1420 stickers, 70 fonts, and 37 vibrant themes to choose from along with several other frames, backgrounds and borders. The fancy editing tools are backed by the app's sharing capabilities, with options to share to SnapChat, Tumblr, Instagram, Facebook and Twitter. It's an all in one collage maker already being used by over 50 million people.
Developer: Digital Palette LLC
Availability: Free on Google Play
8. Pic Collage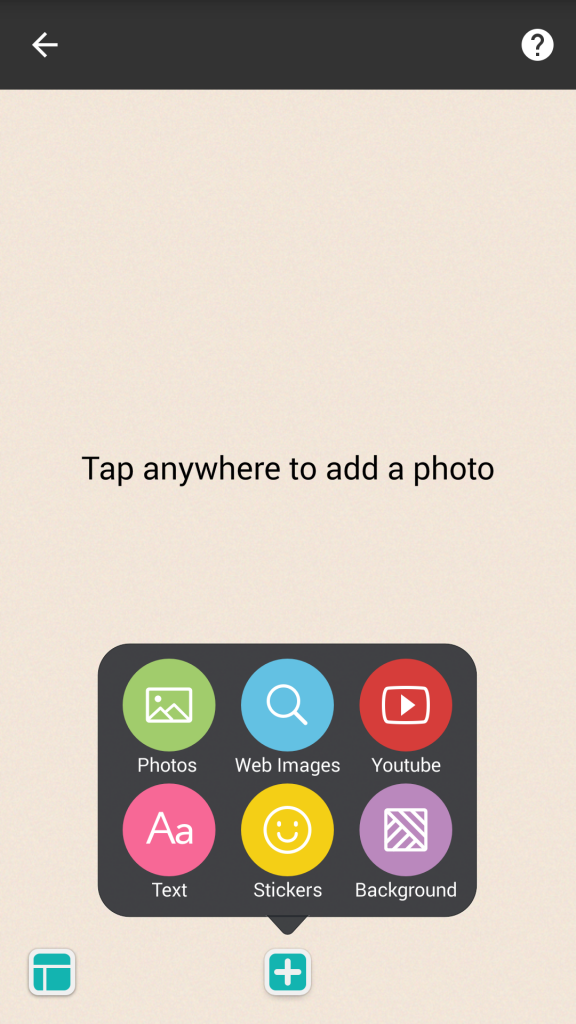 Planning to party with your photos? Then look no further than Pic Collage. The app lets you create amazing collages using your text, stickers, frames and images. You also get fun fonts and the ability to self-portrait before sharing the results to your favorite social network. Simple touch gestures within the app let you resize, flick and delete in the collage editor, while double-tapping a photo brings up Aviary photo effects and the option to adjust borders. You can also turn your images into a real postcard with this app.
Developer: Cardinal Blue Software
Availability: Free on Google Play
9. Photo Grid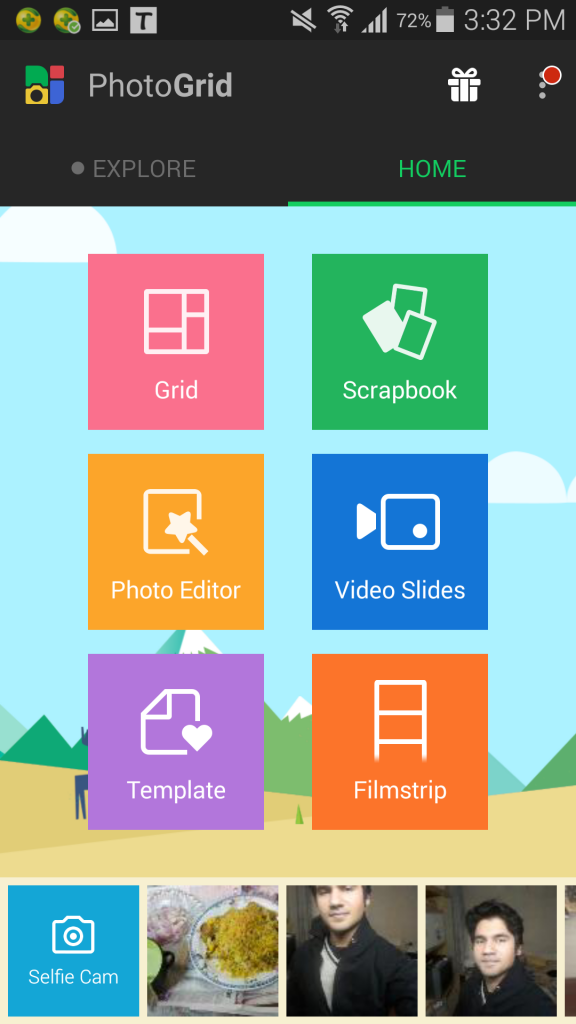 The app provides an incredibly convenient way to make photo collages and you can even create a video slideshow with music. Photo Effects give you the ability to stylize your shots with perfectly categorized filters, and a scrapbook enables you to add texts, stickers and photos to a customized background. There's also a Filmstrip feature that lets you tell a story via a long picture, consisting of multiple images, text and stickers.
Developer: Cheeta Mobile Inc.
Availability: Free on Google Play
10. Fotor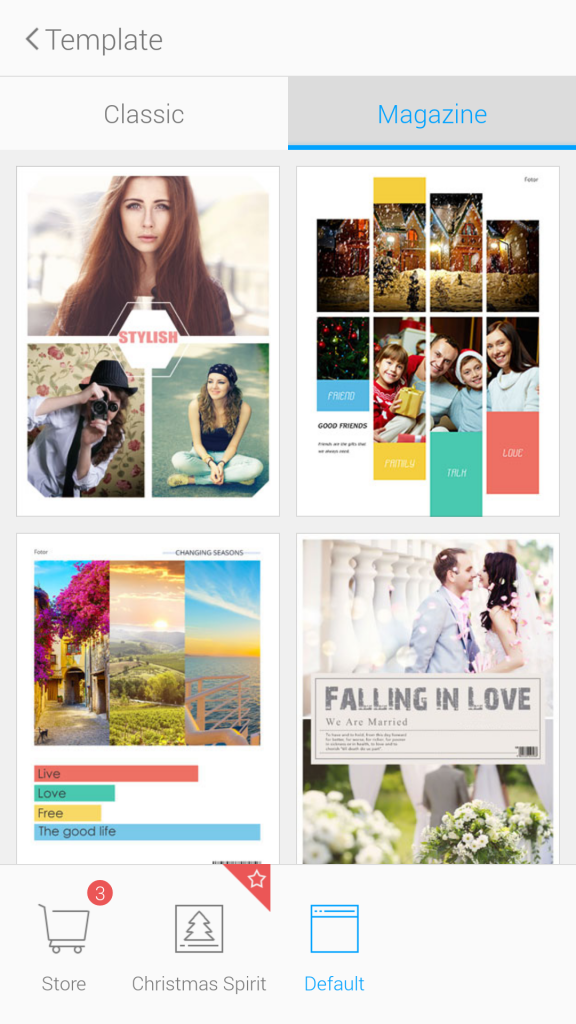 The app lets you use 9 photos in a single collage. And also gives you 13 scenes options to match, along with 100 filters and effects for adding stickers, frames, flair and other useful stuff. The 'discover' section of the app lets you check out creations of other users of the app and participate in contests and events hosted by the app's developers. You can also pixelate image content with new pixel brush feature.
Developer: Everimaging Co, Ltd.
Availability: Free on Google Play
SEE ALSO: Top 10 Best Photo Editing Apps For Android
There are often instances in your life when you need to share multiple moments at the same time, or create a memory out of old pictures. The apps mentioned above will be useful for such instances and allow you to share your joys with everyone.