Prime Gaming rewards you with a lot of freebies in different games like Valorant, Apex Legends, and Roblox.
The free Roblox Prime Gaming reward refreshes every month and includes exclusive cosmetics to use in-game.
To redeem, log in to your Prime Gaming account -> go to the Roblox rewards page -> Copy the code and redeem it on the Roblox website.
Thanks to Amazon owning Twitch, Prime Gaming is one of the coolest platforms that brings exciting rewards for any game. Be it Valorant, League of Legends, or Roblox, Prime Gaming comes up with some amazing in-game rewards every month. These exclusive perks are limited-period items, which makes them even more valuable. So if you have Amazon Prime and want to cash in on these rewards, follow our guide to learn how to claim Roblox Prime Gaming rewards.
Last updated on December 6, 2023 at 11:00 PM to include the new Roblox Prime Gaming reward
Roblox Prime Gaming Rewards (December 2023)
The December 2023 Amazon Prime reward for Roblox users is "Flaming Hot Chip Head." While you will have to redeem this free reward in your browser, you can use the item in any version of the game and on any platform. Make sure you claim the reward before January 2, 2024, as it is going to expire after that.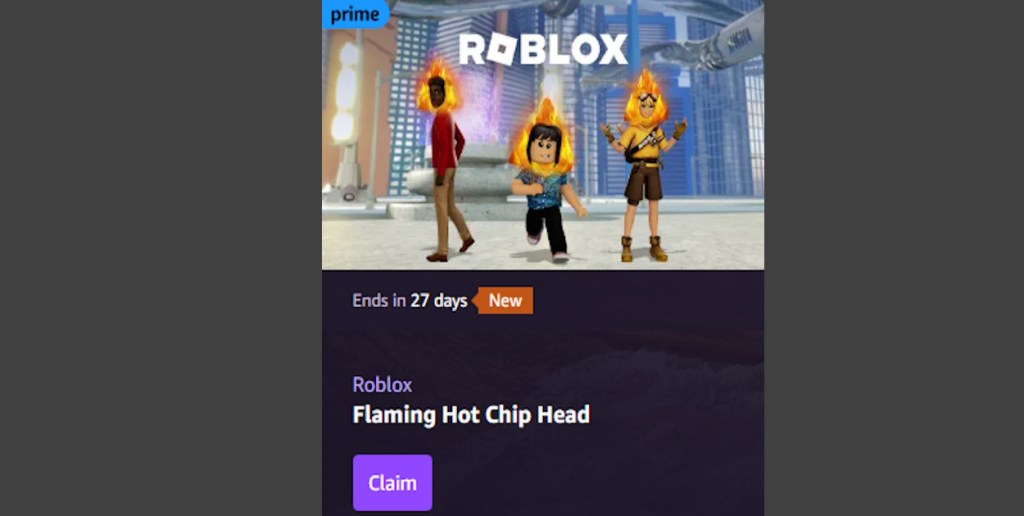 Claim Roblox Rewards on the Prime Gaming Website
There are a few easy steps to follow to claim these rewards. However, do ensure you have an active Prime membership subscription on Amazon before proceeding. With that said, let's begin.
First, visit the Prime Gaming home page and sign in with your Amazon account.
After that, search for 'Roblox' in the search bar.
Now, click on the 'Get in-game content' button.
Copy the code from the reward page by clicking the 'Copy Code' button or manually noting it down.
Redeem the Reward Code on the Roblox Website
The code you received from the Prime Gaming page is your reward. To redeem it, follow the steps below:
First, head on over to the Roblox website and sign in.
Once you sign in, go to the redeem codes section.
Now, copy the code you got from the Prime Gaming rewards page and paste it into the empty space. Once done, click 'Redeem.'
How to Equip the Redeemed Rewards in Roblox
Once your redemption is successful, you will receive a message. This means you have redeemed your Prime Gaming reward.
Click on the "Equip My Avatar" button.
Now, click on the reward you redeemed to equip it with your avatar.
Finally, remember the code works only once, so choose the correct account. Since these rewards change every month, make sure to come back here as we update this article regularly.
---
Load More