In what seems like a sci-fi movie scene, officials of Chinese police have been found to be wearing high-tech glasses to catch suspects using facial recognition technology. According to the report, the smart glasses are using the smart facial ID system to pinpoint suspects in real time.
We have already seen Chinese tech companies using facial recognition system to run autonomous groceries store a reality, but using the technology for policing purposes is the first instance of its kind not only in China but the whole world. Facial recognition has been the go-to technology in China and is also being used to monitor the movements of minorities in allegedly extremist hotbeds.
The first such use of smart-glasses was observed in the city of Zhengzhou where Chinese officers were found to be donning high-tech glasses to identify culprits in the crowd of commuters heading home around the Chinese New Year. As it is one of the busiest times for the country's transit system, it seems like the perfect time to test the technology and its efficiency.
So far, the smart glasses has helped Chinese policemen in catching seven suspects accused of crimes ranging from hit-and-run to human trafficking. Another 26 people who were using fake IDs were also nabbed as a result of this technology as reported by the state-owned People's Daily media.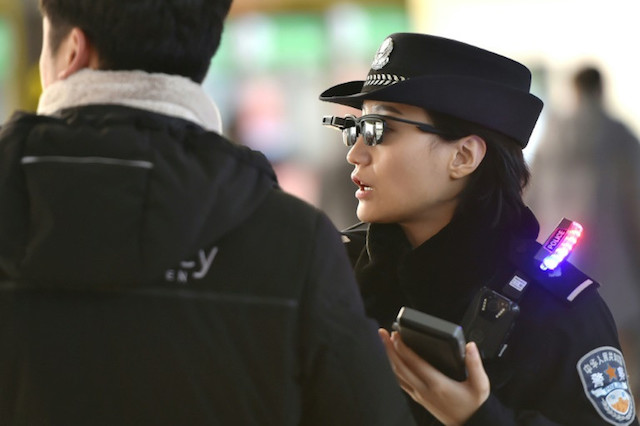 According to the report, currently, four officers stationed at the entrances to Zhengzhou's east station are donning the new smart glasses. The glasses have a camera connected to a smartphone-like device that allows the officers to take mugshots of suspicious individuals and compare them to a database back at headquarters.
The app quickly searches the database and churns out relevant information such as suspect's age, name, and address. It also tells the officers if the suspects are wanted for any crimes and are on the run from the law. Naturally, the program has generated fierce opposition from various human-rights agencies but considering China's past, the move doesn't come as a surprise to anyone.
According to experts, smart-glasses are just the beginning of China's plan to employ a country-wide digital surveillance system which uses citizen's biometric data to track their every activity. The rapid development in biometric technologies such as facial recognition which is becoming more and more accurate and cheap with each passing day has allowed China to carry out a test run for its aspiration of deploying a full-fledged biometric surveillance system.
---