Apple has made it easy to showcase your picture on your Apple ID. If you have never set a profile picture on Apple ID or are just tired of seeing the same old photo, you can change it. While it's easy to do, a large proportion of Apple users don't know how to do it, especially on their iPhone and iPad. So, in this article, I am going to show you how you can change your Apple ID profile picture on iPhone and iPad.
Set Apple ID Profile Picture on iPhone and iPad
Apple has made it dead simple to alter the Apple ID profile picture on iPhone and iPad. Just follow the steps and you will be done in no time. I am attaching the screenshots for the iPhone, but the process is the same on the iPad.
Also, once you change your profile picture on one device, it will sync across all devices that use the same Apple ID. That means you don't have to do it again and again for all devices.
1. Launch the Settings app and tap on your name at the top.
2. Here, tap on your profile picture.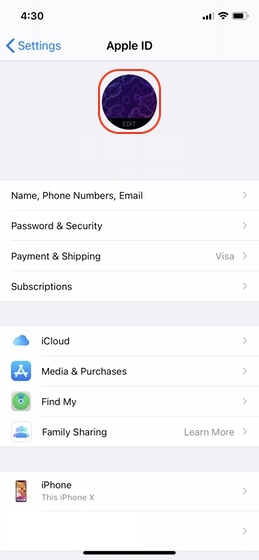 3. You will be presented with three options as shown below. The first "Take Photo" option will launch the camera. The second "Choose Photo" action will launch the Photos app and let you choose a photo from your photo library. The final "Browse" option will launch a file picker in the Files app.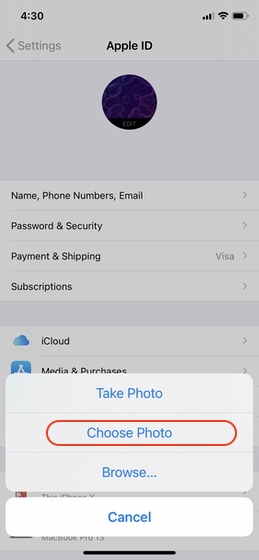 4. For this tutorial, I will tap on the "Choose Photo" option. To use a photo as your profile picture, tap on it.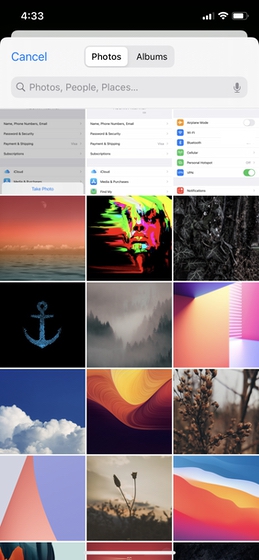 5. Finally, move and scale the photo to select the proper part and tap on "Choose" to set it as your profile picture.
Set Your Preferred Photo as Apple ID Profile Picture
As you can see, you can easily change your Apple ID profile picture. If you like this tip, you will also enjoy reading our coverage of iOS 14 features and tutorials. Here are some articles to get you started:
Click on the links above and read the articles to see what exciting features iOS 14 is bringing to your iPhone.