Searching a specific image out of thousands of images is a tedious task. While macOS already had the option to caption photos for a quick search, iOS lacked this nifty tool until the arrival of iOS 14. So, no more hopping from one end of the photo library to the other just to choose a particular photo or video! Let me show you how you can add a caption to photos and videos in iOS 14 or iPadOS 14 to find them quickly.
Add Caption to Photos and Videos on iPhone and iPad
Photos' caption feature takes advantage of iCloud Photo Library to sync captions across iDevices including Mac. So, if you have enabled iCloud Photo Library on your iOS device, captions will sync across your devices linked with the same iCloud account. Additionally, you can also edit captions and even remove the ones that are no longer needed.
Quick Links
Add Captions to Photos and Videos
1. On your iPhone or iPad, launch the Photos app and then head over to the image you would like to caption.
2. Now, swipe up on the image to access the "Add a Caption" bar.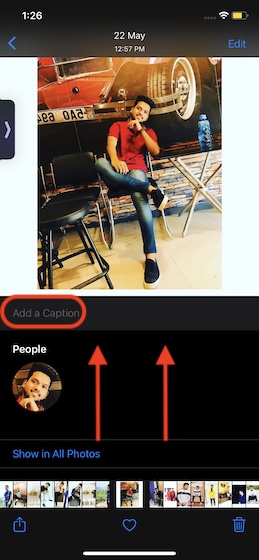 3. Next, enter the desired caption. Once you have added the caption, make sure to tap on Done to finish.
Search Captioned Photos/Videos on iPhone or iPad
Once you have added the captions, searching images becomes a breeze.
1. Open Photos app on your device and hit the Search Tab.
2. Now, enter the name of the caption.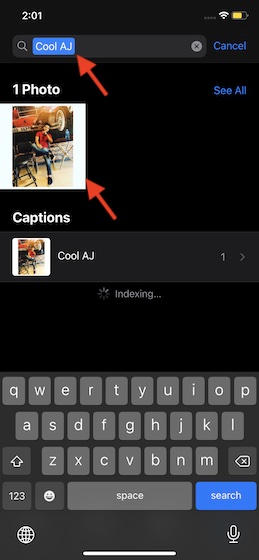 Voila! Photos app will quickly show the images which you have captioned. Pick the one you need and you are good to go.
Edit/Remove Caption from Your Photos on iOS and iPadOS
As mentioned above, you can edit caption as and when you want. The process is just as simple.
Open Photos app on your iPhone or iPad and head over to the image.
2. Now, swipe up on the image to bring up the Caption bar. Next, edit or remove the caption. After that, hit the Done button to confirm the changes made to the caption.
Use Captions to Quickly Search Photos and Videos on iPhone or iPad
So, that's the straightforward way to use captions in iOS 14. It's quite helpful and works effectively in finding an image. While I'm pleased with this feature, I would appreciate it if Apple also added the option to edit the metadata of images.
iOS 14 has introduced several neat improvements to the Photos apps including the ability to allow access to only specific images to an app and filters for viewing images by edited, favorites, and more. Apart from improving photos, iOS 14 has also enhanced Messages, Shortcuts, and Voice Memos. By the way, what's your thought about these improvements? Shoot it in the comments section below.