Insomniac has finally released Marvel's Spider-Man 2, and with it comes a bunch of new things upgraded from the original. While you can read our Spider-Man 2 review for the full scoop, our focus today is on one of the game's main villains. No doubt you have already deduced that we're talking about Venom. A big question that many have is whether you can play as Venom in the game. Well, to find out the answer, we suggest keep reading as we tell you if you can play as Venom and go on a rampage.
Spoiler Warning: This post includes massive spoilers for the final act of Marvel's Spider-Man 2 game. Proceed at your own risk.
Can You Play As Venom in Spider-Man 2?
To answer your question, yes, you can play as Venom in Spider-Man 2. However, this is only for one mission that happens during the end of the game's second act. The mission is titled "Don't be Scared" and takes place in Oscorp Tower.
Once Peter has successfully gotten the symbiote suit off him, he takes it to Harry and tries to convince him to abandon it. However, sick and almost dying, Harry puts it on anyway and fully transforms into Venom. This is where you, the player, get the opportunity to play as Venom as you try to escape Oscorp Tower.
After escaping the tower, the player Venom engages in a gigantic boss bottle against Kraven the Hunter. The entire boss fights and the section, in general, is quite amazing and satisfying to play. However, as mentioned above, you can only play as Venom once during the entire game, so make to savor this time and make the most of it.
How to Get the Venom Suit in Spider-Man 2
Besides getting to play Venom in Spider-Man 2, players get the chance to secure and don the Venom suit as Peter Parker in the game. The game is a linear adventure and follows certain paths players must walk to get to the suit.
To get the Venom Suit, you must finish a particular mission that gives you the Venom Suit in Spider-Man 2. This mission is called "Good Men" and is the 15th mission in the game. As you can see yourself, the mission is around the 50% mark, so you must play for a few hours to get this suit.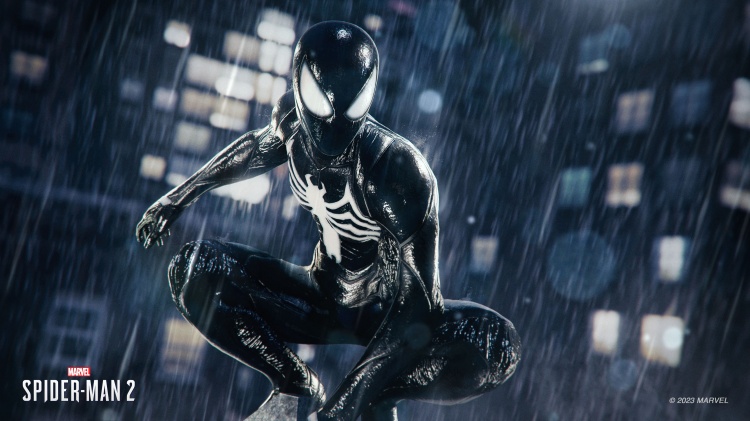 In the mission, Good Men, Peter, and Harry head out to Kraven's secret base after discovering the Hunters have kidnapped Mary Jane. The latter was trying to locate Dr. Connors, aka The Lizard, a reformed criminal. As you might have read from our review, Kraven the Hunter is slowly eliminating all current and former supervillains in an attempt to find the biggest prey. Kraven thought if forcefully converted to the Lizard, Dr Connors would fight him.
However, before the fight can begin, Peter tries to stop Kraven but is instead mortally wounded by the former's knife. After being carried to a nearby area, Peter succumbs to his injuries. However, before he can die, Harry accidentally transfers his Venom powers to Peter, which brings him back to life and fully heals him. This, in turn, also gives Peter the Venom suit and all of its amazing powers.
Once players finish the Good Men mission, they get the Venom Suit in Spider-Man 2. Furthermore, as you keep playing, you slowly unlock the best Peter Parker abilities, which include symbiote powers. Even if you equip the best Peter Parker suits for Peter Parker, you can still use the Venom suit.
Is There a Way to Unlock Venom Earlier in Spider-Man 2
Unfortunately, the only way to unlock Venom in Spider-Man is by following the sections above. As such, you won't be able to gain access to the suit or its powers before finishing the above missions. As we mentioned before, the game follows a traditional story path, which is very linear in nature. So we advise you to play the game and enjoy the adventure as it comes to you. If you're still curious about the game and its missions, then we have a comprehensive list of all the missions in Spider-Man 2 coming up, so stay tuned.
And that's how you play as Venom in Spider-Man 2. If you haven't reached the above parts and are building up to it, then check out these best Spider-Man 2 tips and tricks to gain a competitive advantage. Want to take a more relaxing approach? Start with learning how to use the Super Slingshot skill and the Web Wings here. Do you have any questions regarding Venom? Let us know in the comments below!
---
Load More