Call of Duty Mobile arrived in closed beta to India earlier last week, looking to emulate the mind-boggling success of PUBG Mobile. Though the beta commenced solely with the multi-player mode enabled, giving users a chance to relive the nostalgia of the Modern Warfare days, the battle royale mode became available a couple of days ago.
I had been having the time of my life, playing back-to-back Team Deathmatch games on the Killhouse map, since there was no word on when the Battle Royale mode will go live. Well, Activision and Tencent, the game's developer for mobile, surprised me by enabling the Battle Royale mode for beta users earlier this week.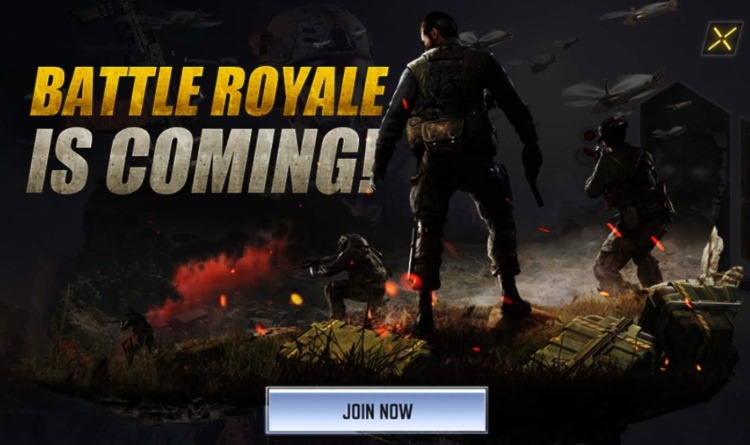 Now, I've been testing out the Battle Royale mode on Call of Duty Mobile for a couple of days and it's looking to be a great PUBG Mobile competitor. Why do I say that? Well, let's find out:
Game Modes & Maps
Before I review the gameplay and how the title performs, let me first take you on a brief ride through the different game modes, the map, and how Call of Duty Mobile is planning to differentiate itself from the renowned battle royale title, PUBG Mobile.
Starting off, once you select the Battle Royale mode in Call of Duty Mobile, you will see a screen similar to the one shown below. This is where you can do a number of things such as applying skins to your weapons, parachute, and more prior to jumping in a match with 100 other players. Yeah, the primary concept of battle royale is the same here as well but we'll talk more about it when we explore the gameplay.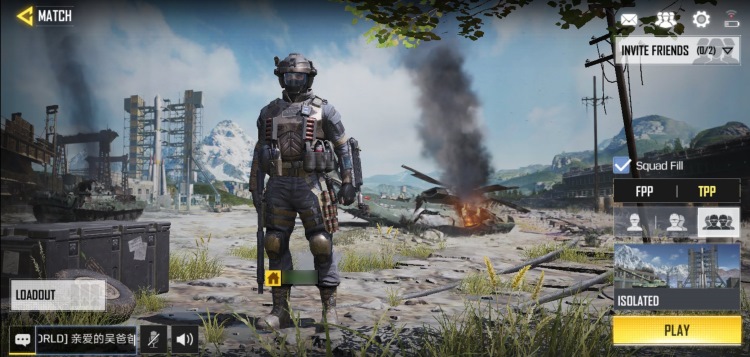 This screen also gives you a look at the different game modes available to play right now. You can either play standalone against 99 other players or choose to fight enemies with a collective of friends (who can be added via the 'Invite Friends' option) as a duo or squad – which is unlocked from the get-go. I'd suggest you choose the latter with the "squad fill" option enabled to quickly pair with other players and be able to jump into a game.
As for the map, well, there is currently a single map live for the battle royale mode, which is certainly okay as the game is still in beta, and it has been designed from the ground up for mobile. It doesn't hold any resemblance to the map we have seen in the PC version of Call of Duty's battle royale mode Blackout. It has been named 'Isolated' here and looks as under: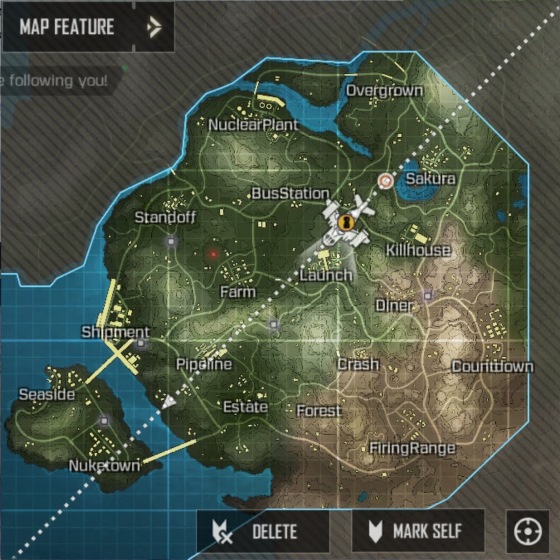 It isn't really the biggest battle royale and features multiple different terrains, making it possible for users to have different play styles. While some may prefer the foliage in the farm section, others may like the rocky terrain and mountains in the desert area.
Picking The Right Class is Key!
Another key area where the battle royale mode in Call of Duty Mobile differs from the PC variant is the introduction of tactical abilities. It is similar to what we've seen in another popular battle royale title, Apex Legends, which lets you choose characters with different abilities before jumping onto the map and getting on with your killing spree.
Call of Duty Mobile has six different classes to offer, ranging from the mechanic to the medic, who can work together in a match, employing your abilities and perks to guide the team to victory. This is one of the many things that make this game stand out from PUBG Mobile, which solely sees you dropping into a game and gunning for the Chicken Dinner.
Here's a quick look at what each class in Call of Duty Mobile has to offer:
1. Defender: As the name suggests, you get the ability to place a deformable shield at any time, any place to protect you against enemy fire. This class also bumps resistance against all damage, except for bullets.
2. Mechanic: You get the ability to deploy an EMP drone to run continuous interference against hostiles, while also being able to add augmented sight to vehicles, hostile traps, and other equipment.
3. Scout: Your primary role is tracking enemies. You can throw a sensor dart to find out where the enemies are hiding or whether someone's sneaking up on you. The Scout can also see fresh footprints of enemies who've recently been in the same location.
4. Clown: You're the friend of zombies and a master of distraction. Throwing a toy bomb that's in your arsenal summons zombies that only attack your enemies near them. You're also safe from any random zombie attacks.
5. Medic: This is my favorite class among all as you're the healer of the group and have the ability to heal more quickly and revive teammates faster than others. You can set up Medical Stations that immediately heal you, as well as teammates who will step into the healing zone.
6. Ninja: Last but not least, the Ninja class gives you the ability to move quietly and be able to use your grapple hook to traverse buildings and get closer to enemies.
Though I might say that picking the right class is essential, don't be afraid to test out the abilities of each class and then stick to the one you find the most suited to your playstyle. I've been playing each Battle Royale game as the medic as I tend to stay a little far away from the action, on the back lines, and can give support to teammates in need of medical attention.
Gameplay & Features
Now that we've discussed the basics of the battle royale mode in Call of Duty mobile, let's talk about the gameplay and see how it differs from popular titles such as PUBG Mobile or Fortnite that've been available on mobile for around a year. We'll also explore whether the said game offers an enhanced gameplay experience than these titles.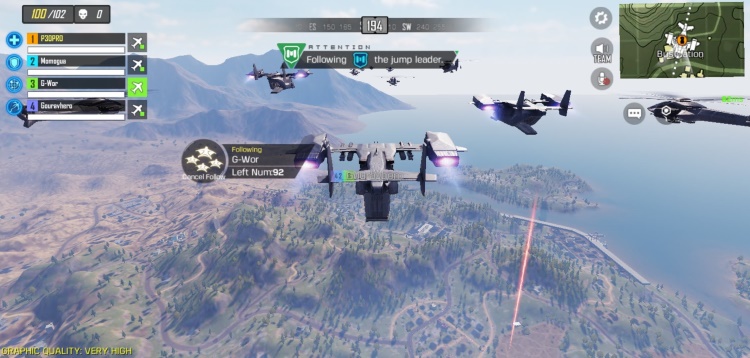 Starting off, you'll assemble in the deployment zone lobby with 99 other players and have the time to pick your class and weapon loadout – skins, camos, and more. Next, you and the team (if you're playing as a duo or squad) will find yourself in an airplane, with a jump leader assigned to take you to a map location – of their or your liking.
I know you're already comparing this to the 'Follow' feature in PUBG Mobile and well, it's one of the many features that Tencent has carried forward to Call of Duty Mobile from its other mobile battle royale titles. Now, the experience of dropping from the airplane is the best in this game as you're going to use a wingsuit to glide through the map in this game, making it possible to travel long distances. You won't drop at random spots if you time your jump right and control the wingsuit gliding, well, at least I didn't.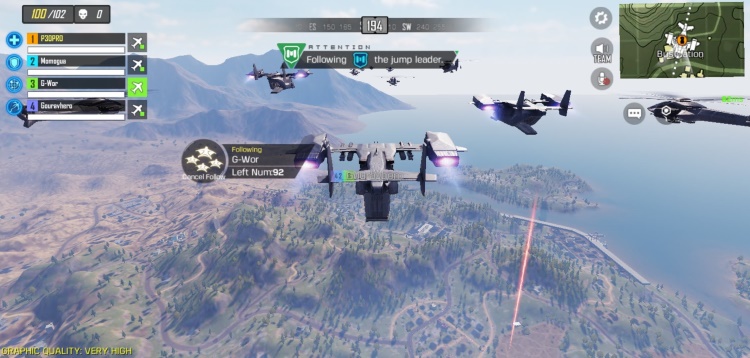 Moving on to loot and combat in Call of Duty mobile, the former is well laid out across the map and you won't have any trouble scouring for weapons, adrenaline shots, first-aid kits, and other tactical equipment. There are also air drops, like PUBG Mobile, which drop from time to time to give you access to higher-level loot.
The weapon loadout in this game does have some familiar names, but you'll find several guns that you are hearing about for the first time. Snipers are an easy find in Call of Duty Mobile, as per my experience, and can be found in every other house but you will have to search for scopes to make them worth keeping in your loadout.
The touchscreen HUD controls are pretty well-laid out and customizable in Call of Duty Mobile – just like other battle royale games. There's no extra buttons and some of these buttons have multiple uses, like you can hold the crouch button to prone And also slide away from enemy fire. Also, you also have your tactical ability such as the healing circle for the Medic and sensor dart for the Scout to further perk up the gameplay.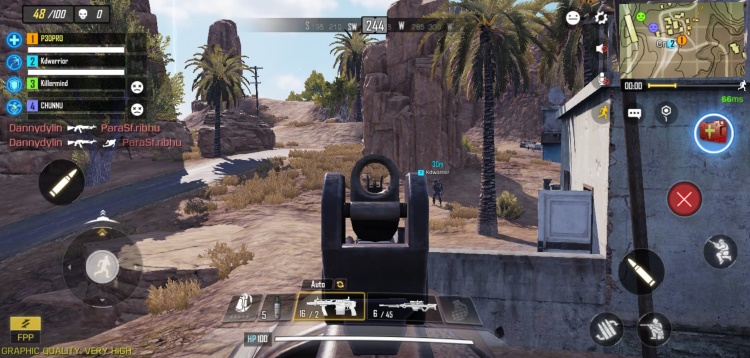 Talking about a really important thing – gun mechanics, well, your PUBG experience isn't really going to help you out here as they're pretty different here. And a good different at that. I found the recoil, rate of fire (which can be upgraded), bullet drop and the scoping mechanism are closer to real-life in Call of Duty Mobile as compared to PUBG Mobile.
You can't simply point at the opponent and shoot away, you will need to get used to the more realistic mechanics onboard here. The gunfights are pretty good and likable in Call of Duty Mobile, thanks to the better mechanics, which also make it difficult for newer players. There's footstep and gunfire indicators shown on the map in this title as well.
I don't want to say this out loud, but Call of Duty Mobile has assembled some of the best features from battle royale titles out there to offer a fuller and more complete experience, which is also pretty smooth even in its beta stage. I'm saying this because you even get the option to revive teammates, a concept that was first introduced by Apex Legends earlier this year and later ported by Fortnite.
In the battle royale mode here, you can collect the 'dog tag' of the teammate who's been killed by an opponent and revive them using the 'Revive' button that appears next to the username at the top left. It's really simple and your teammate will drop from the airplane, which comes back every 2 minutes, to rejoin the fight. It's one of those features that add another layer of fun to the game, while also increasing your chances to win the fight as a team.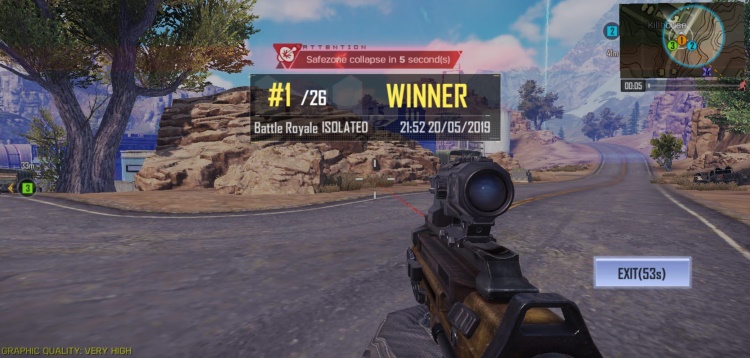 Delving a bit into the nitty gritties here, Tencent has mastered the chat and voice controls in mobile multi-players and they're exactly the same as PUBG Mobile here. You also have the option to mark objects, enemies, and more in Call of Duty Mobile just like we've seen with Apex Legends and other games.
SEE ALSO: How to Install and Run Call of Duty Mobile on Any Android Phone
I mean, I have been regularly playing the battle royale mode in Call of Duty Mobile for a couple of days and there's a ton of likable stuff here. I've parted ways with PUBG Mobile right now and I have this much better tactical shooter to thank for the same. The Battle Royale mode in Call of Duty Mobile is different from Blackout on PC or console, but once you play this title on mobile you'll see that it's actually pretty good.
So, if you're looking for a change over the hype around PUBG Mobile and have installed  Call of Duty Mobile (if not, here's an installation guide) on your smartphone, then do go ahead and try out the Battle Royale mode for a different and amazing experience. Also, comment your thoughts on the same down below.
---
Load More