Going by the numbers (over one billion users), WeChat is by far the most loved messaging app in China. Though the messaging app isn't equally popular elsewhere in the world, it does have a substantial presence in several countries. Owned by Tencent – one of Asia's largest companies by market cap – WeChat offers a solid chat experience. What's more, it also offers cool mini-games, a way to explore interesting articles, and a fast mobile payment method. But just like other Chinese apps, it scores low on the security and privacy fronts. In a recent report by CitizenLabs, it was found that WeChat does content surveillance even on non-Chinese users. This is a huge concern, and if it makes you uncomforatbel, here are 10 best WeChat alternatives you can use in 2020 to replace it.
Best WeChat Alternatives for Android and iPhone (2020)
Finding a perfect replacement for an app like WeChat that cater to various tastes is a little tricky. So, we've lined up a variety of messaging apps that can make a good match with Tencent's offering and even score higher on multiple fronts. Furthermore, the apps that excel in specific departments like a group video call, secure messaging, or tracking news have also made their way into our lineup. So, irrespective of where your priority lies, choosing an app that can meet your needs shouldn't be a big deal. With that said, it's time to explore the top apps like WeChat for iPhone and Android!
1. WhatsApp
Does WhatsApp need any introduction or for that matter any explanation as to why it has topped this roundup? With over 2 billion users in 180 countries, the Facebook-owned app is by far the most popular messaging app in the world. According to the latest statistics, over 2 billion voice and video calls are made on WhatsApp every day. Well, these numbers just go on to show the dominating presence of the messaging app. So, if you are looking for a WeChat alternative that can not just make a good match in terms of features but also beat it on the popularity front, look no further than WhatsApp.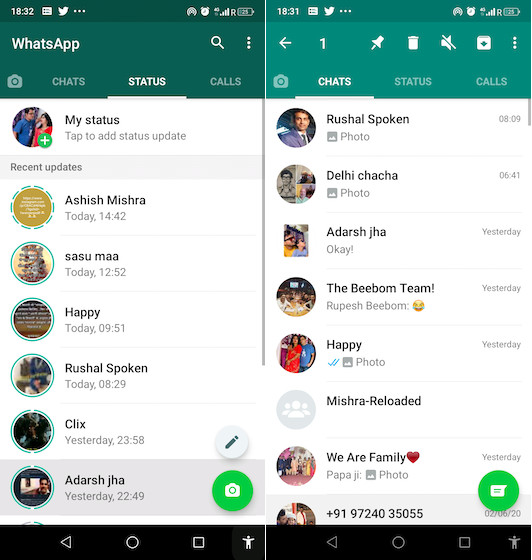 Just like WeChat, WhatsApp also supports multimedia, allowing you to communicate using images, videos, docs, and voice messages. So, irrespective of what sort of medium you find convenient to stay in touch with your friends and loved ones, the app can let you communicate without problems. Comparatively, WhatsApp is more reliable in terms of video and audio calls thanks to the ability to run smoothly even on a low internet connection.
As for group video calling, WhatsApp allows up to 8 participants to engage in a video call as compared to WeChat's 9. In most cases, you may find this number quite sufficient. In addition, you can use WhatsApp Web to stay connected with your buddies while working on your computer. One of my favorite features of this app is the Status that allows users to set an image or video as status for 24 hours. Not to mention the ability to delete the mistakenly sent message that often saves us from facing huge embarrassment. Long story short, WhatsApp is a top-notch alternative to WeChat. And if you want to use it, you should read our WhatsApp tips article to get the  most out of it.
Install: iOS and Android (Free)
2. Telegram
Though Telegram (400 million active users) is nowhere near as popular as WhatsApp or as versatile as WeChat, it's probably one of the most secure messaging apps. Not for nothing, many compare this messaging app with Apple's famed Messages app due largely to its ability to offer high-end safeguards to the personal messages. For additional security, the app encrypts all of your data including chats and media with the combination of 256-bit symmetric AES encryption, 2048-bit RSA encryption, and Diffie–Hellman secure key exchange.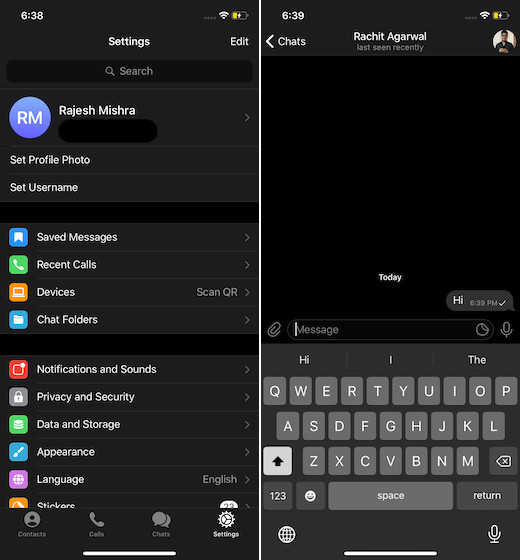 Aside from offering the top-notch shield to your data, the app also provides a more intuitive messaging experience than WeChat. The clutter-free UI helps it run faster, unlike WeChat that's often complained of being sluggish. Another feature that makes it stand out is the ability to let you create a group chat with up to 200, 000 members. Comparatively, WeChat lets users create a group chat with just 500 members. That's not all, Telegram has many tricks up its sleeves. You should read the linked article to learn them all.
Install: iOS and Android (Free)
3. iMessage
Due largely to the deep integration with iDevices including iPhone, iPad, Apple Watch, and Mac as well as Apple's trusted privacy policy, iMessage provides a seamless messaging experience. Packed with a wide range of cool features like Animoji, Memoji, and messaging effects, the app is absolutely fun to use. Add to that a massive iMessage App Store to let users download and install iMessage games and apps, as well as the most secure mobile payment system called Apple Pay, and it stands out as a great substitute for WeChat.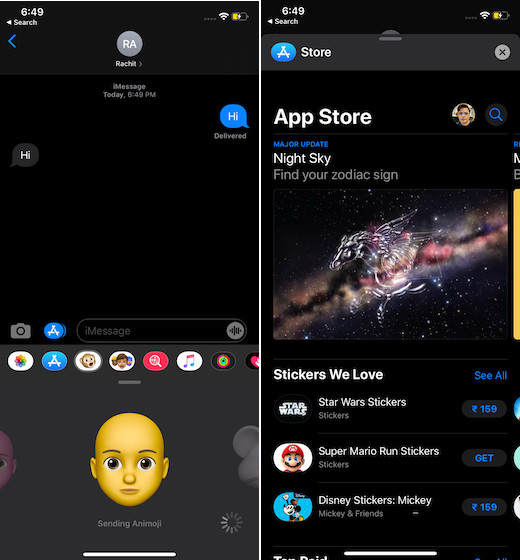 One of my favorite features of Apple's Messaging app is the ability to manage messages using pretty smooth gestures. This makes managing messages dead simple. Besides, the ability to hide alerts from those who keep sending annoying messages has always been one of my top picks. The only downside of iMessage (as you already know) is that it's designed to play within the Apple ecosystem (the so-called walled garden). But if you can live inside this restricted but exceptionally safe ecosystem, you would relish every bit of the blue bubbles!
Comes Built In
4. Messenger
If you have set your sight on finding the most feature-packed replacement of WeChat, I would recommend you to give serious consideration to Messenger. Probably the best part about this messaging app is the integration with Facebook. Knowing how popular Facebook (about 2 billion users) is, most of your friends and loved ones may already be using the social networking app. Hence, you can easily stay in touch with them.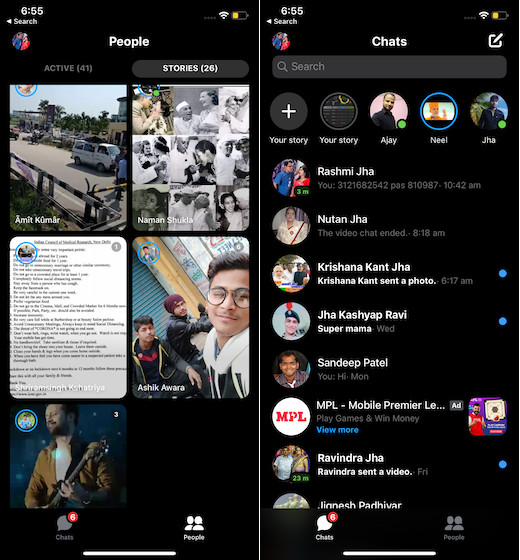 The app lets you communicate in various ways. Be it a text message, voice message, audio call, or video call, it has got you fully covered. Courtesy the recent update, Messenger can even let you kickstart a video-conferencing with up to 50 people, which is far more than WeChat's 9 members. That's not all, Messenger also provides a pretty fast and comparatively secure way of making payment. I also love that Facebook is focusing on de-cluttering the Messenger app and that makes it one of the best WeChat alternatives on the market.
Install: iOS and Android (Free)
5. Skype
While there is no dearth of video-calling apps in the market, very few can match the repertoire of Skype. If the high video quality is what you are after, I would recommend you to try out Skype. Apart from letting you communicate using video/audio calls, the app also lets you chat using instant messages. As compared to WeChat, Skype sports a cleaner user-interface. It's better optimized and runs smoothly across platforms including iPhone, Android, Mac, and Windows.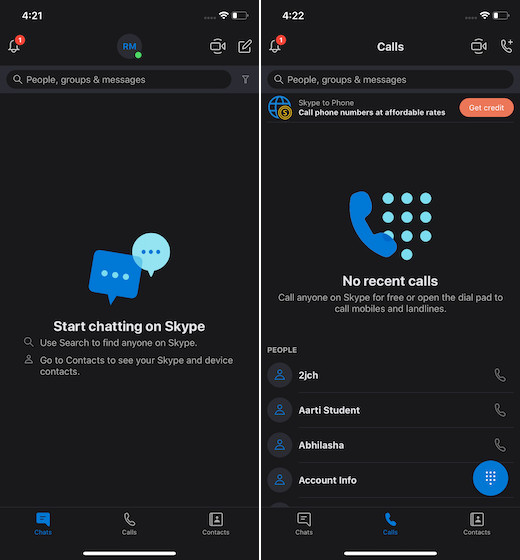 Packed with a vast library of GIFs, Skype lets you send a variety of GIFs. In addition, you can annotate images and even share fun-loving emoticons. Besides, it also lets you call landline and send SMS messages anywhere in the world at a comparatively affordable price. If you want to communicate with non-Skype users or contacts who are not online, you will need to use Skype Credit or Skype subscriptions. Do note that Skype subscriptions start at $2.99 a month for the US, and they may vary by destination.
Install: iOS and Android (Free)
6. Signal
If the recent report on WeChat has opened your eyes, and you don't trust big companies with your private messages anymore, you should install Signal. Used by journalists around the world, Signal is an end-to-end encrypted messaging platform. The service is so secure that even, Signal – the company, can't read your messages. The app uses its open-source Signal Protocol to secure your messages. Needless to say, your private messages are in good hands.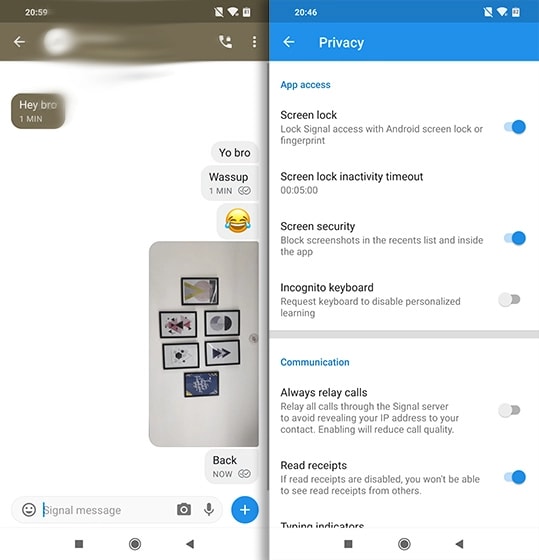 Talking about the features, you get a beautiful UI along with all the chat features that you can expect from a good messaging app. You can send text messages, attach photos and files, create groups, and make video and voice calls. There are no ads and the service doesn't track your usage. The company is run by a non-profit organization and is free to use forever. If you want a secure messaging platform, it doesn't get better than this one. It's the best secure WeChat alternative yoou can use.
Install: iOS and Android (Free)
7. Snapchat
Snapchat has long been a fantastic social networking app. And if you want to spice up social networking with plenty of fun-elements, this one could be the right way to go. Yeah, you got that right! Snapchat scores way more than WeChat in terms of making interaction fun-loving. The app comes with a smart camera to let you quickly capture cool snaps and share them with your friends. And with tons of beautifully designed filters at the disposal, you can give the desired look to your snaps based on specific themes.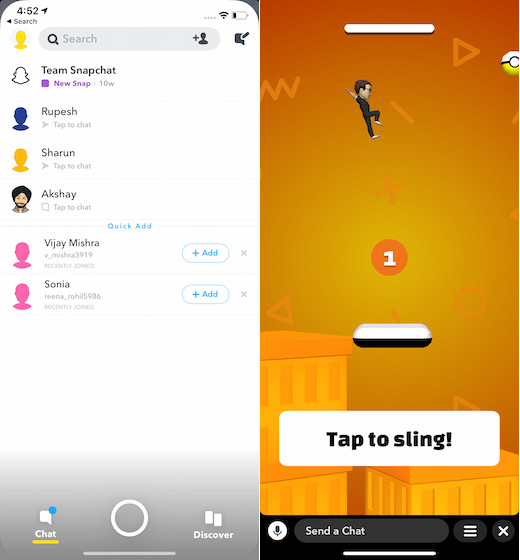 That's not all, Snapchat is home to a lot of eye-catching lenses and fun effects. Times when you want your snaps to easily steal attention, those lenses and effects can come into play. Just like WeChat, Snapchat also lets you catch up with breaking news, original shows, and community stories. As compared to WeChat, I have found Snapchat's collection of news and stories both better organized and more reliable. Not to mention, I love snap map that makes it easier to see where friends are hanging out and view their location. And the ability to play games with buddies has also caught my attention in equal measure. Well, these are just the tip of the iceberg as Snapchat has got a lot of tricks under the hood!
Install: iOS and Android (Free)
8. Viber
Both in terms of versatility and popularity, Viber (over one billion users) appears to be a fully equipped substitute for WeChat. Operated by Japanese multinational company Rakuten, the app is available on multiple platforms including Android, iOS, Windows, macOS, and Linux. So, it doesn't matter which platform you are on, you can use the app to interact with your loved ones. With the support for multimedia, the app allows you to chat with your friends through various ways including text, sticker, GIF, image, and video.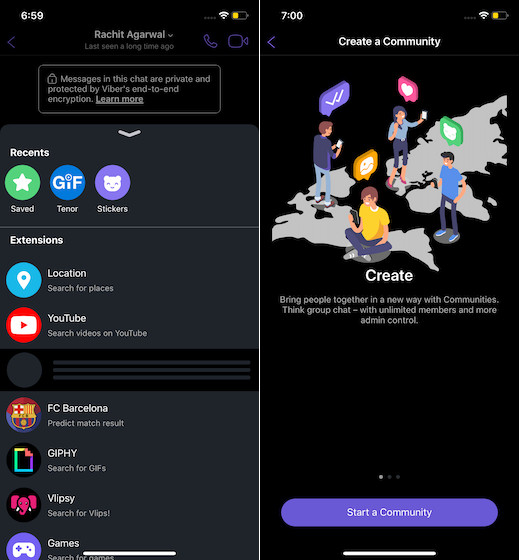 Depending on your needs, you can make a group chat with up to 250 members to stay in touch with everyone who matters to you. Group chats aside, it's better than WeChat regarding video/audio calling – courtesy the ability to work smoothly even on weak internet connection. Just like Snapchat, it also lets you send a disappearing message but you get the flexibility to set the self-destruct timer. But what has always attracted me about Viber more than anything else is creating a Viber community with unlimited members. It's great to stay in the loop with the like-minded people.
Install: iOS and Android (Free, offers in-app purchases)
9. KiK
When it comes to providing a fun-loving messaging experience, KiK is as good as any messaging apps out there. In fact, there are quite a few areas where it can even put some of its more famed rivals to shame. For starters, the app doesn't require you to go through a long sign up process to get started. As it has the support for multimedia like WeChat, you get the luxury to chat with the desired medium.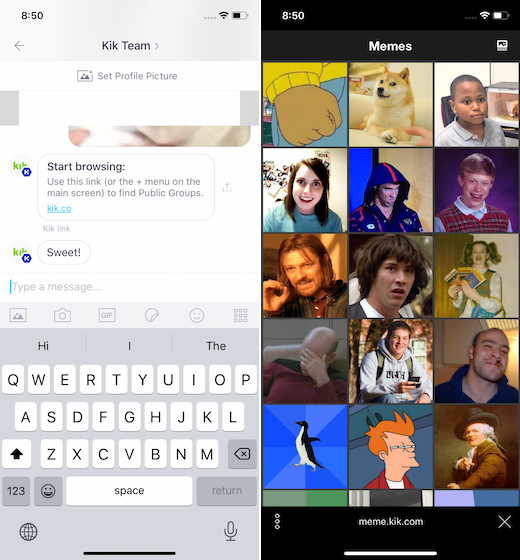 Just like most of its counterparts, KiK also lets you create a chat group to stay in touch with your buddies. But unlike most of its rivals, it allows you to chat one-on-one in groups, which is perfect for the times where you don't want to vex everyone in the group with the irrelevant messages. Additionally, Kik has a large collection of memes that can let you express your feelings in a hilarious way. If memes are what you are looking for in a WeChat rival, KiK could turn out to be a far better choice. That's not all, it's also got some fascinating games to refresh your mind whenever boredom seems to burden you.
Install: iOS and Android (Free)
10. Line
With over 600 million users worldwide, Line is one of the highly-rated social networking apps. Therefore, it deserves to be rated as a noted substitute of WeChat for more than one reason. First and foremost, it's equipped with all the essential tools to let you communicate through multiple ways like voice, video, and messages. Second, it also allows you to make group calls with up to 200 people to remain in touch with friends.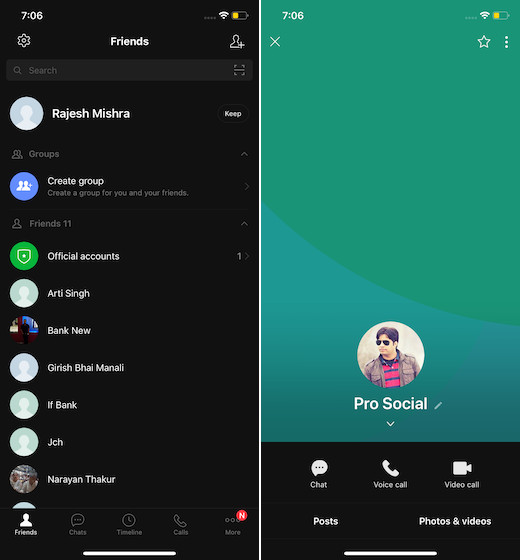 And third, the app features probably the biggest library of stickers. Aside from being in huge numbers, they are also available in a wide variety. So, based on your mood or a specific theme, you can send different stickers to your buddy to keep the mood of the messaging alive. Another feature that makes it a better alternative to WeChat is the ability to make international calls to phones and landlines at relatively low rates. If you often have to make calls to your friends living abroad and want a cost-effective way to communicate with them, Line should be your frontrunner.
Install: iOS and Android (Free)
Bonus: Twitter
Hold on for a moment before you start wondering why I have included Twitter in this roundup! As WeChat is not just a simple messaging app but also a platform where users can catch up with a variety of articles, it's worth suggesting a platform that also does a similar thing. And for this purpose, Twitter is by far the best bet. So, just in case you are hunting for a WeChat substitute that can let you explore a range of topics and also keep you in sync with what's happening around the world, you should try out the micro-blogging app.
Apart from keeping you in the loop with all the latest happenings, Twitter can also let you communicate through text messages and images thanks to its Direct Messaging feature. It's messaging tool may be pretty simple but it's far more secure and neat than that of WeChat. In short, you should look at Twitter as a better WeChat alternative for tracking down news and sharing your thoughts with friends and followers.
Install: iOS and Android (Free)
Choose the Top WeChat Alternatives for iPhone and Android
So, these are the highly-rated apps that can rival WeChat. Both in terms of a wide variety of features and popularity, quite a few apps can leave Tencent's offering behind. By the way, which one of the above apps is going to be your replacement? We would be pretty happy to know your pick in the comments below. Also, spill some beans about the apps that deserve a mention in this lineup.