Let's face it, no matter how 'lit' your group chat is, there are plenty of times when no one seems to have anything to say or do. Though iMessage sticker packs can put some life into your chats, and you can always start an iMessage poll to find out where to go next weekend, the one thing that truly defeats boredom is gaming. So, if you're looking for some fun iMessage games to play with your friends, here are the 20 best iMessage games (free and paid) you can play right now.
Best iMessage Games to Play with Friends (2022)
In this list, we have included all genres of games, from brain-teasers and mini-golf games, to games like 8 Ball Pool, and more. You can use the table of contents below to check out any game that strikes your fancy.
1. Tic Tac Toe
The best iMessage games are the ones that you can play with utmost ease and that too without sacrificing the competitive aspect. If you are hunting for an evergreen iMessage game that you can play with your buddy for hours without any learning curve, look no further than Tic Tac Toe. It's one of my go-to picks, and I guess your story won't be different after a few rounds of play.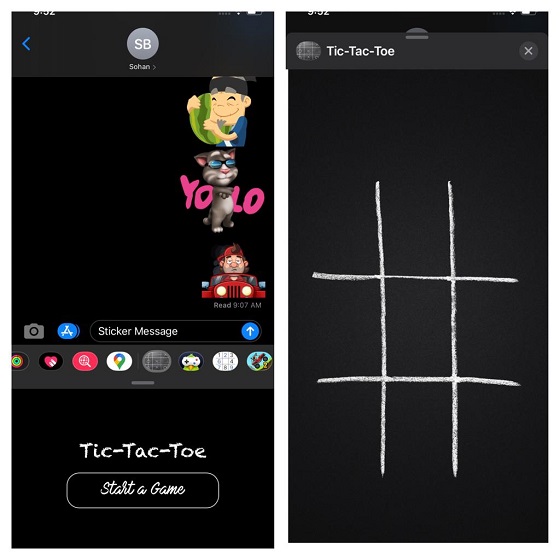 The game is pretty lightweight and has a clean interface. Though it's available for free, you will need to spend some bucks to unlock features like US elections design, Dog vs Cat design, and burger vs pizza design.
Install: Free ($0.99 for US elections design)
2. 8 Ball Pool
8 Ball Pool is the sort of iMessage game that you will fall in love with right from the get-go. Yeah, you read that right! This is undoubtedly the most popular pool game on iOS. Though the gameplay is simple, you will never get tired of playing it. And that's what makes it a must-try for everyone.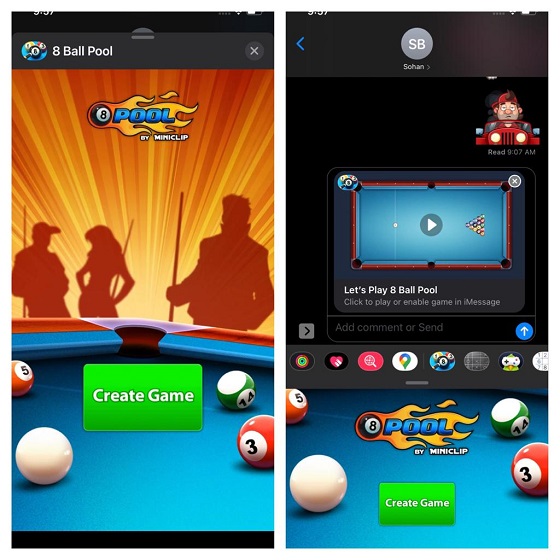 The game is all about potting balls, grabbing as many coins as you can, and then using them to enter higher ranked games with bigger stakes. The level system not only keeps you engrossed in the game but also ensures you are always up against a lot of challenges.
With several trophies and exclusive cues at the disposal, the gameplay never seems to lose its charm. Better still, 8 Ball Pool also offers neat customization so that you can give your cue and table a personalized look. Long story short, it's one of the highly-rated iMessage games for iOS, and therefore you shouldn't give it a miss.
Install: Free ($7.99/week for the Pro membership)
3. Pictoword
If you want to enhance your vocabulary while indulging in some fun-filled word games with your friends within a chat window, you should give the iMessage game Pictoword a try.
The game has got a ton of brain games with varying levels of difficulty that both kids and adults would enjoy taking on. If you don't want the game to tease your brain, you can select the Easy Mode. And if you wish to try out a few complex games, there is a hard mode for you as well.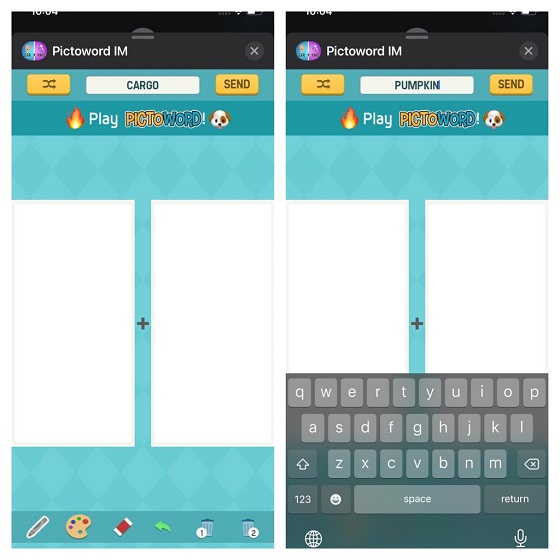 Pictoword offers both single and multiplayer modes, and you can choose the right game mode based on your convenience. Moreover, you can even play it offline, which is a big plus if you don't want your gaming to come to a halt.
Install: Free ($0.99 for 200 coins)
4. Game Pigeon – Unlock a Variety of iMessage Games
Game Pigeon is one of the best titles to download as it contains a variety of different classic games such as 8 ball pool, mini-golf, basketball, cup pong, dots and boxes, word hunt, and more. With so many cool iMessage games vying for attention, you can choose the one that can light up your time – without having to hop from one app to the other.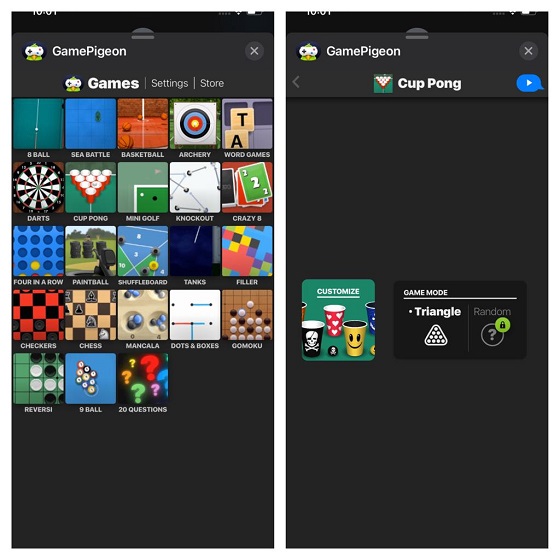 I love playing Basketball and Sea Battle as they are one of my all-time favorites. But your picks may differ based on your preference. Gaming aside, you can customize your avatar to look the way you want to and even add accessories like hats and glasses to your avatar. Some of the cosmetic upgrades are locked, and you will have to pay to unlock all of those goodies.
One of the reasons why I have added Game Pigeon to this roundup is because it offers many games in a single app. And these would cost you money if you download them separately. While the list of games is not fancy, it has several enjoyable titles and is a great way to get started with iMessage games. As it's available for free, be sure to check it out.
Install: Free ($4.99 for Game Pigeon+)
5. Mr. Putt
Mr. Putt is arguably one of the most loved mini-golf games that you can play on your iPhone in an iMessage conversation. It has sleek graphics, fluid controls, and many twists that make it a compelling game to play in your free time.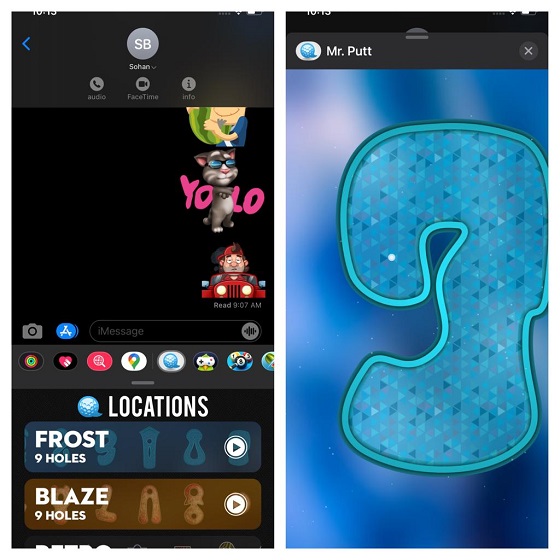 As soon as you open the game, you get an option to take your shot and pot your ball. Once you are done, the person you are playing with will get a chance to take shots. Whoever pots the ball in the least amount of turns wins the game. Mr. Putt provides four locations to play mini-golf, including Blaze, Retro, Nebula, and Frost. While all the four locations are great, Blaze and Frost are my favorite.
Install: Free
6. Yahtzee with Buddies Dic‪e
No roundup of the top iMessage games is complete without the inclusion of a classic board game. And when you think of a highly rated board game, Yahtzee with Buddies Dic‪e is one of the first games that come to mind.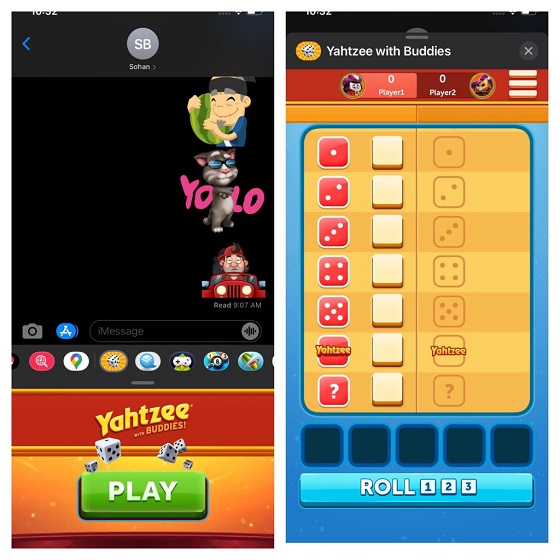 The game has dozens of levels packed with boosts and hurdles. Moreover, the board game offers you the opportunity to participate in thrilling tournaments like Yahtzee Solitaire, Yahtzee Bingo, and Yahtzee Stars, where you can show your gaming skills to decimate rivals.
Interestingly, Yahtzee with Buddies Dic‪e has a survival mode where you can compete with other players in real-time to grab exclusive rewards. Fun gameplay aside, it is also quite good in terms of customization so that you can fine-tune the dice to your heart's liking.
Install: Free ($2.99 for a scoop of bonus rolls)
7. Simple Trivia
If you are looking for a simple trivia game to kill your time, then Simple Trivia is the way to go. It's one of those games that will truly test your knowledge across various topics like history, science, and pop culture. You'll take turns to answer multiple-choice questions from five different categories. If you can't decide which category to go for, you can select "Everything" and see questions from across different categories.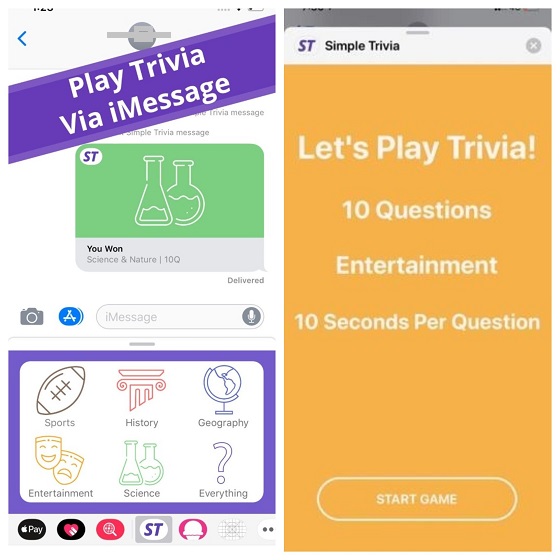 As far as the gameplay is concerned, you only get 10 seconds to answer the questions. Also, the title is updated constantly with new questions, and you won't get bored with the game.
Install: Free
8. Let's Puck It! – Exciting Air Hockey Game in iMessage
This one is a fascinating turn-based game of air hockey. The game lets you choose from a roster of bets or enter your own custom bets. Bear in mind that you will have to accept the punishment if you happen to lose. So, keep it in your mind before throwing any bets at your opponent.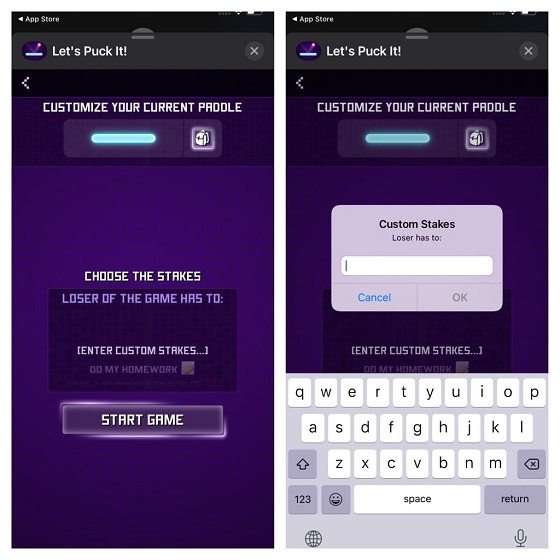 Plan each move wisely so that you can knock out your rival. As the speed increases on each volley, you will need to be on charge to win every round. Your ultimate goal is to win as many rounds as you can by unleashing all the bag of tricks. Oh yes, also do not miss out on the special boosters as they can help you climb the leaderboard.
Install: Free ($1.99 for all skins)
9. Four in a Row
Just like Tic Tac Toe, Four in a row is also a name that doesn't need much introduction. Your objective in the game is to line up, well, four discs in a row. It's also called Connect Four, a game where the players first choose a color and then take turns dropping colored discs into a seven-column, six-row vertically suspended grid.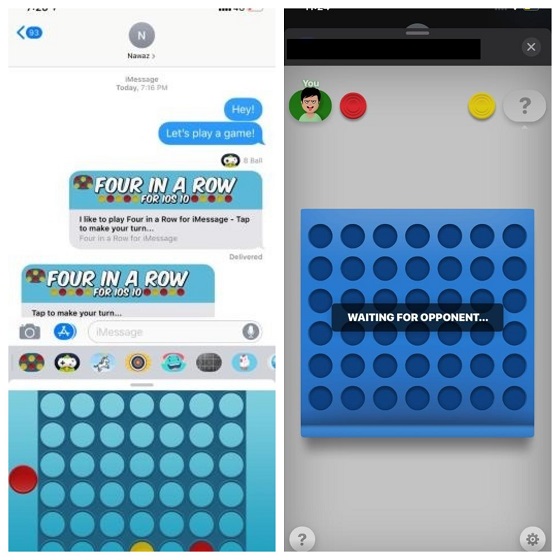 Four in a Row on iMessage doesn't let you choose colors per se, but the rest of the game remains the same. It's a great way to pass some time, engaging in a battle of strategy and wits against your friend.
Install: Free
10. Truth Truth Lie
You must have heard or even played this game with your friends or family. Truth Truth Lie is a super fun game to play even with a single partner. As a player, you get to make three statements about yourself, and the other person has to guess which one of them is false.
The best part about this iMessage game is that you can play this even as a group. This classic icebreaker game also lets you record a video of yourself if you don't feel like typing texts. While Truth Truth Lie is available for you, you will have to go for in-app purchases to unlock goodies like a bag of coins, a stack of coins, and loose change.
Install: Free ($0.99 for loose change)
11. Cobi Arrows
If you are more into arcade-style iMessage games, you might want to check out Cobi Arrows. It's a simple game in which each player gets thirty seconds to fire arrows at a target. The game has good mechanics, but there is definitely a learning curve to get a hang of aiming.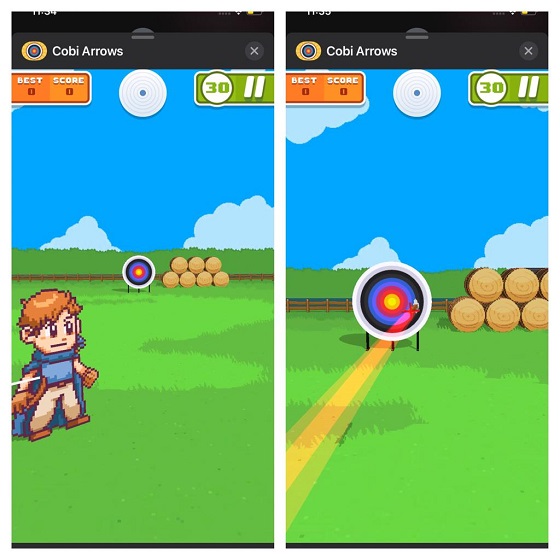 If you are good at aiming and have sharp reflexes, then you will fall in love with this game. It's available for free to download from the App Store, but you can also choose to splurge money in the game's in-app purchases to unlock a couple of new game modes.
Install: Free ($1.99 for all game modes)
12. Qiktionary
We already have a word game on the list, but Qiktionary is a little different. Unlike Wordie, where you need to guess the word by looking at images, in Qiktionary, you have to solve a hidden 4-letter word by typing in letters yourself.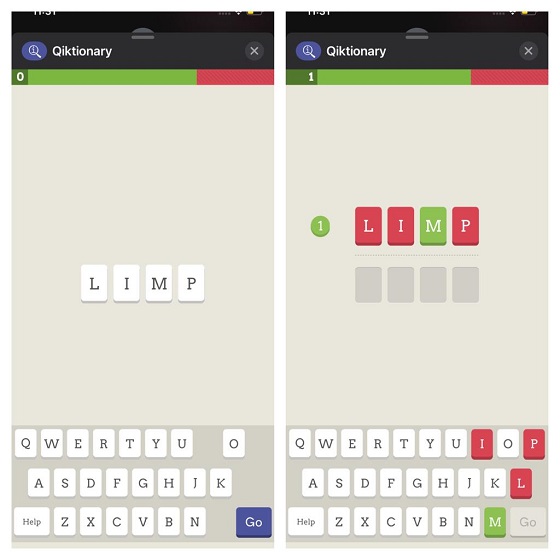 You can take as many turns as you want, but you have to type a word. You can't type random letters as the game won't accept them. It's going to be a little challenging unless you have a strong vocabulary, but you'll have a lot of fun playing it.
Install: Free (premium version is available for $1.99/month)
13. Solitaire
Solitaire is a vintage card game that you would enjoy playing with your friends in iMessage. The game provides daily challenges that you can solve to earn a ton of crowns and trophies. Moreover, you can also earn points every time you play to level up and win new titles. However, what brings plenty of fun into play is the winning deal feature that offers you a chance to play a deal where you know there is at least one winning trick.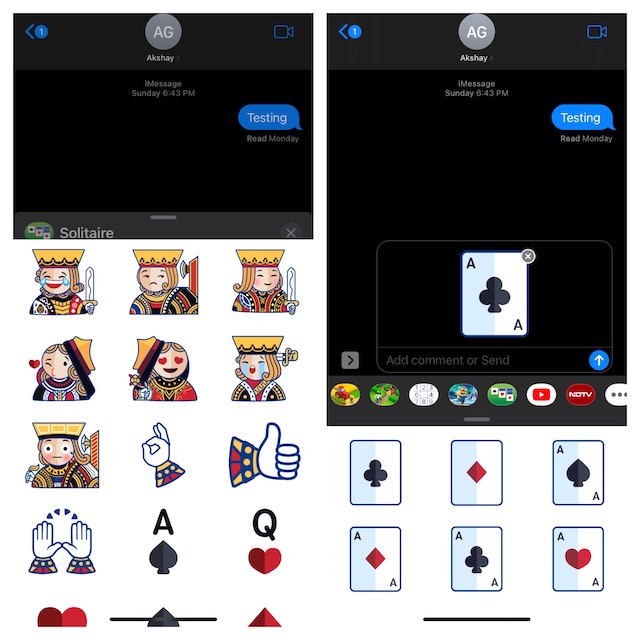 Not good at card games? No worries! Solitaire has an interesting feature called "Show Me How To Win" that can help you improve and also master all the tricks. The leaderboards let you know how well you stack up against other players. Notably, you get unlimited hints and the flexibility to make as many undos as you need. As for customization, the game lets you tweak settings so that you can fine-tune scoring, adjust hands to draw, and even change the background.
Install: Free ($1.99/month for premium status)
14. Minion Rush: Running Game
When you have the most exciting endless running game at your disposal, you don't need to look anywhere else for kickstarting an adventurous run. This Gameloft offering is all about dodging traps, exploring different locations, and competing to be the world's best minion secret agent. Better still, the family-friendly action game also provides several intriguing missions so that you will always have new challenges to take on.
By completing special missions, you can unlock a number of stories and prizes. Using different running skills and innovative acrobatics, you will discover each location's hidden secret area. Since Gameloft keeps adding all-new adventures regularly, there shouldn't be any room for boredom. On top of all, you can design your minion with crazy costumes to make it stand out.
Install: Free ($1.99 for a stack of tokens)
15. Sudoku.com – Sudku Puzzle
Whether you want to take on mind-bending puzzles or wish to train your brain by playing challenging number games, Sudoku.com has got you covered. What gives it an edge over many other sudoku games is a massive collection of puzzles that you can play for hours with your buddy. Brain training aside, it can also help you bust stress and relax.
Sudoku.com provides puzzles for both advanced players and beginners. Plus, it also offers the much-needed hints to rescue you when you need some assistance to crack difficult conundrums. Even better, you can complete daily challenges to earn a lot of rewards and take part in seasonable events to showcase your prowess. With neat progress tracking, you can remain updated about where you stand.
Install: Free ($4.99 for the ad-free version)
16. Township
An amazing mix of city-building and farming, Township lets you build your dream town where everyone can have a life full of happiness. The entire gameplay is set around harvesting crops, processing them at your modern facilities, and selling your goods at a handsome price to earn plenty of money and develop your town. To enhance the lifestyle, you can open top-notch restaurants, and cinemas, and also build community buildings where people can get together and celebrate. Not to mention, you can also adorn your town with famous landmarks like Big Ben and the Statue of Liberty.
Install: Free ($2.99 for the piggy bank)
17. Gardenscapes
Gardenscapes is a unique puzzle game where you are tasked to solve the match-3 puzzles to restore a garden. With hundreds of match-3 puzzles, the game has got the numbers to keep you engrossed for hours of fun. Additionally, it also features plenty of secrets that you would love to unravel. Gaming aside, Gardenscapes has a lovely pet with which you would enjoy interacting with. In addition, there is also an in-game social network where you can interact with other players.
Install: Free ($1.99 for a garden kit)
18. Talking Tom Gold Run
If there was a race to be the best cat runner game for iMessage, Talking Tom Gold Run could easily run away with the prize. Well, that just goes on to show how fascinating this game is. Having nabbed all the gold, Rakoon is on the run. Now, it's up to the Talking Tom to catch Rakoon and snatch the gold. Can you help Talking Tom catch the nefarious Rakoon?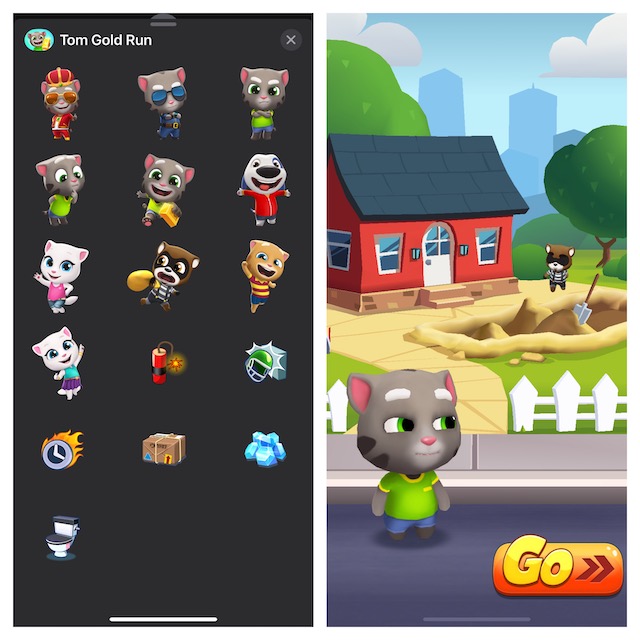 Install: Free ($1.99 for a batch of dynamite)
19. Fruit Ninja
Fruit Ninja is a highly addictive game that puts your fruit-slicing skills to the acid test. There is a classic mode where you can challenge yourself and see how long you can keep slicing fruits. If you want to take it even further, the arcade mode, where you need to give your best to achieve a high score, is for you. However, if you just wish to sharpen your skills and also master a few killer tricks, the zen mode is what you should go for.
Fruit Ninja boasts a variety of blades and dojos so that you can choose your favorite weapon for triggering a juicy storm. The game offers daily challenge events to let you put your slicing repertoire on full display. You can compete with your friends in local multiplayer to slice your way to the top and be the ultimate ninja.
Install: Free ($0.99 for a starter pack)
20. Episode – Choose Your Story
Episode is a fascinating role-playing game where you can play the role of the protagonist in your favorite story. It boasts over 150, 000 interactive stories full of love, romance, drama, and adventure. You can customize your character to your heart's liking, develop relationships, and change fate through your choices. Be warned that every decision you make has an impact on the ending of the story. If you want to showcase your creativity, Episode also offers you the freedom to write and publish your own stories on its platform.
Install: Free ($1.99 for a medium pack of gems)
Bonus: Colorfy: Art Coloring Game
If a top-notch art coloring game for iMessage is in your mind, you would be hard-pressed to find a more compelling option. The app features a wide range of predefined drawings and also allows you to upload your own drawings for coloring. Probably the biggest highlight of this app is the AR virtual gallery that lets you visualize drawings in the real world. You can use the virtual gallery to create awesome drawings and share them with friends.
If you have a liking for mandalas, you would appreciate the "Draw mandala" mode that lets you create attractive mandalas with ease. Since Colorfy also works offline, you can draw different designs even when your device is not connected to the internet. Should you ever need more inspiration for crafting unique paintings, there is a large community where you can interact with people from around the world.
Install: Free ($7.99/week for the pro version)
How To Get Started With Games in iMessage
Getting started with iMessage games is really simple. Just follow the steps below and you will be good to go.
Start a new conversation in iMessage. Now, tap the App icon located next to the text box.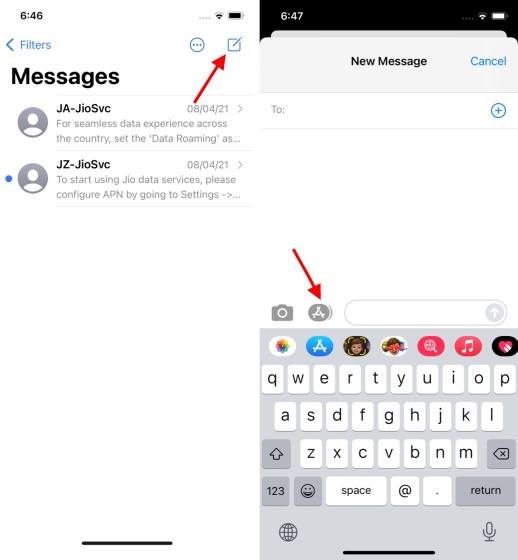 From the Apps menu, tap the App Store icon to visit the store and see a collection of apps, games, and stickers you can try in iMessage on iOS 14. You can then tap on the game you like and hit the 'Get' button to install it as you would

do with any other iOS app.
After downloading a game or app of your choice, you can then start using them by tapping on their icon shown below the message box. You can also scroll through a list of installed games to select the one you want to play with your friend in iMessage.
Note: In order to play the game, the other person also needs to have the game installed on their iPhone.
Which is Your Favorite iMessage Game?
Well, that wraps up my list of the top 20 iMessage games you should play on iPhone and iPad. With several engaging games at your beck and call, you can now make your iMessage conversations more fun and engaging. Before you kickstart lengthy gameplay with your buddies, make sure to let me know your favorites in the comments below. Also, if you know of any other iMessage games that you think should be included on the list, let me know their names as well.
---
Load More