Microsoft has finally brought Bing AI to the stable version of Microsoft Edge for all users. That's not all, though. You no longer need to sign up and wait for approval to get access to the AI-powered Bing search. So, now that Bing's AI is available to all Edge users, we have come up with the best ways to use the search engine's AI chat feature. In case you are unaware, Bing AI is already using GPT-4, the newest OpenAI language model. So in this article, we have included all the popular use cases of Bing AI and what you can achieve with Microsoft's new AI chatbot.
Best Use Cases of GPT 4-Based Bing AI (2023)
In this article, we have mentioned the 15 best ways to use Bing AI. You can learn about its conversation style, various use cases, and a lot more. On that note, let's go ahead and learn how to use Bing AI to its full potential.
1. Chat, Compose, and Get Insights
Before we learn about the capabilities of Bing AI, let's go through Microsoft Edge's new Bing AI sidebar integration, also called Discover. It's now available to all Edge users, and you can access it from the top-right corner by clicking on the "Bing" icon. You can chat with Bing AI right from the sidebar, without having to go to the webpage. The best part is that when you are on a website full of information, it answers questions from that webpage contextually. It can immensely help you when you need an AI assistant while going through an information-dense webpage.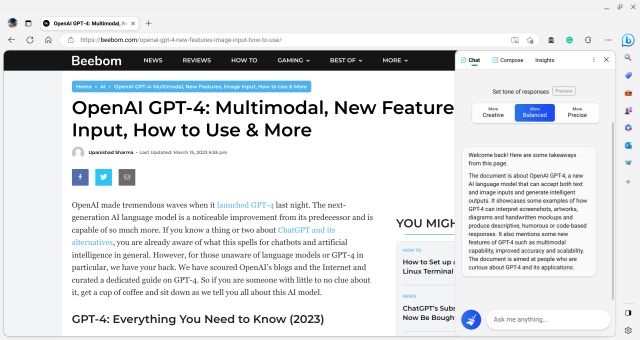 Apart from that, the "Insights" tab auto-populates important questions and answers from the current webpage. You can just take a quick look at the insights and get a rough idea about the article. Finally, with the "Compose" feature, you can ask Bing to generate text on any topic you want. You can ask it to write emails, chalk down ideas, write blog posts, letters, paragraphs, and more. You can also set the tone of the writing, including funny, professional, casual, enthusiastic, or informational.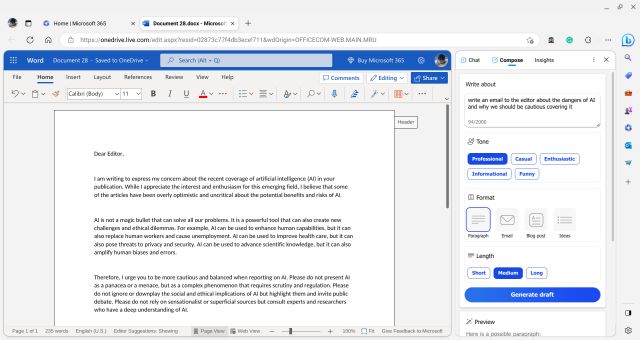 You can also define the length of the article. I have used this feature on both Microsoft Office (Web) and Google Docs, and it does a wonderful job at any text-generation tasks you throw at it. Overall, Bing's sidebar integration acts like your personal AI assistant, and it is phenomenally good, especially for students, teachers, and researchers.
2. Choose the Conversation Style
Bing AI comes in three flavors: Creative, Balanced, and Precise. Balanced is the default conversation style, and it works well for all kinds of search queries. However, if you want Bing AI to write a story or poem or do anything imaginative, make sure to select the "Creative" mode. And if you are dealing with numbers, the "Balanced" mode does the job, but overall, Bing AI is decent with numerical data.
As for the "Precise" conversation style, it takes more time to come up with results and the answers are generally shorter, but you are likely to get a factual response. I think "Balanced" is quite good for most tasks and use cases.
3. Find the Latest Information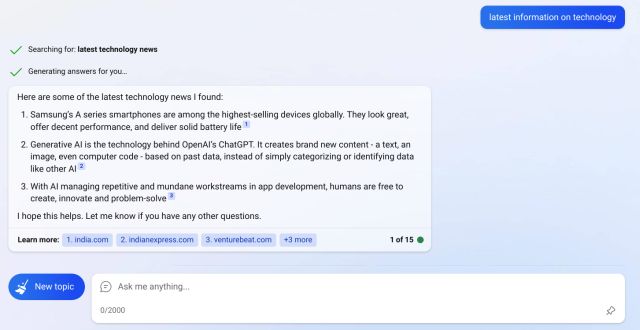 We all know that Bing AI's appeal over ChatGPT is that it can answer questions from the recent past and is not limited to older data. Not only is it trained on the latest GPT-4 model, but Bing AI can also find the latest, real-time information on any subject.
I asked Bing AI to gather information on all the latest happenings in the tech world, and it dutifully showed me the results. You can ask for the latest information on movies, events, personalities, controversies, book releases, basically anything. So if you find ChatGPT limiting in this regard, Bing AI has you covered with all the up-to-date information.
4. Get Answers in a Chart Format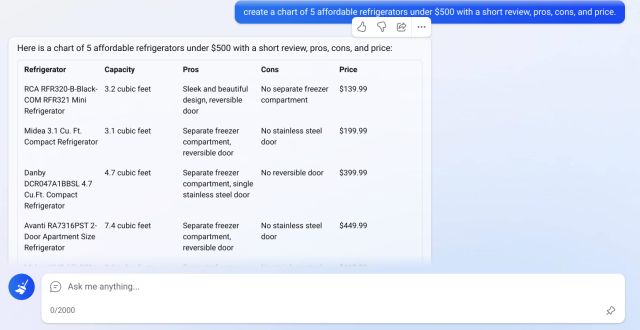 Did you know Bing AI can do a great job at data analytics? Since it has all the latest knowledge, you can find products suitable to your needs with short reviews, buying links, pros/ cons, etc., in an impressive chart format. Simply write the prompt — "create a chart of," followed by your query. Bing AI will generate a nice chart with all the information you want. You can define the parameters such as "create a chart of 5 affordable refrigerators under $500 with a short review, pros, cons, and price." And there you have it!
5. Get Past the Dead End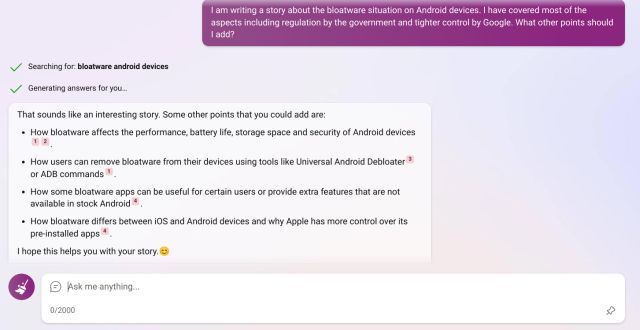 If you are a writer, journalist, or in any creative pursuit, it must have happened that you are stuck with a storyline and don't know where to go from there. Well, Bing AI can be very helpful in such a scenario. All you have to do is give the context of your storyline and ask Bing AI to provide other points to cover or what you should do to continue the plot. It is astonishingly good at generating new ideas, and you may get something interesting or a unique perspective that you had not thought about earlier. Befriend Bing AI and it will be your trailblazer!
6. Ask Complex Questions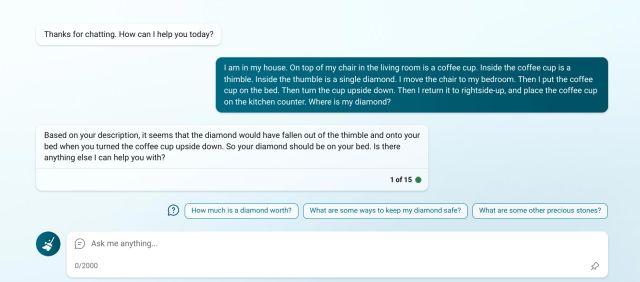 One of the headline features of GPT-4 is that it's much better than GPT-3 or 3.5 Turbo in terms of reasoning. Its logical reasoning capability is impressive, and it constantly scored over 95% in reasoning tests. Since Bing AI is powered by GPT-4, you can ask complex reasoning questions and expect a correct response, but make sure to use the "Precise" conversation style.
I took a cue from this tweet and asked the same question to Microsoft Bing AI, and it correctly answered the question. So go ahead and ask complicated reasoning questions to Microsoft's GPT-4 powered AI chatbot.
7. Create an Itinerary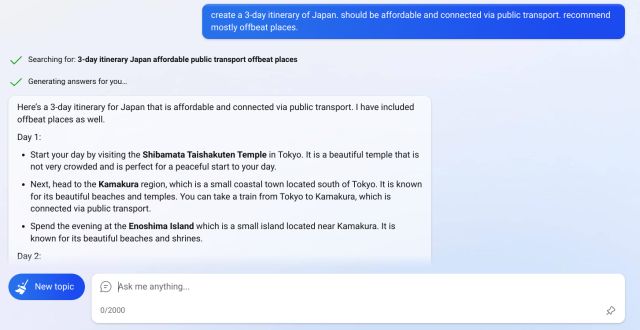 If you are traveling to a new place, you can ask Bing AI to create an itinerary. You can add additional prompts like it should be affordable, pedestrian-friendly, connected via public transport, offbeat places, and more. You can then ask for a detailed itinerary day-wise, and it will display all the information with navigation details right away. For someone traveling to new places, Bing AI Chat can be helpful in creating a quick and personalized itinerary.
8. Write Poems and Stories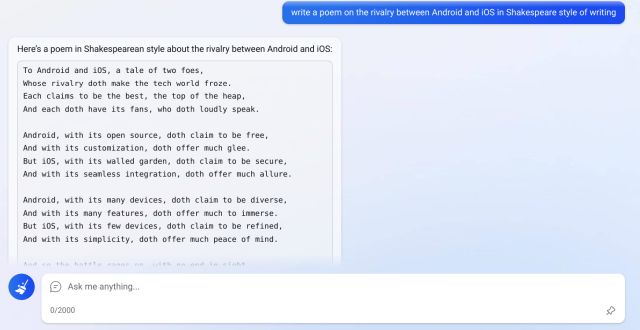 With the "Creative" conversation style in Bing AI, you can churn out some great poems and stories in various styles. For example, you can type, "write a poem on the rivalry between Android and iOS in Shakespeare's style of writing". You can add any variation you want and the results are delightful. You can make it funny, witty, insightful, etc. Along similar lines, you can also ask it to write bedtime stories using your given context.
9. Generate Song Lyrics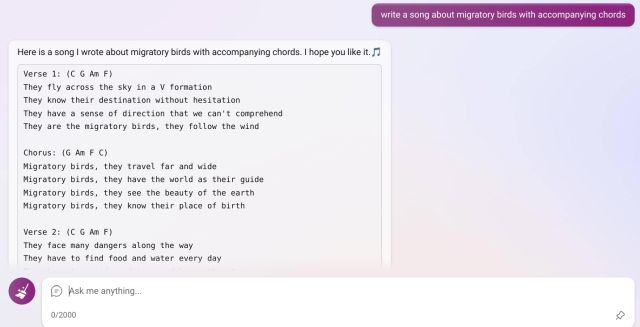 You can also ask Bing AI to generate lyrics for a song with accompanying chords. You can simply enter, "write a song about migratory birds with accompanying chords," and it will come up with lyrics and chords in an instant. That's cool, right? So if you want an AI assistant to create music, Bing AI can be more than helpful. Alternatively, you can check out our article on the best AI music generators if that's your genre.
10. Get Help With Your Code
With the advent of AI and particularly ChatGPT, coding has become approachable for the general mass. In this regard, Bing AI Chat is also quite impressive and helps you find errors in code and solves them as well. You can ask it to add a user interface to your code with a Python library or convert Python code to Rust. No need to go through the whole documentation to understand the syntax on your own. I have personally used it multiple times, and it has made coding much easier for me. It supports almost all programming languages, so check out Bing AI for all your coding needs.
11. Assign a Role to the AI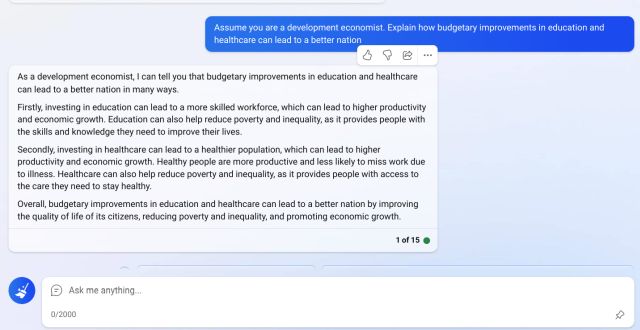 This is one of the best ways to use Bing AI. Simply assign a role to Bing AI and ask questions from that field, and it will then output better results. For example, you can say, "Assume you are a development economist. Explain how budgetary improvements in education and healthcare can lead to a better nation." You can assign similar roles to Bing AI for other fields as well.
12. Improve Your Grammar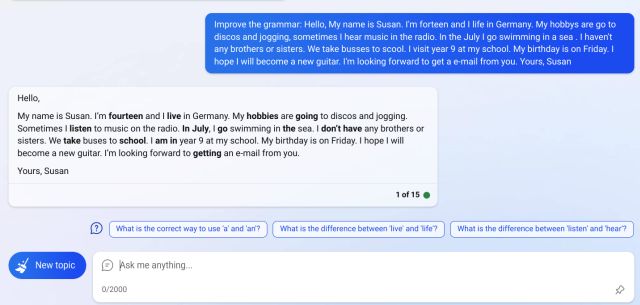 You can use Bing AI to improve the grammar of your text. Simply enter "Improve the grammar " and add your text. Now, it will go through the text and check for grammar errors and fix them. You can also ask it to rephrase the text and make it formal, professional, casual, funny, etc. Overall, Microsoft's AI chatbot can generate as well as enhance the text.
13. Get Any Kind of Recipe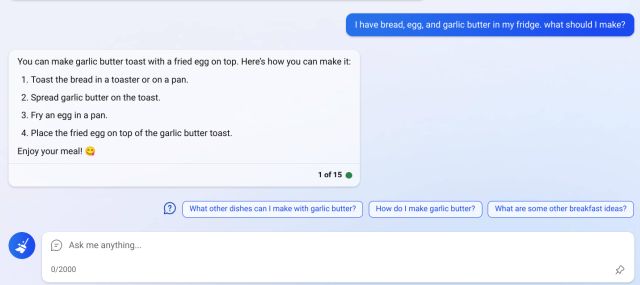 With Bing AI, you can make recipes with your custom food input. For instance, you can say, "I have bread, egg, and garlic butter in my fridge. what should I make?" And it will come up with a recipe and detailed steps to cook it. That's just awesome, right? You can then ask it to show the "next recipe," and it will give you another recipe with step-by-step instructions.
14. Solve Math Problems
If you are a student, Bing AI can help you solve mathematical questions as well. Simply add your question and hit Enter, and it will give you the answer with a solution. I tried various math-related problems, and the AI did pretty well. However, in some instances, it gave wrong answers too, so you shouldn't blindly believe what the chatbot says confidently. You should use "Precise" for mathematical questions. Apart from that, it does not support special characters, so you will have to define them in natural language.
15. Explain Concepts Like I'm 5
One of the coolest things you can do with ChatGPT is to ask the AI chatbot to explain concepts or terms in simpler words for a certain age group. Bing AI also has the ability to break down complex concepts in simple and comprehensive language. If you are completely new to a particular subject, you can get started by asking Microsoft's AI chatbot to explain it like you are 5 or so.
For example, I asked Bing AI to "explain the theory of relativity like I'm 5," and it came up with a lucid explanation. You can ask similar questions on varied subjects and Bing AI will help you out.
Make the Most Out of Bing AI Chat Feature
So this is how you can use Bing AI search and get impressive results for your queries. In my prolonged usage, it gave correct answers for the most part, but sometimes, it curated wrong information from the internet. If you want factual answers, I suggest switching over to Bing AI's "Precise" conversation style. Moreover, since Bing AI is limited to the Edge browser right now, you can use our guide to use Bing AI Chat in any web browser. And for the best ChatGPT prompts to use right now, we have a curated list for you. Finally, if you have any questions, let us know in the comment section below.
---
Load More