Suppose you are going for a trekking expedition with your friends. It's necessary to have a viable method of communication between all the people, especially if they are exploring different places. The cellular network isn't a dependable option, since mountains are still an uncovered area for cell phones. Even if there's signal, the connection will be poor. Well, Walkie Talkies are the only sense-making solution you can choose in such situations. If you are looking for one, we have got you covered with the 12 best walkie talkies for your adventurous outing.
Cons: 
Lacks a straightforward way to reprogram the radio channels
The battery may not delivers 8 hours of battery life consistently
Cons:
Don't come with batteries
Build quality could be better
At a relatively affordable price range, you can have this four-pack variant of Floureon Handheld Walkie Talkie, which comes with stunning features as well. This GMRS/FRS two-way radio has support for 22 channels and the auto-scan features make it easy to find an available channel that you can use.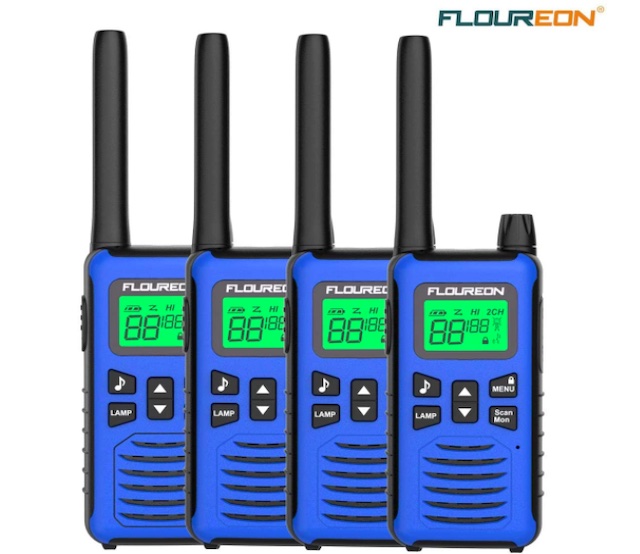 While the additionally-added belt clip, you shall be able to attach the radios to your body, quite safe as well. Notably, Floureon handheld walkie talkie radios range up to 3000M-5000M which is great for outdoor sports.
Other noticeable features of the two way radio include its LCD backlit display, the option to know battery status through simple indicators, an in-built LED torch for the night-riders, adjustable voice level, and the unparalleled sound quality. By the way, Floureon Handheld Walkie Talkie is powered using AA batteries, which is advantageous and disadvantageous at the same time.
Pros: 
LCD backlit display
Support for 22 channels
Auto-scan functionality
Radios range up to 3000M-5000M
Cons: 
Sound quality is not crisp
Background noise reduction is relatively poor
Buy from Amazon: $36.99
Pros: 
A range of 20 miles
Delivers up to 10 hours of battery life
3 AA batteries offer an additional up to 29 hours
22 Channels Each with 121 Privacy Codes
Cons: 
Sound-quality seems a bit muffled at times
Batteries take more than 10 hours to charge
If you are looking for a reliable walkie-talkie for indoor communication, check out this offering from Seodon. It supports up to 5 miles range which is good enough to let you communicate with your colleagues. Moreover, it offers a consistent frequency range between UHF 400-470MHz to ensure your communication can remain smooth sailing. Keep in mind that the range may vary due to severe weather.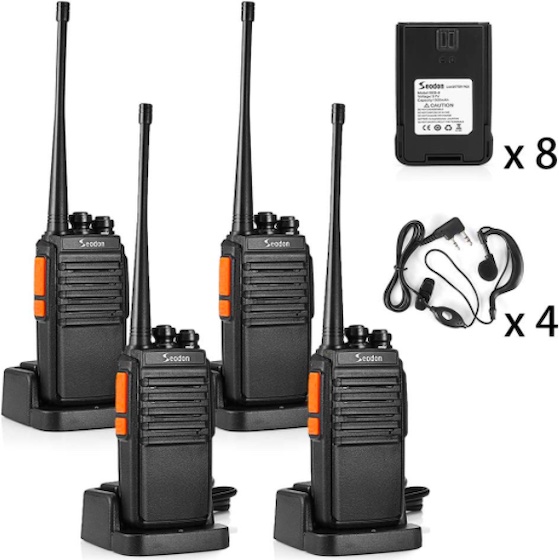 Another feature that makes Seodon user-friendly is a fairly good pack of 16 programmed channels. If you prefer to have customization into the mix, you can also customize the channels for a more personalized experience. Based on your needs, you will be able to program any of your 50 groups CRCSS and 105 groups of DCS.
With the belt clip, you can securely carry the two-way radio. Lastly, Seodon walkie-talkie comes with a 1500mAh battery that provides long battery life. Additionally, it comes in three different packs: 2 ($29.99), 4 ($53.98), and 6 ($84.68).
Pros:
Option to customize channels
The frequency range between UHF 400-470MHz
Durable belt clip
1500mAh battery
Cons: 
Only 5 miles range
Supports only 16 programmed channels
Buy from Amazon: $53.98