Suppose you are going for a trekking expedition with your friends and you have been divided into groups. If the area is a bit dangerous or so, it's necessary to have a viable method of communication between these groups, especially if these groups are following different ways. Of course, cellular network isn't a dependable option, since mountains are still an uncovered area for cell phones; even if there's range, the connection will be poor enough to talk, which is the worst-case scenario. Well, Walkie Talkie is a truly a sense-making solution you can choose in those situations.
As you know might, walkie talkie is a two-way radio & two or more handheld radios are connected together. Then, we can use this couple of devices for to-and-fro communication. Unlike cell phones, walkie talkies make use of radio frequencies instead of towers. Given that the device has satisfactory range, it can offer you reliable communication, however rough the scenario will be!
In this post, however, we shall have a list of top ten walkie talkie you can choose. While creating the list, we've given equal importance to several factors such as maximum range of device, build and customer reviews. We do hope you would be able to choose an effective walkie talkie in the long run. We have mentioned maximum range of each walkie talkie in the description and you should select the one that's appropriate for your use. Quite simply, a 1-Mile distance wouldn't be optimal for mountain trekking.
Choose the Best Walkie Talkie
1. Arcshell Rechargeable Long Range Two-Way Radios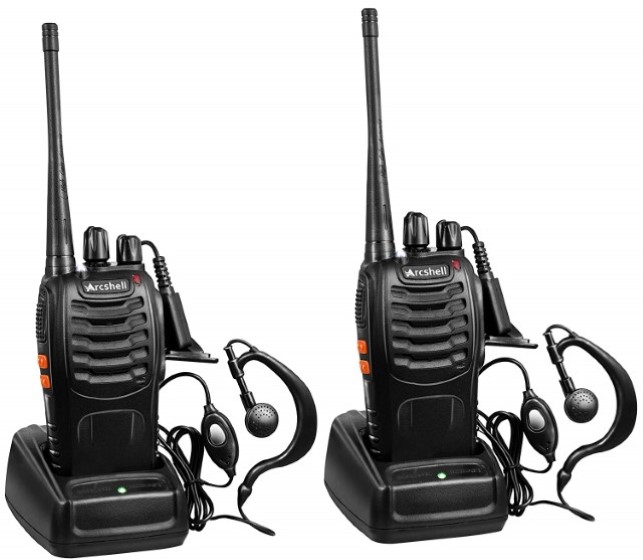 The Arcshell Rechargeable Long Range Two-Way Radio is a great budget walkie-talkie for users who are not looking to spend too much money. The walkie talkies are very small and can fit in the palm of your hand. They operate in the frequency range of 400 to 470 MHz and offer 16 pre-programmed channels. Do note that EMS services in certain areas use the same frequency range so you might have to re-calibrate them to avoid those frequencies. It would be better if you check the EMS frequencies used in your area and look at other offering on this list which do not interfere with those frequencies. Talking about the battery, each radio comes with a 1500 mAh battery and offers 8 hours of usage time along with 96 hours of standby time. It takes only 2.5 hours to charge the walkie-talkies with the included dock. When it comes to range, it offers up to 5 miles of range in an area with no obstruction which decreases as you move to more congested areas such as mountains or hills. This is one of the best budget walkie-talkies that you can buy.
2. Retevis H-777 UHF Long Range Rechargeable Walkie Talkies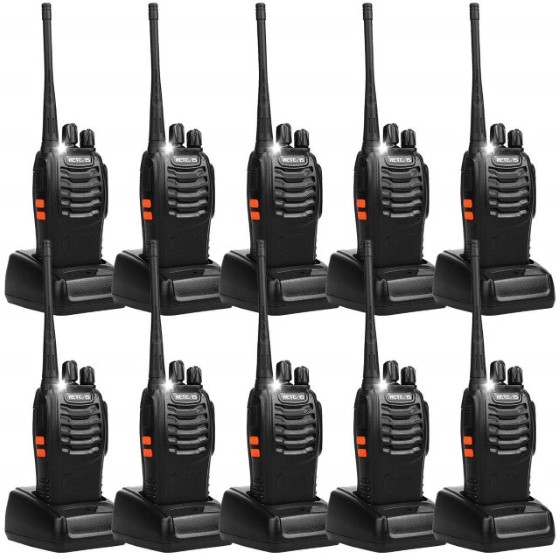 If you travel in a group and need walkie-talkies for more than 2 people check out the Retevis H-777 UHF Long Range Rechargeable Walkie Talkies which come in a pack of 10 walkie talkies allowing even a big group to converse with each other. It comes with preprogrammed frequencies in the range of 400 to 470 MHz. The product offers 16 different channels with 50 encrypted codes for each channel. The walkie talkies come with a 1000 mAh battery which can last for up to 6 hours on usage and offers 72 hours of standby time. Apart from traveling groups, the Retevis H-777 is popularly used in various business including restaurants, schools, retail stores, security, corporate events and more. As far as group walkie talkies go, this one is one of the most affordable walkie-talkies that you can buy. Plus, the company offers 1 year warranty and 30 days money back guarantee with no questions asked.
3. Uniden MHS126 Handheld Submersible Marine Radio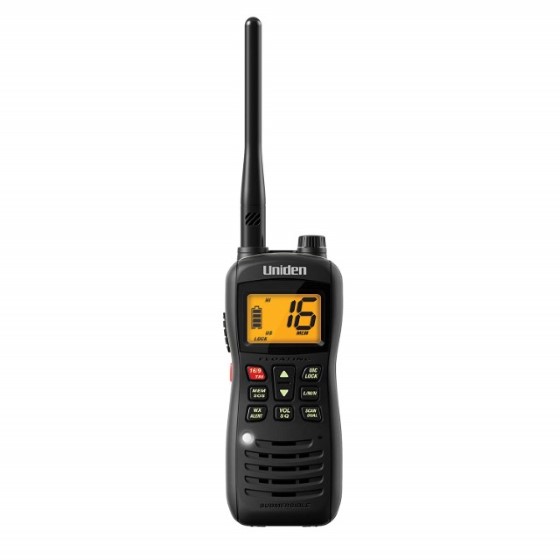 The Uniden MHS126 Handheld Submersible Marine Radio is great for users who need extra protection. The marine radio comes with many features which will help you protect in hazardous situations. First of all, the walkie-talkie does not submerge in water and always floats on top of it, which means you can use it safely even if you're on a lake or at sea. Secondly, it comes with a light signal which illuminates in darkness making it easier for you to find it in case you drop the walkie-talkie. Just like the Baofeng Mirakit Edition radios ($37.88) , this can be used in different power modes allowing you to either get the extended range or longer battery life. Also, it gives automatic weather alerts when the radio detects a special weather warning signal from NOAA, so you can be instantly informed about thunderstorms, tornados, or other extreme weather in the area. Plus it supports all US, and Canadian Marine channels.
However, before you buy this walkie-talkie, you should know that by law you cannot use a marine radio as an on-land communication device legally, they can only be used on the water. You will also need to follow proper protocol when using marine band VHF radios and you should do some research about its fair use policies before you buy it.
4. DilissToys Kids Voice Activated Walkie Talkies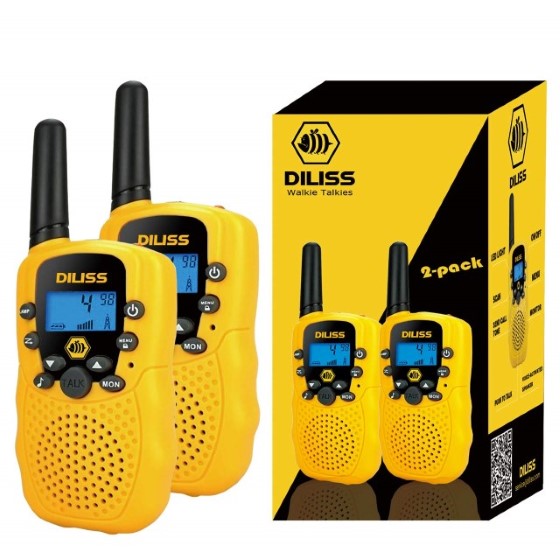 If you're looking for a pair of really good walkie talkies for your kids to play around with, check these out. The DilissToys Kids Voice Activated Walkie Talkies we are featuring here offers crisp and smooth sound quality with adjustable volume level. It also has an auto squelch function which mutes the background noise so kids can get the crisp sound even in crowded places. The walkie talkies are pretty small and will easily fit in a kids hand without causing any pain on long usage. Since this is for kids, it features an uncomplicated push-to-talk button which makes this toy easy to use by kids of all ages. This is a great gift for your kid and they will surely love it. Do note that these walkie talkies don't come with batteries so you will need to purchase AA batteries separately. Other than that, the walkie talkies claim to offer a 3 mile range and 22 channels, which is definitely more than enough for kids. Plus, they come with a flashlight, which can definitely come in handy at night. Lastly, they are available in a lot of colour options such as pink, red, black and blue.
5. Xiaomi Mijia Smart walkie talkie with FM Radio
If you are looking for something a little different from your traditional walkie-talkies, then check out the Xiaomi Mijia Smart walkie talkie With FM Radio which brings a sleek and handy design. The walkie-talkie itself is pretty small and can easily fit in your hands. Despite its small size, it offers a remarkable battery life with 17 hours of usage time along with 8 days of standby time. It offers a range of about 6.5 miles in an open area which decreases to around 3.7 miles when you move to a more urban environment. It also sports a big and readable display at the front which is great for getting important information such as battery life, weather conditions, and more quickly. If you want something which is a little different from traditional walkie talkies then this is the one to get. However, keep in mind, that according to some Amazon reviews, the Xiaomi walkie talkie comes pre-programmed with Chinese frequency bands, so you'll have to re-program it to comply with US frequencies and laws. Also, the price is for one unit so don't get confused.
6. Motorola MH230R Two-Way Radio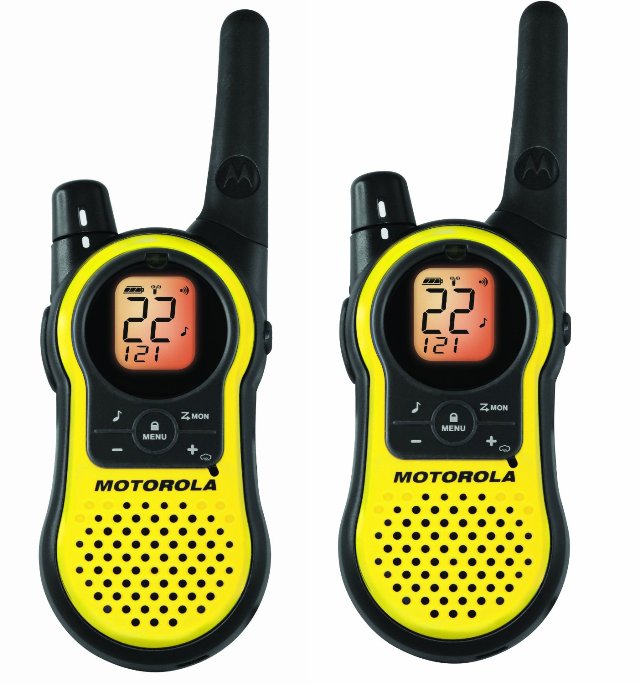 This product is a two-pack variant of the powerful two-way radio from Motorola and its most notable feature is the compact, lightweight design. When compared to the common walkie talkies out there, Motorola MH230R Two-Way Radio can be held in your hand, quite conveniently. As in case of range, it offers up to 23 Miles [In mountains], which is quite impressive; along with this, we should mention the Dual Power feature of the product — you can use either the rechargeable set of NiMH batteries or three AA batteries. In the former, you get an uptime of 10 hours and 26 hours in the latter. The device comes with 22 channels that can be combined with 121 various privacy codes. In light of both these, you get 2662 channel combinations. So, finding a channel that you can bring your communication into wouldn't be an issue, we suppose. You get two belt clips, dual drop-in charger and charging adaptor with the product, to be noted.
7. BaoFeng BF-888S Two Way Radio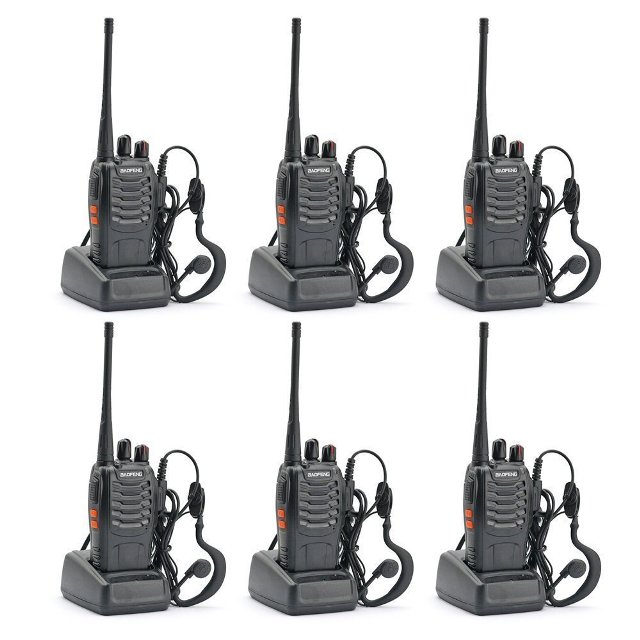 When you need a walkie talkie that gives you the typical-two-way-radio feel — although it may not be that compact —, you can go with BaoFeng BF-888S Two Way radio. The deal is a pack of six radio devices that can be used for best-in-class in-between communication. With a frequency range of 400 MHz to 470 MHz, BaoFeng BF-888S Two Way Radio supports up to 16 channels. Also, the device is powered by 1500mAh Lithium Ion battery which can give you a backup of 12 hours — very impressive. As we said earlier, this walkie talkie comes with individual earpiece for each of the radio device you have, and that gives a professional look as well. When talking more about battery and backup of the device, we should mention the Intelligent Charging option as well as the alert setting for low voltage. Indeed, these features make it easy to ensure seamless communication. In addition, it has power-saving mode that puts your radio in a kind of passive mode to save energy. Altogether, it's a steal-deal, we would say.
8. Floureon Handheld Walkie Talkie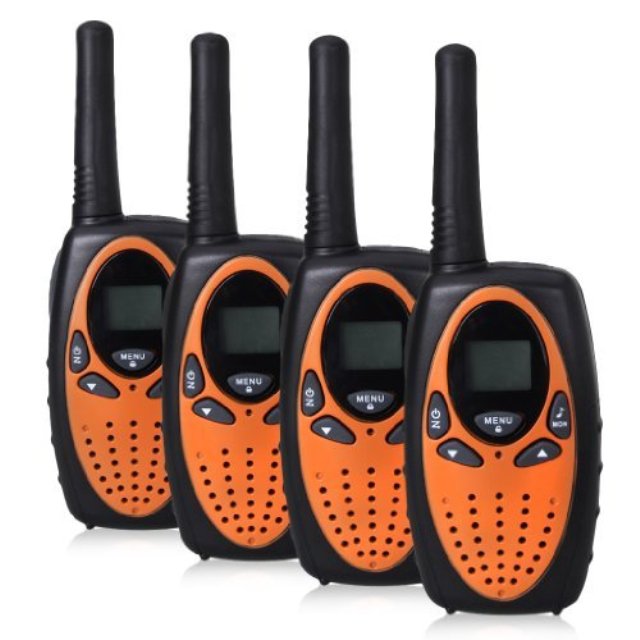 At a relatively affordable price range, you can have this four-pack variant of Floureon Handheld Walkie Talkie, which comes with stunning features as well. This GMRS/FRS two-way radio has support for 22 channels and the auto-scan features makes it easy to find an available channel that you can use. While the additionally-added belt clip, you shall be able to attach the radios to your body, quite safely as well. In terms of frequency range, Floureon Handheld Walkie Talkie supports from 462 MHz to 467 MHz, which would be capable enough to give you maximum distance of 3 Kilometres range and you can get up to 5 Kilometres if you're in an open area. Other noticeable features of the two way radio include its LCD backlit display, the option to know battery status through simple indicators, an in-built LED torch for the night-riders, adjustable voice level and the unparalleled sound quality. By the way, Floureon Handheld Walkie Talkie is powered using AA batteries, which is advantageous and disadvantageous at the same time.
9. Midland LXT630VP3 GMRS Walkie Talkie
If you prefer a not-so-compact professional walkie talkie to a compact one, you should definitely check out Midland LXT630VP3 GMRS Walkie Talkie, which meticulously combines stunning features and a good interface. Despite all the impressive stuff, you can get the product at an affordable rate. As you can see from the image, you'll be able to have a few accessories when you purchase Midland LXT630VP3 GMRS Walkie this two-way GMRS radio, such as the belt clip that helps you keep the device safe when you're walking or running. As we come to consider the technical stuff, the device has support for 36 different channels, giving you enough freedom and comfort to choose the best one. In addition, the maximum distance between both the devices will be a maximum of 30 Miles. Also, you get a few other features such as NOAA weather channels, 5 call alerts, hands-free operation mode, LCD Monitor to check status and do other actions, water resistance etc. You can either use the rechargeable battery pack or three AAA batteries.
10. Midland GXT1050VP4 Camouflage Edition Two-Way Radio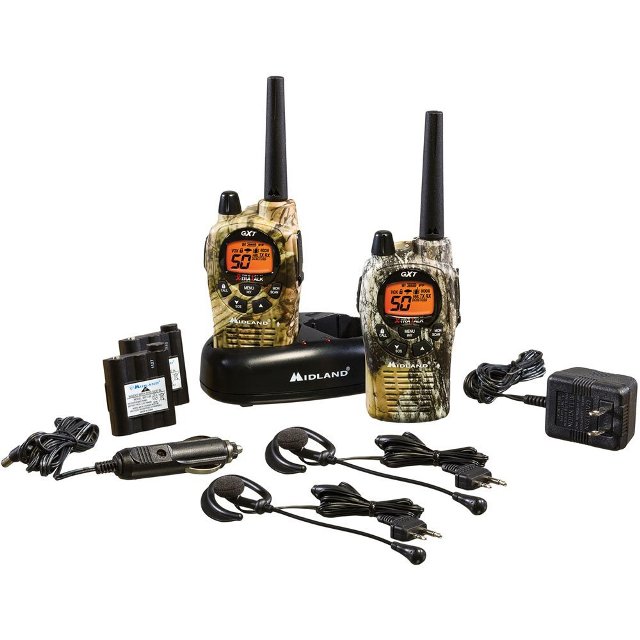 If you are looking for a fully-fledged wireless communication method, to be useful in professional scenarios, this one from Midland is a worth-checking-out two way radio, we would say. Midland GXT1050VP4 Camouflage Edition Two-Way Radio comes with almost every feature and capability you need. On top of everything, you get maximum range of 36 miles, if you are using the device on open areas, such as when you're in a trekking experience. Apart from the common 22 channels that are offered, you get 28 extra channels as well; when combined with 142 privacy codes, it's possible for you to have enough combinations to move on. In addition, you get weather alert from NOAA as well. It also has some other features such as the waterproof build, eVOX-powered hands-free operation of devices, 10 alert tones, ability to call a person directly, dual watch that lets you monitor two channels simultaneously, vibrate alert etc. At the same time, to extend productivity, there are some other options too, such as the Battery Life Extender & the Keypad Lock option.
11. Baofeng Radio UV-5R MK5 8W 2018 Mirkit Edition
Baofeng Radio UV-5R MK5 8W 2018 Mirkit Edition is a great walkie-talkie for people who want extended battery life. The walkie-talkie works in both VHF and UHF frequency range and can monitor two different frequencies at the same time. One of the good things about the Baofeng radio which we are featuring here is that it is FCC compliant so it's completely legal to use anywhere. However, you will need to avoid using the radio on restricted frequencies which are reserved for government services including aviation, satellite, and more. I also love that this walkie talkie offers a very good battery saver feature. Basically, you can use the Baofeng Radio UV-5R MK5 8W 2018 Mirkit Edition in three different power modes and depending on your requirement, you can use it in low power or high power mode. The former will give you extended battery life while the latter will give you more range.
12. Motorola T260TP Talkabout Radio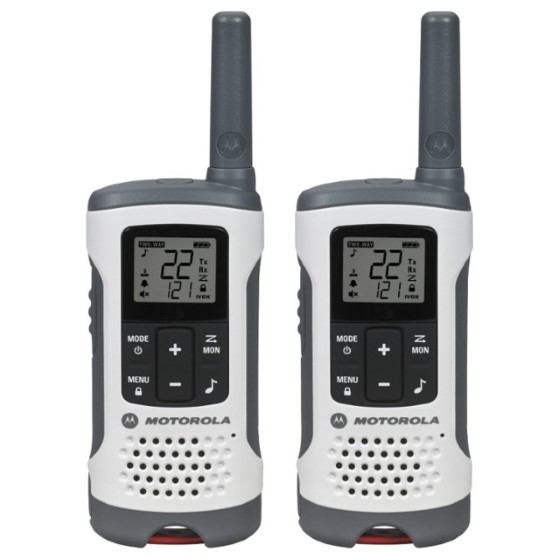 We end our list with the Motorola T260TP Talkabout Radio as it is one of the best budget walkie-talkies that you can buy. You can either use the included battery pack to power it or you can use three AA batteries if the need arises. The included NiMH rechargeable batteries will last for up to 10 hours while you can use three AA batteries for up to 29 hours. The walkie-talkie also offers 22 different channels along with 121 privacy codes for each channel making it one of the most secure budget walkie-talkies that you can buy. Do note that while you don't need any license from FCC if you are using it on FRS channels, you will need the license if you are planning to use it on GMRS channels. When it comes to range the Motorola T260TP Talkabout Radio doesn't disappoint as it gives a range of 20 miles which is more than enough for most use case scenarios.
SEE ALSO: Top 10 Digital Audio Recorders
So, that was our list of best walkie talkies that you can buy in 2019 for an exciting outdoor activity such as camping with your friends, or for a corporate event that requires a lot of to and fro communication with your team to handle impromptu situation, etc. Do let us know which one are you going to get for yourself? Also, if you think there's a more deserving walkie talkie that should be on our list, do let us know in comments.