One of the biggest tools that governments across the world use to quell citizens' dissent is shutting the internet. While sometimes it's necessary to stop the flow of false information, more often then not, it is used to stop free flow of speech. Free speech is a fundamental right in most democratic countries in the world, and it's sad to see governments using their power to stifle it. Thankfully, there are several offline messaging apps that work without the internet. These apps use mesh technology to allow users to communicate with each other even when there's no internet. The apps are also helpful during music festivals, sports events, natural disasters, traveling abroad, and other such situations. In this article, we are listing the best offline messaging apps that run without internet.
Best Offline Messaging Apps that Run without Internet in 2020
Before we get to our list, let's first talk a little bit about the technology behind these apps. This will help us understand not only how these app works but also there limitations. Instead of using mobile or WiFi data like popular messaging apps such as WhatsApp, the offline messaging apps create a peer-to-peer Bluetooth mesh network or Wifi Direct-based network on your phone eliminating the need for mobile data services.
A mesh network is a type of network technology where each and every single node is connected with one another. The network uses these nodes to transfer data across devices. So, if you and your friends have the same offline messaging apps installed on your device, you can communicate with each other without internet. The beauty of mesh networking is that not only it allows direct peer-to-peer communication but it can also broadcast information to all nearby devices.
Finally, it can also use nodes to send messages to devices that are out of range using other nodes as data transfer nodes. This last feature helps offline messaging apps overcome one of the biggest drawbacks, which is "range". In direct peer-to-peer messaging, an offline messaging app generally has a range of about 100 meters. However, if there are enough devices in an area, the app can use these devices as nodes to transfer messages to longer distances.
As you might have guessed, using Bluetooth or WiFi mesh network technology also has its fair share of disadvantages. First is its dependence on running nodes. So, if there are fewer devices in an area, you won't be able to send your messages far. Also, you are limited to the area of operation and cannot send messages outside that area. Lastly, you won't be able to send large photos or media files as the connection speed is too low for those to work. Now, that you know everything that is to know about these apps, let's get to our list of best offline messaging apps that run without internet, shall we?
List of Best Offline Messaging Apps in 2020
1. Bridgefy
Bridgefy is a popular offline messaging app that has gained popularity. It was the main messaging app used by Hong Kong protesters to evade internet censorship imposed by China. It is also gaining popularity in India as it has become the main tool of CAA (Citizenship Amendment Act) protesters to communicate with each other. The app works using the Bluetooth mesh technology that we mentioned above. It offers three main types of messaging service; Person-to-Person mode, Broadcast mode, and Mesh mode.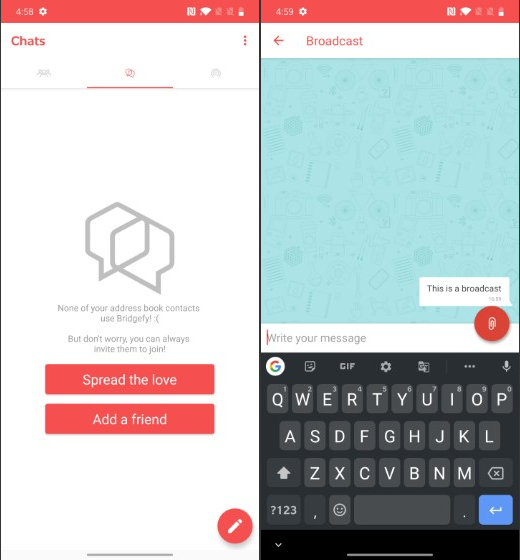 We have already discussed these messaging modes above so I am not going to get into detail again here. But if you want more information, you can always read our separate article on the app. Note that apart from facilitating offline messages, Bridgefy also comes with an online option that starts working as soon as your app gets an internet connection. The app also offers the best UI of all the offline messaging apps that we tested. The UI is clean and beautiful. You should check it out.
Install: Android (free), iOS (free)
2. Briar
Briar is an offline messaging app for Android that promises secure offline messaging without needing any mobile data or WiFi connection. The app has been designed for activists, journalists, and anyone who wants to have secure communication with their friends and family. The company has put a lot more emphasis on security here so that your messages always remain private. Briar uses both WiFi and Bluetooth networking to form a mesh network to enable the flow of your messages.
What's interesting about Briar is that even when you have a working internet connection, it doesn't rely on a central server, instead, it uses the Tor network for syncing to protect users from surveillance. Another security feature of Briar is that it doesn't allow you to take screenshots just like on Snapchat. This makes it one of the most secure messaging apps that also works offline. If you wanted to protect your offline messages from getting intercepted, this is the best option.
Install: Android (free)
3. Fire Chat
Fire Chat is a good offline messaging app that brings free peer-to-peer messaging and works with or without Internet access or cellular data to send text and images. You can use this app anywhere without any data connection. Whether you are on planes, public transportation, cruise ships, campuses, and crowded events, the app will work. The mesh network is private and your messages are secure. So there's no way anyone can snoop on your messages. The best part about Fire Chat is that it uses both Bluetooth and WiFi radios which form stronger connections. That being said, its range for peer-to-peer messaging is capped at 200 feet that is a bit lower than expected. However, if there are many devices in the area, it's stronger connection helps you easily create mesh networking to cover a larger area.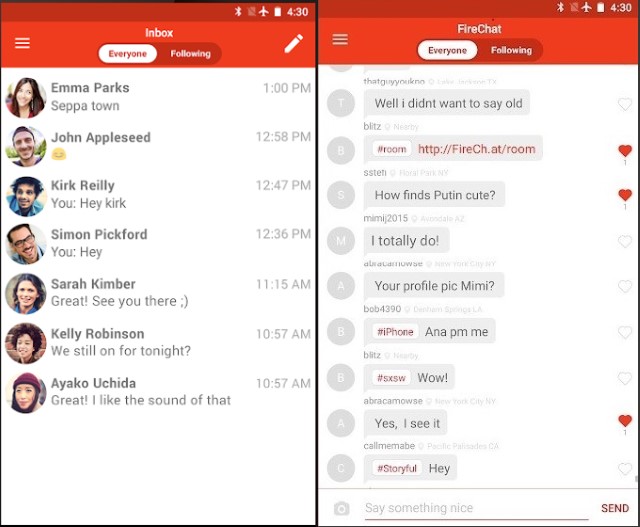 Install: Android (free), iOS (free)
Note: During my testing, the app was showing some error and didn't let me register. Test it out and let us know if you are also having the same problems. If the problems persist, we will remove this app. 
4. Signal Offline Messenger
Signal Offline Messenger is one of the best offline messaging apps on the market right now. Instead of using Bluetooth mesh networking like Bridgefy, Signal Offline Messenger uses WiFi-Direct networking. The app lets you send messages to each other in a range of 100 meters. You can send messages one-to-one or in a group broadcast. The best part is that Signal message is totally secure and it allows you to send text, audio, photo, and even video messages. You can use Signal in places where it's hard to find internet connection such as a cruise ship, wildlife safari, music festivals, or just when your data pack runs out when traveling abroad. The only drawback is that it's not available on iOS.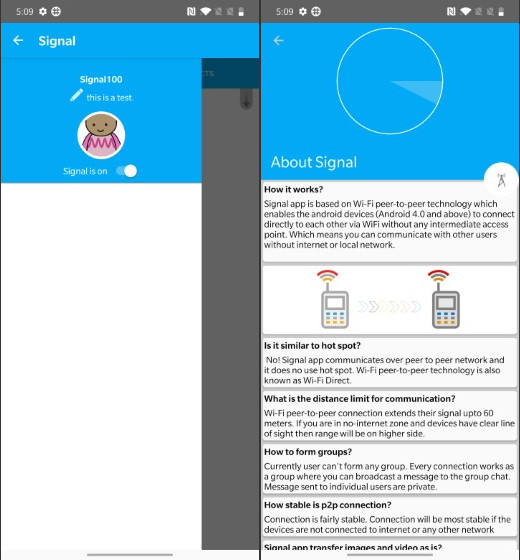 Install: Android (free)
5. Vojer
If you are an iPhone user and looking for an offline messaging app you should check out Vojer. The app creates its own secure and reliable mesh network around you for anonymous peer-to-peer micro-interactions with your friends and colleagues. Whether you are camping deep in the mountains or traveling abroad, Vojer can help you stay connected with friends without any internet connection. The app supports both text and photo messaging which is great. The connection is secure and anonymous so no one can just read your messages. The app uses both Bluetooth and WiFi radios to create stronger connections. Overall, it's a good iPhone app for sending messages offline and you should check it out. The only drawback is that it's a paid app that commands a hefty rice tag.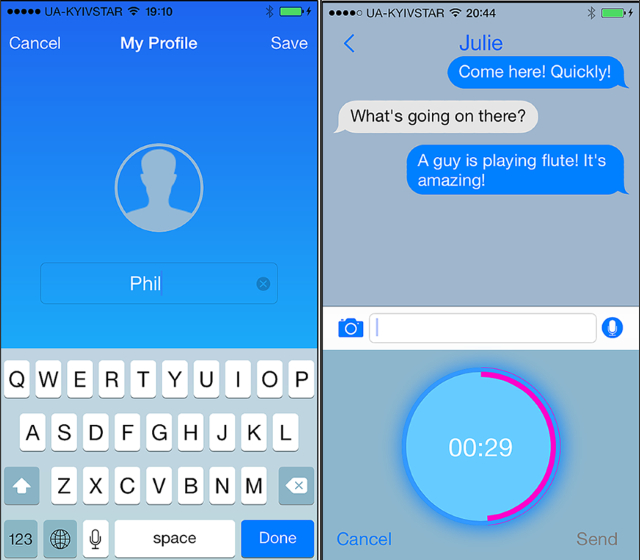 Install: iOS ($19.99)
6. Peer Chat
Another offline messaging app for your iPhone is Peer Chat. The app is not as popular as some of the other apps on this list, however, it worked just as good as others in my texting. It uses the same mesh networking system powered by Bluetooth and WiFi radios to let you send messages to people near you. It supports both peer-to-peer and group broadcast messaging. All data transmission is encrypted and no data is logged which means not only your messages are safe from hackers but even from the company. What I don't like about this app is that it has still not been updated for the iPhone X and above models. So, I have a feeling that it won't be around for long. Still, if you didn't like any of the apps mentioned above, you should check it out.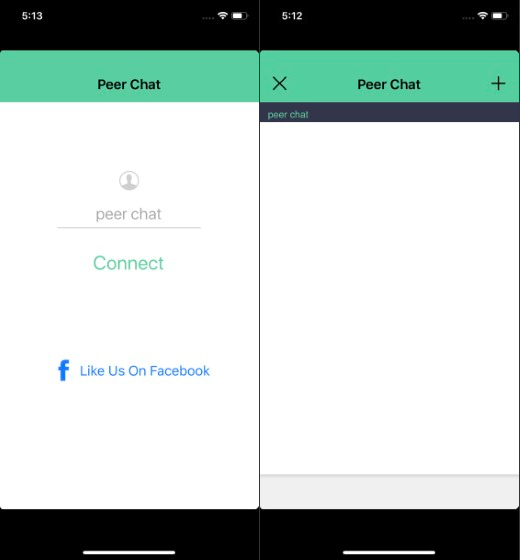 Install: iOS (free)
7. Near Peer
The final offline messenger app on our list is "Near Peer" which is only available on Android. The app uses WiFi radios and creates a mesh network to let you send messages to your peers. The app supports both group and private chat. I love that you can send messages even when the receiver is not in range and it will automatically deliver the message as soon as they come in the range. The app brings support for drawing messages which can be helpful in some situations. However, one thing the developer doesn't mention is the encryption on the app which makes me a little wary of using this over some of the other apps I have already mentioned. But, if for some reason, none of the above have taken your fancy, you can check it out.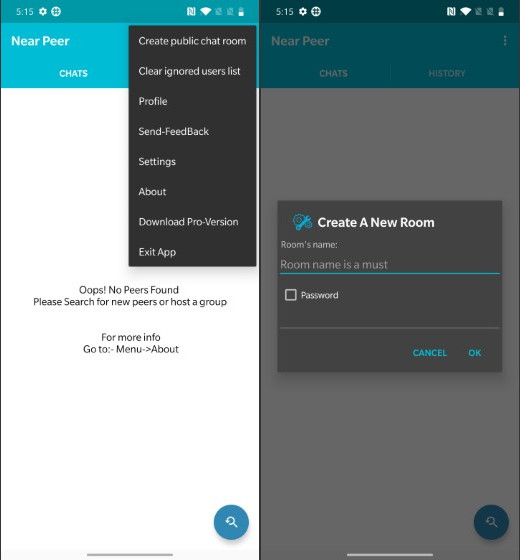 Install: Android (free)
Send Offline Messages Without Internet Connection
That ends our article and I hope that you were able to find your favorite messaging app. We have mentioned offline messaging apps for both Android and iPhone so you can use them without OS restrictions. You should also check out our list of best text messaging apps if you only have the problem of not having an internet connection and the mobile network is working fine. While none of these apps are as feature-rich as online messaging apps, they are really important. Whether you are a journalist, an adventure freak, or a protester, these apps can help you stay connected with your friends and colleagues without any network. Let us know how you feel about these apps by writing in the comments below.