USB-C is the future. That much is obvious judging by the fact that almost every flagship smartphone these days has ditched the headphone jack and switched to USB-C. The Pixel ditched it last year with the Pixel 2, the OnePlus 6T has ditched it, the Mate 20 Pro has ditched it, iPhone ditched it in 2016 with the iPhone 7, and there are rumors that Samsung (our last and only hope for headphone jacks) might ditch it with the Note 10 next year. While some of these phones come with a USB-C to 3.5mm dongle, it's not the most elegant solution to your music listening woes. So I won't blame you if you're looking for the best USB-C earphones in India.
Best USB-C Earphones You Can Buy in India
1. Google Pixel Type-C Earbuds
The Pixel 3 and 3XL come with these really great USB-C earbuds in the box and these are downright amazing. I've only used them for a day or two but these Type-C earphones are the best I have ever used. For starters, the build, even though plastic, is pretty good and feels classy. Plus I really like how the ear-hooks in the Pixel buds don't have to be changed to fit different ear sizes, they can simply be pulled to make them bigger or smaller — that's incredible.
Other than that, the sound quality of these earphones is definitely the best out of any USB C earphones I've used. The bass is really punchy without being obnoxiously out there, and the highs and mids are just perfectly balanced. Even though these earphones don't have a silicone tip and are all plastic (just like Apple's EarPods and AirPods), they don't fall out of the ear and are very comfortable.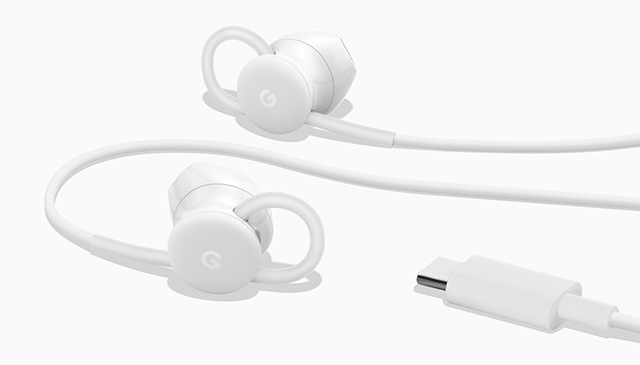 What really wins it though, is the number of features the Pixel Type-C earbuds bring to the table. For one, there's the Google Assistant that's always available with these earbuds. You can simply press the middle button on the earphones' remote to activate the Assistant, ask it whatever you want to, and have the Assistant reply to you in your ear… The Pixel Type-C earbuds also come with a feature that lets them read out notifications directly in your ear and you can even reply to them by simply speaking it out. You can check out all the features in the Pixel Type-C earbuds in our dedicated article.
Overall, the Pixel Type-C earbuds are the best USB-C earphones you can buy and now that they're available in India, I would recommend you go with these. They won't disappoint you.
Compatibility: OnePlus 6T, Galaxy Note 9, Poco F1, Huawei P20 Pro and most other USB C smartphones out there.
Pros:
Excellent sound quality.
Mind blowing features that are not Pixel exclusive. Thank god.
Adjusting the ear hooks is pretty cool, so brownie points for that.
Cons:
Not available in India.
No active noise cancellation.
Buy the Pixel USB-C Earbuds from Flipkart (Rs. 2,500)
2. OnePlus Bullets Type-C Earphones
If the Google Pixel USB-C earphones aren't your cup of tea, or if you just don't want to spend Rs. 2500 on a pair of USB-C earphones, I'd recommend going for the OnePlus Bullets Type C earphones that retail for around Rs. 1,500. These earphones were launched by OnePlus along with the OnePlus 6T and they are pretty damn impressive. I've used them for quite some time, and I found that the OnePlus Bullets USB-C earphones are extremely comfortable to use even for long music listening sessions or while watching a movie. Plus, the sound quality here is impressive. The bass is punchy and hard hitting, the highs and the mids are balanced really well, and overall the earphones just sound amazing.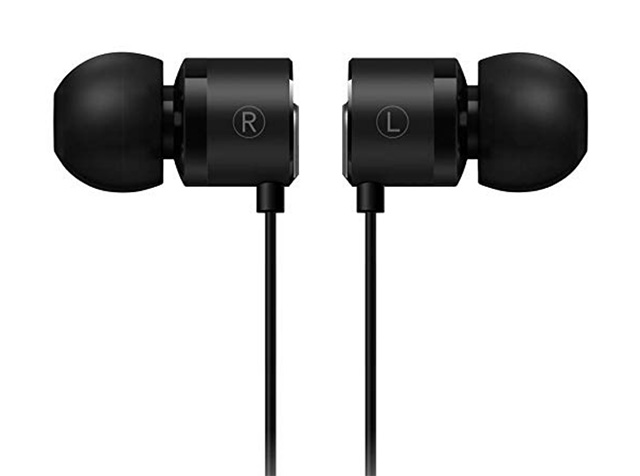 Plus, the earphones are built very well and exude a feeling of premium quality; something that OnePlus phones do as well so it's not very surprising. The earphones are also compatible with every phone we tested them on, except for the Mi A2. If you're looking for the best USB C earphones in India, these are my outright recommendation.
Compatibility: OnePlus 6T, Galaxy Note 9, Poco F1, Huawei P20 Pro and most other USB C smartphones out there.
Pros:
Excellent sound quality.
Great build quality
The price of Rs. 1,500 is awesome.
Cons:
No braided cable.
No active noise cancellation.
Buy the OnePlus Bullets Type-C earphones from Amazon (Rs. 1,490)
3. Mi Type-C Earphones
The Xiaomi Type-C earphones have been out there for quite some time now. I've used them on and off over the past year or so, and we even made a video on them just because they're that awesome. The earphones come with excellent ceramic build quality and thanks to the braided cable they don't tangle all that much. The sound quality on the Mi Type-C earphones is also pretty damn good. The bass is good enough, and the highs and lows are also pretty well balanced so listening to music on high volumes is great on the Mi Type-C earphones and you shouldn't have any issues with them; that's also thanks to the fact that these Type-C earphones are also very comfortable to wear.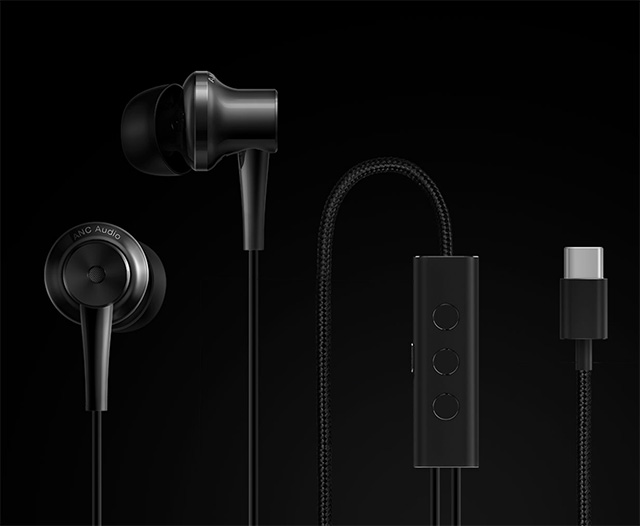 There's an in-line remote here that comes with the regular volume up/down buttons along with a play/pause button in the center and while these buttons are not very tactile, they do look very premium and complete the overall premium look and feel of the Mi Type-C earphones. As a cherry on top, the Mi Type-C earphones also come with active noise cancellation, and while it's not as good as the noise cancellation you'll find on high-end headphones (obviously), it's pretty damn good especially considering the fact that these earphones are priced at Rs. 3000 which is expensive, yes, but for the features and the sound quality they bring, it's a pretty decent price.
Compatibility: OnePlus 6T, Galaxy Note 9, Poco F1, Huawei P20 Pro and most other USB C smartphones out there.
Pros:
Ceramic build feels really premium.
Great sound quality.
Braided cable.
Active noise cancellation.
Cons:
Slightly expensive
In-line remote buttons aren't tactile.
Buy the Mi Type C earphones from Mi.com (Rs. 2,999)
Cheap USB-C Earphones and Why They Suck
I'm sure you would've noticed that there are a bunch of USB-C earphones on Amazon and Flipkart that are priced ridiculously low and have really average ratings. We did check out a few of these too, and as expected, they were pretty average. I'm not going to make sections for these earphones choosing instead to separate them by paragraphs so read on if you want to know why these cheap earphones aren't good enough, or just skip ahead to the end if you like.
First up I tried out the MIMOB Pure Bass earphones (Rs. 399) and even though the sound quality on these earphones is decent, especially for a price of Rs. 400, the build is not that great, and the earphones are extremely uncomfortable to use. Within a few minutes of using these earphones my ears started hurting so I would not recommend you to try these.
Then there were the Wonderford Digital USB-C earphones (Rs. 259) that are priced even lower at Rs. 260. These earphones also have pretty poor build quality, but for their price, I'm willing to forgive that. I'm even willing to forgive them for their basically barely average sound quality, but you know what? These earphones screwed up the USB-C port on my OnePlus 5 and it doesn't even charge properly anymore. I'm telling you, stay away from these.
The only decent pair of earphones I found were the LeTV Type C earphones priced at Rs. 670. These actually have a good build quality and the sound quality is also pretty good. They don't look like they'll break, and they didn't mess up any ports on any of our phones, so if you are dead set on getting USB C earphones at around a Rs. 500 to Rs. 600 price, these are the ones you should get.
Buy the LeTV Type C earphones from Amazon (Rs. 670)
Listen to Music on Your Non-Headphone Jack Phone With These USB C Earphones
USB C is the future, and companies are basically forcing us to accept that by dropping headphone jacks all over the place. Pretty soon, the headphone jack will have gone the way of the dodo, so it's important that we have choices for buying decent USB C earphones, and right now, we basically only have two choices. Here's hoping companies like Sony, Sennheiser and others start launching USB C earphones in India, but until then, we're stuck with either the dongle life, or the life of choosing between the OnePlus Bullets Type C earphones and the Mi Type C earphones. Make your choice.