USB storage has long been the ruler when it comes to carrying large volumes of data. This is primarily because USB drive is universally compatible, lightweight and portable, and does not have specific minimum power requirements which means that it can run as seamless with mobile devices as with laptops or desktops. But with the easy portability comes the possibility of easily misplacing or losing tiny thumb drives or other USB storage drives. That's where USB encryption software can make your life so much easier.
If you don't want your confidential data to fall into the wrong hands, it's a good idea to protect your vital USB drives with a password and encryption. There are a variety of options which will help you achieve it, either for free or for a price, and whether you're an average Joe or a secret spy, encrypting USB drives is a reasonable measure to protect your data. In this article we are going to show you 7 best USB encryption software that you can use to encrypt USB drive to secure the data that you carry everywhere with you.
Best USB Encryption Software to Secure your Flash Drives in 2019
1. VeraCrypt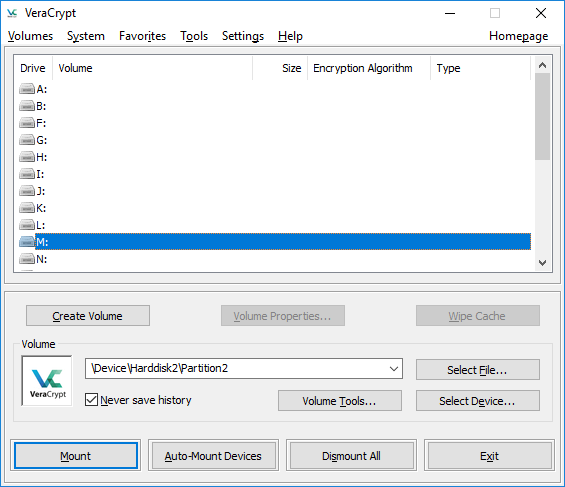 Picking up where the hugely popular (but now defunct) TrueCrypt left off, VeraCrypt is an extremely feature rich encryption tool. Although it's primarily geared towards encrypting hard disks, VeraCrypt plays equally nice with USB flash drives and is one of the best USB encryption software on the market.
VeraCrypt basically works by creating password protected disk volumes, which are encrypted with industry standard encryption algorithms like AES, Serpent, and Twofish. It also lets you further secure the encrypted volumes via the use of passwords and keyfiles. All you have to do is plug-in the flash drive, and follow the steps mentioned in the volume creation wizard. You can either create an encrypted volume of a specific size on the flash drive, or encrypt all of it. The USB flash drive (and the data on it) thus encrypted can only be accessed by mounting it through VeraCrypt, once you've entered in the specified password and/or keyfile.
If you're looking for a USB encryption software that includes top-grade encryption prowess, and is totally gratis, go for VeraCrypt. However, it's worth noting that using VeraCrypt involves a bit of a learning curve.
Platform Availability: Windows 10, 8, 7, Vista, and XP; Mac OS X 10.6 and above, Linux.
Price: Free.
2. EncryptStick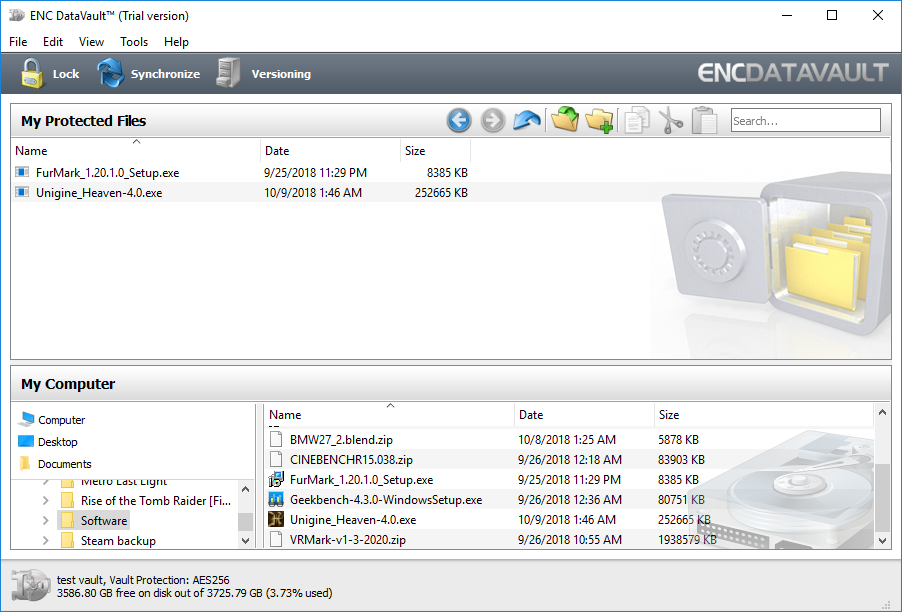 EncryptStick allows you to encrypt USB drives and create virtual vaults or folder protected with a password. EncryptStick provides one of the strongest mechanisms to encrypt a flash drive or any fixed drive on your Windows, Mac, or Linux machines with inter-operability features. The software supports up to 1024-bit AES encryption which is harder to decipher than 256-bit encryption, which most common software that let you encrypt USB drives or disks offer.
Besides promising you impenetrable data encryption, EncryptStick's USB encryption software lets you encrypt a flash drive with an easy-to-use interface. The interface allows easy copy-paste and drag-and-drop functionality, letting you effortlessly choose files or USB drives which you want to prevent from being sabotaged. Furthermore, every time you forget after switching windows, the software asks you to enter the password, and ten wrong attempts lock intruders out.
The only caveat is that in order to access encrypted disks or files from the other PC, you need to install the software. But, you can also install it and run it from the disk itself without installing on the system separately. With EncryptStick, you get 14 days of trial after which you'll be needed to pay $19.99 and you can use the same license on up to three devices. For a limited duration, the price has been reduced to $14.99, which seems to be a good purchase if you're looking to safeguard USB drives with strong security features.
Platform Availability: Windows, Mac, Linux
Price: Paid version licensing starts at $19.99, which is $14.99 currently; 14-day trial with limited features available.
3. Rohos Disk Encryption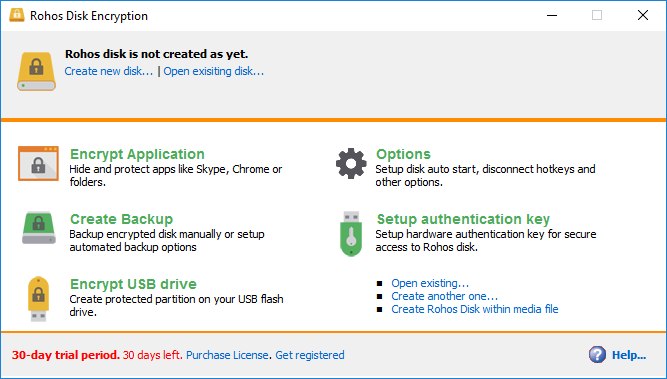 Not only does it have all the bells and whistles that you'd expect from an excellent USB encryption software, Rohos Disk Encryption also packs in some really nice extras that make it even more awesome.
The core functionality of Rohos Disk Encryption is centered around creating encrypted volumes. When you plug in the USB flash drive, it automatically determines the best size of the encrypted volume (container) to be created on it. Of course, it's also easy to specify a custom volume size, along with other parameters like encrypted volume's container file location, and mount point letter. Once created, the data stored on the encrypted volumes can be conveniently accessed by mounting them.
Rohos Disk Encryption lets you dynamically enlarge the size of the encrypted volumes, as per requirement. Not only that, you can also encrypt installed programs and custom folders on your computer, so that they are accessible only when a USB flash drive having an encrypted volume, and the auto-configured portable Rohos Mini Disk companion application, is plugged in. Then there's the ability to hide encrypted disks in media container files (e.g. AVI, MP3). Dope, right?
In a nutshell, Rohos Disk Encryption is a lightweight USB encryption solution that also throws in some extremely useful goodies into the mix. When compared to VeraCrypt and DiskCryptor it's also fairly easier to use. However, it supports just one encryption algorithm, namely AES 256.
Platform Availability: Windows 10, 8, 7, Vista, and XP.
Price: Paid version licensing starts at $35.00, 30 days trial available.
4. Gilisoft USB Stick Encryption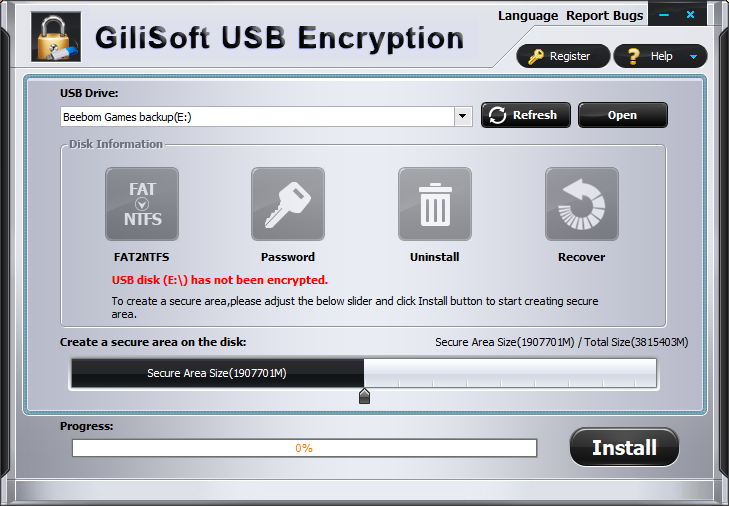 Having a pretty funky UI, complete with glossy buttons and a brushed metal finish, Gilisoft USB Stick Encryption is undoubtedly a looker. But good looks are just a part of the picture, and are complimented by simple but effective encryption features.
Gilisoft USB encryption software is ridiculously easy to use. Simply plug in the flash drive, and it is automatically detected. After that, all you have to do is specify the size of secure (or encrypted) area that you want to create on the drive (via the handy slider), along with the encryption password, and the application will take care of the rest. The secure partitions are encrypted using the AES 256 algorithm, and are accessible after being mounted through the program. There aren't too many unnecessary extras here, just great encryption goodness. If the companion secure access application on the encrypted USB drive is accidentally deleted, it can be easily recovered too. So there's nothing to worry about!
If all you need is a no-fuss USB encryption software that doesn't contain too many additional options, Gilisoft USB Encryption is just the thing to go for. But it does have some disadvantages, such as the 10 time usage cap for the free trial, and an annoying nag screen that pops up more often than it should.
Platform Availability: Windows 10, 8, 7, Vista, and XP.
Price: Paid version costs $59.95 but currently available for $49.95, 10-time maximum usage limit on the trial.
5. DriveCrypt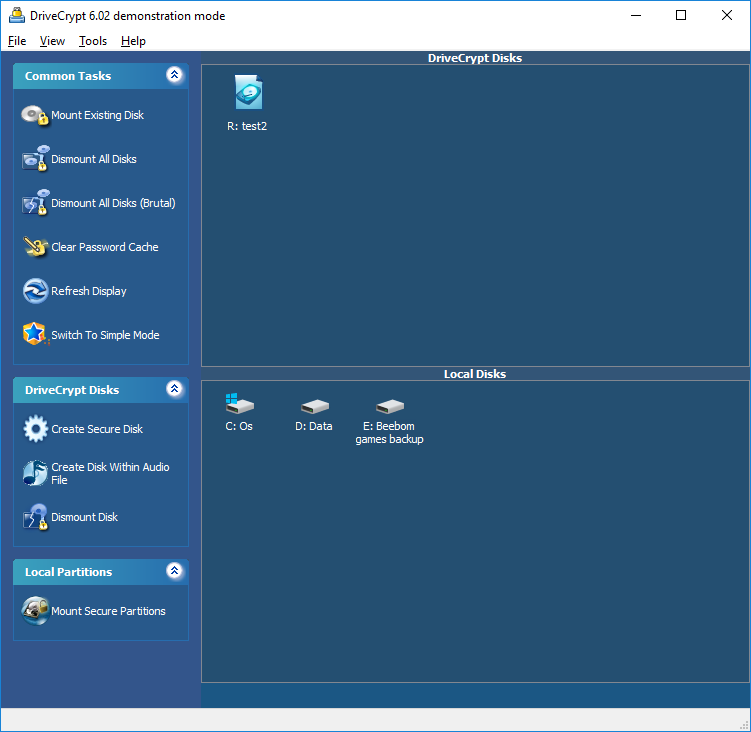 If you often deal with some highly sensitive information, DriveCrypt could be the one-stop solution guaranteeing the security of files by any means. DriveCrypt comes in handy when you want to encrypt USB and fixed drives, and besides that, it even lets you encrypt files selectively. The software disguises the encrypted files as music files or fake disks, without any keywords or information suggesting that there is some sort of encryption or protection. This can be seen as a digital camouflage and if that's not enough, the software comes with password sniffing protection features which prevent any trojan files or hackers from learning about your DriveCrypt password.
DriveCrypt has many options to let maximize the security of encrypted USB or local drives. One such feature is the invisible container or partition. You can set up two different passwords for an encrypted vault or drive such that one password gives you the access to files you are comfortable sharing with others while the second one will allow you to access a more secure portion of the vault. This allows you to share the encrypted USB drive with others without letting them of your secret files.
Apart from securing your data with a password, you can use external hardware devices such as USB security keys or fingerprint scanners to authenticate access. Lastly, DriveCrypt promises 1344-bit military-strength encryption.
Platform Availability: Windows 10, 8.1, 8, 7, Windows Server 2012, 2008, 2003
Price: Paid version licensing starts at 69.95 € (~$80), which is 39.95 € (~$46) currently; 30-day trial
6. Kakasoft USB Security
It's easy to dismiss Kakasoft USB Security as yet another run-of-the-mill USB encryption software, given its diminutive size and a (fairly) limited feature set. But if you're looking for exactly that, and don't care for the other flashy features, it's hard to go wrong with it.
Just like LaCie Private-Public, Kakasoft USB Security is also completely self contained on the USB flash drive, and can thus be used anywhere. The utility installs on the USB flash drive itself, and can be configured to run automatically everytime the drive is plugged in. Like similar applications, it also supports other flash based memory devices such as memory cards and external disks. All that needs to be done on your part is to specify an encryption password, and Kakasoft USB Security will encrypt the entire drive, as well any data that is stored on it. Encrypted disks are accessible using the same method of unlocking and mounting through the application.
The only problem that I have with this USB encryption software is the fact that it doesn't explicitly mention the encryption algorithm(s) it utilizes to secure the data. If you can live with that you are going to love this one.
Platform Availability: Windows 10, 8, 7, Vista, and XP.
Price: Paid version costs $35.90 for two USB drives and $47.90 for six USB drives; Feature-restricted trial available.
7. BitLocker To Go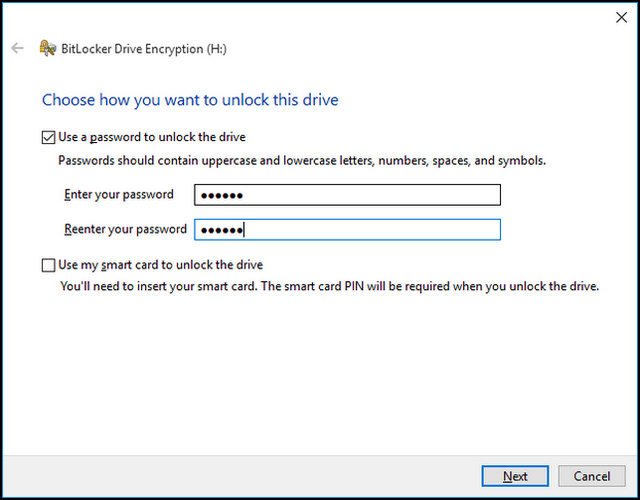 Want a robust and capable USB encryption software but don't want to use a third-party software? Not a problem, as BitLocker To Go has you covered.
Built right into certain versions of Windows, BitLocker To Go is an extremely handy encryption utility that lets you easily secure the data stored on your USB flash drives. It can be configured in mere seconds using the BitLocker Drive Encryption applet of the Control Panel. The USB flash drives are encrypted using the AES 256 encryption algorithm. Also, if you forget the unlocking password, the same can be recovered via the automatically generated recovery key, which itself can be saved to a file, or synced to your Microsoft Account.
All in all, BitLocker To Go is an extremely reliable method of encrypting USB flash drives, if you don't want to mess with any extra software. But it's only available in certain versions of Windows, so that's a bit of a bummer.
Note: If your choice of Operating System is Mac OS X, don't worry. You can use the built in FileVault utility to encrypt USB flash drives. FileVault also uses AES algorithm to encrypt disks, utilizing the login password as the encryption pass-phrase.
Platform Availability: Windows 10, 8.1, 8, and 7 (Pro and Enterprise editions).
Price: Free.
Bonus: Hardware Encrypted USB Drive
Apricorn Aegis Secure Key
While software to encrypt or decrypt USB drives are cheap and easily available, there still lies a possibility of a failure in these software methods. To keep hackers at bay, one must not only constantly upgrade the software but also their knowledge about potential attacks. Besides this, software encryption can be limited to those users who have sufficient knowledge of computers.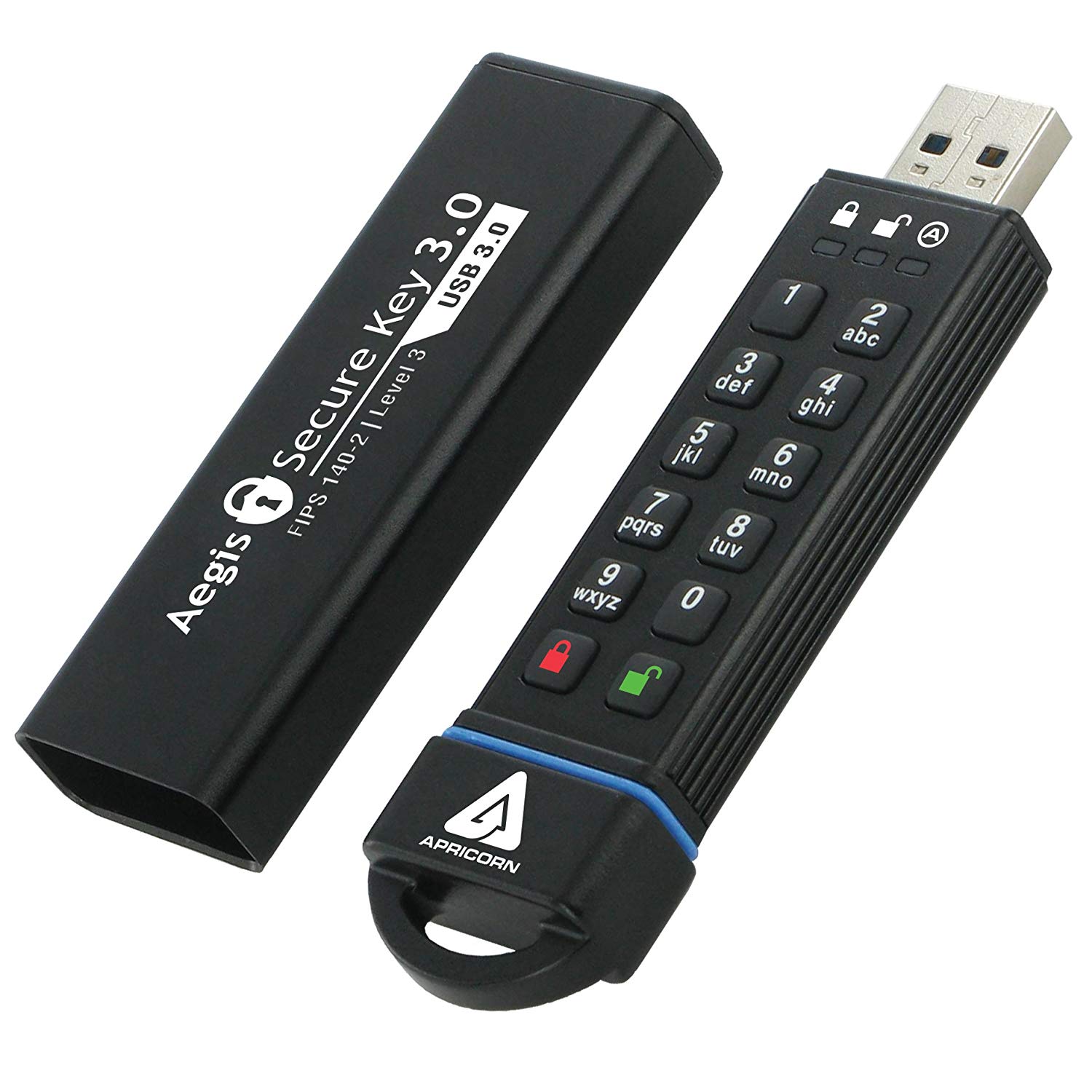 A relatively easier-to-use and more secure option is using USB flash drives or disks which can be encrypted physically, such as with the help of a passcode – as in the case of Apricorn Aegis Secure Key. Apricorn Aegis features a numeric pad and allows 7 to 16 digit keys, and works in any software ecosystem including Windows, Mac, Linux etc. It is also IP58-certified for protection against dust and water. The USB stick features military-grade 256-bit encryption and has a read-only mode so that you or someone else does not accidentally or willingly delete critical files.
Buy Apricorn Aegis Secure Key 30GB: ($128.18)
SEE ALSO: How to Enhance Google Chrome Security in 2019
Best Software to Encrypt USB Flash Drives
USB Encryption software help you secure flash drives which you might lose while also giving you the assurity that your personal data will not be misused by someone else. Many of these software packages also allow you to encrypt files or entire local drives, and ones like DriveCrypt and EncryptStick offer military-grade protection for your classified data.
Depending on your utility, you can try free or trial versions of some of these software options to encrypt USB drives, to protect your data anywhere you go. You may also choose hardware encryption options if you want to cent-per-cent sure about your data.
So, what is your preferred choice when it comes to encrypting USB drives? Let us and otehr know in the comments below.