If you have ever used a smart speaker, you know that it's hard to get back to your normal not-so-smart speakers. Smart speakers can not only let you listen to your favorite music, podcasts, and audiobooks, but they can also act as a hub for your smart home devices. From giving us our daily briefings to reminding us of our appointments to controlling our smart home devices, smart speakers make our lives so much easier. I mean, the ability to control your TV, your lights, and more, just with your voice is such a surreal experience that it can only be understood when you personally experience it. Needless to say, if you still don't own a smart speaker, you are missing out on a lot. Well, to help you with the buying process, we are bringing a list of the 8 best smart speakers that you can buy right now:
Best Smart Speakers to Buy in India
Best Budget Smart Speakers Under 5000 INR
1. Google Home Mini
When Google launched its Google Home Mini in India, I was probably one of the first ones to buy it for my home. If you are just thinking of dipping your toe in the whole smart speaker trend, this is one of the two best smart speakers to get. To date, I am constantly surprised by the audio quality this speaker brings despite its small size. Starting with the design of the Google Home Mini, it's a very well built speaker which also looks really nice. I especially love it in the charcoal color as it gives it a little stealthy look. The speaker is also pretty small and weighs only 173 grams which allows you to put it almost anywhere in your house.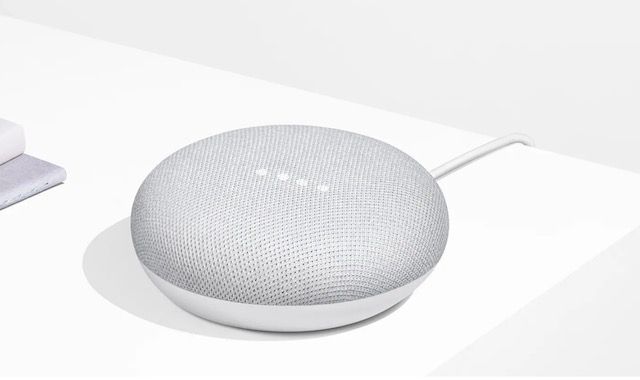 Coming to the smarts of the speaker, since it's a product by Google, it is being powered by Google's smart voice assistant which in my views is the best smart assistant as of right now. So, you can easily do things like get the weather, ask for directions, know expected travel time, get your itinerary for the day, control your smart home devices, and listen to music. Since Google Assistant has the power of Google's search behind it, you can also ask  random questions and get answers. My favorite thing to do with my Google Home mini is to add things to my reminder or calendar as they come to mind without touching any of my devices. I also love the fact that Google Home Mini can easily recognize your voice from distance even when you are playing loud music. In my opinion, this is one of the best budget smart speakers that you can buy.
Buy From Flipkart: ₹4,099
2. Amazon Echo Dot (3rd Gen)
The company that brought the smart speaker trend to India is Amazon, and its entry-level Amazon Echo Dot is just as good as Google Home Mini mentioned above. The Echo dot is even smaller than the Google Home Mini and also weighs less at just 163 grams. That said, when it comes to the looks, I prefer the Mini over the Dot. Looks aside, the Amazon Echo Dot is a fairly capable speaker. It sounds almost as good as Google Home Mini and also packs a 4 far-field microphone Array which allows you to easily call on Alexa, no matter where you are in the room. I must say that even in noisy environments, the Echo Dot didn't miss even a single command of mine.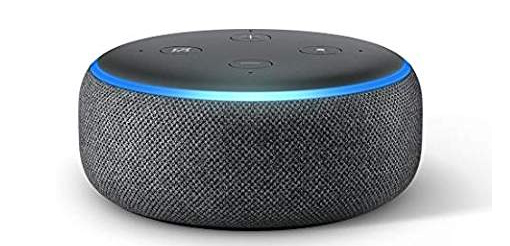 When it comes to the smartness, as you might know, the Amazon Echo Dot uses Alexa, a powerful voice assistant which can do almost anything. You can play songs, make calls, set up alarms and reminders, control smart home devices like lights, plugs, and TVs, and much more. My favorite feature of Alexa is a feature called "Skills" which allows third-party app developers to communicate easily with Alexa and integrate their services with it. This allows us to do things like order food from Zomato, hail ride from Ola, or book a carpenter from Urbanclap, and more. It gets even better if you are an Amazon Prime subscriber as you get Amazon Prime Music for free. Heck, you can even order stuff from Amazon by just using your voice. The assistant doesn't get more personal than that.
Buy From Amazon: ₹4,499
3. Eufy Genie
If you love Alexa but want a speaker which sounds a bit better than the Amazon Echo Dot without costing a lot more, Eufy Genie is for you. Eufy Genie is a third-party speaker which uses Amazon's Alexa as its underlying assistant. With Eufy Genie, you are getting a better speaker without losing the power of Alexa. The speaker can do everything that an Alexa powered speaker can do which includes things like setting up reminders, texting, calling, controlling smart home gadgets and more. Built with a 2W speaker, the Eufy Genie delivers dynamic audio and room-filling sound, so you can truly enjoy your favorite songs. The speaker is also built very well and is only slightly larger than the Echo Dot. As I said, if you are looking for a better audio quality from your Amazon Echo Dot, this is the speaker that you should buy.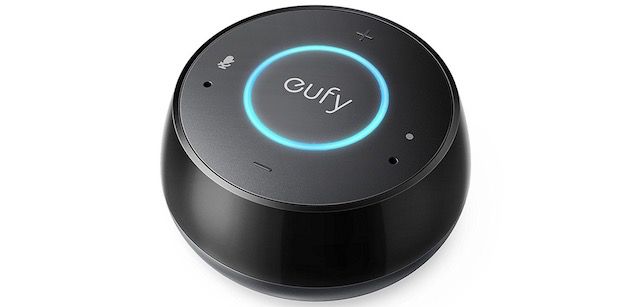 Buy From Amazon: ₹3,999
Best Mid-range Smart Speakers Under 15000 INR
1. Google Home
Since we have already talked about the power of Google Assistant in the Google Home Mini section, here, the only thing that we will talk about is the speaker itself. The Google Home speaker measures 5.6 inches in height and 3.79 inches in diameter which gives it a fairly manageable size. The speaker is built like a tank and feels really solid. It feels like a speaker which can stand a few minor drops without any problem. The Google Home packs a pair of woofers with 51 mm drivers which deliver incredible sound quality. Listening to music on this thing is a joy. I mean, you won't be jamming a house party on this thing but for everyday listening, it is great.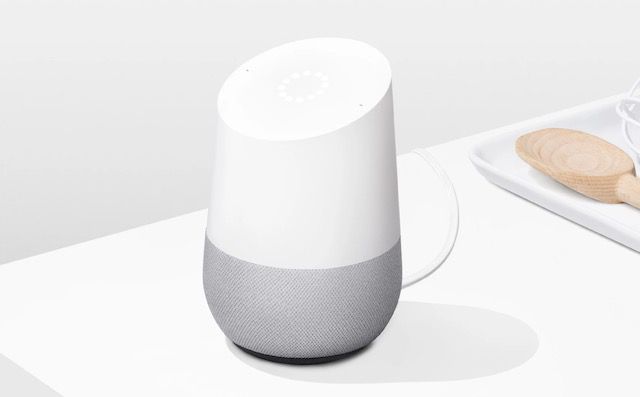 If you want more power, you can buy multiple Google Homes and play the same song simultaneously on all of them. Not only that, you can also send the music from your Google Home to your Home Theater system using Chromecast audio if you want to. Finally, since Google Home or should I say Google Assistant can recognize different voices, you can easily use multiple Google accounts with this and it will respond only with information tied to that specific account. So, when I ask the Google Home, "Hey Google, What's on my calendar", it will only give my calendar events and not my roommates. All these things make Google Home not only a great smart speaker but also a great speaker itself. If you buy this, I am certain that you won't have any complaints.
Buy From Flipkart: ₹8,999
2. Amazon Echo Plus (2nd Gen)
Just like Google Home is the big brother of the Google Home Mini, the Amazon Echo Plus is the big brother of the Echo Dot. That means that everything that you can do with Echo Dot, you can do better with Echo Plus. The Echo Plus brings great sound quality which it delivers using a 3-inch woofer and 0.8-inch tweeter. Even at high volume, the speaker never distorts. It also packs impeccable bass which is neither more nor less than required. Needless to say, the speaker does justice to whatever song you are playing. Apart from the woofer and tweeters, the Echo Plus also has an array of seven microphones that use beam-forming technology and enhanced noise cancellation. This allows Echo Plus to hear you from across the room even in noisy environments, or while playing music. If you cannot afford the Amazon Echo Plus, you should take a look at the normal Amazon Echo which is almost the same as Echo Plus. The only thing differentiating between the two is the audio quality.
Buy From Amazon: ₹14,999
3. Echo Spot
If you're looking for a smart speaker with a display, and you're disappointed that the Echo Show or the Google Home Hub, you should check out the Echo Spot. This tiny speaker from Amazon packs in quite a punch, and it's definitely one of the best smart speakers with a display that you can get. The Echo Spot packs in a 2.5-inch (in diameter) circular display, a front facing camera so you can make video calls, a 4-microphone array which is incredibly good at hearing you from across the room, and even a physical button to turn off the mics and cameras of the device (you know, for those times when you need privacy). There's a 3.5mm audio out jack here as well, so you can connect external speakers to the Echo Spot if you like.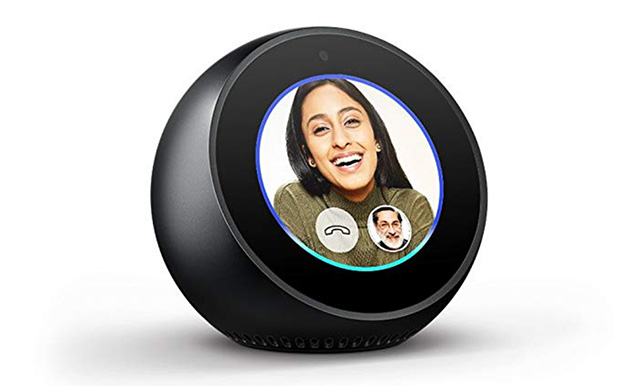 Buy from Amazon (Rs. 10,999)
Best Premium Smart Speakers
1. Sonos One
Sonos One is a speaker for audiophiles. This is probably the best sounding speaker available in the market right now barring a whole surround sound theatre system. The speaker packs two Class-D digital amplifiers, a tweeter and a mid-woofer along with adjustable bass and treble controls. The amplifiers are perfectly tuned to match the speaker drivers and acoustic architecture while the tweeter creates a crisp and clear high-frequency response. Finally, the mid-woofer ensures that you'll hear the faithful playback of mid-range vocal frequencies plus deep and rich bass. There's also six far-field microphone array system used for smart voice capture and noise cancellation. Together they ensure that you are getting an exceptional audio quality.
The best part about buying Sonos One is that you don't have to choose between Google Assistant or Alexa as the speaker supports both voice assistants. That means whether you love Alexa or Google Assistant, you can use either of your favorite voice assistants with this one. For me apart from the audio quality, the freedom of choosing my favorite voice assistant is the USP of this device. Another great thing about Sonos is that you can easily pair multiple Sonos speakers to create a home theatre system which allows you to play music on one or all of your speakers at once. If you want to enjoy music at its best along with your favorite smart assistant, there is no speaker in the market that beats Sonos One.
Buy From Amazon: ₹24,272
8. Harman Kardon Allure
Harmon Kardon Allure is one of the most unique looking smart speakers on the market right now. The speaker packs a metal base and a transparent glass top which features multi-colored responsive lighting to give this one an iconic look. The responsive lighting means that the color and the pulse of lighting change depending on the song that you are listening to. It looks really cool in real-life. There's also a 4-microphone array far-field voice recognition technology which enables Allure to hear you from across the room. When it comes to the smarts of the speaker, you are getting Alexa integration here, which means everything that you can do with Amazon's Echo line of devices, you can do it here.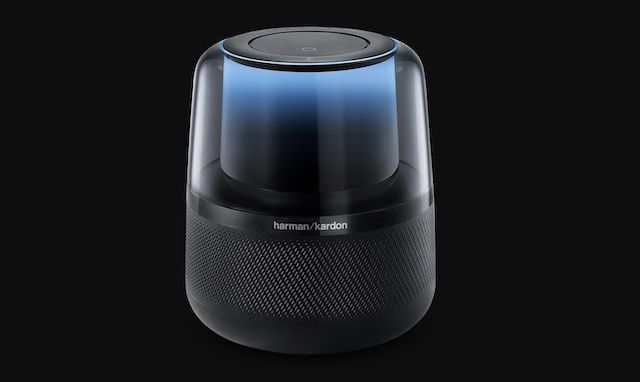 Coming from the House of Harman Hardon, the speaker packs exceptional sound quality with omnidirectional transducers and subwoofer which produce 360-degree rich and powerful sound that fills up every corner of the room. To be specific, there is one 90 mm subwoofer at the bottom and three 38 mm transducers on the sides. Together, they produce audio which has punchy bass and good highs and lows. Believe me when I say this that this is one of the best sounding smart speakers you can buy right now.
Buy From Amazon: ₹34,999
SEE ALSO: Google Home vs Amazon Echo: Google Assistant Takes on Alexa
Make Your Home a Smart Home With These Smart Speakers
That ends our list of the best smart speakers that you can buy right now. I have created categories so you can choose the best speaker for you in your budget. Do check the list out and let us know which is your favorite smart speaker by writing in the comments section below. Also, if you have suggestions, drop them down too, as reader's suggestions are always welcomed here.