Even though protection remains a key aspect of my choice of accessories, I have always loved using a variety of skins on my iPhone. While wraps can't deliver much in terms of the safeguard against random bumps like the impact-resistant wooden covers, protective bumper cases, or the top-grade folio leather suits, they offer way more customization options. Having the luxury to choose from a variety of textures such as carbon fiber, marble, wood, and more to design your own skin is something that never fails to hold my breath. If you are in the same ballpark, I bet you would like my collection of the 10 best skins and wraps for iPhone 12 mini.
Best iPhone 12 mini Skins and Wraps to Buy in 2021
Keeping durability in mind, I have ensured all the iPhone 12 skins are carved out of top-grade vinyl. Unlike cheap wraps, they do not fade away and also offer a trusted safeguard against scratches. Not just that, these durable wraps are also no pushover when it comes to withstanding minor dings. That all being said, let's check out what these iPhone 12 wraps have in store!
Note: Looking for the skins for the iPhone 12 Pro Max? Click on the link to check them out.
1. dbrand Signature Skins
Going by the premium design, dbrand Signature Skins belong to an elite league. And if top-of-the-line iPhone 12 mini skins and wraps are what you have set your eyes on, they should be pretty much on your radar.

The 3M vinyl material coupled with the soft-touch textured finish enhances the design, while the neat cutouts enable the skins to wrap perfectly on the back of the 5.4″ smartphone. Moreover, high-quality material also plays a vital role in keeping scuffs at a fair distance.
Notably, dbrand Signature skins come in several textures including wood, stone, marble, matrix, leather, you name it. Thus, you have the desired liberty to customize your iPhone 12 mini wrap to your heart's liking. That's not all, you can also get the Signature skins for the camera, frame, and MagSafe charger, should you wish to amplify your customization game.
Buy from dbrand: $12.95
2. Slick Wraps Stone Series
If dbrand claims to be the king of skins and wraps, Slick Wraps is in the same territory with as much repertoire. Speaking of high-quality, Slick Wraps Stone Series class looks a class apart. And if you admire the rich texture and depth of top-grade vinyl, chances are that you may find it spot on at the very first glance.
Beyond design, Stone Series is equally good when it comes to shielding your iPhone 12 mini against scratches. Besides, you can also bank on the smooth surface to provide an enhanced grip. On top of all, you can easily attach the wrap and remove it cleanly as it doesn't leave any filthy residue.
Buy from Slick Wraps: $24.12
3. MightySkins Surreal Collection
If the vibrant design is your thing, MightySkins Surreal Collection is the one you should try out. Probably the best part about this skin is the availability in a variety of designs with stunning patterns. Carved out of high-grade vinyl, the wrap is not only durable but also resistant to scratches.
Protection from scuffs aside, Surreal Collection is also quite good when it comes to offers an anti-slip grip. The carbon fiber finish makes sure the hands don't feel slippery while holding the device. Above all, the skin is designed for bubble-free installation which means you can install it even at your home without having to take an expert's assistance.
Buy from MightySkins: $8.99
4. Slick Wraps Shade Series
I don't think there are too many iPhone 12 mini skin wraps that look as stylish as Slick Wraps Shade Series. The skin is crafted with high-quality vinyl material and sports textured surface. Hence, holding the iPhone will always feel comfortable.
Shade Series skin attaches to iPhone 12 mini securely. Being completely bubble-free, the skin template peel offs cleanly without leaving any mark of residue. That aside, the wrap is also touted to absorb minor impact and fight out scratches. Everything considered; Shade Series deserves to be rated as one of the best iPhone 12 skins.
Buy from Slick Wraps: $24.12
5. Capes
Capes skins have got everything covered to be the deserving companion of your smartphone. So, if you are willing to opt for a relatively low-priced iPhone 12 mini skin in India, you can't go wrong with it. Putting more emphasis on customization, the accessory maker lets you customize your iPhone 12 mini wrap – pretty much like dbrand.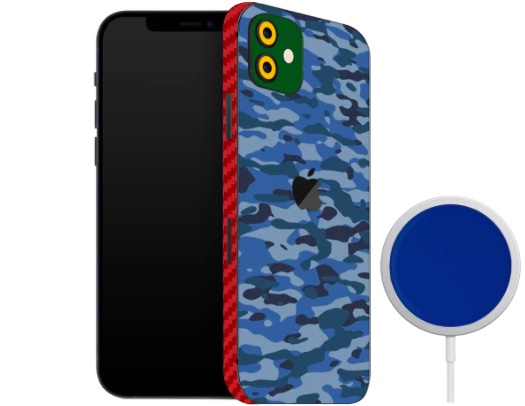 That means you can choose from a wide range of textures like camo, pather, stone, pastels, carbon fiber, and more to create a custom wrap for your device. Not just that, the company also lets you select a skin for the camera, frame, lens, and even MagSafe charger. Add to that the 3M vinyl material and smooth finish and you have got a skin that appears to be a frontrunner at Rs. 500.
Buy from Capes: Rs. 499 (almost $7)
6. MightySkins Mock Textures Collection
For the folks who have a huge penchant for glowing design, MightySkins Mock Textures Collection appears to be a ready-made choice. The skin showcases a glittering design that doesn't fade away when faced with a real-life test. Looks aside, it is equally scratch-resistant.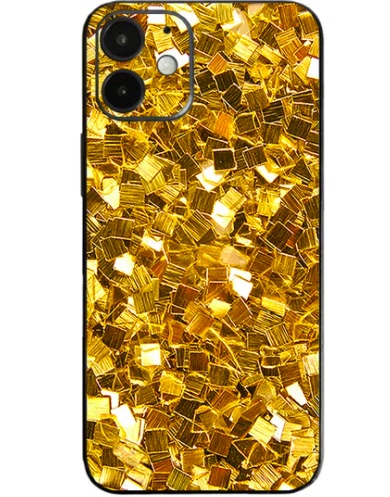 The vinyl material topped by the textured finish comforts your palm every time you hold your iPhone 12 mini. Since the wrap is bubble-free, you can attach it to the back of your smartphone with precision. And if you ever wish to get rid of it, you will be able to remove it without having to deal with sticky residue.
Buy from MightySkins: $8.99
7. Slick Wraps Marble Series
Without taking away the sheen from other eye-catching textures like wood and leather, I would like to say that marble remains one of my top picks. It's the aesthetic design that appeals to me the most in the marble texture. That's the reason why Slick Wraps Marble Series has found a safe spot in this roundup.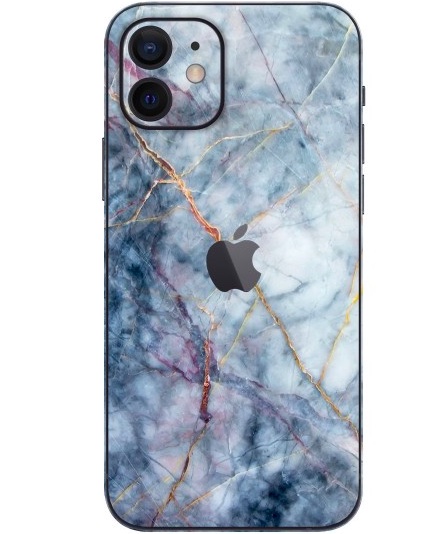 Beyond design, Marble Series skins for iPhone 12 mini also excels in guarding the device against scuffs. Besides, you can also count on it to ward off fingerprints, dust, and smudge to remain pristine. Overall, it's one of the most impressive wraps for the all-new compact iPhone.
Buy from Slick Wraps: $24.12
8. MightySkins Marble Collection
Just in case you find Slick Wraps Marble Series a bit expensive for your budget, MightySkins Marble Collection could be the right answer to your hunt. This skin is also made of 3M vinyl and sports precision finish. And with the carbon fiber finish on top, it can give Slick Wraps' offering a run for its money.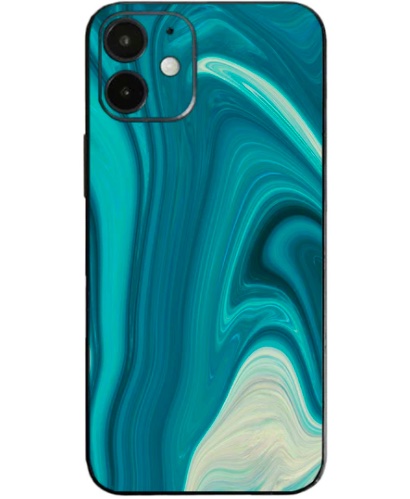 Design aside, MightySkins Marble Collection is also up to the task in terms of fighting out the challenges from scratches. Furthermore, the wrap attaches to the back of the iPhone 12 mini precisely. Being goo-free, it doesn't make the back panel look ugly when removed. Keeping in mind these qualities, Marble Collection seems to be a smart pick at $9.
Buy from MightySkins: $8.99
9. Gadget Shieldz
Gadget Shieldz is another accessory maker that offers reasonably good iPhone 12 mini skins and wraps at a low price point in India. The company has got a number of textures like sandstone, raptor, brushed metal, grunge, and camoflaunt to let you customize your skin.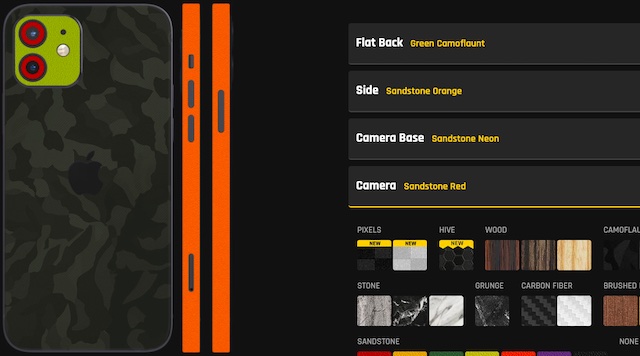 Gadget Shieldz wraps are made of premium vinyl that endows durability. For an anti-slip grip, the skins feature a soft surface. Notably, the company offers skins for not only the back of the iPhone but also the camera, camera base, and side. So, you can select from a variety of smooth textures to design your iPhone 12 mini skin wrap.
Buy from Gadget Shieldz: Rs. 499 (almost $7)
10. MightySkins Geometric Collection
This offering from MightySkins looks little different thanks largely to the geometric pattern. The 3M vinyl material coupled with textured carbon fiber finish makes Geometric Collection a fine bet for your compact iPhone. For all being quite slim, the wrap can guard against scratches and also absorb low-volume shock.
Another feature worth taking note of is its ability to retain the original color for a long time. The laser-cut dimensions make sure the skin fits perfectly on the iPhone. Additionally, the wrap is quite easy to peel off and also doesn't destroy the back panel with sticky residue.
Buy from MightySkins: $8.99
Frequently Asked Questions
Q. Are all skins DIY?
No. But most accessory makers offer you the luxury to customize skins to your heart's liking.
Q. Can I apply the skin at home?
To make the installation a hassle-free affair, most skins are designed to be bubble-free. Thus, applying them at home is not a big deal.
Q. Is it easy to remove after using the skins for a while?
Yes. It's quite simple to get rid of a skin after using it for a while.
Q. Will my phone become slippery after using a skin on it?
If the skin is made of high-quality 3M vinyl and features a textured surface, it will offer a secure grip to prevent accidental slip-offs. In short, the material and the built quality have a major role to play.
Q. Why people use skins on their phones?
Many accessory makers offer the luxury to choose from a variety of textures to let you customize your own skins. Plus, they are incredibly sleek and offer a pretty smooth finish that's quite irresistible.
Q. How to apply leather skin on a phone?
Applying leather skin is just as straightforward. Just peel the skin and then apply it gently from the bottom of the phone, making sure that it is perfectly in line with the cutouts. Experts use a hairdryer on corners for a better fitting.
Q. Do skins protect against drops and bumps?
No. skins can't shield your device against drops and bumps. Though they can be trusted to ward off minor impact.
Top iPhone 12 mini Skins and Wraps Listed Out for You
That's pretty much it! So, these are my top skins and wraps for iPhone 12 mini. Hopefully, you have found my collection appreciable. By the way, which one of these wraps have found a spot in your collection? More importantly, which is your favorite skin texture? Is it marble or wood or leather? Be sure to let me know that in the comments section below.
As we are talking about iPhone 12 mini accessories, I would recommend you to check out the best iPhone 12 mini cases as well as the special roundups of the clear, cute, and kickstand cases. Just in case you wish to explore more matching accessories.