While professional-looking cases and cute covers are my go-to choice (more or less), kickstand cases remain an integral part of my collection for more than one reason. They offer me the flexibility to prop up my iPhone in multiple orientations which plays a vital role in enhancing movie streaming or hands-free video-calling – especially when I'm on the go. Apart from offering a super handy stand, they are also no pushover when it comes to absorbing shock and even preventing scratches from ruining the smartphone. If you find these qualities worth taking note of, these are the 8 best cases with stand for iPhone 12 mini lined up for you.
Best iPhone 12 mini Kickstand Cases in 2020
So, what sort of kickstand cases do you want for your iPhone 12 mini – a clear case with a built-in kickstand, an exceptionally rugged case with a belt clip that also doubles as a kickstand, or a nice-looking case with a rotatable ring holder? We have handpicked cases keeping in mind both style and protection so that it's a tad easier for you to choose a suitable case with a built-in stand for your mini. With the premise out of the way, let's get down to the roundup!
1. Spigen Tough Armor
Whether you are looking for a form-fitting protective case or willing to try out a compact case with a secure grip, Spigen Tough Armor can easily fit into your needs. The case is made of rugged polycarbonate material and features air-cushioned corners for extra shock-resistance.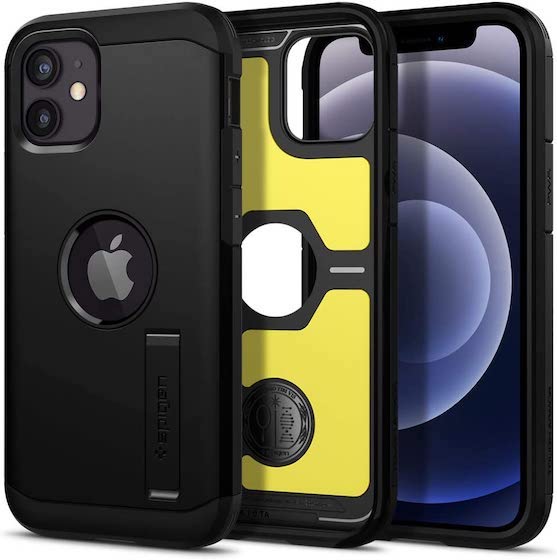 And with the elevated lips always ready to guard the 5.4″ OLED display and the dual-camera module on the back, you shouldn't worry about scratches damaging the looks of your compact smartphone.
Notably, it features a cutout in the middle to allow the iconic Apple logo to shine through. That's not all, Tough Armor is also designed to work with wireless chargers, which makes it a complete kickstand case for iPhone 12 mini.
Buy from Amazon: $14.99-$16.99
2. TORRAS MoonClimber
TORRAS MoonClimber is the sort of case that tends to appeal to you right from the first glance. The crystal clear design with an integrated metal kickstand gives it an elegant profile. And with the precise cutouts for ports and camera, it makes a stunning pair with the mini.
Nice-looking design aside, TORRAS MoonClimber is also quite good in terms of fighting out the shock. The soft rubber bumper and the hard PC back givens it the enhanced ability to withstand the impact of drops. Plus, it has also got beveled edges to make sure the dual-camera and the OLED display don't get harmed by scratches.
At $24, the MoonClimber may seem comparatively expensive than other similar cases in the market. However, given the impressive built coupled with the metal stand, you can't go wrong with it.
Buy from Amazon: $23.99
3. ESR Metal Kickstand Case
ESR metal kickstand case has got a striking similarity with TORRAS MoonClimber. However, it's much cheaper ($8) than MoonClimber. So, just in case you find TORRAS' offering a touch expensive for your budget, this one could be a better alternative.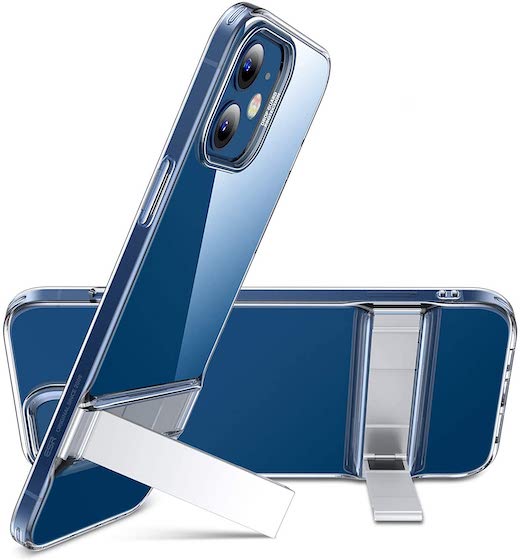 ESR case has also got a crystal clear profile to allow the smartphone to make its presence felt with ease. Thanks to the soft and flexible TPU material, the case is easy to install/remove and also offers an anti-slip grip.
Not to mention, the built-in stand is adjustable up to 60° which plays a vital role in boosting your hands-free experience. And with the support for wireless charging, it makes sure you can get started with wireless charging without having to take the pain of removing the case. It is one of my most favorite cases with stand that you can buy for your iPhone 12 mini.
Buy from Amazon: $15.99
4. OtterBox Defender Series SCREENLESS Edition
If you want to put protection at the forefront, OtterBox Defender Series SCREENLESS Edition is for you. As you may have already guessed, the case is designed for heavy-duty. So, you can fully trust the defender to shield your mini against accidental damages.
With the combination of a solid interior and a soft exterior, the Defender Series can take on impact without putting much effort. Besides, it comes with a removable belt clip so that you can carry your compact iPhone securely.
Aside from keeping your smartphone secure, the belt clip also turns into a useful stand so that you can place your iPhone in the preferred orientations. What's more, you can choose this rugged iPhone 12 mini case in multiple color variants including black, blue, camouflage, and more.
At $60, Defender Series may be quite expensive as compared to other cases but it's got the extremely durable casing to prove its worth. Taking everything into account, it's one of the best iPhone 12 mini cases with a stand.
Buy from Amazon: $59.95-$64.95
5. Ghostek
A good-looking case like this one from Ghostek deserves to make a pair with your iPhone 12 mini. Flaunting a clear profile, the case ensures your mini has got the full license to showcase its impressive compact design. However, unlike many other clear cases, it features impact-resistant corners to thwart the impact of accidental drops.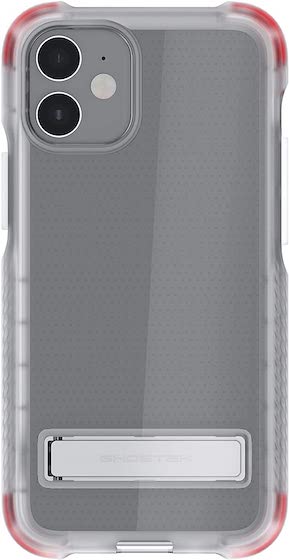 The integration of silicone, TPU, aluminum, PC, and metal endows it the much-required durability, while the neat cutouts give it a snug-fit look. With the smooth finish on top, Ghostek feels pretty warm in the palm ensuring there is less chance of accidental slip-offs.
Not just that, this clear kickstand case also works with MagSafe and wireless chargers so that there is no problem in charging the iPhone wirelessly.
Buy from Amazon: $14.98
6. Kitoo
If I were to pick a top-notch kickstand case for iPhone 12 mini purely based on the high ratings (4.5 stars out of 5 from more than 12.5K rating on Amazon), this superman looking heavy-duty case from Kitoo would be hard to beat. And rightly so as it has taken care of all the bases.
For starters, the case has an incredibly durable construction (up to 12 feet drop protection) that can deliver a 360° safeguard to your mini. Plus, it is also up to the mark when it comes to offering an anti-slip grip.
As for the built-in kickstand, it does a pretty good job of providing much-improved viewing angles. Keeping in mind these impressive specs, Kitoo can stake the claim of being one of the iPhone 12 mini cases with a built-in kickstand.
Buy from Amazon: $17.85
7. iBlason Cosmo Snap
If you are fond of a marble pattern, iBlason Cosmo Snap could bowl you over at the very first glance. Carved out of polyurethane and TPU material, the case has a compact design that fits around the edges of the iPhone 12 mini. For additional protection from impact, it features a durable bumper and also has elevated edges to guard the camera and the OLED display.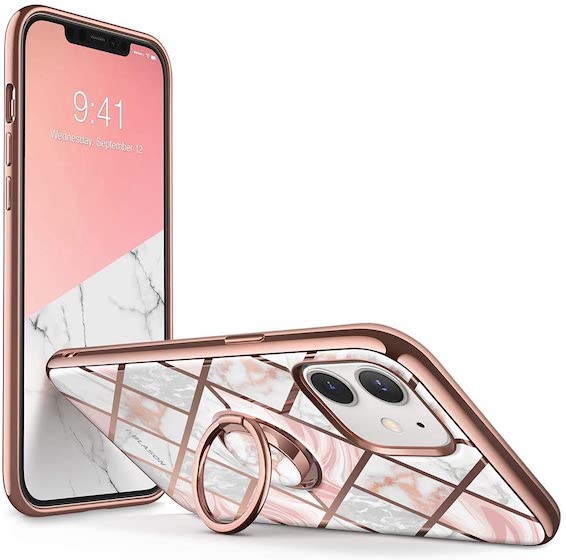 The adjustable ring holder works well as a kickstand for improving the viewing angles while video streaming or fun-loving gaming. Besides, the ring holder also provides a secure hold so that the iPhone can remain comfortably placed in your hands.
Thanks to the soft TPU material, the buttons feel tactile and also provide a better grip. Furthermore, Cosmo Snap also supports magnetic car mounts which make it a great travel companion.
Buy from Amazon: $15.99
8. LeYi
Boasting a clear design, LeYi is second to none when it comes to making a good-looking pair with the iPhone 12 mini. While the transparent back lets the iPhone shine through, the durable bumper enables it to fight out the impact. Moreover, the case also features raised lips to provide an extra layer of protection to the dual camera and display.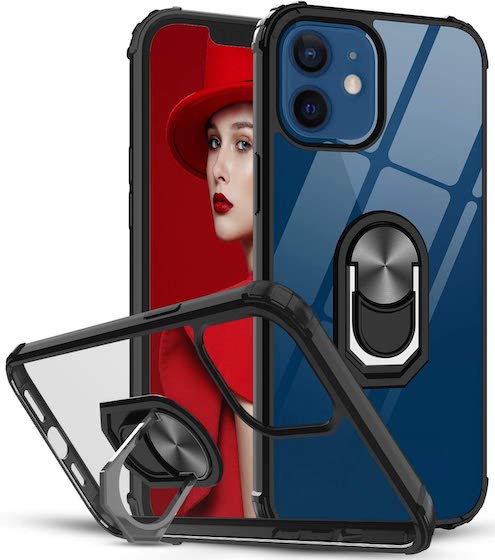 The metal kickstand is 360° rotatable, allowing you to hold your iPhone securely in multiple viewing angles. Apart from enhancing your hands-free experience, LeYi also provides an anti-slip grip. Plus, the incorporation of magnets also enables it to work with magnetic car mounts to enhance your navigation.
Buy from Amazon: $13.99
Top Cases with Stand for iPhone 12 mini Lined up for You
So, that ends our article about the best iPhone 12 mini cases with a built-in kickstand. Both in terms of making a pocket-friendly companion and boosting a hands-free experience, they are up to the mark. Moreover, you can also count on these cases to offer an uncompromised defense against accidental drops and scratches.
Now that you have explored my collection, it's your turn to share your favorites and tell us about the cases that have won your mini. Besides, also let us know about the kickstand cases that are good enough to make this roundup.