Samsung recently launched its flagship Galaxy S21 series at its virtual Galaxy Unpacked 2021 event. If you're planning to purchase a Galaxy S21, here are the best screen protectors you can use to protect it from accidental scratches and damages. Without further delay, let's get started with the list.
Best Samsung Galaxy S21 Screen Protectors in 2021
If you are looking for some cool Samsung Galaxy S21 cases, click on the link to check out our article. You can find the full list of screen protectors in the table of content below. Click on the name of a screen protector to move to its location in the article.
1. Spigen NeoFlex
Spigen is one of the top-rated brands when it comes to smartphone accessories. With the Spigen Neoflex, you get edge-to-edge protection on your new Galaxy S21 device. Using the wet application process that involves spraying NeoFlex with water, the company ensures that you won't get air bubbles while you're applying it. Moreover, Spigen promises that you won't get glares or rainbow effects with this product. To sum up, Spigen NeoFlex is one of the best screen protectors you can buy for your new smartphone.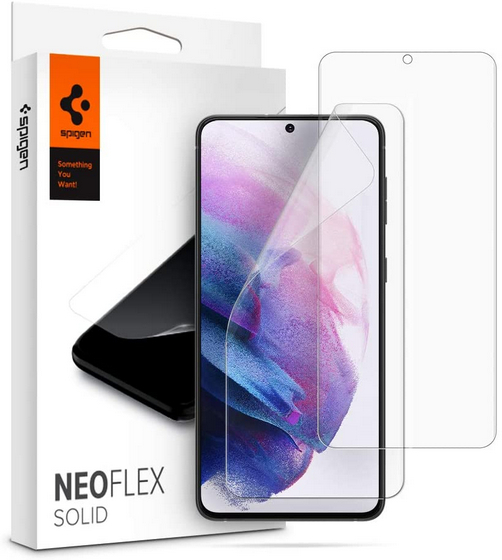 Buy from Amazon: $9.99 (pack of 2)
2. Caseology PET Film
If you're looking for an ultra-thin screen protector made of flexible PET material, you should consider getting Caseology's PET Film screen protector. It is capable of preventing accidental scratches from ruining the beautiful display of your phone. With the bundled application spray, you can easily apply the screen protector even if you're not a professional. In addition, Caseology's offering is compatible with most cases you can purchase for the Galaxy S21.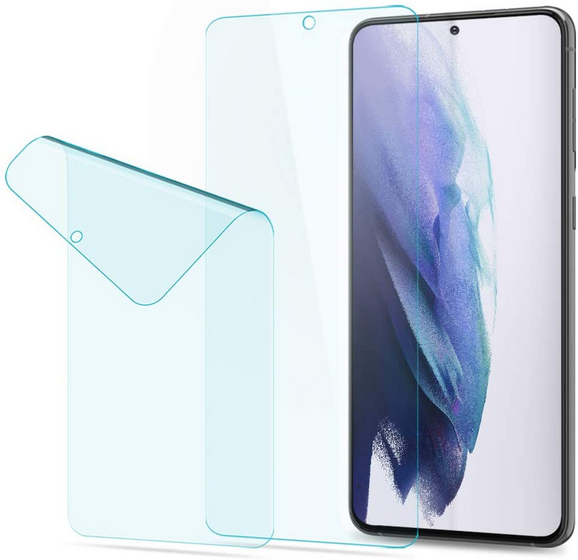 Buy from Amazon: $11.99 (pack of 2)
3. ESR Liquid Skin
Another option worth checking out if you need additional protection is ESR's Liquid Skin screen protector. While it is not a glass screen protector, the flexible polymer offers full-screen coverage to your phone. You can also use this product with most of the leading cases available in the market. According to the company, the screen protector has self-healing capabilities so that light scratches and small bubbles disappear over time. You also get a convenient clip installation tool for a hassle-free installation experience.
Buy from Amazon: $11.99 (pack of 3)
4. Olixar
Olixar's 9H rated tempered glass is made with impact resistance in mind. Olixar promises up to thrice the strength of non-tempered screen protectors with this product, along with scratch and shatter resistance. It is worth noting that the screen protector adds just 0.27mm thickness to the phone, which is neat if you don't want your phone to look bulky. The company has also added oleophobic dirt and grease resistant coating for avoiding fingerprint smudges on the screen.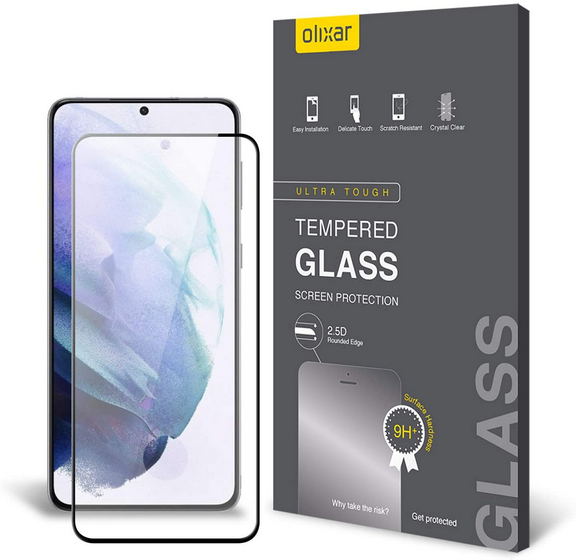 Buy from Amazon: $19.99 
5. GlassFusion VisionGuard+
If you have the budget to invest in a premium screen protector, Zagg's GlassFusion VisionGuard+ might just be what you're looking for. It offers military-grade protection and is protected with the company's D30 material that increases the strength by more than 20 percent.
Combined with the anti-microbial properties, the screen protector makes sure that your phone will stay clean without relying on a screen disinfectant. Apart from this, GlassFusion's VisionGuard technology filters harmful high-energy visible (HEV) blue light from your screen.
Buy from ZAGG: $59.99
6. Pulen
Pulen's bubble-free tempered glass offers scratch resistance without compromising on quality. It comes with oleophobic and hydrophobic screen coating to protect your phone against sweat and fingerprint smudges. In addition, the screen protector has 2.5D round edges to avoid the trapping of bubbles in the long run. Apart from screen protector, Pulen is offering camera lens protectors in the package so that the camera lens doesn't get accidental damages.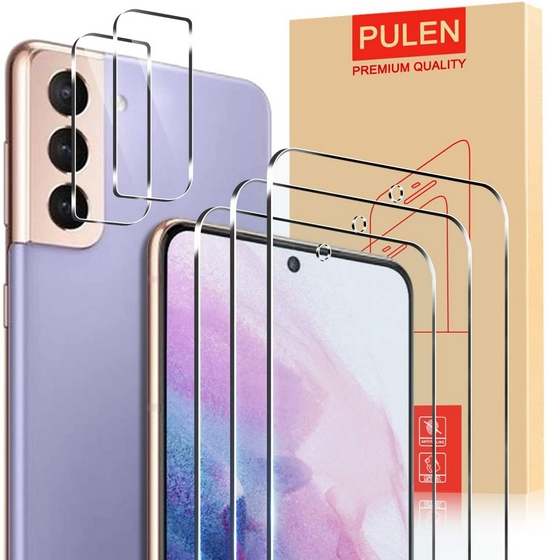 Buy from Amazon: $12.99 (pack of 3)

7. amFilm Hybrid Screen Protector
amFilm's Hybrid screen protector offers 7H hardness and is created from a scratch-resistant and ultra-thin material. The company promises that the product protects your screen from scratches, dust, scrapes, oil, and fingerprint smudges. In the package, you get all the items essential to apply the screen guard including the application tray, rubber mounting pad, dust removal stickers, microfiber cloth, and alcohol cleaning wipes.
Buy from Amazon: $10.99 (pack of 2)
8. QHOHQ
If you're looking for a pocket-friendly screen protector for your Galaxy S21, QHOHQ's screen protector should be your pick. At $13.99, you get three screen protectors and three camera lens protectors. As a result, you can easily swap out one when you eventually end up breaking or scratching it. At 0.15mm thickness, QHOHQ's screen protector manages to offer an arc 2.5D design for complete protection towards the edges.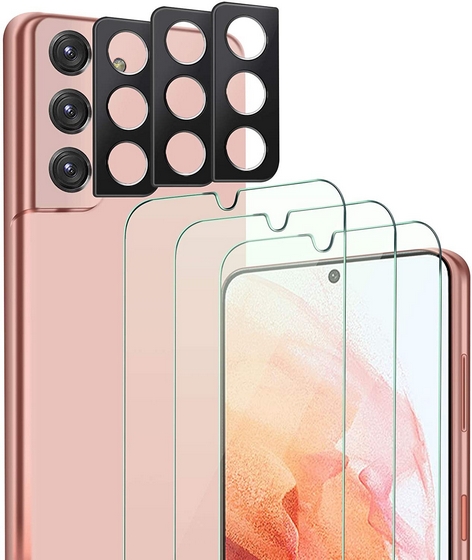 Buy from Amazon: $13.99 (pack of 3)
9. AYCFIYING
If you're looking for a screen protector that comes with the added bonus of protecting your privacy, AYCFIYING's screen protector is what you should be looking at. Apart from offering 9H hardness and scratch resistance, the product is designed in such a way that the screen is visible just to the person directly in front of the screen.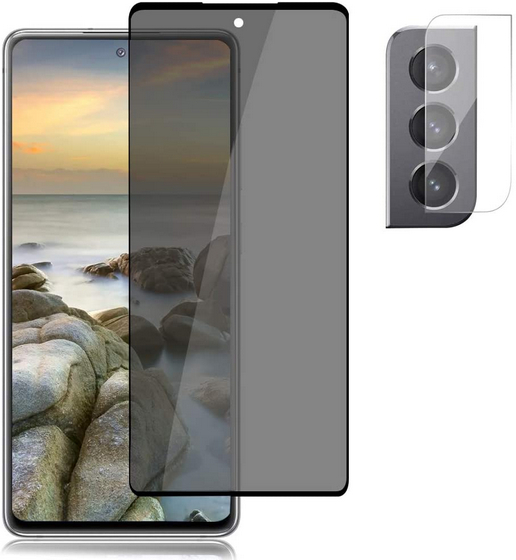 If you have pesky roommates or relatives with no sense of respecting boundaries, you should consider using this. That said, the extra privacy comes at the cost of fingerprint unlocking and you should skip this if you rely on the fingerprint scanner for unlocking your device.
Buy from Amazon: $13.99
10. TQLGY
To sum it up, we have one last recommendation – TQLGY's tempered glass. Much like QHOHQ, this is an affordable option worth checking out if you want the added safety without spending a lot. You get three protectors and three camera lens protectors in the package. The screen protector is just 0.22mm thick and comes with an installation guidance frame for perfect installation.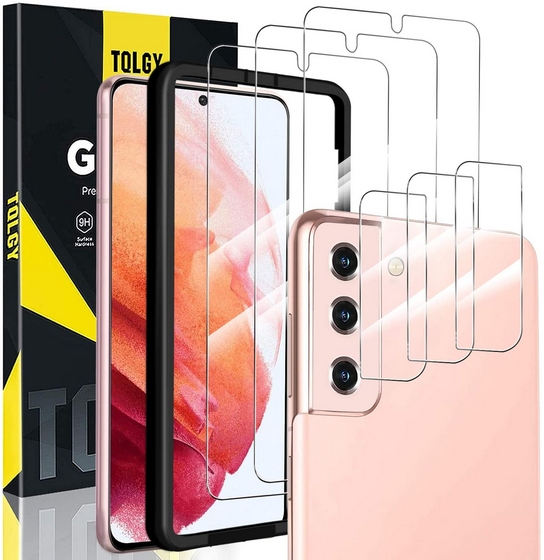 Buy from Amazon: $13.99 (pack of 3)
Choose from the Best Galaxy S21 Screen Protectors
Samsung Galaxy S21's screen protectors will ensure that you don't end up damaging your phone's display. It is always better to purchase a screen protector if you don't want to spend a lot if you accidentally break or scratch your screen. You should also consider getting a case for your new Galaxy S21 device for complete protection.
We have also covered best Samsung Galaxy S21 Plus cases and S21 Plus screen protectors, so if you have purchased that device for someone in family, check those out. If you found this useful, do not forget to let us know which screen protector you picked for your smartphone.