Samsung might have skipped a number with the launch of the Galaxy Note 7 but it surely hasn't missed the mark when it comes to features and specs. Firstly, the Note 7 looks stunning with that beautiful curved display on the front and the curved metal back. Also, it comes with some top of the line specs like the dual-edge 5.7-inch (2560 x 1440p) Super AMOLED display, Snapdragon 820 or Exynos 8890 processor (depending on the region), 4 GB of RAM, 64 GB storage with expansion support, 12 MP rear and 5 MP front facing camera and a respectable 3500 mAh battery. Moreover, the Note 7 includes a cool iris scanner along with the usual fingerprint scanner. That's not all, as the Android 6.0 Marshmallow running device is also IP68 certified, which means the device is dust and water resistant.
So, while Samsung has provided some decent protection for the flagship Note device, we'll still recommend you to buy a case because the device will be priced somewhere around $800 and that is a lot of money. You would not want your pricey Note 7 to get a scratch on its very first day of buying, right? Keeping that in mind, here are 10 best Samsung Galaxy Note 7 cases and covers you should be buying:
1. Samsung S View Flip Cover
The official S View Flip Cover from Samsung, like the past S View flip covers, offers protection while letting you use the device even with the cover on. The flip cover features a unique window on the front, which lets you use the Note 7 with an interface designed for it. You can accept or reject calls, check notifications, see status items, weather and more from the window in the case. Moreover, you can dial numbers or even take pictures directly from the case. The new S View Flip Cover for the Note 7 even packs in a standing function, which lets you prop the case at a 45 degree angle.
Where to Buy: Samsung.com
Price: $49.99
2. Samsung LED Cover
Remember HTC's Dot View case? Well, the Samsung LED Cover for the Note 7 brings similar features. The case brings a cool way to check out notifications and other alerts even when the case is covering your Note 7. The case lets you accept incoming calls, check out messages, battery status, time, volume and more. Along with all these features, the case even includes a pocket where you can place cards or cash.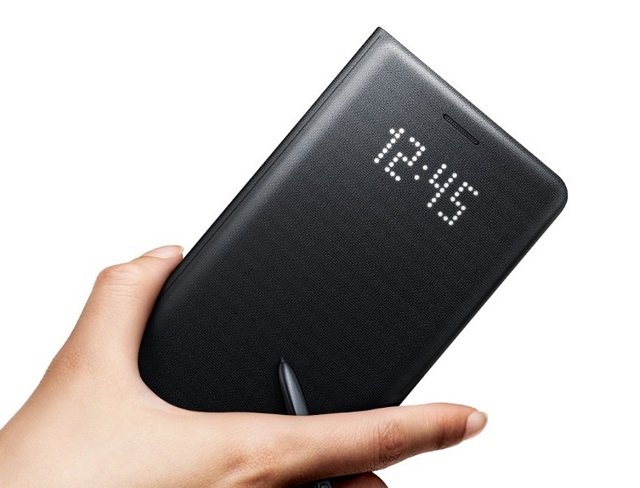 Where to Buy: Samsung.com
Price: $59.99
3. Samsung Keyboard Cover
The official keyboard cover for the Samsung Galaxy Note is certainly the most interesting out of the lot. The case not only provides protection for the Note 7 but also brings a physical keyboard for the device. There are many among us who feel that touchscreen typing can never match the speed and feel of a physical keyboard and if you are one of those people, you can most certainly try out the Keyboard cover. The cover brings a full-size QWERTY keyboard that also features an exclusive key layout with shortcuts and hot keys.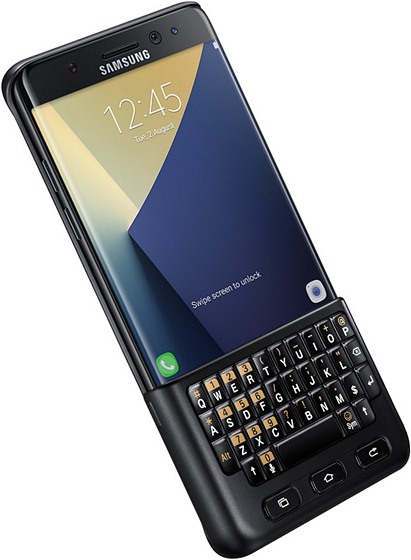 Along with the aforementioned ones, Samsung also offers a cool battery case and a camera lens case for the Note 7 that you can check out.
Where to Buy: Samsung.com
Price: $59.99
4. Spigen Rugged Armor Case
If you plan on taking your beautiful Galaxy Note 7 in harsh conditions, we will suggest you to get the rugged armor case from Spigen. The case offers MIL-certified protection and Spigen claims to have done some extensive drop tests with the case. While the case only features a single layer of TPU, it makes up with an air cushion tech, which protects the Note 7 from small as well as big drops. Also, while the buttons are covered, they have been designed in a way to give you great feedback and you should not feel any problems with it. Other than that, the case looks pretty good too with a glossy surface and carbon fiber texture.
Where to Buy: Amazon.com
Price: $10.99
5. Otterbox Symmetry Case
Otterbox cases need no introduction when it comes to protection, considering the various extensive tests they do on their cases. Well, the Otterbox Symmetry case is no different. While it's not their most rugged case for the Note 7, we like it due to the fact that it brings protection as well as slim good looks. The case made up of polycarbonate and synthetic rubber even feels good in the hands, thanks to its matte touch. Plus, it looks slim and features raised bezels to protect that gorgeous curved display. The Otterbox case is available in the usual Black version, along with color-combos like Rosso Corsa, Rose and Boardwalk.
Where to Buy: Amazon.com
Price: $31.67
6. Incipio Octane Case
The Incipio Octane case for the Galaxy Note 7 looks great, thanks to its usage of contrasting yet similar colors on the back and the bumper. Along with the good looks, the case also features a rigid polycarbonate back shell and a shock absorbent TPU, which makes sure that the case provides protection against impacts. While the looks ready to protect the Note 7, it is pretty light and feels great in the hands, thanks to its polycarbonate matte design.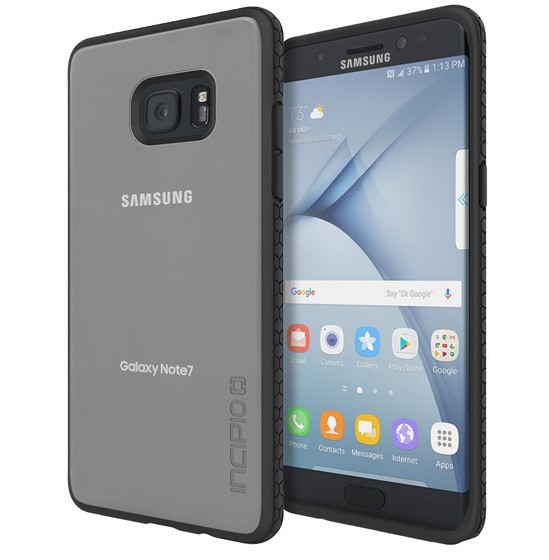 Where to Buy: Incipio.com
Price: $24.99
7. Caseology Premium Leather Case
While the Galaxy Note 7 is a looker in itself, the Caseology case should protect the device while give it a premium look. The beautiful leather case looks sophisticated and is animal-friendly, so you should not have any doubts buying it. The case features a TPU sleeve along with a polycarbonate bumper inside the artificial leather to bring optimum protection whilst looking good. The case is available in beautiful color-combos like Carbon Fiber Black, Leather Beige, Leather Cherry Oak, Leather Green and Leather Navy Blue and they all look super great. You need to check them out to believe it.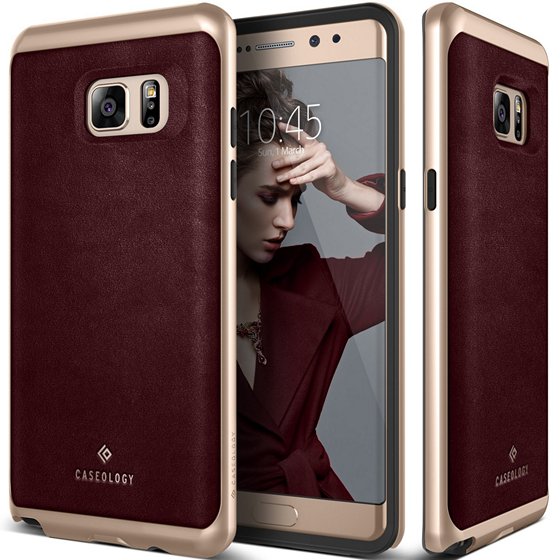 Where to Buy: Amazon.com
Price: $14.99
8. Obliq Flex Wallet Case
The Obliq Flex Wallet case for the Note 7 is a classy-looking ultra-thin wallet case, which brings a leather slot for cards and cash. The wireless charging compatible case features precisely cut-outs for the 3.5 mm jack and buttons. The Obliq case is my personal favorite due to its classy design, which also makes sure to not bulk up the Note 7. It looks great and its cards pocket certainly makes going to a party handy. So, you should definitely check this one out for your Note 7.
Where to Buy: Obliqproduct.com
Price: $19.99
9. Ringke Crystal Clear Case
Want to showcase the good looks of your Note 7 while applying protection? The Ringke Crystal Clear case for the Note 7 should be perfect for you. The ultra-slim and transparent case features soft flexible edges to protect the Note 7's edged corners. It also brings dual coating to protect the Note 7 from drops and impacts. Along with the protection, the clear case is pretty slim, making sure your brand new Note 7 looks slim and sexy.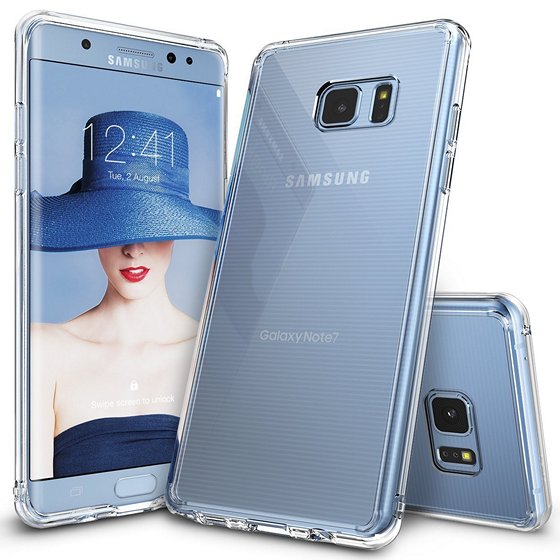 Where to Buy: Amazon.com 
Price: $8.99
10. Sparin Lightweight Case
The Sparin case is for Note 7 users who want a case that's easy to hold and one that does not add bulk to the device. The case made up of premium leather and microfiber is not only sturdy but it even looks great. Plus, the case feels great in the hands, thanks to its grip friendly and sleek design. The case has also been designed with the curved display in mind, which means that while there is protection on the sides, it does not block the display.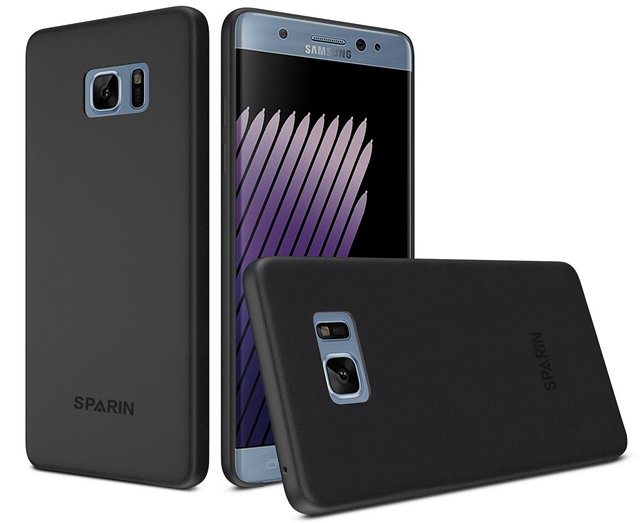 Where to Buy: Amazon.com
Price: $9.99
SEE ALSO: 15 Samsung Galaxy S6 Edge Plus Accessories Worth Buying
Protect your pricey and beautiful Galaxy Note 7 with these cases
Samsung devices might be sturdy in nature but when it comes to a pricey flagship device like the Note 7, we would not want to take a risk. So, check out the aforementioned Galaxy Note 7 cases and covers and decide the one you want to buy. Do let us know the one you bought or plan on buying. Sound off in the comments section below.