Ever since its inception in mid-2015, Psyonix's Rocket League has evolved to be a staple in the gaming community. The popular car soccer game has a solid fanbase and an active community of players. Whether you are new to the game or are looking for friends to play Rocket League with, here are the best Rocket League Discord servers you can join.
Best Discord Servers for Rocket League (2022)
Rocket League (Official)
With over 593,000 members, Rocket League's official Discord server is the place to be if you want to meet new players and be part of a thriving community. Since it is the official server of the game, you get updates on esports events such as the Rocket League championship series too.
There's also a dedicated trading section in the server where you can buy or sell Rocket League items with other interested players. And yes, there are channels to find a teammate to play Rocket League with. If all of this excites you, go ahead and be part of the Rocket League server from the link below.
Rocket League Garage
If you are a hardcore Rocket League fan, you might have heard of the fansite Rocket League Garage. The team behind the website also has a Discord server with over 200,000 members. As the name suggests, this server has a separate section for car designs, where you can get car design inspirations, suggestions, or even support if you have trouble figuring out the specifics of your dream Rocket League car.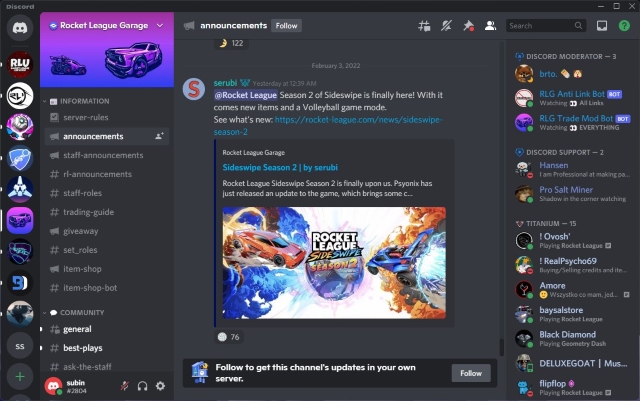 The Rocket League Garage Discord regularly hosts giveaways for in-game items that you can use to spice up your car's appearance. There's also a trading section for buying and selling items with fellow Rocket League gamers. Overall, Rocket League Garage is an ideal Discord server for those looking for ways to customize their cars.
Rocket Planet
Another Rocket League server worth considering is Rocket Planet. Made by the team behind the popular Discord bot of the same name, the server has more than 203,000 members at the time of writing this article. Although Rocket Planet is primarily focused on trading and giveaways, you will also find channels with people looking to play Rocket League together. I also like that there is a channel for sharing pet pictures.
The server has a total of 36 staff members to ensure effective moderation to avoid cyberbullying. If you are interested in checking it out, go through the invite link below to join Rocket Planet's Discord server.
Rocket League Hub
Although not as large as other Rocket League servers mentioned above, Rocket League Hub is an upcoming Discord server. At the moment, it has almost 50,000 members. In addition, the server also hosts its own tournaments that you can participate in and win prizes.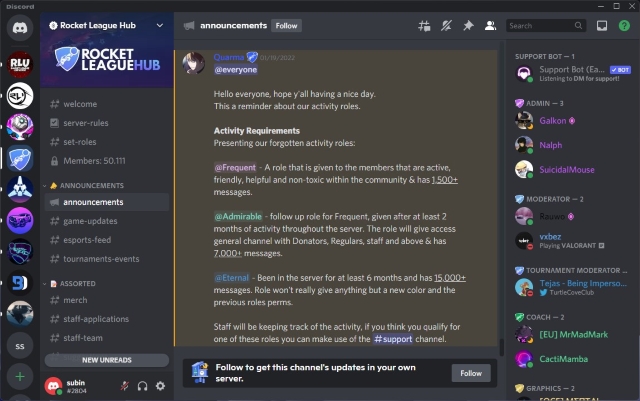 Rocket League Hub has a coaching section too, where you can connect with experienced players and clarify your doubts regarding the game. These coaching sessions are tier-based and will help you better understand the game based on your level of expertise. Sounds exciting? The link to join the server is right below.
RL India
If you are from India and are looking for like-minded gamers to play Rocket League with, RL India has got you covered. While the server's member count is nowhere close to what you would find on other Rocket League servers (nearly 3,000 members), it seemed fairly active on the brief time I spent there. Plus, you won't run into the timezone issue for finding interested Rocket League players.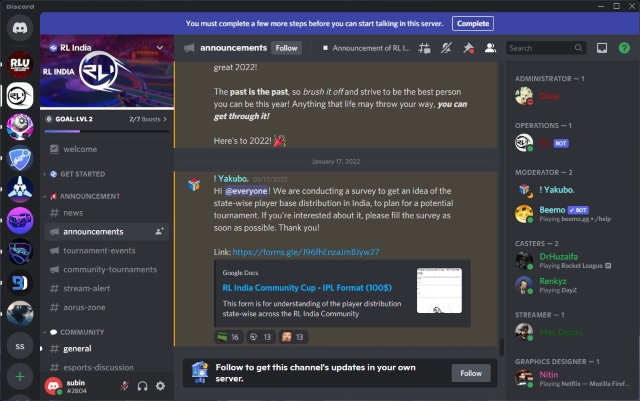 I found the "plays of the day" channel in this server to be a good place to share your Rocket League highlights of the day with other server members. In a nutshell, Indian Rocket League players are likely to have a good time in this server.
Rocket League Sideswipe
Launched last November, Rocket League Sideswipe is the mobile spinoff of Rocket League. If you are a mobile gamer looking for other RL Sideswipe players, you could join the official Rocket League Sideswipe from Psyonix. The channels in the server are fairly straightforward. There are dedicated sections for general chat, teammate search, content promotion, and gameplay highlights.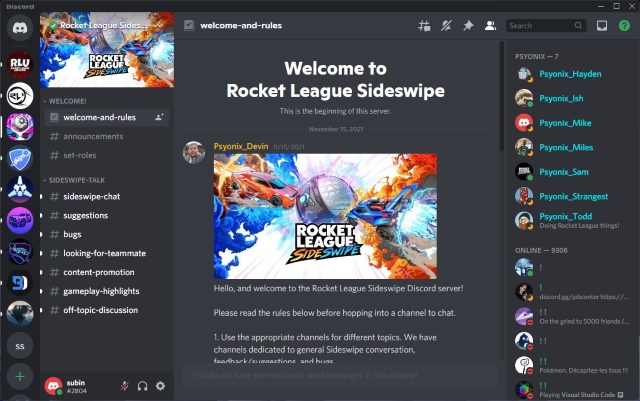 As this is the official server, you could expect effective moderation to avoid harassment. Featuring over 190,000 members, Rocket League Sideswipe is the largest Discord server for anyone looking to find new gaming buddies for the mobile version of Rocket League.
Join The Best Rocket League Servers on Discord
Those are the best Rocket League Discord servers you can join today to have fun and make some new friends along the way. If you are looking to join similar Discord servers for other popular games, feel free to go through our articles on the best Among Us servers, best Minecraft servers, and the best Valheim servers.