Powered by Google's first custom silicon Tensor, impressive cameras, and an all-new design, the Pixel 6 seems to be the smartphone to beat in the budget flagship segment. While it's too early to pass on a full review, Pixel 6 could prove to be the game-changer that Google has been looking for. If the smartphone has managed to win you over and you are looking for matching cases, check out this exhaustive roundup of the best pixel 6 cases and covers. From snugly-fit sleek covers to rugged cases to ultra-clear cases, we have enough variety to help you find a befitting pair for your brand new Pixel device.
Best Pixel 6 Cases and Covers (2021)
When you have a wide variety of cases to choose from, it becomes easier to find out the cover that can meet your specific needs. That's why we have an extensive collection of 24 cases under 6 different categories, including slim, clear, cute, wallet, protective, and kickstand cases for Google Pixel 6 in this article. So, let's dive right in!
Best Pixel 6 Slim Cases
Not for nothing, slim cases are always in the demand. If you are willing to get one for your Pixel 6, check out these top-notch sleek cases.
1. Google Pixel 6 Case
If you have set your sight on a premium-looking slim case for your Pixel 6, give serious consideration to this official case from Google. The case sports a sleek profile with precise cutouts for ports and buttons. And with the dual-layer design, the Google case also has enough cushion under the hood to endure minor shock.
Pros:
Slim profile
Much-improved grip
Tactile buttons
Buy from Amazon: ($29.99)
2. Spigen Thin Fit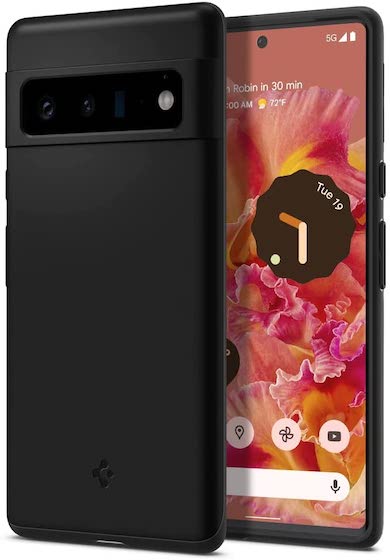 Made of soft TPU and rugged PC material, the Spigen Thin Fit is what you should pick to keep the elegance of your Pixel 6 intact without putting protection on the back burner. Thanks to the rubberized sides, the case offers an enhanced grip. Plus, it also provides an extra layer of protection to the 6.4-inch screen against scratches with the raised bezels.
Pros:
Slim and compact design
Rubberized sides
Extra protection for the screen
Cons:
Lacks impact-resistant cushion
Buy from Amazon: ($15.99)
3. Caseology Parallax
What gives Caseology Parallax an edge over many other cases is the 3D Hexa cube design that boosts ergonomics. The dual-tone colors further enhance the look of the case. While the protective exterior ensures your Pixel 6 has the essential safeguard against shocks and drops, the precise cutouts allow painless access to all the ports and buttons.
Pros:
3D Hexa cube design for enhanced grip
Dual-tone colors
Protective exterior
Buy from Amazon: ($14.99)
Best Pixel 6 Clear Cases
Clear cases allow you to flaunt the design of your smartphone, while also ensuring enough safeguard against shock. With Pixel 6 bringing a new design as compared to previous-gen models, we suggest you go for a clear case to flaunt the Pixel 6's amazing dual-tone colors.
1. Spigen Ultra Hybrid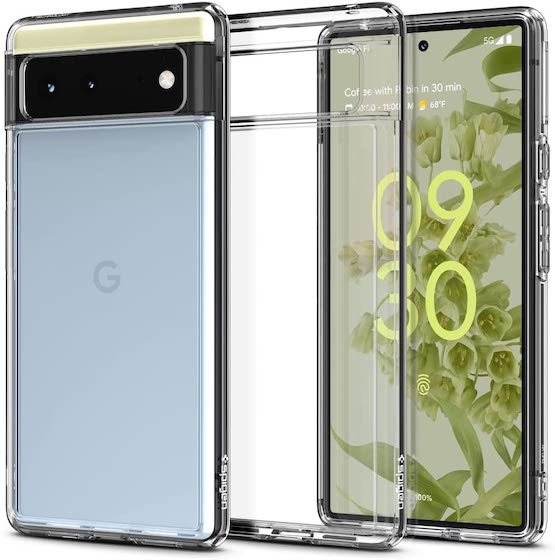 Boasting a hybrid TPU and PC construction, the Spigen Ultra Hybrid is designed to be a premium protective clear case for Pixel 6. So, if you wish to showcase your brand new Pixel device in all its glory without compromising on style, Spigen Ultra Hybrid can comfortably fit your bill.
Pros:
Durable hybrid construction
Anti-yellowing feature
Better grip
Cons:
A tad expensive than competition
Buy from Amazon: ($15.99)
2. Raysmark Ultra Clear Case
If you are looking for an ultra-clear case at a comparatively low price point, Raysmark could be a better choice for you. Made of soft and flexible TPU material, the case not only fits snuggly but also provides the essential grip. Besides, you can also count on it to keep minor shock at bay.
Pros:
Ultra-clear design
Soft TPU material
Much-improved grip
Affordable
Cons:
Less protection from impacts
Buy from Amazon: ($7.99)
3. Aeska Slim Flexible Clear TPU Case
With a lightweight and fully transparent profile, the Aeska clear TPU case allows your smartphone design to shine through. But if you think this slim clear case is fragile, let me tell you that it's scratch-resistant and can withstand minor bumps.
Pros:
Crystal clear design
Scratch-resistant
Responsive buttons
Buy from Amazon: ($9.89)
4. Naneno Flexible Clear Case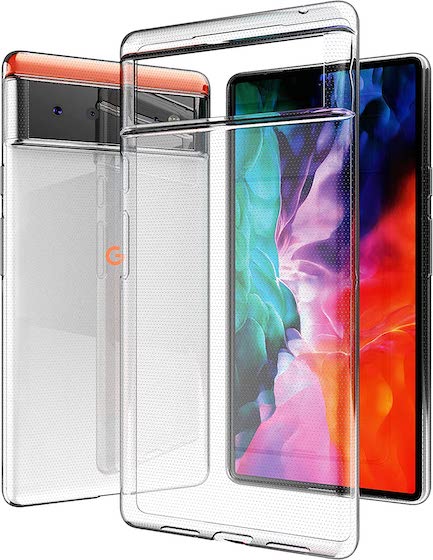 This offering from Naneno has tried to bring along a fine balance between protection and a slim design. And it has succeeded in its effort to a large extent. Made of soft TPU material, the case has a soft exterior with a dotted texture on the inside to better protect the Pixel 6 against drops and scratches.
Pros:
Lightweight and slim profile
Dotted texture for better grip
Perfectly fits around the edges
Buy from Amazon: ($11.99)
Best Pixel 6 Cute Cases
If the slim and clear cases listed above are not up to your style, these nice-looking and cute cases can seamlessly make the cut for you.
1. i-Blason Cosmo Series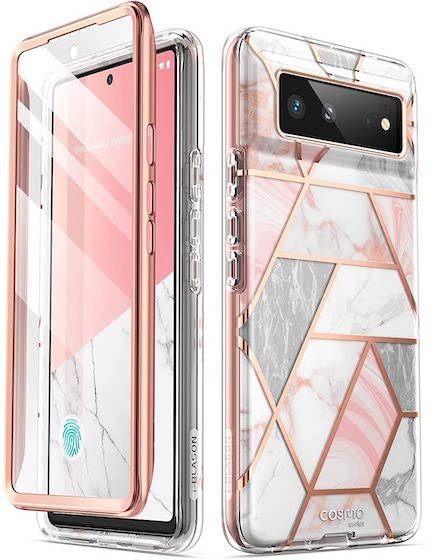 For folks who would like an eye-catching marble pattern on the back of their Pixel 6, the i-Blason Cosmo case series appears to be a front-runner for you. While the highlight of this case is the stunning design, it also offers good protection. Plus, there is also a built-in screen guard to keep scratches at a fair distance.
Pros:
Attractive marble design
Impact-resistant
Built-in screen protector
Buy from Amazon: ($21.99)
2. ZIYE Cute Case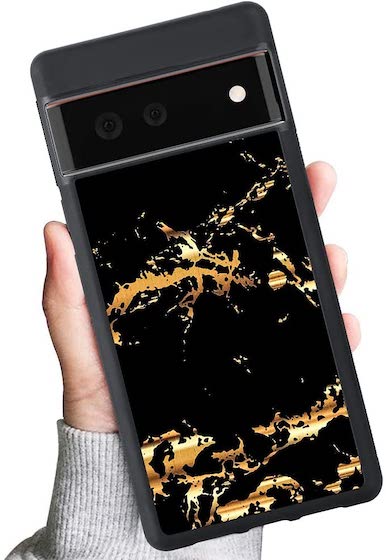 This is the sort of case that tends to grab eyeballs right from the get-go. So, if you are hunting for a case that can give a fascinating look to your Pixel 6, check out Ziye's cute case. Attractive look aside, it's also got a shockproof construction to endure the impact and thwart any random scuffs.
Pros:
Attractive design
Protective bumpers
Clicky buttons
Buy from Amazon: ($12.99)
3. tharlet Cute Stars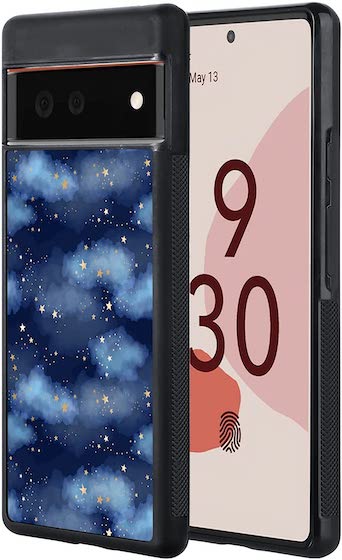 Showcasing a trendy design, this elegant Pixel 6 case from tharlet features stars and clouds. Moreover, unlike other fragile designer cases, it's durable and comes with an impact-resistant construction. Moreover, it also guards both the screen and rear cameras against scratches.
Pros:
Eye-catching design
Shock-resistant bumper
Precise cutouts
Cons:
The starry design may fade away
4. LSL Floral Case
If a floral pattern appeals to your taste, there is a high chance you would love to grab this Pixel 6 case. Built with shock-absorbing TPU material, this case has a snug fit that not only raises the style quotient but also shields your smartphone against random bumps.
Pros:
Nice-looking floral pattern
Durable construction
Comfortable grip
Cons:
Floral pattern may not retain shine over time
Buy from Amazon: ($14.99)
Best Pixel 6 Wallet Cases
1. Cresee Wallet Case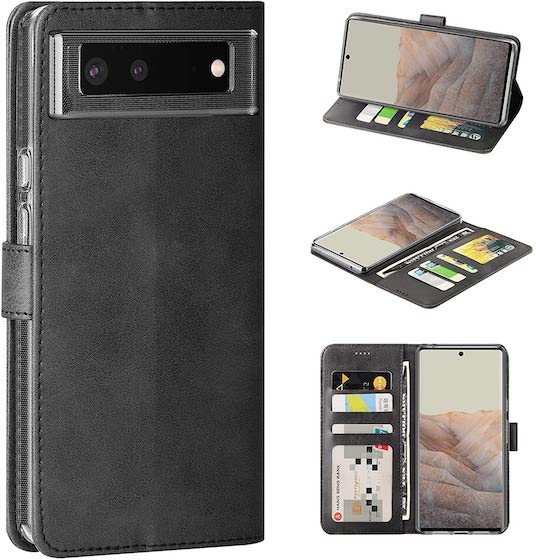 If you want a complete travel companion for your Pixel 6, look no further than this well-designed wallet case from Cresee. Made out of PU leather, this case features a classic folio design and comes with multiple slots to store credit cards. That's not all. There is also a big pocket on the inside to let you stash some dollar bills.
Pros:
PU leather material
Multiple slots for cards
Can endure impact
Buy from Amazon: ($11.99)
2. VRS Design Damda Glide Pro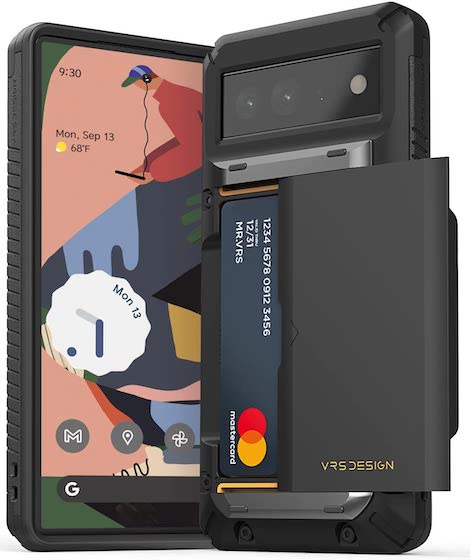 Are you looking for a modern wallet case that lets you carry cards without making your Pixel 6 look old-fashioned? If yes, well, VRS Design Damda Glide Pro can be a preferred option. With rugged construction and a hidden card slot on the back, Damda Glide Pro can be rated as one of the best protective wallet cases for Pixel 6 in the market right now.
Pros:
Rugged construction
Hidden slot for cards
Enhanced grip
Cons:
Less convenient to remove the hidden cards
Buy from Amazon: ($21.99)
3. Foluu PU Leather Wallet Case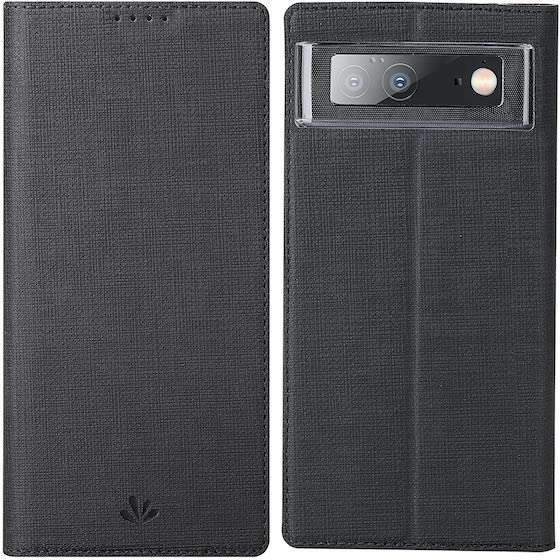 With a low-profile design, this Pixel 6 wallet case from Foluu should easily appeal to your taste. The PU leather exterior here features neat craftsmanship for a professional look and feel. Additionally, it also comes with multiple slots for credit cards and a large compartment for cash.
Pros:
PU leather exterior
Formal design
Slots for cards and cash
Cons:
Design looks old-fashioned
Buy from Amazon: ($11.99)
4. Spigen Slim Armor CS
There is a lot to like about Spigen Slim Armor CS. First and foremost, it's an exceptional protective case that provides trusted defense against accidental drops. And with a concealed slot on the back, it also ensures you have enough space to keep a couple of credit cards handy at all times.
Pros:
Highly protective design
Secure grip
Features a hidden slot for cards
Cons:
Removing/ installing cards isn't super convenient
Buy from Amazon: ($19.99)
Best Pixel 6 Rugged Cases
If top-notch protection against nasty bumps and accidental drops is what you are after, these heavy-duty rugged cases can live up to your expectations.
1. Spigen Rugged Armor Case
Should you wish to strike a balance between uncompromised protection and style, check out Spigen Rugged Armor. The case features a rugged profile that offers essential protection to your Pixel 6 without sacrificing the style quotient. With the grippy sides and neat cutouts, it has got all the bases covered.
Pros
Protective yet stylish design
Snug-fit profile
Grippy exterior
Buy from Amazon: ($15.99)
2. Poetic Revolution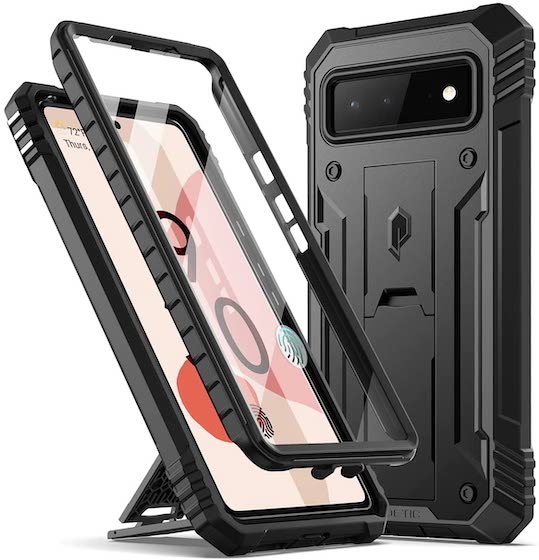 If a robust safeguard against accidental drops and scratches is your top priority, Poetic Revolution could be a better choice. What sets this heavy-duty case for Pixel 6 apart is the shockproof exterior that can take on even nasty bumps with ease. Besides, it also features a built-in screen protector for an additional shield against scratches.
Pros:
Exceptionally rugged construction
Much-improved grip
Built-in screen guard
Buy from Amazon: ($25.95)
3. Caseology Vault
Caseology is well-known for producing top-notch cases at an affordable price point. And the Caseology Vault case for the Pixel 6 is pretty much in the same league. Boasting a compact profile, the case wraps around the edges of the Pixel 6. Despite having a relatively slim form factor, the Vault case packs a solid punch with the certified military-grade shield against drops.
Pros:
Impressive 3D Hexa cube design
Additional protection for cameras and screen
Military-grade protection
Buy from Amazon: ($12.99)
4. Milomdoi Shockproof Case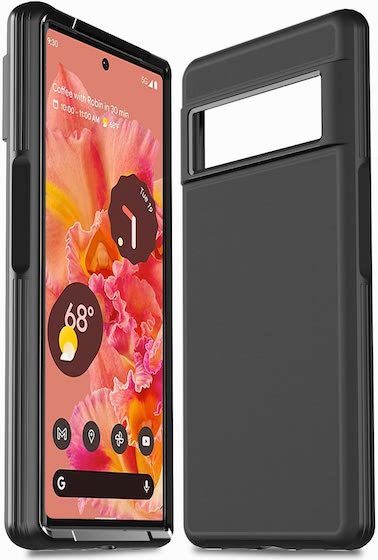 As someone who prefers to have protective yet bulk-free cases, I believe this shockproof Pixel 6 case from Milomdoi could be right up your alley. Apart from having an impact-resistant form factor, it doesn't add unnecessary bulk to the device. What's more, the rugged exterior also offers enough grip to let you comfortably hold the device.
Pros:
Shock-absorbing design
Scratch-resistant
Supports wireless charging
Cons:
Pronounced buttons are less tactile
Buy from Amazon: ($14.89)
Best Pixel 6 Cases with Stand
1. Supcase Unicorn Beetle Pro Series
If a top-notch heavy-duty case with a built-in stand and screen protector is what you are hunting for, make sure to check out the Supcase Unicorn Beetle Pro series cases. The stand allows you to prop up your Pixel 6 both horizontally and vertically. Besides, there is also a hip holster to let you securely carry your smartphone during adventures.
Pros:
Exceptionally rugged profile
Supports multiple viewing angles
Comes with a hip holster
Buy from Amazon: ($21.99)
2. Androgate Ring Holder Case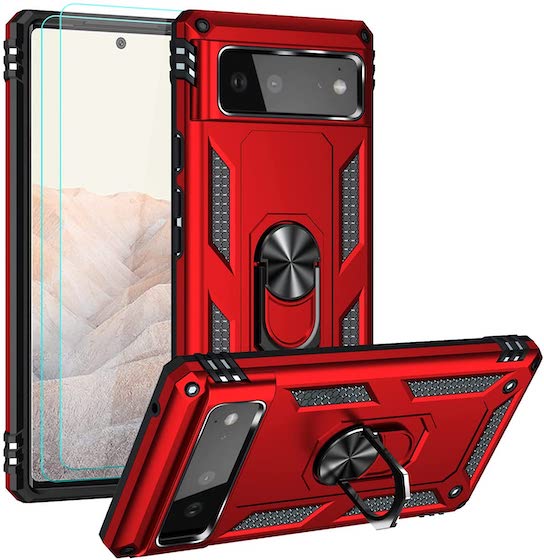 If versatility is your top priority, the Androgate ring holder Pixel 6 case could be a strong contender for your needs. The case boasts a shock-resistant design and comes with a ring holder to let you securely hold your smartphone as well as enhance hands-free usage. On top of all, it also supports magnetic car mounts to boost your navigation experience during long drives.
Pros
Highly protective
360-degree rotatable ring holder
Supports magnetic car mounts
Cons:
Doesn't support wireless charging
Really bulky
Buy from Amazon: ($8.95)
3. B Labs Kickstand Case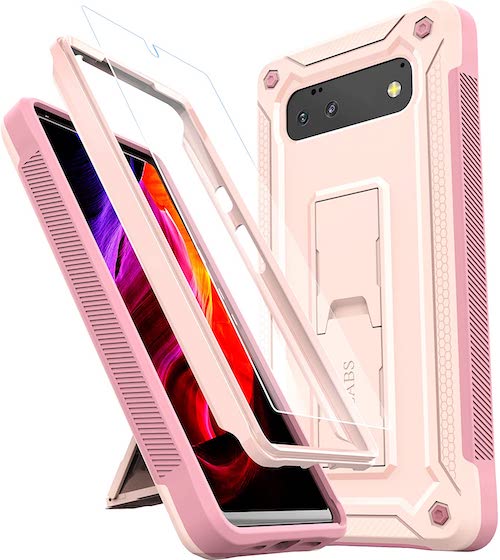 Equipped with a muscular construction, this case from B Labs is designed to be a solid defender for your Pixel 6. Trusted protection from bumps and accidental drops aside, this case packs a handy stand to let you prop up the device in both landscape and portrait orientations. Even better, it has a built-in screen guard to keep the display protected against scratches.
Pros:
Full-body protection
Anti-slip grip, kickstand
Built-in screen guard
Buy from Amazon: ($19.99)
Choose from the Best Cases and Covers for Pixel 6
There you have it! With a huge lineup of cases at your beck and call, I guess you would have found a matching companion for you Google Pixel 6. Do let us know the type of cases you have chosen for your all-new Pixel device. Besides, if there are any impressive Pixel 6 cases that are worthy enough to get included in this roundup, make sure to let us know their names as well.