The Pixel 3 XL comes with a beautiful 6.3-inch OLED screen that has received DisplayMate's highest A+ rating, earning the coveted 'Best Smartphone Display Award' in the process. However, bigger glass panels are inherently more fragile and prone to daily wear and tear. Also they are the most expensive component in modern smartphones, which means you are probably looking at a massive repair bill in case of an accidental crack. The best way to avoid such an eventuality is to invest a few bucks in a high-quality screen protector, which is why, we are bringing a list of the 7 best Pixel 3 XL screen protectors that you can buy to protect your phone's display:
Best Pixel 3 XL Screen Protectors You Can Buy
Note: We will keep updating this list with new Pixel 3 XL screen protectors, so make sure to check back from time to time.
1. InvisibleShield Glass+ VisionGuard Screen Protector for Google Pixel 3 XL
The InvisibleShield Glass+ screen protector is the only one of its kind to be listed on the Google Store for now. It comes with VisionGuard technology that blocks harmful high-energy visible (HEV) blue light from your device screen with a protective EyeSafe layer that filters harmful blue light while maintaining the superior color performance of your device display. It weighs barely 8.5 grams and costs $45 with free shipping.
Pre-Order on The Google Store: ($44.99)
2. Mr Shield Tempered Glass Screen Protector For Pixel 3 XL (3-Pack)
The Mr Shield Tempered Glass Screen Protector uses a 9H hardness tempered glass that's made with Japanese technology and, offers high scratch-resistance without compromising on touch-response. It also has an oleophobic coating to keep all the smudges and fingerprints at bay. It offers 99.99-percent HD clarity and comes with a Limited Lifetime Warranty. The 3-pack featured here costs just $7.99.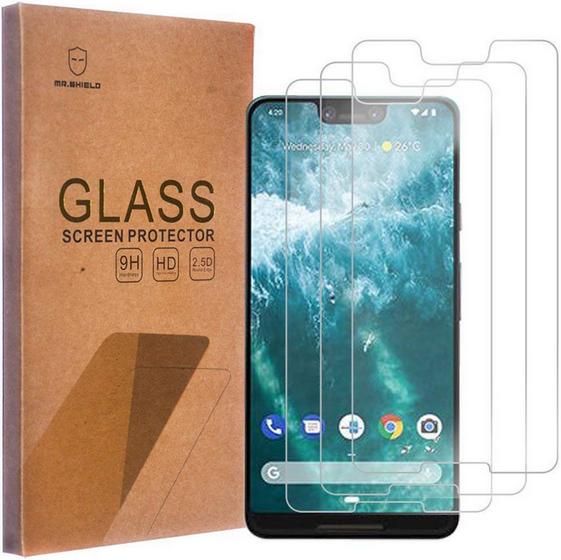 Buy From Amazon: ($7.99)
3. Jumpy Premium Tempered Glass Google Pixel 3 XL Screen Protector (3-Pack)
The Jumpy tempered glass screen protector is built with 9H glass, and is ultra-clear with 99.9 percent transparency for a natural viewing experience. It's ultra-thin, measuring just 0.33mm in thickness and is topped with an oleophobic coating to reduce fingerprints. It's also covered with an anti-shatter film, which means if broken, it will break into small pieces that are not sharp, making it safer than many other products in the market.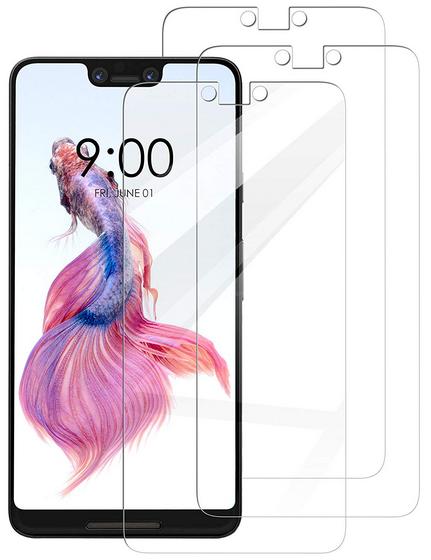 Buy From Amazon: ($8.99)
4. Pulen HD Clear Film Google Pixel 3 XL Screen Protector
The Pulen HD Clear Screen Protector helps prevent damage from drops and scratches while providing an unrivaled user experience. Like the Jumpy unit above, it's also super thin, measuring just 0.33mm. It also has a 'real touch' feeling with high sensitivity. The device also offers ultra-clear 99 percent transparency for a high-definition clear viewing. Like its rivals, it's also made out of durable 9H tempered glass with a special oil-resistant coating to help your phone keep oil, fingerprints, water and other stains at bay.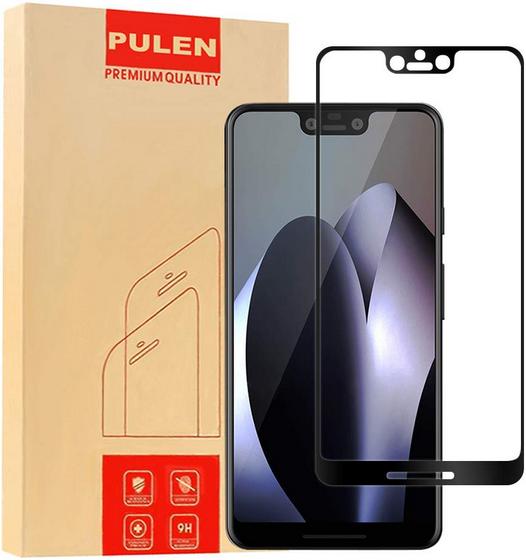 Buy From Amazon: ($9.99)
5. Supershieldz Pixel 3 XL Tempered Glass Screen Protector (2-Pack)
The Supershieldz Pixel 3 XL screen protector is made from the high-quality tempered glass with 100 percent bubble-free adhesives for easy installation and maximum scratch protection. It comes with 2.5D rounded-edge glass and offers 99.99 percent HD Clarity. Its hydrophobic and oleophobic coating protects against sweat and reduce fingerprint smudges, while its Lifetime Replacement Warranty gives you complete peace of mind.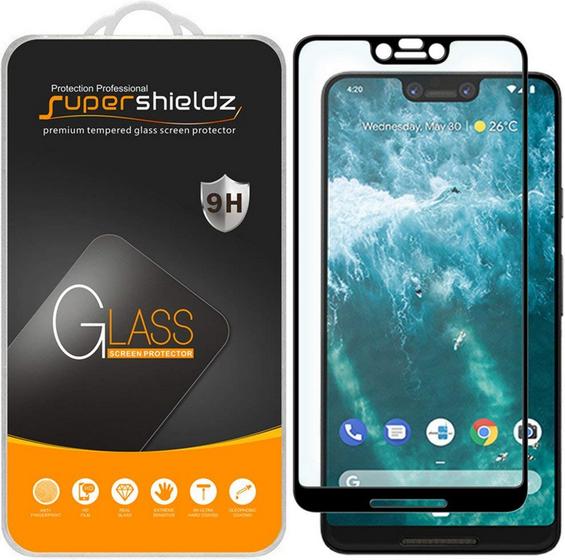 Buy From Amazon: ($10.99)
6. Homsray Tempered Glass Screen Protector Film for Google Pixel 3 XL (2-Pack)
The Homsray screen protector comes with a 2.5D curved-glass design, thereby protecting the entire screen instead of just the flat area. It also promises 99.99 percent HD clarity and claims to retain the original touch experience like its rivals. It's one of the thinnest screen protectors on the list, measuring just 0.25mm, but is still made of 9H glass and topped with oleophobic coating to reduce smudges and fingerprints.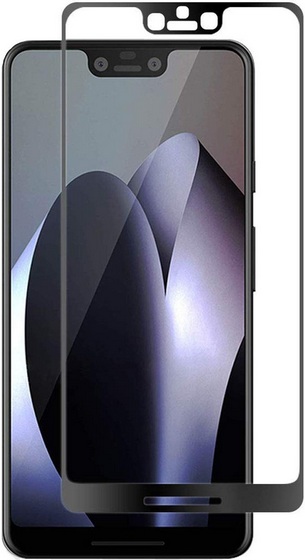 Buy From Amazon: ($8.99)
7. ESR Tempered Glass Screen Protector for Google Pixel 3 XL
Last, but definitely not the least, is the ESR tempered glass screen protector that provides edge-to-edge coverage and is compatible with most third-party cases. It can withstand 11lbs. of force and helps protect the screen from damage. It also comes with an oleophobic nano coating, which creates a smudge-resistant surface, making it easier to clean and provides effective protection against dirt, dust and sweat.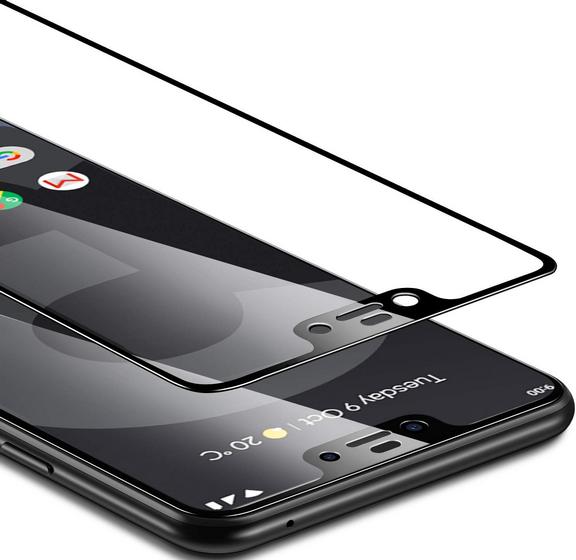 Buy From Amazon: ($9.99)
SEE ALSO: 7 Best Cases and Covers For Google Pixel 3 XL
Protect The Pixel 3 XL's Display with These Screen Protectors
The Pixel 3 XL features one of the best displays on any smartphone, and the aforementioned screen protectors will surely help you in protecting that big, bright and beautiful panel from meeting a tragic and untimely end in case of minor accidents. They will also ensure that the screen doesn't develop any scratches or show any signs of daily wear and tear in the long run. So in case you're getting yourself a Pixel 3 XL, choose one of the products featured above and let us know which one you chose and why.