OBS, also known as Open Broadcaster Software, is the most customizable and valuable streaming and recording software out in the market. You can not only add images or logos in OBS but also do several other things in OBS. Along with that, OBS is an open-source tool that helps other software developers to make plugins or scripts to enhance functionality. OBS plugins can help change the stream's production quality drastically. So, fire up your OBS, and let's check out the 15+ best OBS plugins you should install in 2023.
Best Visual Plugins for OBS
1. Se.Live by StreamElements
The first one on our list is the Se.Live plugin, which was formerly known as Obs.Live, by Streamelements. This works as an add-on to OBS Studio. This plugin is specially made for game streamers on Twitch and Youtube and comes with multiple interactive features. The feature set includes a Replay option, Live chat, Customised alerts, Media requests, Activity feed, and a Custom chatbot.
You can also drag around all your scenes and docks simultaneously. All these rich features come along with low CPU usage and are free to use. That is why it is an add-on that you should definitely use in OBS Studio.
2. Move Transition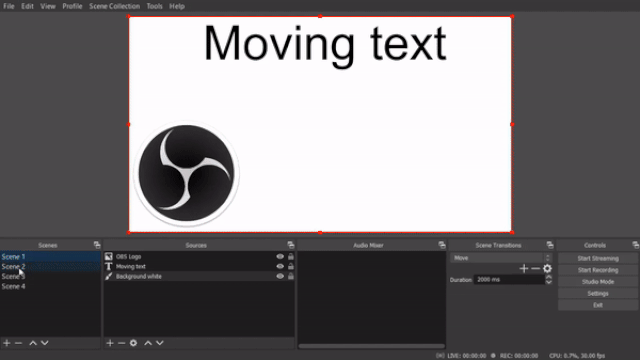 Next on the list is the Move plugin. Move is a transition plugin that works on OBS for Windows, Mac OS X, and Linux. This plugin does exactly what its name suggests. Yes, the Move plugin moves texts, images, and any source on your scene wherever you want in your OBS screen. It can also zoom, fade, or add multiple animations to any element. This is a must-use plugin if you like animated sources in your stream.
3. Aitum Vertical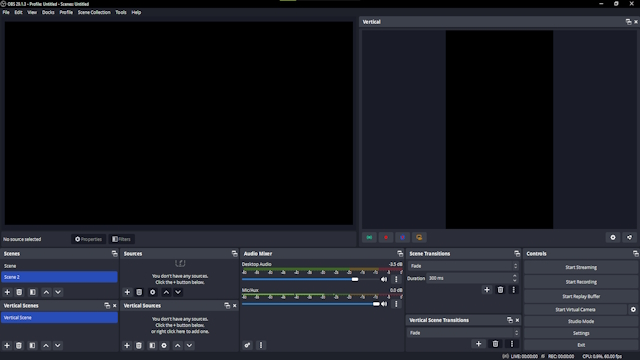 This plugin is a lifesaver if you are a content creator. Now, most of the time when you stream or just play some games, you get some good clips. But you always end up editing them for Tiktok, Instagram reels, or YouTube shorts separately. The Aitum plugin can actually save you all the editing time by directly using the vertical view. All you need to do is adjust the scenes before you start streaming. You can also stream on Instagram vertically using this amazing plugin.
4. StreamFX
From blurring sources and adding weird transitions to making 3D effects and creating color-grade effects, the StreamFX plugin is able to do anything with the elements you add on the OBS screen. StreamFX can also help you create manual image masks, shaders, and textures and even lets you save them as a new source or filter. However, this plugin is paid, and shelling out money for it is worth it.
5. Freezefilter for OBS
Finding it hard to screenshot the right moments in OBS? The freeze filter plugin can instantly freeze your OBS screen, and it can help you in lots of ways. You can take screenshots, you can create certain frames, or even use the freeze effect as a goofy moment in your stream for more laughs and engagement.
6. OWN3D Pro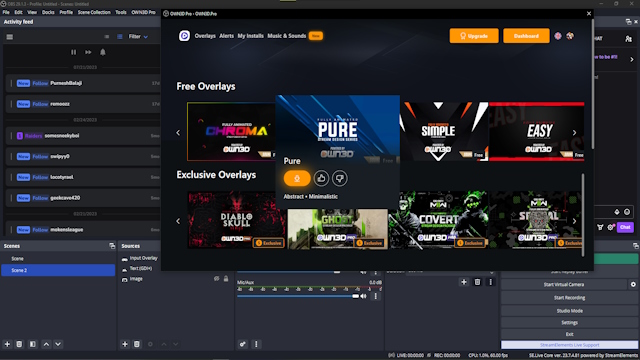 Own3d Pro is similar to Se.Live but with a number of extra overlays to choose from. After installing the plugin in OBS, it grants you direct access to your latest Twitch followers, subscribers, donations, and chat box directly in your stream. This makes Own3d a handy plugin for OBS users. Along with these features, Own3d also offers additional premium-quality music, overlays, and Twitch alert boxes.
Best Audio Plugins for OBS
1. ReaPlugs VST FX Suite
Sounding better is important when it comes to streaming or creating content. ReaPlugs VST plugins are useful to make your microphone audio sound better when streaming via OBS. It comes with gain, pitch, and multiple different audio modulation options. The plugins are completely free and can be used in OBS anytime. The audio settings this plugin provides can solve tons of your mic issues.
2. Tuna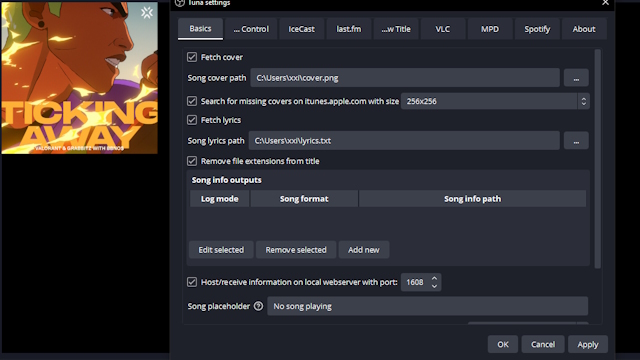 Have you ever wanted ways to showcase your song likings on your Twitch or YouTube stream? Has anyone ever asked, "What is that song?" in your stream. Well, if that's the case, then you can stop searching. Tuna is the easiest way to integrate your now-playing music into your stream using OBS. It is accurate, and most importantly, it is automatic. So get Tuna now and make your stream more interesting. It also comes with a music progress bar, which is simply amazing.
3. MCompressor Plugin
The final audio plugin on our best OBS plugins list comes from Melda Productions. This compressor plugin is good for vocal streamers like ASMR or music streamers. It lets you control the high ends and low ends of audio, thus, helping you cut off excessive noise or unnecessary sounds. Using a good audio compressor plugin can always amp up your streaming quality.
Best Webcam Plugins for OBS
1. Face Tracker
The face track feature that comes with RTX graphics cards always makes other card users feel bad. However, the Face Tracker plugin can change that feeling to happiness in no time. Just install this plugin, and you will see your camera focus following where you want it to be. This feature can be really fun while live streaming, and you can add elements that move with your face.
2. Background Removal (Virtual Green Screen)
Although not as accurate as an actual green screen, this Background removal plugin can save you a few bucks. This plugin removes your background to a threshold you want. So, if you have a messy background or if your siblings like to interrupt your streams, just use this plugin. This tool can also enhance the quality of your webcam feed in low-light situations.
3. DroidCam (Use Phone as Camera in OBS)
There are a few ways to use your Android phone or iPhone as a webcam in OBS. However, nothing makes it as easy as the DroidCam plugin and the companion mobile app. Once you use the Droidcam app with the OBS plugin, you can easily use your phone as your new webcam in OBS and save some bucks in the process.
Additional Plugins for OBS
1. OBS Websocket Plugin (Stream Deck Alternative)
If you are a streamer who needs control over their stream through different buttons and you cannot afford a Stream deck, then this plugin is for you. The Websocket plugin helps you control things to show on your stream by triggers without manually doing it. Websocket helps you connect your OBS to different devices and use them as a remote. This plugin is useful for advanced users who change between scenes or sources without any hassle.
2. Closed Caption Plugin
The closed caption feature already existed in Twitch as an extension but is either inaccurate or doesn't work on mobile devices. This Google speech-enabled closed captioning plugin in OBS works perfectly and does a great job at engaging with viewers in a better way. It also helps the viewers who like to watch the stream on mute or cannot listen.
3. OBS NDI Plugin
Are you in need of a capture card but are out of budget right now? You should consider this plugin before you spend some bucks on a new capture card. The NDI plugin helps you connect your mobile device to OBS on a PC using the local network. The only issue is the delay in feed or lag if the network is bad.
4. Input Overlay
If you're camera-shy or just wanna show how fast your fingers work while you play FPS games like Valorant or Apex Legends, then this OBS plugin is perfect for you. Input overlay works as a visual indicator on the buttons you press on your keyboard. It shows on your OBS/ Twitch/ YouTube screen while you use it.
Frequently Asked Questions
Does OBS have plugins?
OBS supports multiple plugins, add-ons, and scripts. You can install or remove them whenever you want. Just make sure you follow this guide and update OBS.
Are OBS plugins free?
Most of the plugins in our list are free. We have also mentioned the paid plugins.