For all the gaming aficionados who had been craving for a more compact and cheaper console, Nintendo Switch Lite ($199.99) seems to be right on the money. Designed specifically for handheld play, the gaming console is aimed at younger gamers and the ones who love to get into fun-filled gaming on the go. If you have put your hands on the video game console and are looking for a variety of accessories to not only give it the much-needed protection but also get the most out of the device, you have landed on the right spot. Let's dive straight into the most comprehensive roundup of the best Nintendo Switch Lite accessories so that your console has got everything to deliver the most for you!
Best Nintendo Switch Lite Accessories
Just in case you are rocking the bigger and more powerful sibling "Nintendo Switch" but haven't yet found the top-notch accessories that can go nicely with your console, head over to this separate lineup.
To offer you a little sneak peek about what this long roster has in store for you, it includes everything – from a stylish carrying case to a massive power bank to an excellent gaming headset to a superior audio transmitter adapter – that can get the most out of your gaming device.
As for what could be an ideal Nintendo Switch Lite accessories for you, it all boils down to your needs and more importantly; what dominates your priority list. Now that the introductory talk is over; let's start exploring the top accessories for Nintendo Switch Lite, shall we?
Best Nintendo Switch Lite Cases and Screen Protectors
1. Nintendo Switch Lite Carry Case + Screen Protector
To kickstart this extensive lineup of the best Nintendo Switch Lite accessories, I would like to put the official carry case and the screen protector right at the top. The carry case sports a simple and neat design.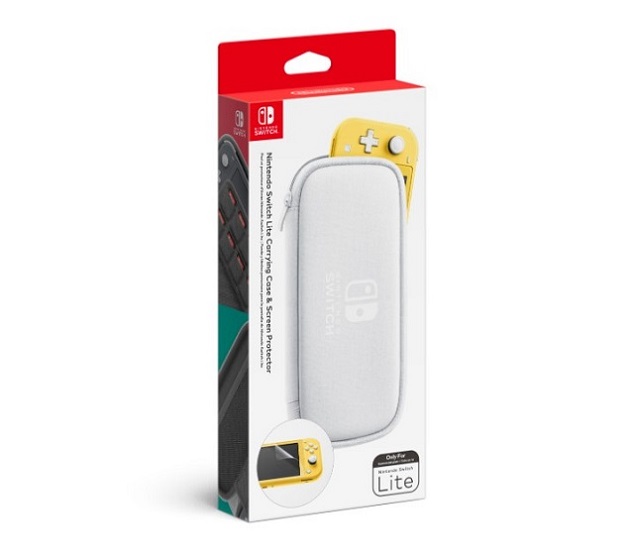 With durable material, it's strong enough to provide the much-needed protection to your ultra-portable gaming console from bumps and scratches. As for the screen protector, it's crystal clear and fully capable to safeguard the screen against scratches.
Buy from Nintendo: $19.99
2. Heatfun Protective Case
Should you want to offer an uncompromised safeguard to your Nintendo Switch Lite against accidental falls and scratches, the "Heatfun" protective case would be the right option. Made of hard plastic and soft TPU material, the cover excels in absorbing shock.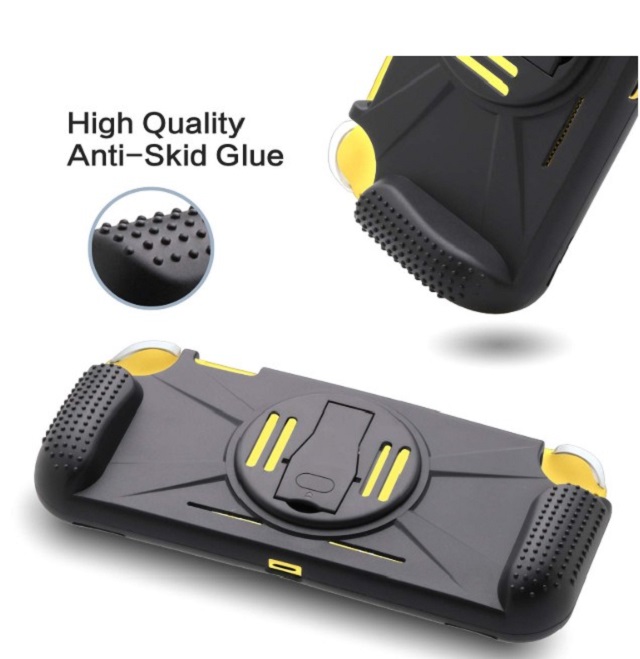 With the ergonomic design, it provides a much-improved grip so that you feel comfortable holding the gaming console in your hand. What's more, it also comes with a built-in kickstand to enhance your gaming.
Buy from Amazon: $12.99
3. iVoler Screen Protector
Just in case you wish to offer maximum defense to the Nintendo Switch Lite's display, iVoler Screen Protector should be a great pick. Made of tempered glass, the screen defender has 9H hardness and also comes with oleophobic coating to keep fingerprints at bay.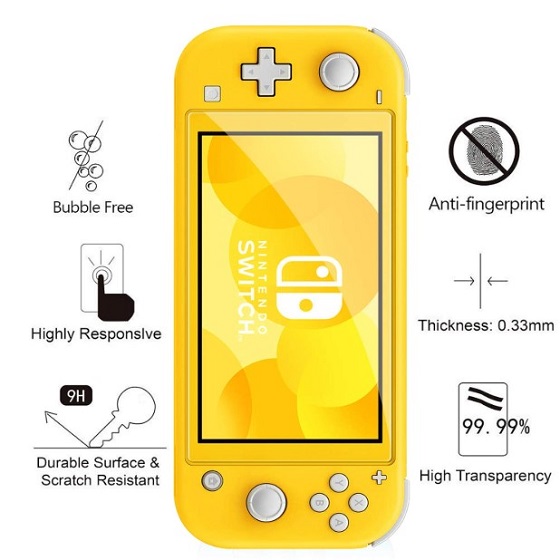 The ultra-clear high-definition transparency makes sure you have an enhanced viewing experience. Furthermore, this screen guard is bubble-free to ensure installation remains a smooth-sailing experience.
If you want to check out more options, you can read our best Nintendo Switch Lite screen protectors article to find the best options on the market.
Buy from Amazon: $5.95 (pack of 3)
4. FYOUNG
What about giving some freedom to your Nintendo handheld to flaunt its design without putting protection factor on the backburner? FYOUNG has introduced a pretty slim yet protective clear case that ensures your portable gaming console gets the best of both worlds: style and protection.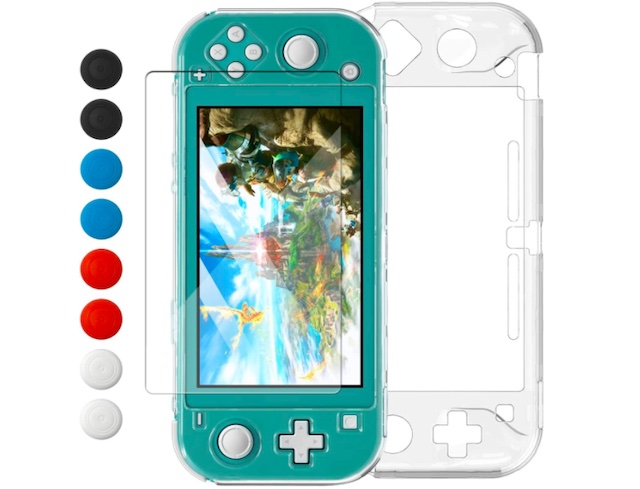 Made of hard PC, the cover can absorb shock and also resist scratches. Moreover, it also offers the needed gripping so that the Switch Lite fits comfortably in the hands. As for the cutouts, you can count on FYOUNG crystal clear case to offer painless access to all the ports and buttons of your device.
Buy from Amazon: $12.99 
5. PowerA Protection Case Kit
Wouldn't it be better if you had a compact case kit to not only carry your gaming console comfortably but also keep some of the important accessories securely? Yeah, it would indeed be better. That's the reason why I have picked out "PowerA Protection Case Kit" in this extensive roster of the best Nintendo Switch Lite accessories.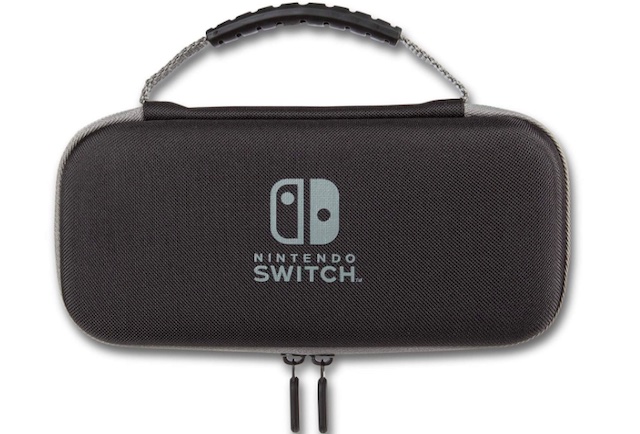 Apart from a secure place for Switch Lite, it has storage for six-game cards and two MicroSD cards. With the felt lining and built-in padded screen protector, it offers reliable protection to both your console and accessories. You can also check out our full list of the best Nintendo Switch Lite cases and covers by clicking on the link.
Buy from Amazon: $11.39 
Best Nintendo Switch Lite Controller and Joy-Con
1. Nintendo Pro Controller
Though Switch Lite is primed for a more comfortable handheld mode, you can still use a super handy controller to get the most out of power-packed games. And when you talk about the best controllers for Nintendo Switch Lite, the one name that comes to the mind instantly is the Pro Controller.
I like its compact design and pretty responsive buttons. With motion controls, built-in amiibo functionality, and HD rumble, it allows you to take control of games with the desired flexibility. Taking everything into account, it's easily one of the best Nintendo Switch Lite controllers in the market right now.
Buy from Amazon: $69.99 
2. BEBONCOOL Controller
Looking for a bit more affordable controller for your "Nintendo Switch Lite"? If yes, I would recommend you to give serious consideration to this offering from BEBONCOOL. Design-wise, it looks a bit sturdy and comes with three adjustable turbo speeds.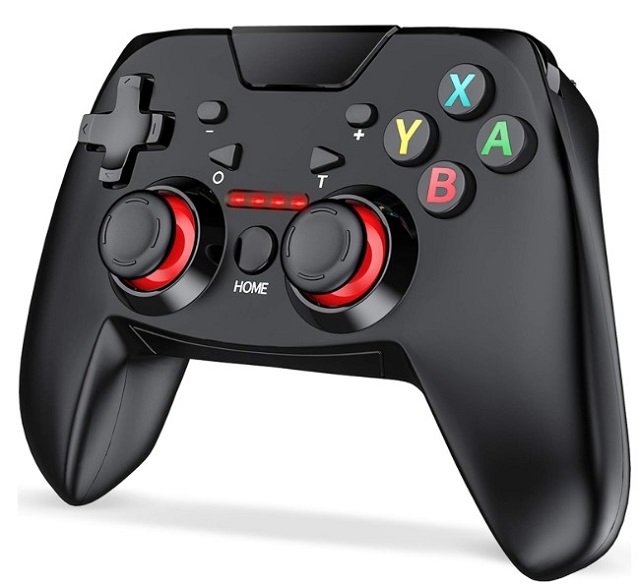 Using the motion functionality, you can make the most of motion-sensing games such as Mario Kart 8 Deluxe. Besides, it features three turbo speeds such as 5 shoots, 12 shoots, and 20 shoots. Thanks to the robust 400 mAh battery, this wireless controller ensures you enjoy gaming for hours.
Buy from Amazon: $27.55
3. Nintendo Joy-Con
Unlike the original Switch, the Switch Lite doesn't feature detachable controllers. Therefore, if you want to enjoy local multiplayer sessions to the fullest, you will need to have extra joy-cons at your disposal.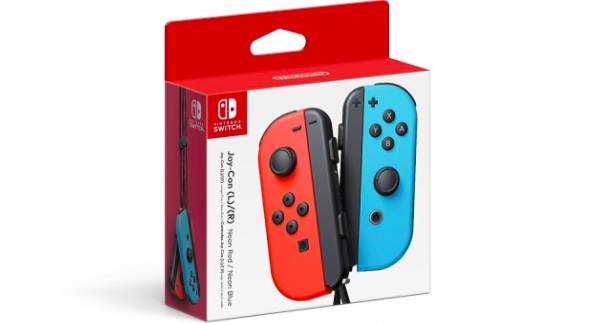 Nintendo offers top-grade joy-con designed to liven up multiplayer gaming. Sporting a compact look and highly responsive buttons, it's also pretty easy to handle. Lastly, it comes in multiple color variants and is priced at $80 which is reasonable, considering the notable specs.
Buy from Amazon: $79.99
Best Nintendo Switch Lite Charging Stand, Car Charger, and Portable Charger
1. Official Adjustable Charging Stand
While Nintendo Switch Lite doesn't technically support tabletop mode, you can still pro up your gaming console in tabletop mode using a handy stand and play games more comfortably. To power up your Switch Lite securely and play games at once, I think the fully adjustable charging stand from Nintendo is an ideal option.
Furthermore, it sports a pretty lightweight design and offers multiple viewing angles. So, it's a worthy investment for your console – whichever way you look at the deal!
Buy from Amazon: $19.99
2. HORI Compact Playstand
If the official charging stand seems to be a bit extensive to you, Hori's compact stand would be a smart choice. It's well-built and offers multiple viewing angles. Thus, you can charge your handheld and play favorite games simultaneously.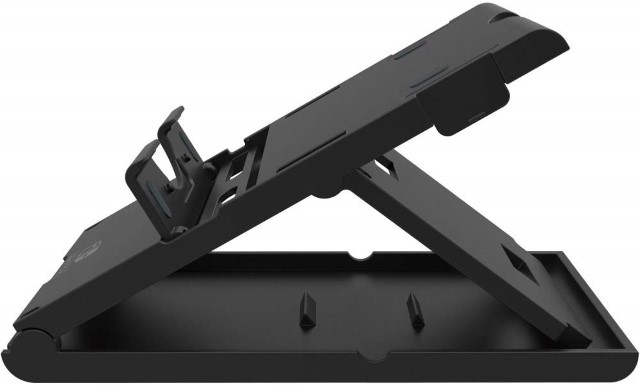 Besides, the stand also features rubberized grips for improved stability. I love the adjustable angles on this stand as this is not a feature that you can find on many Nintendo Switch Lite stands.
Buy from Amazon: $12.99
3. AmazonBasics USB-C Car Charger
Never want your gaming to come to a halt even when you are on the drive? Choose a fast and secure car charger to keep your console powered up so that your fun-filled gaming continues to be on the fast track without any interruption.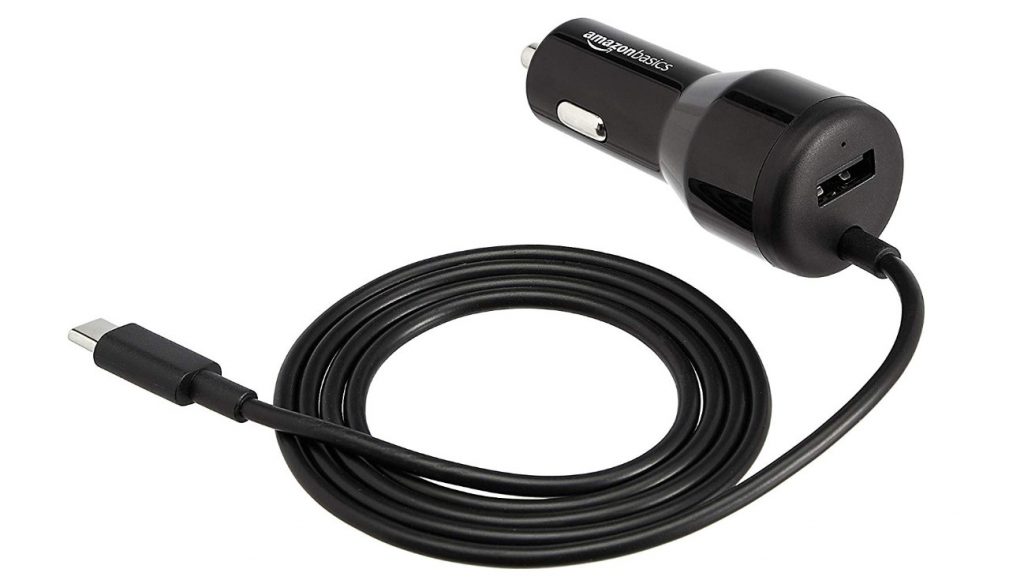 And for this purpose, the "AmazonBasics" car charger seems to be spot-on. It comes with a long cable so that your gaming on the go remains a comfortable experience. However, if you already own a charging cable for your Nintendo Switch Lite, you can save a couple of bucks by buying only the charger instead.
Buy from Amazon: $17.51
4. Nintendo Joy-Con Charging Grip
This one is specifically for the folks who have bought joy-cons for their Switch Lite! Nintendo's Joy-Con charging not only lets you perfectly juice up your joy-cons but also transforms them into a super handy controller.
So, the next time your gaming console runs out of gas, take advantage of this highly efficient charging grip to power up your joy-con while still playing games. 
Buy from Amazon: $29.99
5. YCCSKY Charging Station for Joy-Cons
Should you wish to get an affordable alternative to the Joy-Con charging grip, YCCSKY Charging Station would be worth giving a close look. You can use this charging stand to charge four joy-cons at one go.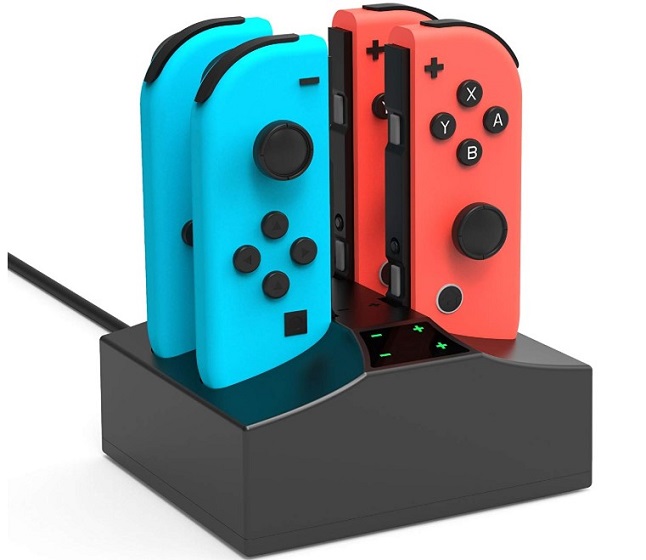 The slide-in design makes it much easier to mount. As it's also pretty lightweight, you can comfortably carry it even in a small pocket. Furthermore, YCCSKY charging stand also provides protection from over-voltage and over-charging so that your device charges securely.
Buy from Amazon: $14.99
6. Anker PowerCore
Even though Switch Lite has got more battery life ( 3-7 hours between charges) than the original Switch, it may still be not enough for those who want to enjoy power-packed gaming for hours. So, if you never want your action-packed last-man-standing gaming or high-octane racing to get halted due to low battery, go for Anker PowerCore.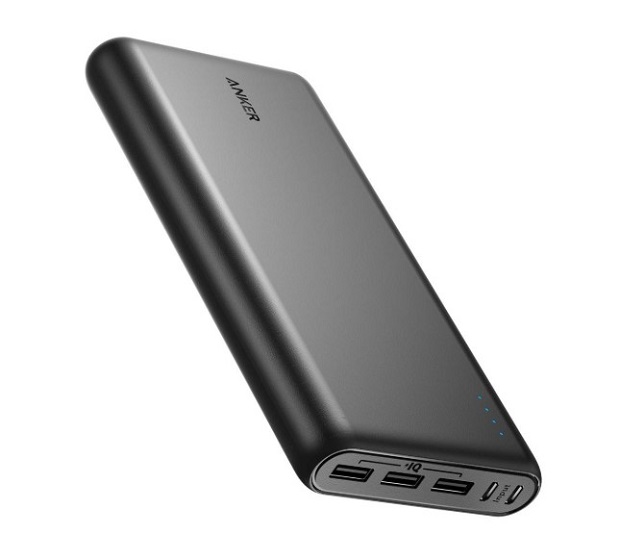 Boasting a massive 26800 mAh battery, this power bank can charge your Switch Lite multiple times. With PowerIQ and VoltageBoost technologies, it's highly efficient and also offers the required safeguard to your device against common threats like overcharging and short-circuit.
Buy From Amazon: $59.99
Other Nintendo Switch Lite Accessories
1. SanDisk 128GB Extreme microSDXC
Switch Lite has 32GB of internal storage and about 6GB is reserved for use by the system – out of the box. For normal gamers, around 26GB of on-board storage may be fine but for those who are smitten by high-octane games, it would prove to be too little.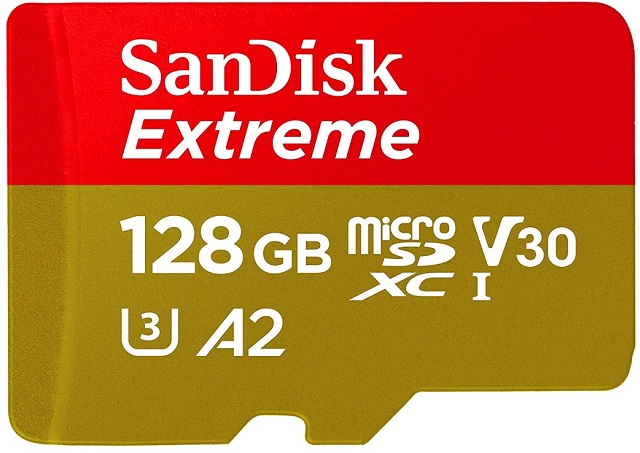 Fortunately, the console has the support for both MicroSDHC and MicroSDXC cards to let users expand the storage space. And if you want to buy a top-notch MicroSD card for your handheld, look no further than SanDisk Extreme. It's exceptionally efficient and rated very highly for faster loading.
It's the perfect choice for anyone looking to expand their Nintendo Switch lite's storage. It is one of the best Nintendo Switch Lite accessories that you can invest in.
Buy From Amazon: $24.99
2. SteelSeries Arctis 1
Simply put, SteelSeries Arctis 1 is a great wireless gaming headset. So, it truly deserves to find a safe spot in this lineup of the best accessories for Nintendo Switch Lite. With lossless audio and low latency (2. 4GHz wireless for ultra-low latency), it delivers crisp sound. Thanks to the powerful speaker drivers, the headphone produces ultra low distortion audio so you can hear every detail.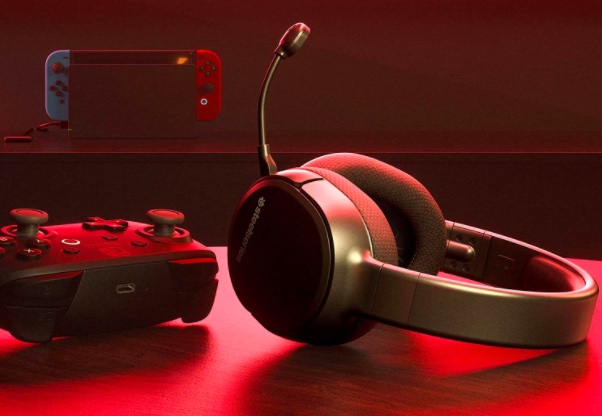 It also has a top-quality mic, it's able to provide studio-quality voice clarity and background noise isolation. The steel-reinforced headband not only enhances convenience but also improves durability. Overall, SteelSeries Arctis 1 is a highly-rated accessory for your Nintendo Switch Lite.
Buy From Amazon: $99.99
3. HomeSpot Bluetooth Audio Transmitter Adapter
"HomeSpot" could be a wise investment for the folks who have multiple Bluetooth earphones or headphones and want to seamlessly connect them with Switch Lite. To me, the best part about this audio transmitter adapter is the dual headphones connection setup.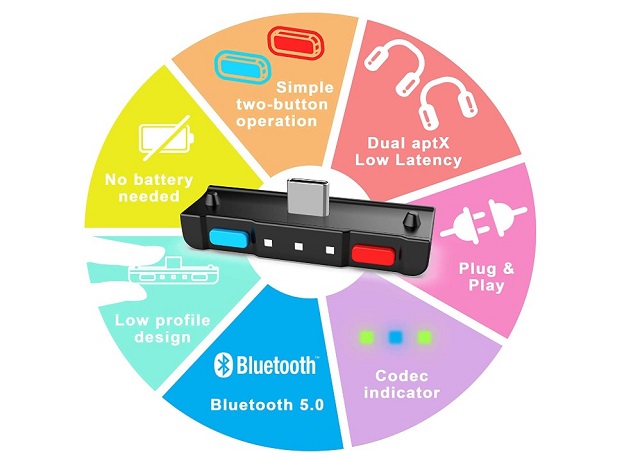 Packed with Qualcomm chipset, it delivers extremely low latency transmission. Not to mention, you can use the dual streaming functionality to stream two headphones simultaneously.
Buy From Amazon: $34.99
Frequently Asked Questions
What accessories are needed for Nintendo Switch Lite?
Well, it all comes down to what your need warrants. While a case and a screen guard are considered a must from a protection perspective, other accessories like gaming headphones and MicroSD Card come into reckoning based on your requirements.
Can you connect Switch Lite to TV?
No. Nintendo Switch Lite is designed to be a handheld device with a sole focus on portability. So, there is no option to connect Switch Lite to TV.
Does Switch Lite need a case?
If you want to safeguard your Switch Lite against bumps and scratches, a case is a must. Aside from offering the needed protection to the video game console, a case also offers a better grip so that you can hold the console comfortably.
Does Switch Lite have Bluetooth?
Just like the original Nintendo Switch, the new Nintendo Switch Lite lacks Bluetooth support for wireless headphones. But bother not, you can take advantage of a Bluetooth transmitter to convert any device with an audio jack into a Bluetooth-friendly system using a dongle.
Pick Out the Best Nintendo Switch Lite Accessories
With the top accessories designed for Nintendo Switch Lite at the disposal, choose the ones that are in line with your needs. To provide an uncompromised shied to the console, make sure to pick out a protective case and a scratch-resistant screen guard.
Also, do not forget to select a robust external charger, if you are getting ready to throw action-packed games at the device for hours. For everything else, weigh your usability and whether or not it suits your demand.
By the way, share your valuable thoughts about this roundup and the accessories you have chosen for your Switch Lite. I would also appreciate it if you could mention the ones that are missing in the collection.
---
Load More