Announced at this year's Mobile World Congress in Barcelona, Spain, the LG G5 is one of the most innovative Android phones to have ever come out. True, it has all the "killer" specs that you'd expect from a flagship Android smartphone, but its standout feature is its "modular" design approach. Thanks to numerous official accessories (called "Friends") available for the G5, you can add everything from an extra battery to a camera grip. And if this thing has you excited, and you've decided to get a G5 for yourself, you should seriously consider buying a case to protect your investment.
It's for this reason that we've compiled this listing of the best LG G5 cases and covers available out there. So what's the hold up folks? Read on!
1. LG G5 Quick Cover Case (Officially from LG)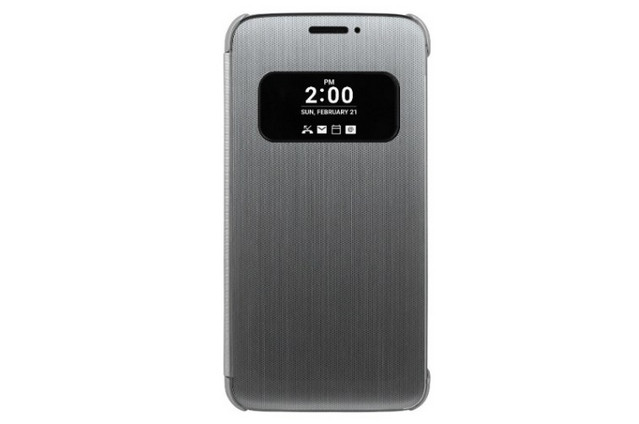 If we're going to talk about the best cases & covers, what better way to start off, than with an official one. The LG Quick Cover case (announced even before the G5) has a semi-transparent mesh like design on the front folio. This makes it possible to use certain functions of the LG G5 (taking calls, controlling alarm settings etc.) without opening the cover. Not only that, it also has a window that lets you check time & notifications, using the phone's "Always On" display. How cool is that?
Note: The pricing and availability of the LG Quick Cover case isn't available as of yet. We'll update the article when it becomes available.
2. Spigen Rugged Armor Case for LG G5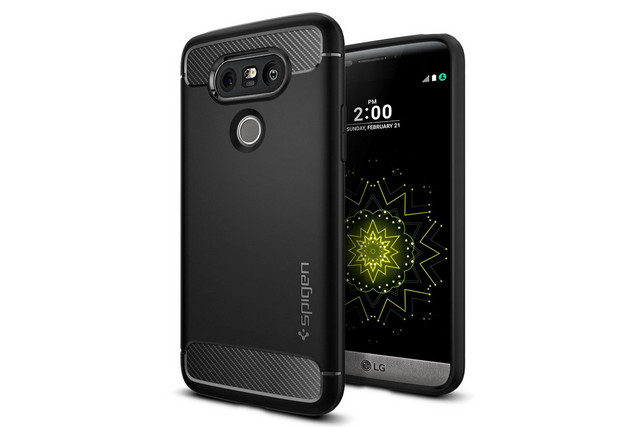 Coming from a renowned name in smartphone covers, the Spigen Rugged Armor case is built to afford tough protection to the LG G5, without adding too much extra bulk to the device. The case is made from a flexible Thermoplastic Polyurethane (TPU) material, and has Air Cushion technology for better shock absorption. Other than that, the carbon fiber texture and glossy accents impart it a premium look.
Price: $13.99
Where to buy: Amazon.com
3. Obliq Skyline Advance Case for LG G5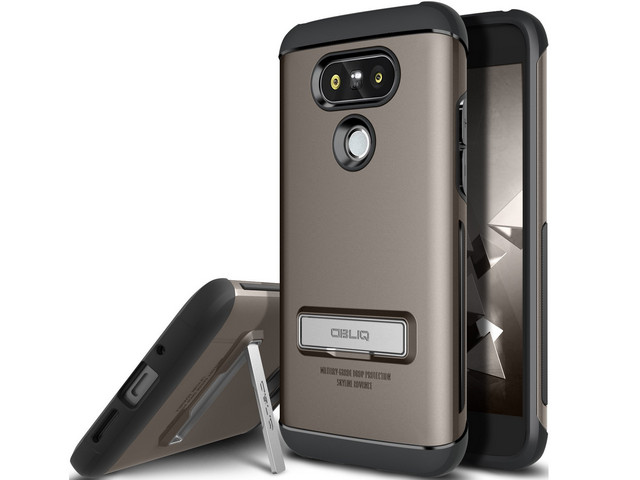 The Obliq Skyline Advance case offers a great way of shielding the LG G5 against all kinds of damage, and looks impressively good too. The inner layer (made from soft TPU) helps in impact absorption, while the outer Poly Carbonate construction provides protection during routine usage. The case has a built-in metal kickstand that makes for a great media consumption experience, and textured indentations on the sides provide anti-slip grip. There are also a couple of colors that you can choose from.
Price: $14.99 (Gun Metal); $15.99 (Mint, Rose Gold, and Satin Silver)
Where to buy: Amazon.com 
4. LifeProof Fre Case for LG G5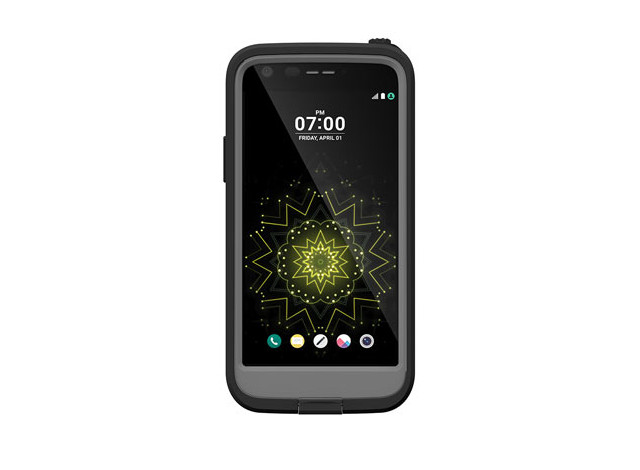 Want to take the LG G5 with you just about everywhere without worrying about it getting damaged? The LifeProof Fre Case is a must have. The ultra-rugged case secures the phone against water, dirt, snow, and of course, drops. It adheres to the U.S Military drop and shock standards, and even has a built-in screen cover. What's more, you also get a one year warranty, as well as a headphone adapter with this thing. The pricing is a bit on the higher side, but the LifeProof Fre case is every bit worth it.
Price: $79.99
Where to buy: LifeProof.com
5. Speck CandyShell Clear Case for LG G5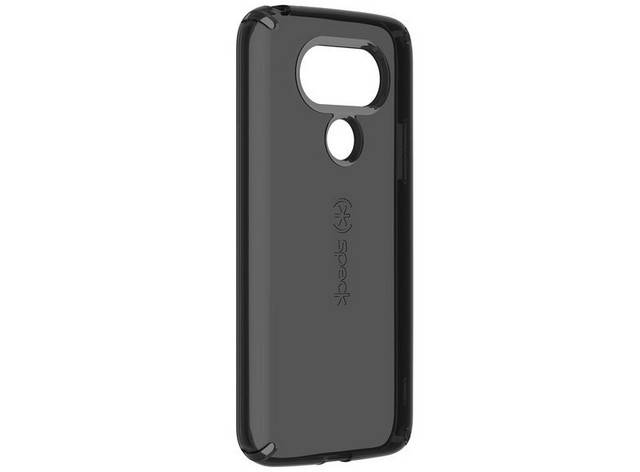 It might seem lightweight, but don't let the minimal looks beguile you. The Speck CandyShell Clear case packs in some serious protection features for the LG G5. It has a patented multi-layered design, with one layer made from custom engineered soft Acrylic (for shock absorption), and the other made of Poly Carbonate (for impact dispersion). Not only that, the case has military grade drop protection, and a few other features. Oh, and did we mention the one year warranty, and 30-days unconditional guarantee?
Price: $39.95
Where to buy: SpeckProducts
6. Trident Aegis Pro Case for LG G5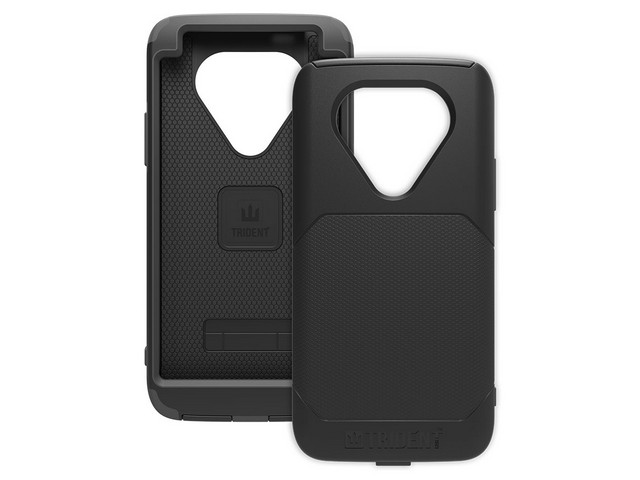 Despite being slim and light, the Trident Aegis Pro case shields the LG G5 against any and all damage, providing 360 degrees shock absorption. It has a two layered fabrication, and confirms to the military standards for drops and vibrations. A unique feature of this case is the patent pending audio technology, that redirects sound to the front of the device, for an enhanced audio experience. There's even a lanyard loop, and TPE plugs for covering the device's ports and jacks.
Price: $29.99
Where to buy: TridentCase.com
7. Urban Armor Gear Case for LG G5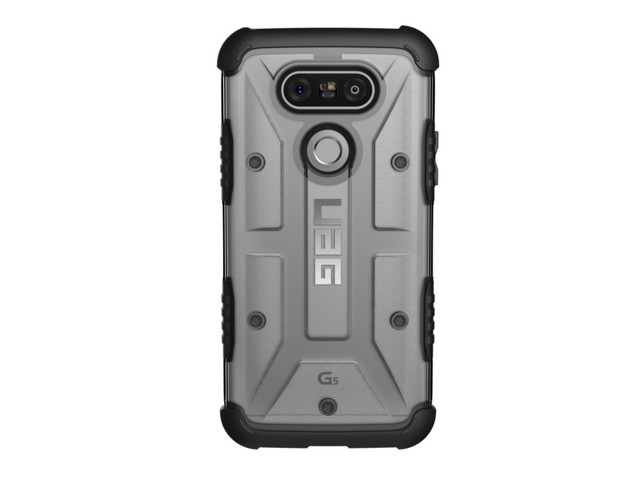 It's hard to discuss rugged cases without mentioning UAG, and the Urban Armor Gear case is perfect for imparting rock solid protection to the LG G5. Toting an uber-cool design, the case has a hardened armor shell with impact resistant soft core. Furthermore, the over sized tactile buttons and a non-slip grip make it even better. The Urban Armor Gear case fully adheres to the military drop test standards, and is available many colors.
Price: $34.95
Where to buy: UrbanArmorGear.com
8. Otterbox Defender Series Case for LG G5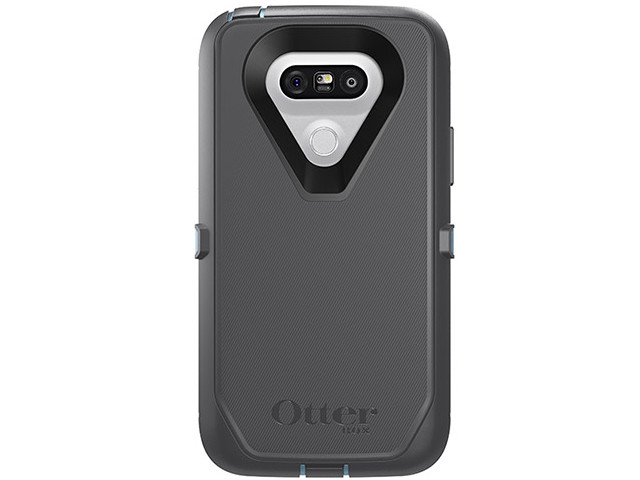 When it comes to providing tough protection to smartphones, Otterbox needs no introduction. And the Otterbox Defender Series case ensures that the LG G5 stays guarded from even the heaviest of damages. The triple layer case is made up of a Poly Carbonate shell and an outer Synthetic Rubber slip cover, and comes with a screen protector too. In addition, the case has individual port covers that prevent dirt and lint from getting into the device.
Want the same Otterbox goodness for the LG G5, but in a sleeker profile? Take a look at the Otterbox Commuter Series case.
Price: $49.95
Where to buy: Otterbox.com
9. Spigen Premium Wallet Case for LG G5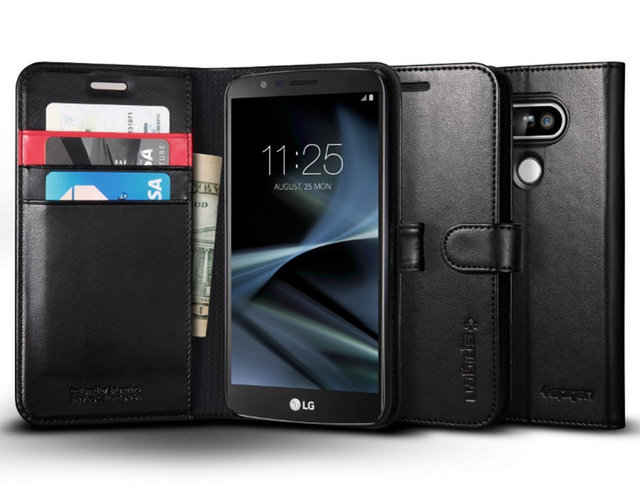 If you don't really like cases that leave the screen exposed, and would rather prefer something that offers better all-around protection, the Spigen Premium Wallet case is just the thing for you. Crafted from premium Synthetic Leather and Poly Carbonate, it certainly is a looker. The built-in card slots let you carry up to three IDs, credit/debit cards, and even money. Oh, and you can use the case as a kickstand to prop up the LG G5, for better media consumption.
Price: $17.99
Where to buy: Amazon.com
Tough protection for the LG G5
Fully loaded with the latest and greatest in mobile hardware, the LG G5 is a true Android flagship, with the modular design being its highlight feature. Naturally, a device as well built as itself deserves the best protection against bumps, falls and damage. And the cases and covers discussed above are perfect for that. So which of the above would you be getting for your brand new LG G5? Sound off in the comments below.