Minecraft is known for its innovative builds, farm, and mods among the gaming community. It hosts some of the most exciting multiplayer servers, immersive creative freedom, and a welcoming group of players. But compared to other games, Minecraft truly lags behind in terms of weapon choices. Luckily, the community is here to take up the mantle with the best Minecraft weapons and gun mods. All of these mods are free, and you just need to install Forge in Minecraft to run them and add new weapons to your world. With that out of the gate, it's time to find the best Minecraft weapon mod for you!
Best Minecraft Weapons and Gun Mods (2022)
For your ease, we have tested all the mods listed below on Minecraft 1.19.2 update and added incompatibility details, if any, in each mod's description. Moreover, the list isn't ranked, so use the table below to explore all the mods and install the ones you like.
1. Inventory Pets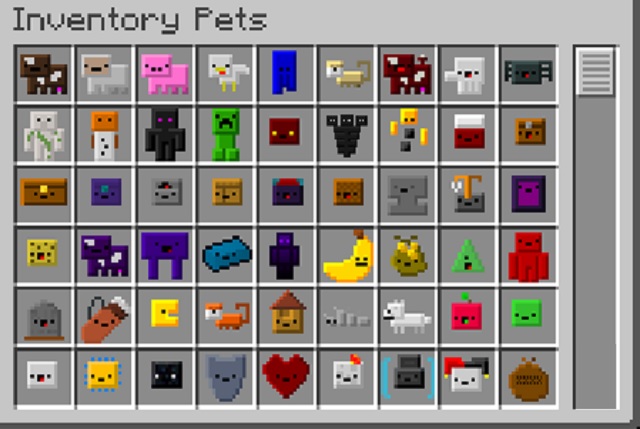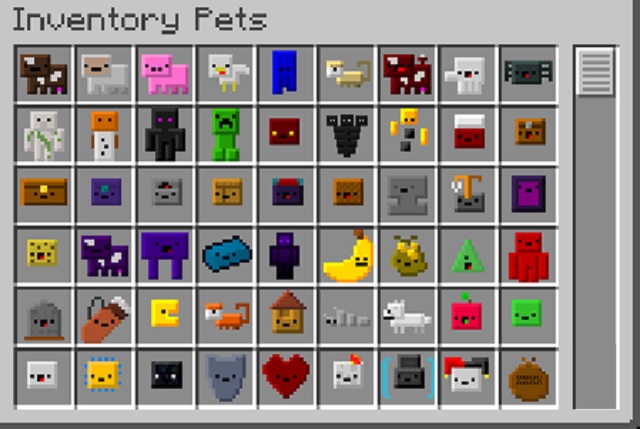 As you might know, the mobs in Minecraft Legends include creatures that act like controllable fighters. Well, this mod takes that concept to greater heights by creating pets out of almost all of the existing Minecraft mobs. Some have unique drops, while others act as great defenses and weapons. It's not just the perfect way to upgrade your inventory, but in most cases, the pets will do the fighting for you.
Download Inventory Pets Mod
2. MrCrayfish's Gun Mod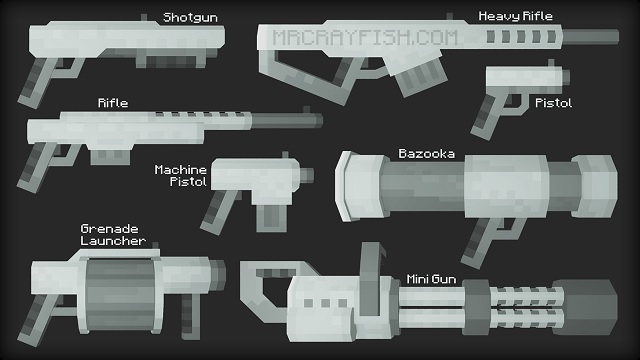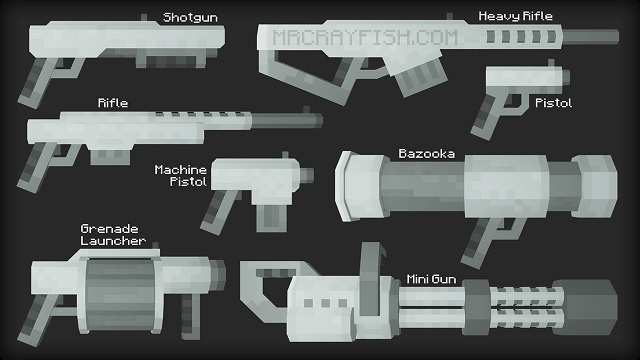 The MrCrayfish's Gun is one of the most popular Minecraft weapons and guns mods of all time. It adds nine weapons to the game ranging from pistols to a bazooka. After collecting the guns, you can upgrade them by adding attachments like grips, silencers, etc. Then, as if it wasn't enough, you also get the ability to enchant these custom weapons to make them even more powerful.
Download MrCrayfish's Gun Mod
3. Minecraft Dungeons Weapons Mod
Developed by Mojang, Minecraft Dungeons is a sister game under the same umbrella as Minecraft. Both of them feature similar aesthetics but contrastingly unique gameplay. One thing that is truly remarkable in the MC Dungeons is its collection of powerful weapons. Vanilla Minecraft has nothing to compete with.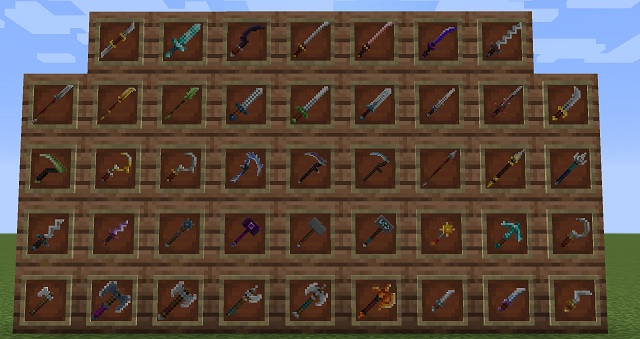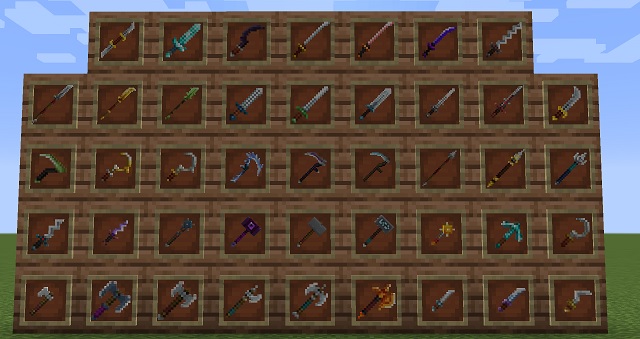 That's where this mod steps into the picture. The MC Dungeons Weapons mod ports most of Minecraft Dunegons' weapons to the main Minecraft game. The weapons have the same functionality and style as its counterpart. Moreover, since both games have the same base worlds, these weapons fit perfectly with the vanilla world.
Download MC Dungeons Weapons
4. Modular Powersuits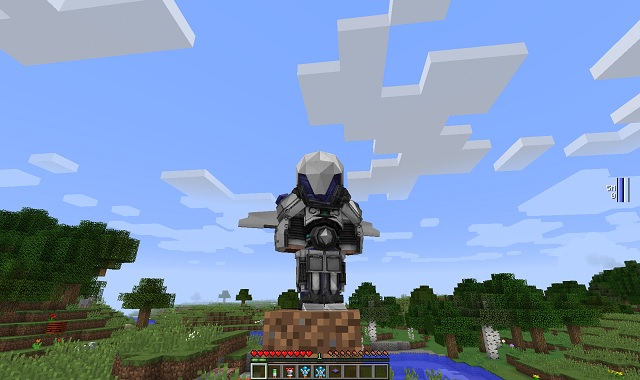 Getting new weapons in Minecraft definitely sounds fun and exciting. But what's even more remarkable is the ability to become a weapon. That's what this Minecraft weapons and guns mod does. It brings you an Iron-Man-like suit that has a variety of high-powered abilities. You can then fly, shoot power bullets, and easily tackle all the retro Minecraft hostile mobs.
Download Modular Powersuits
5. Weapon Throw
Leaving the bows aside, most weapons in Minecraft rely on direct combat. You need to be next to mobs to make the most out of the existing weapons in the game. Fortunately, this Minecraft gun mod eliminates that basic requirement by allowing you to throw swords and axes.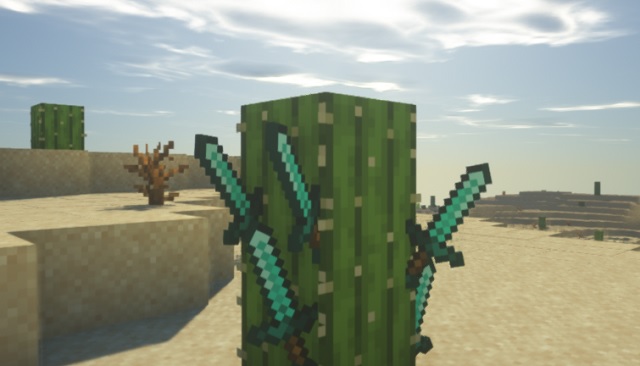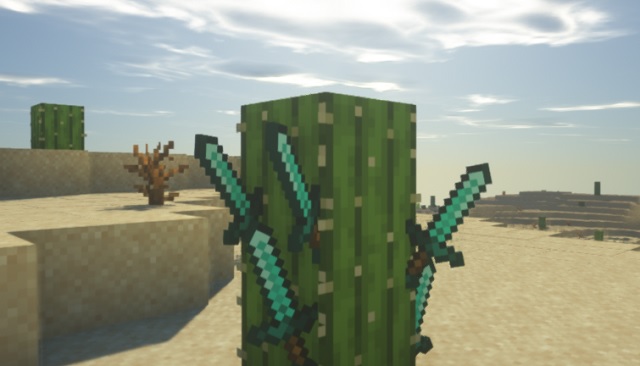 You can even add special enchantments to the throwables to give them special abilities and deal higher damage to the enemies. Meanwhile, if you miss the target and hit a block, your weapon will get stuck. Though, you don't have to worry, as there is also an enchantment to recall the thrown weapon back to you in this mod. It is similar to the existing loyalty enchantment for tridents in Minecraft.
Download Weapon Throw
6. Portal Gun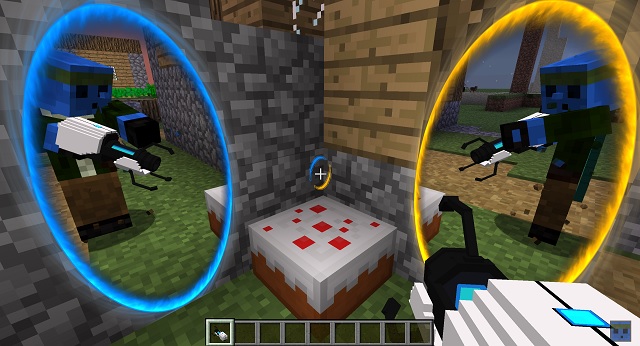 2007's Portal video game is one of the most iconic titles in the gaming industry, and that's mostly due to its iconic portal gun. It allows you to create two portals that wirelessly connect, which you can then use to travel through. Thanks to this weapon mod, that portal gun becomes available in Minecraft. You can now go on creating portals and taking teleportation in Minecraft to the next level.
Download Portal Gun
7. Guns Without Roses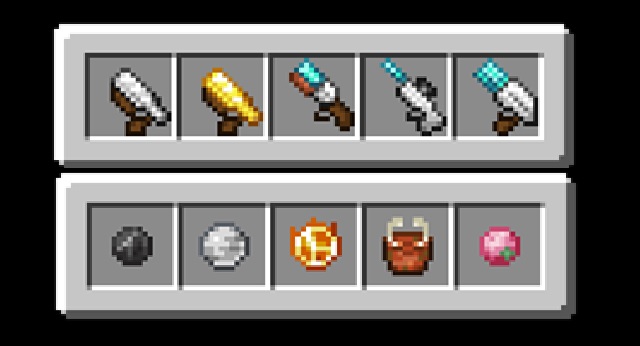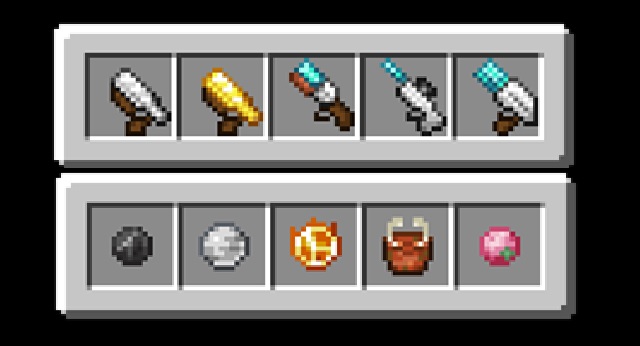 Terraria is one of the closest competitors to Minecraft, and it features a variety of environmental weapons. This mod brings some of those guns from Terraria to Minecraft. We get five types of guns, 4 types of bullets, and 4 new enchantments. Overall, the mod is quite simple and doesn't venture too far from the vanilla experience, making it fit well with most existing custom Minecraft maps.
Download Guns Without Roses
8. Gravity Gun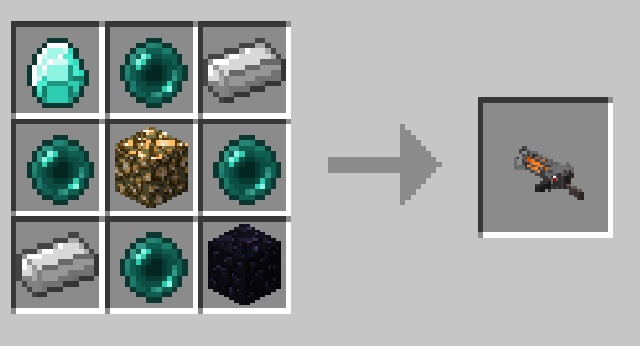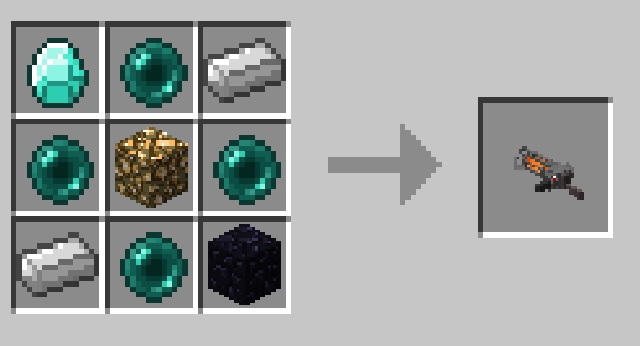 If you have played Half-Life 2, you must be familiar with the amazing gravity gun featured in the game. The gun manipulates its target's gravity and sends them flying in the air. Now, you can use this weapon in Minecraft with this gravity gun mod. Unfortunately, this mod is only compatible with Minecraft version 1.12.2, so you will need to downgrade your game to use it.
Download Gravity Gun
9. Guns, Rockets, and Atomic Explosions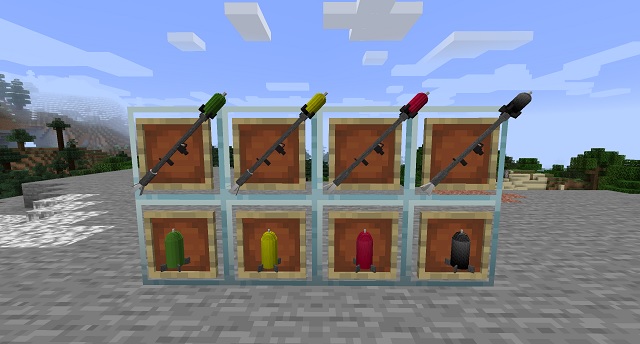 As the name reveals, this Minecraft gun mod is all about destruction. It gives you access to powerful guns, rocket launches, and a variety of explosions to destroy your Minecraft world. The range of weapons in this mod is truly impressive. Though, they might feel a little out of place in your world because of their detailed design and non-blocky style.
Download Guns, Rockets, and Atomic Explosions
10. Apex Guns Mod for Minecraft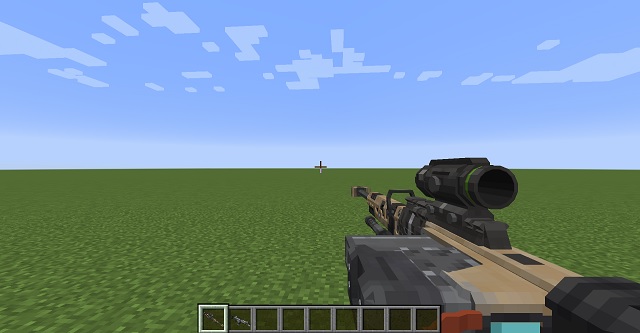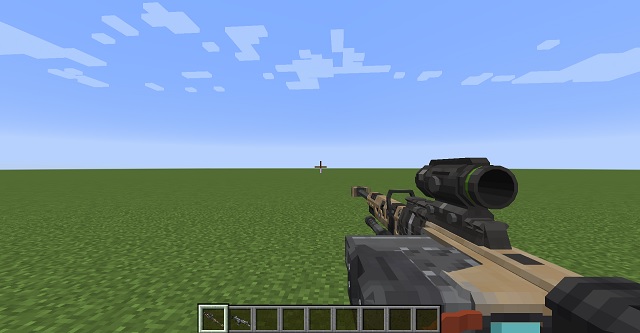 It's time for competitive players to rejoice because this mod brings the best guns from Apex Legends to the world of Minecraft. You get R-301 Carbine, 30-30 Repeater, M600 Spitfire, and even the Kraber. The textures of these guns have been modified to fit Minecraft's style, but their overall tone remains the same. Though, this mod only works if you already have the previously mentioned MrCrayfish's Gun mod installed.
Download Apex Guns
11. APM Gear from Attack on Titan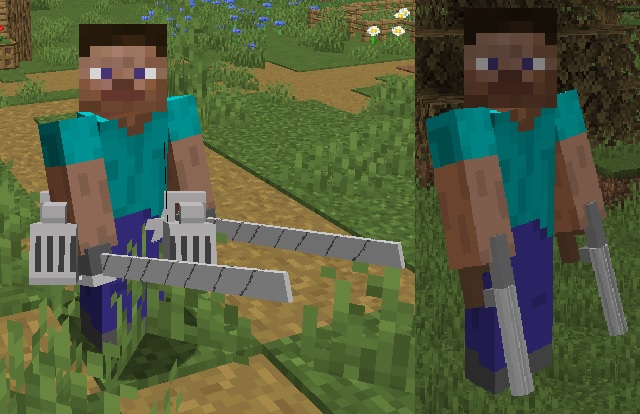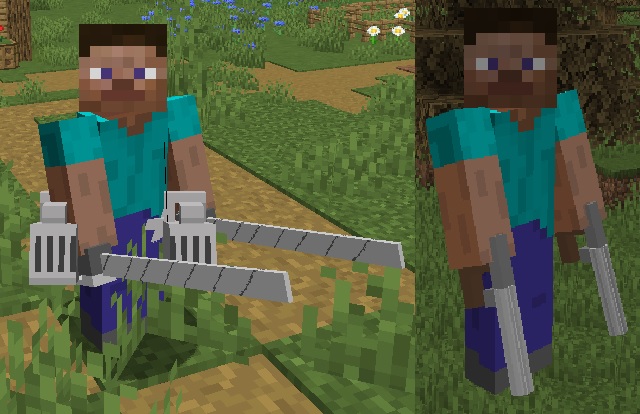 Attack on Titan is a name that every anime fan is aware of. This iconic series has countless unique elements to offer, and one of them is the anti-personnel maneuvering gear. The characters used this unique equipment to vertically climb structures, swing between them, and move at a very high speed to take down titans. And now, thanks to this weapon mod, it is possible to do all that in Minecraft. But if you are not a fan of the movement, this mod also features a ton of weapons from the anime as well.
Download APM Gear from Attack on Titan
12. YDM's Gunblades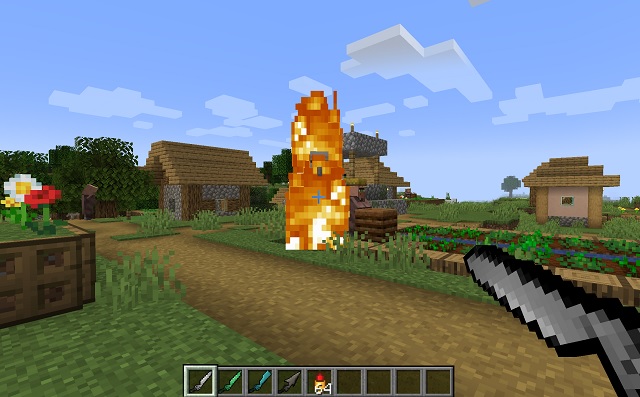 As per the modder, this mod gives you a personal "set of mass destruction", and from the looks of it, they are not wrong. You get four types of gun blades, each of which can be loaded with 6 unique types of ammo with powerful abilities. Once you craft all equipment in this mod, none of the hostile mobs will be safe around you.
Download YDM's Gunblades
13. Fusion Warfare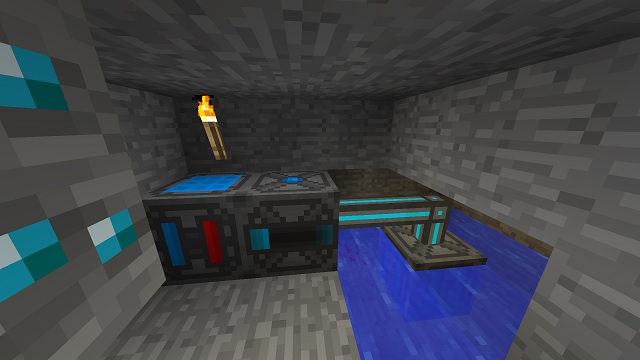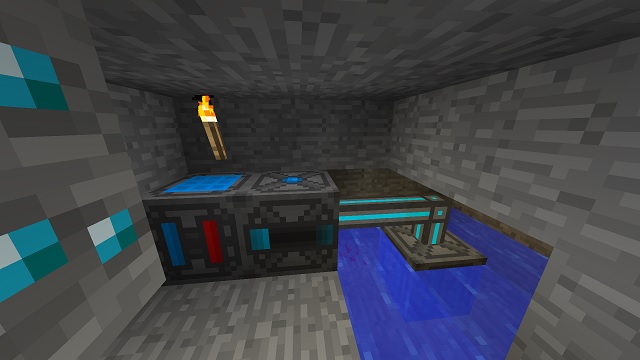 Most weapon and gun mods in Minecraft feature deadly but somewhat limited weapons. They are enough to kill a couple of mobs but can be overpowered by large swarms of creepers or zombies. If you want true ultimate power, this Minecraft weapons and guns mod has been made for you.
This Minecraft mod adds missiles, guns, and several other deadly fusion-powered tools to the game. Along with its destructive side, Fusion Warfare also brings a variety of new power sources, including solar panels, fusion reactors, and more in tow.
Download Fusion Warfare
14. Soggy's Guns Mod for Minecraft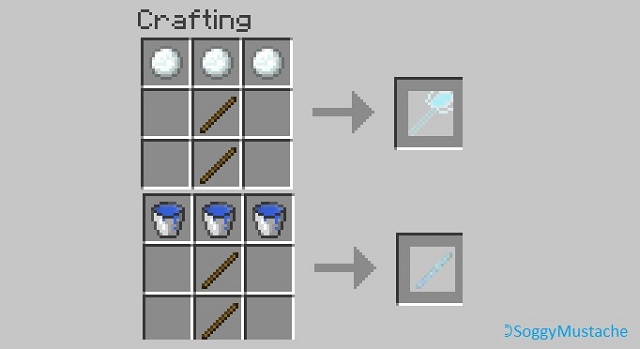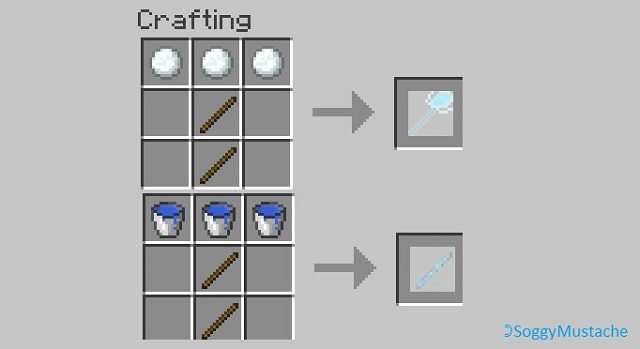 Most Minecraft weapons and gun mods either port guns from existing games or create copies of real-world weapons. But the Soggy's Guns mod truly stands out by bringing entirely unique guns to Minecraft. You get Arrowinator, snowball staff, egg gun, ultimate potion, and a bunch of new projectiles.
Download Soggy's Guns
15. Halo & MDE Guns Mod
This is a special kind of weapons mod, which brings a bunch of new building blocks to the game, along with the usual weaponry. In terms of environment blocks, you get dozens of stylish new blocks, four types of trees, new fluid, and even three new types of portals in Minecraft. As for the weaponry, this mod adds various weapons and armor inspired by the Halo video game series.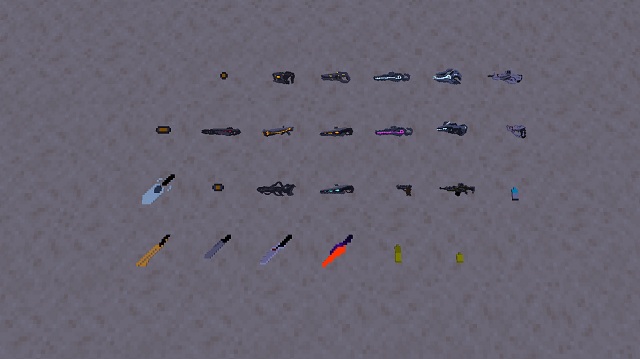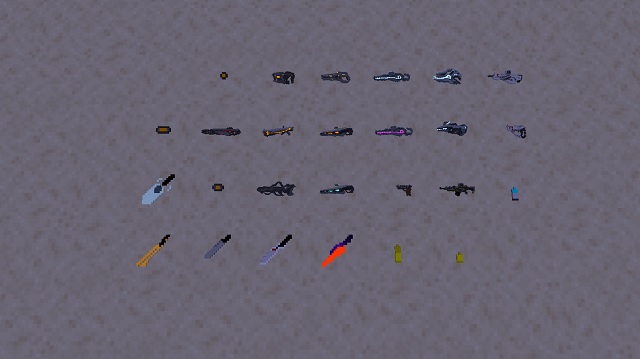 Due to the enormous variety of armor sets and weapons, you can easily invite friends to a Minecraft server and play a Halo match within Minecraft. Though, the new set of blocks is a better fit for a custom Minecraft map rather than a server.
Download Halo & MDE mod
16. Sword Displays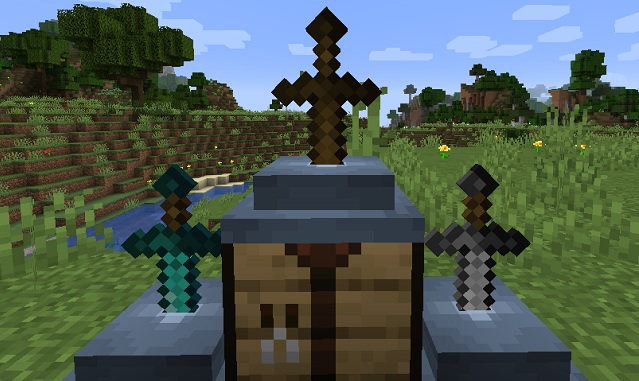 This Minecraft mod is simple in theory and valuable in execution. As the name reveals, it gives you a new block to display your swords collection. At the moment, this mod doesn't allow you to put your guns on this block. But you can at least present your melee weapons out in style.
Download Sword Displays
17. War Hammers
Thanks to Marvel's Thor, hammers are back in style. They are the perfect weapon to smash and kill enemies while looking like a boss. The best part is that these hammers in Minecraft fit right in with the existing default weapons. Moreover, you get to make its variants with all mineral Minecraft ores based on a modified version of built-in tool crafting recipes.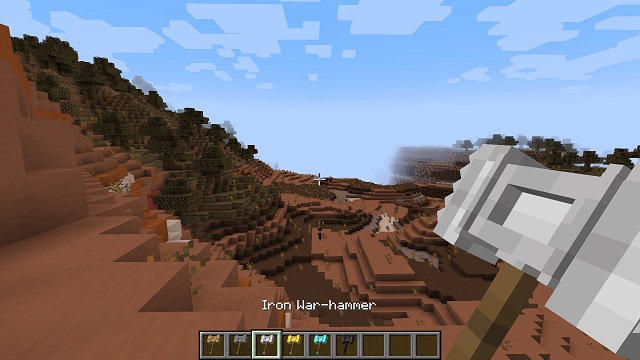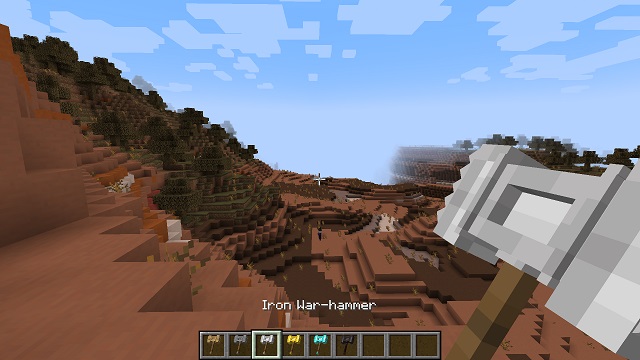 As for usage, the war hammer is perfect for action and is also very reliable for quickly mining blocks. It might be the only tool you have to make to freely explore the overworld. Though, make sure to learn how to find Netherite in Minecraft to get the most powerful type of war hammer.
Download War Hammers
18. Hbm's Nuclear Tech Mod
When we are adding new weapons to Minecraft, there is no point in putting a limit to their power, right? At least, that's what this Minecraft gun mod believes in. It gives you a complete arsenal of highly destructive weapons, including bombs, missiles, and explosive guns. You can use them to flat mountains, clear areas, and completely annihilate structures.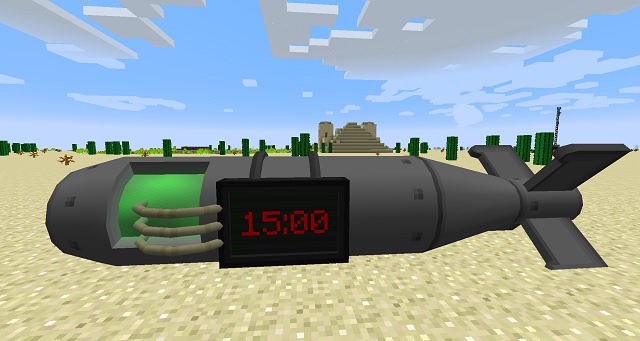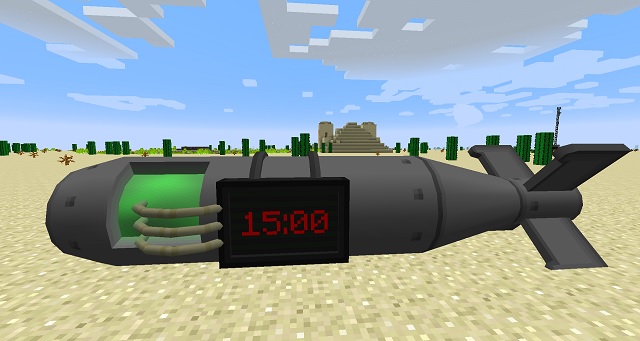 In case you are not sure about destroying default structures, this gun mod also comes with a bunch of abandoned structures to test out all these powerful weapons on. Though, bidding them against the scary ancient cities of Minecraft won't be the worst idea.
Download Hbm's Nuclear Tech Mod
19. Decimation Mod for Minecraft
Without a doubt, video games with zombie game modes know how to make the most out of every weapon. And luckily, this Minecraft gun mod allows you to do the same. The Decimation mod adds a bunch of realistic zombies to Minecraft along with a range of destructive weapons to blow out their brains. While most other mods on our list upgrade the vanilla experience, this mod gives you a whole new game within Minecraft.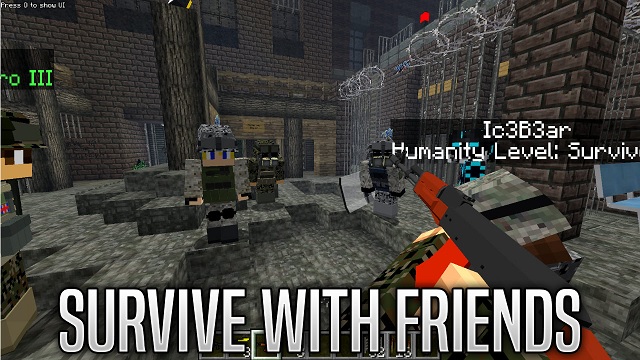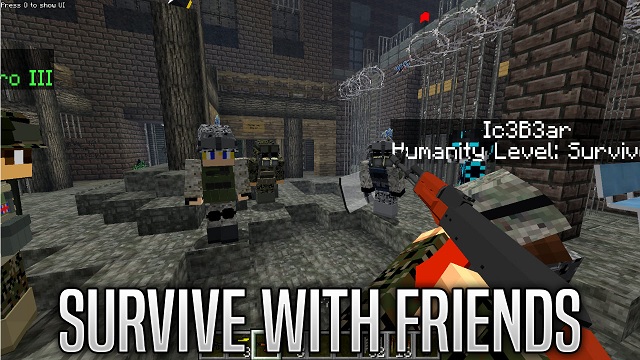 Leaving the weapons aside, this mod also features explorable locations and 100s of props for a realistic apocalypse experience. Everything from a zombie movie, from antidotes to defensive safe houses, becomes available in the game with this mod. However, hoards of zombies can get pretty overwhelming, so we suggest trying this mod of a Java Minecraft server with your friends.
Download Decimation
20. Craft Theft Auto Minecraft Guns Mod
When it comes to open-world games, only the Grand Theft Auto series comes close to the level of creative freedom that Minecraft provides. With GTA 6 releasing soon, there's no better way to celebrate both of these games than by bringing GTA's features to Minecraft. The Craft Theft Auto mod brings customizable cars, a huge city, and a bunch of weapons from GTA to Minecraft.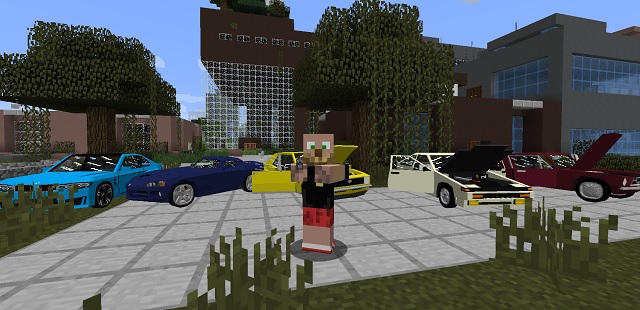 Some of the most unique features in this mod are riot shields, tech guns, and rocket launchers. Not to forget, no GTA mod can be finished without interactive NPCs. So, while you roam your upgraded Minecraft world, you're bound to come across a variety of interactive citizens. But whether you make friends or enemies out of them is totally up to you.
Download Craft Theft Auto
Explore the Top Minecraft Weapons and Gun Mods
You are now ready to take over the world of Minecraft with some of the most dangerous guns and weapons at your disposal. In case you're looking for a testing ground, we suggest visiting the Nether fortress and looting all of its rare chests. Though, trying to fight the Warden in Minecraft with guns isn't the worst idea ever. But these are just ideas from the top of our heads. How do you plan on using all the weapons and guns you add to Minecraft? Tell us in the comments below!
---
Load More